Jereme Richmond
Recent Tweets
All Tweets
DraftExpress: RT @MattNorlander: Jereme Richmond's uncle says his undrafted nephew is better than Kyrie Irving, Harrison Barnes http://tinyurl.com/3g49jfv
2011-06-27 10:26:16
DraftExpress: More "surprise" undrafted players: Jereme Richmond, Scotty Hopson, Malcolm Thomas - everyone else we had getting picked.
2011-06-24 01:25:10
DraftExpress: Other prospects still available: Jon Leuer, E'Twaun Moore, David Lighty, Jereme Richmond, Charles Jenkins, Isaiah Thomas, Andrew Goudelock
2011-06-23 09:44:54
DraftExpress: 2nd group scheduled for Minnesota workout today: Dogus Balbay, Diante Garrett, Justin Holiday, Jereme Richmond, Matt Howard & Keith Benson
2011-05-23 11:31:23
DraftExpress: Video interviews from the NBA Combine in Chicago w/ Kyle Singler, Tyler Honeycutt, Jereme Richmond & Chandler Parsons http://bit.ly/lAxcOP
2011-05-22 03:48:02
Team: NON-NBA College Team: Illinois
Physicals
Positions
Rankings
Salary
Misc
H: 6' 7"
W: 207 lbs
Bday: 03/03/1992
(23 Years Old)

Current: SF
NBA: SF
Possible: SF

RSCI: 27

Agent: Aaron Goodwin

High School: Waukegan
Hometown: Waukegan, IL

Predraft Measurements
| Year | Source | Height w/o Shoes | Height w/shoes | Weight | Wingspan | Standing Reach | Body Fat | No Step Vert | Max Vert |
| --- | --- | --- | --- | --- | --- | --- | --- | --- | --- |
| 2011 | NBA Draft Combine | 6' 6" | 6' 7.25" | 207 | 6' 10.25" | 8' 10.5" | 5.5 | 27.0 | 33.5 |
| 2009 | Vince Carter Camp | NA | 6' 7" | 195 | 6' 7" | NA | NA | NA | NA |
| 2009 | LeBron James Camp | NA | 6' 7" | 195 | 6' 7" | NA | NA | NA | NA |



Basic Per Game Statistics

- Comprehensive Stats - Statistical Top 25s
| Year | League | Name | GP | Min | Pts | FG | FGA | FG% | 2Pt | 2PtA | 2P% | 3Pt | 3PtA | 3P% | FTM | FTA | FT% | Off | Def | TOT | Asts | Stls | Blks | TOs | PFs |
| --- | --- | --- | --- | --- | --- | --- | --- | --- | --- | --- | --- | --- | --- | --- | --- | --- | --- | --- | --- | --- | --- | --- | --- | --- | --- |
| 2010/11 | NCAA | Jereme Richmond | 31 | 22.1 | 7.6 | 3.4 | 6.4 | 52.8 | 3.3 | 6.0 | 55.1 | 0.1 | 0.4 | 16.7 | 0.8 | 1.4 | 60.5 | 1.7 | 3.3 | 5.0 | 1.8 | 0.4 | 0.4 | 1.7 | 1.6 |

Player Page&nbsp&nbsp| Player Stats | Mock Draft History | Related Articles&nbsp&nbsp| Add to My Draft Express&nbsp
&nbsp
Situational Statistics: the 2011 Wing Crop
June 22, 2011
Jereme Richmond doesn't fare very well statistically, with his 0.863 PPP overall ranking 16th of 17. He definitely has the most unconventional possession distribution in the class, as his 9.6% of possessions in transition and 10.7% of possessions on spot ups both ranks dead last, while his 19.3% on cuts and 16.3% on post ups both rank first. It's clear that he played more like a forward than a wing player in college.

Richmond's 1.432 PPS finishing around the basket ranks first overall, while his 0.75 PPS on jumpers ranks third from last, which alone is a solid microcosm of his offensive strengths and weaknesses as a player.

[Read Full Article]

---
NBA Combine Interviews: Kyle Singler, Honeycutt, Richmond, Parsons
May 22, 2011
[Read Full Article]

---
Trending Prospects (2/24/2011)
February 24, 2011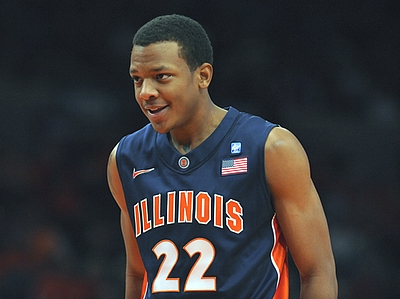 Icon SMI



Matt Kamalsky

A consensus top-30 recruit and McDonald's All-American last season, Jereme Richmond has had an inconsistent rookie campaign littered with moments of brilliance, including an 18-point 10-rebound outing against Ohio State in late January. After dealing with some personal issues that caused him to miss a few practices and sparked rumors of a mid-season transfer, Richmond has since reaffirmed commitment to the Illinois program despite its difficulties in Big Ten play.

Though Richmond hasn't had a tremendously productive season, nor does he possess a reputation for fundamentally sound play offensively, he is amongst the most impressive physical specimens in NCAA basketball and a legitimate NBA prospect because of it. Tremendously long and athletic, Richmond has great speed in the open floor, explosiveness, and a frame that has room for additional muscle. He's an emotional player, who can get his team going with a highlight reel play, but needs to hone his basketball IQ and skill-level.

Richmond's potential is most notable on the defensive end, where he's been very good for stretches this season despite his inexperience. He has struggled at times against more aggressive, experienced slashers and savvy pick and roll-oriented scorers, but he's shown the tools to defend the perimeter effectively and could emerge as a high-level defender with additional coaching and strength.

Richmond's ability to defend the perimeter is important because at just 6'6, he has spent most of his time playing a power forward-type role offensively for the Illini in the high post to allow Mike Davis and Mike Tisdale to using their shooting ability stepping out on the baseline. Despite showing a raw versatility and midrange game that give him intriguing upside, most of his offensive possessions come from basic hustle plays and post-ups against smaller guards off of switches. An extremely effective finisher and rebounder thanks to his leaping ability, Richmond flashes a hook shot that could be an asset to him against smaller players if he continues to develop it down the road.

Richmond's knack for making plays at the rim is a big part of his contributions in the college game, but the development of his perimeter scoring arsenal will dictate his long-term success. He shows soft touch when shooting inside and good follow through on occasion, but the rhythm and release point of his jumper remain inconsistent and will limit his ability to play the wing full time in the NBA early on. He's made just two 3-pointers in 27 games thus far this season.

The 18 year old forward also has plenty of room to grow as a slasher. He has the first-step and rangy stride that could make him a handful to keep out of the lane, but lacks the ball-handling ability and strength to confidently get to the rack. Very raw on the whole, Richmond is the type of player who will coast for long stretches before making one great play seemingly every game to remind you of how good he might be down the road.

If Richmond can develop the capacity to knock down catch and shoot jumpers from the outside, play low-mistake basketball and emerge as a lock-down defender, he has the potential to fill a highly coveted role in the NBA. With Mike Tisdale, Demetri McCamey, and Mike Davis all graduating, Richmond could be in position to have a breakout year in 2012, but his physical tools make him a potential first round pick as soon as this summer if he feels the urge to make the leap early. Something of a blank slate at this point, Richmond has plenty of improvements to make and plenty of time to make them whether it is on a NBA bench or in Champaign.

[Read Full Article]

---
FIBA Americas U-18 Championships: Top American Prospects
July 5, 2010
The Swiss army knife of this USA basketball team, Richmond played a number of different positions and roles over the course of the week, showing off his excellent physical tools and versatility in the process.

Richmond is first and foremost a superb athlete. He's absolutely electric in the open floor, and he looks incredibly fast and explosive getting off his feet. He gets plenty of points for that reason in transition and off of offensive rebounds, showing a real nose for the ball when it's on the glass.

Richmond's excellent size, length and athleticism give him an unlimited ceiling in terms of his defensive potential. He made some fantastic plays on this end for the USA squad, especially in their full-court press. Offensively, he showed flashes of ability in terms of ball-handling skills and perimeter shooting, but he is far from reaching his full potential in this area. He demonstrates average fundamentals and smarts. He's got plenty of time to work on that part of his game, though, and he will be a highly coveted NBA prospect once he does.

[Read Full Article]

---
2010 McDonald's High School All-American Dunk Contest Videos
April 2, 2010
Illinois commit Jereme Richmond got things started with a sweet two-handed tomahawk jam. The judges awarded him a 64 for his effort.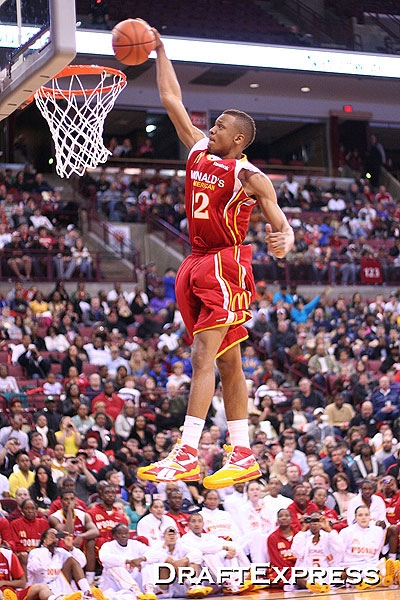 Jim Hlavac, DraftExpress



For his next dunk, he went with the windmill, which earned him a 60.





[Read Full Article]

---
Initial High School Player Scouting Reports, Part Two
August 22, 2009
Despite being one of the more highly touted players we took in on the summer circuit, it was tough not to come away disappointed by the play of Illinois commit Jereme Richmond (#6 Scout, #36 Rivals, #17 ESPN).

Richmond clearly has elite physical tools with his superb size at 6-7, to go along with an excellent wingspan and terrific athleticism. The problem is that he rarely utilized it in any of the three games we saw him, being almost a complete non-factor on the offensive end. Richmondís ball-handling skills are poor and he lacks great range on his shot, often shooting the ball on the way down, which makes him fairly streaky. His feel for the game looked somewhat average, and he didnít seem to be playing very hard either. Defensively he did show serious potential with his excellent natural gifts, though, and he did come up with some very athletic rebounds. He also made a couple of very nice passes, but still struggled to stand out for the most part.

Richmond has fallen a bit in the recruiting rankings as of late, likely because of some of the same issues we saw this summer. He obviously has quite a bit of talent, and weíll have to wait and see what kind of college player he ends up being at Illinois. Itís not out of the question that he was just in an extended funk when we saw him, because clearly all the accolades heís received didnít come for nothing.

[Read Full Article]

---
2008 King James Classic: Top Perimeter Players
April 28, 2008
Richmond led his Rising Stars Gold team to the championship game of the King James Classic before falling to Boston based B.A.B.C. Despite the relatively modest numbers posted throughout the tournament (averaged around 12 points per game in the 3 games we took in), it was easy to see why recruiting analysts consider him a top 10 player in his class.

Standing a legit 6í6 and blessed with long arms, he already owns a physical package that not many college seniors can offer. Throw in a frame that could easily add another 20 pounds and a very strong lower body, and itís easy to see why he stands apart from the bulk of other wings in the class of 2010. The Illini commit was forced to play out of position for a large part of the tournament, playing power forward for much of the time that we observed him in Akron due to his squadĎs lack of size. However, there were spurts of time where he played on the wing and we were able to get a glimpse of the special player he has the potential to become.

The first thing that immediately stood out about Jereme is his outstanding athleticism, especially his ability to finish around the rim. His undeveloped upper body is compensated by his strong legs and explosive leaping ability from a static position, a rarity from a player so young. This power enabled him to finish nearly everything around the rim, whether it be from his own drives to the cup or putbacks from crashing the offensive glass. Not only one to score in the paint, he also showed off a silky smooth jumper out to the three point line and an explosive first step when attacking the rim. The tools boasted by the lanky wing backed up the herald he has received thus far at such a young age.



Like many young players, Richmondís ball handling could use a bit of work. He didnít put the ball on the floor more than a few times in a straight line and looked a bit uncomfortable when pressured with the ball in his hands. Consistency issues have also plagued Jereme in the past, especially on the defensive side of the court. While all of the natural tools are there for him to be a very nice defender, he often looks disinterested on this end and relies completely on his athleticism.

More concerning then his weaknesses on the court are those unrelated to the game of basketball. Richmond was thrown off his high school team in February after having a heated argument with his head coach, which was reportedly one of many incidents involving this talented youngster. These issues will ultimately prove to be more crucial then Jeremeís game on court game, but Michael Beasley has shown that talented players with consistency and character issues can turn things around when placed in the right situations. Having just turned 16 years old, time is certainly on Richmondís side but he will definitely need to resolve these problems if he hopes to live up to the star billing that has preceded him thus far.

[Read Full Article]

---