Jeremy Tyler
Recent Tweets
All Tweets
DraftExpress: Jeremy Tyler to Bobcats. They have virtually no frontcourt. Might get 10 minutes per game by default. But he's REALLY not ready for that.
2011-06-23 10:53:05
DraftExpress: RT @GoodmanCBS: Jeremy Tyler being selected by Charlotte - sources told CBSSports.com.
2011-06-23 10:49:49
DraftExpress: Highest projected prospects on the board: Davis Bertans, Chandler Parsons, Travis Leslie, Darius Morris, Josh Selby, Jeremy Tyler Macolm Lee
2011-06-23 09:39:46
DraftExpress: Scouting the Auto-Eligible International Prospects - Jeremy Tyler, Michael Dunigan, Adam Hanga and Giorgi Shermadini http://bit.ly/lgSU2S
2011-06-22 09:04:29
DraftExpress: Brandon Knight, Jordan Hamilton, Kenneth Faried, Kyle Singler, Trey Thompkins, Jeremy Tyler, Diante Garrett and others will be working out.
2011-05-26 12:22:09
Team: Fujian
Physicals
Positions
Salary
Misc
H: 6' 10"
W: 262 lbs
Bday: 06/12/1991
(24 Years Old)

Current: C
NBA: C
Possible: C

Agent: Chris Emens

High School: San Diego
Hometown: San Diego, CA
Drafted: Pick 39 in 2011 by Bobcats

Predraft Measurements
| Year | Source | Height w/o Shoes | Height w/shoes | Weight | Wingspan | Standing Reach | Body Fat | No Step Vert | Max Vert |
| --- | --- | --- | --- | --- | --- | --- | --- | --- | --- |
| 2011 | NBA Draft Combine | 6' 9" | 6' 10.5" | 262 | 7' 5" | 9' 2.5" | 13.4 | 28.0 | 33.5 |
| 2010 | Eurocamp | 6' 9.10" | 6' 10.28" | 246 | 7' 3.80" | 9' 2.63" | NA | 27.2 | 33.1 |



Basic Per Game Statistics

- Comprehensive Stats - Statistical Top 25s

Player Page&nbsp&nbsp| Player Stats | Mock Draft History | Related Articles&nbsp&nbsp| Add to My Draft Express&nbsp
&nbsp
Scouting the Auto-Eligible International Prospects
June 22, 2011
Matt Kamalsky

Automatically eligible for the 2011 NBA draft despite only turning 20 a couple of weeks ago, the Jeremy Tyler saga will finally reach an abrupt end as he waits to hear his name called on Thursday night. For two years, Tyler has been a lightning-rod for controversy, bypassing his senior year of high school to play for Maccabi Haifa in the Israeli League, struggling with the pressures of being an 18 year-old pro, subsequently signing to play in the Japanese BJ League, and seeing the lesser than stellar season he was having cut short by the tragic earthquake.

Seeing limited minutes in both of his professional seasons and taking a huge step down in level of competition, scouts have as many questions about Tyler's fundamentals and his feel for the game as they do about his maturity and ability to handle the pressures of being a young player developing on a NBA bench. Recent interviews and workouts have answered some of those questions, and Tyler's camp has done a terrific job addressing his off-court issues over the past few months, but a degree of uncertainty about the San Diego native remains.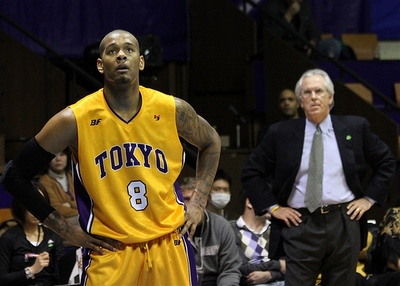 Globalite / Flickr



The one question scouts are not asking is whether or not Tyler has the physical tools to compete at the NBA level. Standing nearly 6'11 with a 7'5 wingspan, tipping the scales with a 260+ pound frame that still has plenty of room for improvement, and possessing very good athleticism for a player with those measurements, Tyler has all the makings of a NBA big man on first glance.

Unfortunately, those tools did not consistently manifest themselves in any significant way in the very weak Japanese BJ League (not the top league in that country), which is obviously concerning. Tyler struggled mightily for stretches, and just as he was seemingly turning the corner, he was flying back to the United States after the cancellation of the rest of his team's games.

One of the tallest and stronger players in the Japanese League, Tyler had some brief stretches of impressive play for the Apache. He was able to use his size to establish deep position in the post at times, and showed a budding turnaround jump shot and face-up game. His near 7'5 wingspan allowed him to get his shot of at will even if the moves he was making were quite erratic at times.

Unfortunately, for every shot Tyler made in the post he missed an equally makeable short-range attempt or turned directly into the teeth of the defense in the post and coughed the ball up.

Working extensively with former San Antonio Spurs head coach and notable big man developer, Bob Hill, Tyler's skill level has improved from his high school days, and his 52% shooting in Japan is far better than the 44% he mustered in Israel. Unfortunately, Tyler's feel for utilizing the skills he has developed remains limited. His recognition of where to go with the ball in one-on-one situations is questionable, and despite the size advantage he had in Japan, he did not make too many strong, decisive moves to the rim or elevate well to finish in a crowd. Only compounding the challenges he faced in his learning process this season, he turned the ball over at a frustratingly high rate with his back to the basket.

To Tyler's credit, he did face quite a few double teams for a player still very much learning the game, and used his leaping ability far more effectively on the offensive glass when he had a bit of time to gather himself. He also knocked down quite a few perimeter shots for a center. Tyler's shooting isn't close to being on par with someone like Nikola Vucevic, and he struggled from the foul line, but his midrange stroke is one of his more intriguing tools considering his ability to get it off in the post and when facing up.

Defensively, Tyler did show an improved motor, which is significant considering he was maligned for his efforts early in his career. His activity level stayed fairly solid when he was on the floor, but he's still foul prone and yet to learn how to maximize his physical tools. He lets himself get pushed around too easily at times, and though he doesn't give up too many truly easy baskets, he's going to benefit immensely from a NBA strength and conditioning program and a coach who continue to push his development.

Breaking down Tyler's success, or lack thereof, in the Japanese BJ League is only a small piece of the puzzle in analyzing his draft stock. NBA teams always place a premium on size, and Tyler has that. In this draft, they are looking for players with legitimate potential, and Tyler has that too. They also take a keen interest in every prospect's intangibles, and that is where Tyler's situation get murky. He's done a good job handling himself throughout the trials of the workout and interview process, but what, if any red flags teams uncover in their background checks and psychological analyses will be hugely important to where he gets selected.

[Read Full Article]

---
NBA Combine Interviews: Jeremy Tyler, Dunigan, Benson, Williams
May 22, 2011
[Read Full Article]

---
European Roundup: Super Mature Aguilar
November 30, 2009
After serving a one-game suspension for being ejected from a game following a altercation in which he reportedly head-butted an opponent, an embarrassing story in the New York Times, and a series of contests in which he was mostly a spectator, there is finally some positive news to report from Israel about Jeremy Tyler.

Tyler played 12 minutes and finished with 5 points, 4 rebounds, 3 fouls, 2 turnovers and 1 block on 2-4 shooting from the field this weekend, helping his Maccabi Haifa team secure the victory on the road over Barak Netanya. It's good to see him crack the rotation in a more significant way and find some productivity at such a young age. Hopefully he can build on this and continue to progress.

For those who are interested, Maccabi Haifa's games are being broadcasted on tape delay on the DIRECTV channel "Jewish Life TV" as well as online at TriangleInternet.TV. There is also a program on both outlets called "Inside Israeli Basketball" which focuses on Maccabi Haifa and Tyler in particular.

[Read Full Article]

---
European Roundup: Motiejunas Adjusting
November 15, 2009
-If you haven't done so already, check out Pete Thamel's must-read article in the New York Times about the struggles of high school senior Jeremy Tyler in his first season of professional basketball. Those who have followed our coverage of Tyler on this site since we first saw him play two years ago won't be very surprised to read how things are turning out, but it's still a bit disappointing to see things actually play out.

[Read Full Article]

---
NBA Draft Roundup, May 11
May 11, 2009

• Jeremy Tyler: A European Recruitment Begins

While visiting the beautiful city of Rome, on a mission to watch Brandon Jennings play his final Italian league game, we read with great interest the New York Times article by Pete Thamel regarding Sonny Vaccaro's next European project, Jeremy Tyler.

Sonny Vaccaro, who is advising Tyler, will fly to Athens on Sunday for meetings with Greece's top basketball teams, Olympiacos and Panathinaikos.

Vaccaro said the talks would be the first formal discussions about where Tyler would play, but interest remains from clubs in Italy, Spain and Israel. It had been thought that Tyler would play in Spain, but Greece has become a top option…

…Vaccaro said that he expected a deal with a club by the middle of June and that it was possible Tyler could go to Europe to audition for teams. He said the monetary figure would likely be "mid six figures."

We'll have a full article up on Brandon Jennings once we finish watching him practice today and tomorrow. Since Rome managed to clinch the 2nd seed in the Italian league playoffs with a win over Avellino on Thursday, we actually had a chance to watch Brandon receive the second most minutes he's seen all season long, in a meaningless game as far as his team is concerned, in which he nonetheless looked fantastic. What's important to note is that Jennings was just coming off not logging a single minute in arguably the most important game of his team's season, showing you exactly where he stands in the pecking order of this squad. The NBA teams who waited until the Italian playoffs to try and evaluate him will likely be very disappointed.

That's not a knock on Jennings at all, as we sincerely believe that no 18-year old American in the world would be able to do much better, with the exception of possibly Lebron James or Kobe Bryant at the same age.

The point here is that he was sent to a situation that did not suit a prospect as his stage of development at all, alongside a pair of guards in Sani Becirovic and Ibrahim Jaaber that do not compliment his strengths and weaknesses in the least bit, and have made it virtually impossible for him to have the ball in his hands and develop his point guard skills. To Jennings' credit, he handled the situation like a true professional, not being involved in a single incident all season long, accepting his fate with the utmost maturity, and doing exactly what was asked of him, which really speaks volumes about his character. In most cases, the player would not have made it through the season, which would have been a disaster both from a development standpoint and for his own draft stock.

It now appears that Vaccaro is making the same exact mistake, only much worse, as you probably couldn't find two worse less attractive situations in all of Europe for a 17-year old American big man like Jeremy Tyler than Olympiacos or Panathinaikos.

While he would obviously be paid a ton of money, it's unlikely that he would be able to see even a single minute of meaningful playing time, as he's nowhere near physically or emotionally mature enough to compete at this level. The coaches at the helm of these teams can't waste even a single possession for development purposes, and are not in the least bit interested showing an American teenager the ropes of professional basketball, only to lose him to the NBA when he finally starts getting close to being able to contribute something.

Two extremely mature, professional and well-established NBA rotation players in Josh Childress and Jannero Pargo were unable to live up to expectations this season with Olympiacos—so how would Jeremy Tyler fare there? Just the thought is downright preposterous.

The role of agents placing American players in European basketball (essentially what Vaccaro is functioning as) is far more complicated here than it is in the NBA—where teams pick their own players after pinpointing their weaknesses, scouting the market and identifying which free agents to go after. European teams do almost no meaningful scouting and are often rebuilt from top to bottom each and every year, which leads an unbelievable amount of mistakes. Agents in Europe can rarely just take the offer from the highest bidder when trying to find the optimal place for their client to play—there is far more than that.

Rome clearly was taking a shot in the dark by signing Jennings, a decision more oriented around marketing and publicity than it was about actual basketball. A player like Tyler—who's main weakness have always revolved around his poor mental toughness, work ethic and overall weak intangibles—needs to be handled with a lot more care. If things don't work out for Tyler with one of these ultra-rich clubs, they'll gladly toss him to the side and write if off as a business expense that provided them with plenty of global exposure. For Tyler, though, the damage will be much greater.

We'll see if Vaccaro is just trying to drum up interest from other clubs by starting with the two richest teams in European basketball, but for Tyler's sake, we hope that he does his research and finds a team at the right level that understands the unique issues he's facing and is willing to develop him at the correct pace—rather than just chasing the money. Otherwise, Tyler will be back in the States staring the D-League in the face, before he even knows what hit him.

[Read Full Article]

---
NBA Draft Roundup, May 5
May 5, 2009
Jeremy Tyler is 17-going-on-pro, but is he that good?

Adam Rose of L.A. Times blogs about Jeremy Tyler's decision to drop out of high school and pursue a career in Europe, pointing out some holes in his argument.

Tyler won't be eligible for the NBA draft until 2011. When the time comes, some scouts think he could be the top overall pick. Over the years, the same has been said about plenty of other players who fell short of that goal. Some recruiting services have Tyler ranked as only the third- or fourth-best junior at his position. Most casual fans still wouldn't know his name for a few more years. Then came the announcement.

Fox Sports Radio broadcaster Petros Papadakis was incredulous about the situation on his show Tuesday, raising questions about the involvement of hoops marketing guru Sonny Vaccaro. A staunch opponent of NBA rules requiring players to wait a year after high school before entering the league's draft, Vaccaro was recently involved in the decision of former prep star Brandon Jennings to skip college and go to Italy for a season.

Is the Tyler announcement just a hoax by Vaccaro to put more pressure on the NBA to change its position? The kid seems completely serious, even if it sometimes seems hard to take him seriously.

"If I go to college and fill up an arena with 30,000 people, I don't get a penny," Tyler was quoted in the New York Times' Quad blog. "In my profession with what I'm doing in my life, it doesn't need a full college degree."

Tyler might be a big draw, but 30,000 butts in seats is too much credit for any one-and-done diaper dandy. In January, 750 fans showed up to watch his biggest test -- and that game also featured Sidney and the rest of state powerhouse Fairfax High. The popularity of college hoops is on a different scale than high school, so maybe we're comparing apples and basketballs. But it's fair to say Tyler doesn't have the same prep school notoriety of LeBron James or, until this week, even O.J. Mayo.

Although we initially avoided tackling this topic, it's probably best to address it now, especially since we're on the record discussing the subject in the latest issue of Sports Illustrated.

Tyler is a player we've scouted on a number of occasions over the past few years, as you can read in his DraftExpress profile. While there is no doubt about how talented he is, there are some huge question marks about whether he has the off-court intangibles needed to reach his full potential.

Considering how difficult of a road lies ahead over the next two years, we're not exactly sure he understands what it will take to make it. Some of his quotes really make you wonder if he knows what's in store for him, for example: "[high school basketball] was boring and I wasn't getting better," Tyler said. "Each game was the same thing. I was getting triple-teamed and getting hacked. After each game I'd have scratches and bruises up and down my arms from getting triple-teamed. It just wasn't for me."

The circus around his high school program doesn't help change that impression either.

It's absolutely possible that we're wrong, and maybe going overseas for two years is exactly what he needs in order to mature, but we really wonder if he's the right foot-soldier for Sonny Vaccaro to send to battle in his personal crusade against the NCAA.

Large portions of the American media appears to be so enamored with the idea of what Tyler is attempting, that they may have exaggerated their coverage somewhat at times.

-"From birth, Tyler was different, his mother, Misty Cabrouet, said. He was so precocious that he potty-trained himself," Pete Thamel of the New York Times serenaded.

-"Scouts project him to be the No. 1 pick in the 2011 draft," Dan Wetzel of Yahoo! Sports reports.

That last quote seems to be the most dubious, considering that NBA teams are banned from evaluating players like Jeremy Tyler (so which scouts was he referring to?), and he was only ranked as the 7th best prospect in his high school class according to the most reliable recruiting outlet--Scout.com. Besides, what does being projected as the #1 pick in a draft that is more than two years away even mean? Some NBA teams haven't even started ranking the prospects in the 2009 draft.

Tyler probably is the most naturally talented player in the 2010 high school class, but as we all know, there is a lot more to becoming successful than just being talented. And that's where the biggest problem lies here.

Let us go on the record saying that we have no problem at all with the idea of a high school player deciding to forgo college as an alternative route to making the NBA—this article is being written from a hotel room in Italy in fact, and there aren't many American basketball writers who spend more time and work more closely with European basketball teams than this one. In this particular case, though, we believe that Jeremy Tyler may have needed Rick Pitino (the coach he committed to play for) more than Pitino needed him.

We were fairly critical of Brandon Jennings as well—questioning whether a team like Rome is the correct spot for an 18-year old rookie, and we'll be following Tyler very closely as well to see how he fares. Next week we'll get a chance to catch up with Jennings and get his thoughts on this subject, and a variety of other topics.

[Read Full Article]

---
Flyin To The Hoop: Elite Prospects
January 21, 2009
Tyler (#9 Rivals, #7 Scout, #7 ESPN) came into his matchup with Sullinger seemingly with a chip on his shoulder, playing much harder than he ever has in our previous times evaluating him. While he lost both on the stat sheet and on the game in general, it was hard not to walk away very impressed by the skills that he showed on the hardwood.

Defended by a Big Ten bound football player, it was clear that Columbus Northland was attempting to get under Tyler's skin from the tip. Responding well to this physical play, he displayed a gorgeous skill set both from the perimeter and in the low post. Tyler displayed more of a passion to play down low and much improved footwork when making moves towards the basket. Any time that the San Diego native was able to get the ball inside of the paint, he finished with a power dunk no matter who stood in his path. To further understand how much he dominated the game inside, he finished with 15 dunks over a two game stretch, while matched up against top notch power forwards.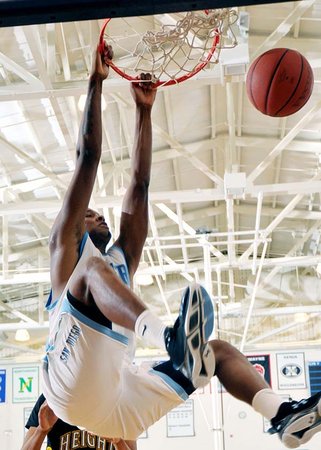 Nick Falzerano/Dayton Daily News



Though opting to play more so inside, we were still able to get a glimpse of the skills that he has facing the basket. Tyler drilled a handful of jumpers from the perimeter, but was more impressive with his body control when putting the ball on the deck. It's just not that common that you see a player with his size maneuvering around smaller players and finishing with soft floaters in the lane. These skills definitely leave a bit of intrigue, though you'd much rather see him continue to do his damage down low.

Where Tyler struggled especially was on the defensive end. Completely relying on his size and athleticism, he bit on every single pump fake and left himself prone to picking up a number of fouls. His timing was not especially good, nor was his desire on this end of the floor. Tyler opted to play behind top post player Jared Sullinger in the post, letting him catch the ball and do whatever he wanted once he received it. Equally as concerning was the lack of lateral quickness that Tyler showed when Sullinger took him out to the perimeter, as he was simply unable to keep up with keep up with the Ohio State recruit. All of the tools are certainly there for the junior to be a nice defender down the road, but a considerable amount of fundamental work must be done before that can happen.

With Rick Pitino in attendance, Tyler seemed to do an adequate job of keeping his emotions under control. Though there were a number of times that it appeared that he was going to explode, he held back and possibly showed some maturity with his future head coach in the stands. Tyler's maturity and desire will likely play a large part in how far he makes it as a prospect, but there is no denying the talent and potential possessed by this big man.

[Read Full Article]

---
Initial Scouting Reports, High School Classes of 2010 and 2011
August 1, 2008
We were pretty critical about Jeremy Tyler (#4 Scout, #1 Rivals, #2 ESPN) when we last broke down his scouting report in extreme depth (click link above), and it's still hard not to come away with mixed emotions when watching him play. Tyler's body language looked a lot better for one, he didn't see a great deal of playing time in the first half, but he didn't complain at all and seemed to show a pretty good attitude around his teammates. He's still very raw, but obviously has an incredible upside if he continues to develop. Defensively, he can be a game-changing presence thanks to his combination of size, length and athleticism, and offensively he has excellent hands, good touch and the ability to finish ferociously around the basket.

Tyler is still not the most productive guy you'll find (he coasts for long stretches and still doesn't really know how to bring his tools together), and isn't a very high energy player either, seeming to lack serious effort at key points of the game at times. In the one game we saw, he decided to jog back down the floor lackadaisically on an extremely important possession late, and saw his team give up a key offensive rebound and almost lose the game as he was just barely passing half-court.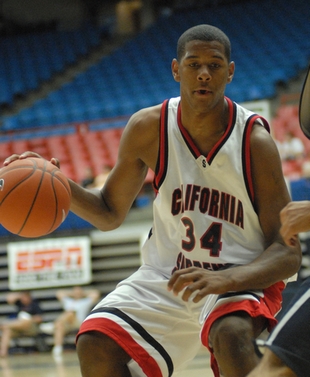 Icon SMI



Tyler is obviously a superb talent, but he still leaves a lot of people skeptical at this point regarding his recruiting rankings and whether or not he will be able to live up to that.

[Read Full Article]

---
Top Prospects at the Amare Stoudemire Invitational Classic (Part II)
January 7, 2008
The #1 sophomore prospect in the country according to both Scout and Rivals.com didn't do a whole lot to back up those lofty claims in terms of actual productivity, getting absolutely dominated by Renardo Sidney in the first time we saw him and then showing more extremely concerning signs in the second around. Regardless, there is no question that Tyler possesses an incredible amount of upside, although at this point you have to wonder about his chances of actually achieving it considering the way he handles himself at such a young age.

Starting with the good, we find quite an incredibly intriguing all-around package. Showing good size at 6-10, an outstanding frame, and absolute freakish athleticism, Tyler looks the part of stud prospect from the first second you watch him already in warm-ups. He's an incredibly fluid player, quick off his feet, explosive in the open court, with an outstanding 2nd bounce and a terrific first step—indeed the entire package as far as physical tools are concerned. All these things obviously make him a great threat in transition, as well as blocking shots and hitting the offensive glass.

Skill-wise, there is a lot to like here too potentially, as he already looks very advanced facing the basket—with a nice array of pull-up jumpers, 3-point range on his shot, and the ball-handling skills to create his own shot. His ability to put the ball on the floor and get by his man is pretty special for a player his size—let alone a 16 year old who seems to have absolutely no idea what he is doing out on the court.

"Has no clue" is unfortunately a concept that you think of quite often when watching Tyler play. He's incredibly raw as you might expect a player his age—swinging wildly for blocks, biting on every pump-fake, settling for terrible shots from the perimeter, over-handling the ball and running into brick walls, showing absolutely no footwork in the post, being a black hole offensively, and clearly having no clue at this point what his limitations are as a basketball player. His athletic ability is so far ahead of his skill level that he looks completely out of control for the most part, lacking any type of balance or patience, and sorely missing any real fundamentals in his game.

That would be absolutely fine if he dealt with these issues with maturity and tried to learn from his mistakes. He is, after all, only 16 years old. The problem is that he absolutely could not contain his frustration by the way he was being destroyed by Renardo Sidney, and responded by showing a terrible attitude.

He screamed at his teammates, sulked on the bench (the only one not cheering for anyone), attempted to redirect the offense and call his own plays when his team received the ball, complained non-stop to his coach, disrespected the officials, talked smack to the opposing team, showed awful body language, and generally just looked like an immature, spoiled brat for virtually the entire time he was in the spotlight.

He should have been thrown out multiple times for the way he conducted himself, but the referees could not call a technical foul on him (from what one of them told us himself) because the organizers "want us to keep him in the game." It looked like his coach was afraid of telling him anything either, since he didn't seem to be bothered by his star player's behavior in the least bit—sitting and relaxing on the bench with his team down by 30 points, not trying to do anything in particular.

Since we don't watch as much high school basketball as some others, we're not exactly sure if this is normal behavior from a star player this age, and how much to make of it. It surely can't be a positive sign. Maybe Tyler will mature as he grows older, and maybe he'll get with some people that truly care about his development as a player and more importantly as a person and start to teach him right from wrong. Maybe we just caught him having a bad week, but it was very difficult not to be turned off by what we saw there.

[Read Full Article]

---
LeBron James Skills Academy Day Two
July 7, 2007
Only a freshman, Tyler already boasts a body and athleticism superior to many of the power forwards drafted in this past week's NBA Draft. He is ridiculously long and athletic, seen doing windmill dunks from 12 feet away from the basket and completely making his presence felt on the defensive end throughout the game against players two years his elder. The California big man is not overly skilled at the moment, but he has three years before he will even be enrolling in college and four before he is even eligible to consider the NBA. James is surely a name that fans should keep in mind though, as he is currently the top post prospect that the class of 2010 has to offer.

[Read Full Article]

---