Joe Harris
Recent Tweets
All Tweets
DraftExpress: Cleveland selects Joe Harris #33. Outstanding shooter. Strong body. High IQ guy. Questionable defensive potential due to slow feet.
2014-06-26 23:06:28
DraftExpress: Top NBA Draft Prospects in the ACC (Prospects #5-9) http://t.co/pn8tNCbZl0 Jerami Grant Olivier Hanlan Dez Wells Rodney Hood Joe Harris
2013-09-10 17:39:09
DraftExpress: Top NBA Draft Prospects in the ACC (#5-9) http://t.co/pn8tNCbZl0 - Jerami Grant Olivier Hanlan Dez Wells Rodney Hood and Joe Harris.
2013-09-10 12:22:36
Team: Central Arkansas, Pro
Physicals
Positions
Misc
H: 6' 4"
W: 198 lbs
Bday: 00/00/0000

Current: G
NBA:
Possible:

High School: La Grange HS
Hometown: Lake Charles, LA




Basic Per Game Statistics

- Comprehensive Stats - Statistical Top 25s
| Year | League | Name | GP | Min | Pts | FG | FGA | FG% | 2Pt | 2PtA | 2P% | 3Pt | 3PtA | 3P% | FTM | FTA | FT% | Off | Def | TOT | Asts | Stls | Blks | TOs | PFs |
| --- | --- | --- | --- | --- | --- | --- | --- | --- | --- | --- | --- | --- | --- | --- | --- | --- | --- | --- | --- | --- | --- | --- | --- | --- | --- |
| 2011/12 | NCAA | Joe Harris | 14 | 10.8 | 3.4 | 1.4 | 3.0 | 45.2 | 0.7 | 1.3 | 55.6 | 0.6 | 1.7 | 37.5 | 0.0 | 0.3 | 0.0 | 0.6 | 1.1 | 1.7 | 0.4 | 0.2 | 0.0 | 0.4 | 0.7 |

Player Page&nbsp&nbsp| Player Stats | Related Articles&nbsp&nbsp| Add to My Draft Express&nbsp
&nbsp
Joe Harris 2014 NBA Pre-Draft Workout and Interview Video
May 26, 2014
We joined Joe Harris as he works out in preparation for the 2014 NBA Draft, and discussed a number of topics with him, including what he's trying to improve on in the short and long-term, the specifics of his workouts, and how he became such a great shooter.



Video produced by Tad Hathaway of 312Media



Previous 2014 NBA Draft Workout Videos


-Doug McDermott
-Nik Stauskas
-Adreian Payne
-K.J. McDaniels

[Read Full Article]

---
Joe Harris Updated Scouting Report
May 23, 2014
Josh Riddell

Joe Harris ended his collegiate career at the University of Virginia by leading the team to an ACC regular season title and conference title while earning a #1 seed in the NCAA tournament, being named to the All-Conference Third Team and the ACC tournament MVP. Although the Cavaliers ended up losing to Michigan State in the Elite 8, Harris had a solid individual season, even if he regressed in some areas statistically. He now turns his attention to his professional career, as he tries to show his skills can translate to a NBA career.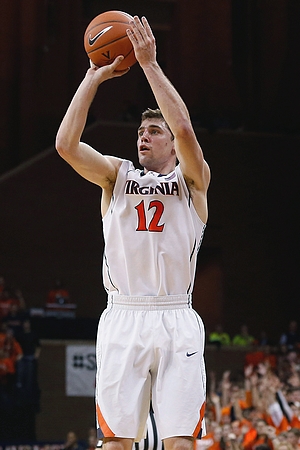 US Presswire



After declining to participate in the Portsmouth Invitational Tournament, Harris recently competed with the shooting guards at the NBA draft combine. While he measured well at 6'6 2.5" in shoes, the rest of his athletic tools left much to be desired. His 6'6" wingspan was the shortest among wing players, while he did not test particularly well athletically—which is not particularly surprisingly. However, his terrific perimeter shooting ability was on full display, where he ranked among the best shooters at the event, in almost every category on the floor. He also fared well in the competitive action, creating for himself off the dribble more than expected, even if he struggled at times defensively.

Looking back at his senior year, the majority of Harris' offense came off of screens, as 31.8% of his offensive possessions (in the top ten in the entire nation) had him utilizing screens to free himself up. He is in constant motion off the ball, and does an excellent job of making quick cuts to set up his defender to run into the screen and then coming off the screen tightly to create separation. He needs to continue his precision cuts to find space against more athletic defenders at the next level. Harris is an excellent shooter coming off screens, as he shot 41.8% on such attempts last season, showing an ability to quickly gather himself and catch and shoot on balance, even with a defender in his face.

Harris' shooting is his biggest potential asset to NBA teams, which he showed at the combine by making 16 of 25 NBA spot up three pointers. He complemented this by shooting 40% on three pointers in his senior season, his third collegiate season shooting at least 40% from long distance, while posting an overall effective field goal percentage of 54.7%. It appears that his shooting skill will translate to the next level, the only question will be whether he can create space to get his shot off in the NBA.

Outside of his three point shooting, Harris can contribute offensively in other ways. Harris is able to beat defenders in a straight line when they run at him after catching the ball at the perimeter, showing a deceptively quick first step, especially after getting the defender to leave their feet with an effective ball fake. He was able to get to the rim and finish in college thanks to his strong frame, but may have trouble having similar success at a NBA level. He is strictly a straight line driver and will be unable to get around the help defense and will also likely struggle to finish over the length of the NBA rim protectors.

Harris is a good creator for his teammates when coming off screens, finding the open teammate when multiple defenders swarm him. His 3.5 assists per 40 minutes pace adjusted were the second highest among small forwards this season, as he has nice vision to find his teammate and then delivers an easily catchable pass to put them in a position to score. He is generally a smart, unselfish player who understands his role and could very well endear himself to half-court oriented coaches who need players in his mold to operate their system effectively.

While Harris demonstrated some positive offensive skills both throughout his college career and at the draft combine, the deciding factor for his NBA career likely comes down to the defensive side of the ball. His limited athletic skills put him at a disadvantage from the start, and he will need to prove he can compete on this end while not being a major liability. Tony Bennett's defensive system has prepared him as much as possible for the next level and Harris looked comfortable making the right rotations and being in the right position on the floor. However, he was often unable to complete the defensive possession, as his lack of length and lateral quickness allowed players to score on him far more than NBA scouts would have liked.

Harris' offensive potential will lead NBA teams to consider drafting him in the second round of the upcoming draft but he needs to show he can compete athletically with fellow draft prospects in pre-draft workouts, especially on the defensive end to cement his draft position. His shooting will be a useful tool for NBA teams if he can prove he belongs in a rotation.

[Read Full Article]

---
Top NBA Draft Prospects in the ACC, Part Five (#5-9)
September 10, 2013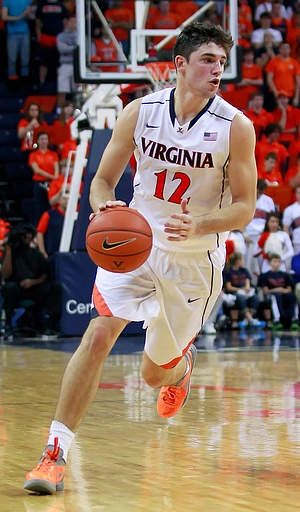 US Presswire



Matt Kamalsky

Averaging 18.4 points per-game in ACC play last season, Joe Harris ranked among the most valuable players in one of college basketball's best conferences as a junior. Producing at a very high-level in one of the slowest systems in the country until falling into a late-season slump, the 6'6 shooter was outstanding for stretches, leading an inexperienced, young Cavalier squad to 23 wins—two in the NIT—and earning a spot on the All-ACC First Team in the process.

Emerging as a fringe top-100 recruit in the class of 2010 playing for his father at Chelan HS (WA), Harris spurned a slew of west coast offers to play in the ACC, following Tony Bennett who had departed Washington State for Charlottesville a year earlier. Quickly solidifying himself as a starter and valuable shooting specialist for Bennett as a freshman, Harris took a small step forward as a sophomore, proving effective in spreading the floor for a healthy Mike Scott during the program's 2012 NCAA Tournament run.

Returning to campus last fall as the Cavaliers' clear-cut first option, Harris relished his opportunity to shine for the most part. He carried a scoring average of 16.9 points per game on 50.9% shooting into March, but struggled down the stretch, scoring 11.7 points on 32.9% from the field over his last 7 games. Despite losing his touch late, the former Washington Mr. Basketball closed the year scoring a phenomenally efficient 1.04 points per-possession according to Synergy Sports Technology. He was invited to go to training camp with the USA World University Games Team this summer, but was unable to attend due to a stress reaction in his left foot.

Standing 6'6 with below average athleticism by NBA standards, Harris does most of his damage with his jump shot. Shooting the ball running off of screens as frequently as almost any player in the country, 62% of his shot attempts come from the perimeter. His jump shooting mechanics are terrific, his release is exceptionally quick, and he is very reliable with his feet set, making 46% of his catch and shoot attempts last season.

A career 41% 3-point shooter, Harris has always been a reliable spot-up threat, but he evolved into a more well-rounded scorer as a junior. Proving to be opportunistic with his dribble and as a finisher at times, Harris is not an explosive player off the bounce or at the basket, nor is he going to create his own shot prolifically one-on-one, but he takes what defenders give him and understands how to use fakes and exploit defenders trailing him off of screens to find daylight. He's a 40% pull-up jump shooter who is a threat when dribbling into a shot, firing from beyond the arc and when pulling up in the midrange when given space inside the arc. Finishing at a 55% rate around the rim, Harris's high basketball IQ and ability to be in the right place at the right time allow him to put points on the board very efficiently on a game-to-game basis, as evidenced by his 36-point outburst on 20-shots against Duke in late February.

Moving forward, the big question for Harris's NBA future is what he can bring to the table defensively. Players with his shooting pedigree have clear value at the next level, and playing for Tony Bennett, Harris has improved on the defensive end over the last few seasons. Despite that, his lack of athleticism will be scrutinized as he makes the transition to the pro game.

With the lion share of its core returning, Virginia will likely once again rely on Harris as the focal point of their grind-it-out offense. One of the top seniors in the ACC, he'll certainly be a player to keep an eye on, as his shot making ability will certainly have the attention of NBA decision-makers.

[Read Full Article]

---