Joe Ingles
Recent Tweets
All Tweets
DraftExpress: RT @IAmDPick Joe Ingles believes 18-year-old Australian point guard Dante Exum (@daanteee) will be an NBA superstar http://t.co/qpOSzQUzks
2013-09-13 08:11:03
DraftExpress: Joe Ingles believes 18-year-old Australian point guard Dante Exum (@daanteee) will be an NBA superstar http://t.co/qpOSzQUzks
2013-09-13 07:01:19
DraftExpress: .@ChrisVernonShow Joe Ingles is a 6-8 point forward type. Smart creative good passer. Average shooter. Solid defender. NBA talent for sure
2013-01-22 11:50:53
DraftExpress: Upside of this game is getting to see extended minutes from Nick Calathes, Joe Ingles, Xavi Rabaseda, Steven Smith, and maybe Pat Calathes?
2012-05-13 11:19:32
Top 25s - Full List
Team: Jazz
Physicals
Positions
Salary
Misc
H: 6' 8"
W: 209 lbs
Bday: 10/02/1987
(28 Years Old)

Current: SF
NBA: SF
Possible: SG/SF

Agent: Brad Ames
Current Salary:$507,336

High School: Australian Institute of Sport
Hometown: Happy Valley, Australia

Predraft Measurements
| Year | Source | Height w/o Shoes | Height w/shoes | Weight | Wingspan | Standing Reach | Body Fat | No Step Vert | Max Vert |
| --- | --- | --- | --- | --- | --- | --- | --- | --- | --- |
| 2009 | NBA Draft Combine | 6' 7.75" | 6' 8.25" | 209 | 6' 10.25" | 8' 9" | 10.1 | 26.0 | 31.0 |
| 2009 | Eurocamp | 6' 7" | 6' 8.25" | 215 | 6' 10.25" | 8' 10" | NA | 0.0 | 0.0 |



Basic Per Game Statistics

- Comprehensive Stats - Statistical Top 25s
| Year | League | Name | GP | Min | Pts | FG | FGA | FG% | 2Pt | 2PtA | 2P% | 3Pt | 3PtA | 3P% | FTM | FTA | FT% | Off | Def | TOT | Asts | Stls | Blks | TOs | PFs |
| --- | --- | --- | --- | --- | --- | --- | --- | --- | --- | --- | --- | --- | --- | --- | --- | --- | --- | --- | --- | --- | --- | --- | --- | --- | --- |
| 2015/16 | NBA | Joe Ingles | 16 | 12.4 | 3.6 | 1.4 | 2.8 | 50.0 | 0.6 | 1.1 | 55.6 | 0.8 | 1.6 | 46.2 | 0.1 | 0.1 | 100.0 | 0.1 | 1.6 | 1.6 | 0.8 | 0.4 | 0.1 | 0.6 | 1.2 |

Player Page&nbsp&nbsp| Player Stats | Mock Draft History | Related Articles&nbsp&nbsp| Add to My Draft Express&nbsp
&nbsp
Reebok Eurocamp Summary, Part Two
June 12, 2009
Coming off some strong NBA workouts in the States, and primed for a breakout performance, things didnít work out all that well for Australian Joe Ingles, who really had a tough week. Inglesí perimeter shot wasnít falling for him right from the get-goópartially due to poor shot-selection, but also because of the fact that he seemed to lose his confidence after he had a few open looks rim out. It wasnít hard to see the talentóIngles is an above average athlete with great size for the small forward spot, is capable of creating his own shot and seems to have good court vision, but he wasnít able to put that together here in Treviso. He seemed to fall in love with his pull-up fade-away jumper, not attacking the rim very frequently and avoiding contact when he did. At some point he started getting frustrated and seemed to force the issue. Defensively Ingles seemed limited guarding the perimeter, and there are plenty of question marks regarding his ability to defend his position at the NBA level. Ingles is likely a better player than he was able to show here in Treviso, but considering how little heís been seen by NBA teams in his native country of Australia, itís not quite clear what this does to his draft stock.

[Read Full Article]

---
Priority Sports Workout in Chicago
May 28, 2009
Workout Webisode:





Analysis: Having already evaluated the other players here on multiple occasions, we were especially excited to see Joe Ingles, as heís generating some pretty nice buzz these days. While there were a few interesting things to take away from this workout, the lack of competitive action seen here means weíll probably have to wait until the Reebok Eurocamp in Treviso to get a real read on what type of player he is.

Ingles is intriguing from a standpoint that heís a true wing player with excellent size for his position at around 6-8. His frame looks noticeably better than it did in the past, and he appears to be a fairly agile prospect with nice fluidity. Ingles can put the ball on the floor going either direction and has a really nice mid-range game, looking very smooth pulling up off the dribble. His perimeter jumper looks a bit on the funky side and isnít all that quick, but he does appear to be capable of making shots from beyond the arc, even if he was a bit streaky in this setting. He has a reputation for being a great passer, but that was impossible to see here.

Defensively is where weíd really like to see more of Ingles, as this will probably be a deciding factor in how teams view him. Due to the amount of workouts the prospects were slated to take part of immediately after this weekend, we werenít able to see anything on this side of the floor to avoid the risk of injury.

From an intangibles standpoint, Ingles is impressive, and is already drawing rave reviews in many of the workouts heís attended. The fact that heís been playing professional basketball for the past three years definitely gives him a leg up over many of his NCAA counterparts.

It will be interesting to see how he is able to perform in Treviso. He will be teaming up with Australian Institute of Sport teammate and national team member Patrick Mills there.

[Read Full Article]

---
European Roundup: Dominant Donatas?
February 6, 2009
Perhaps the most disappointing player among those with realistic draft chances from the automatically eligible class of 1987, Joe Ingles hasnít progressed as expected this season, not exploiting his intriguing physical and athletic characteristics. Indeed he has regressed in most statistical categories from last year, even from two seasons ago in some of them, which is not a good sign for a player of his age.

The most frustrating part of his game, and likely the biggest reason why heís not emerging particularly efficient on the offensive end, is that he looks pretty soft when it comes to scoring. Despite his quickness and decent ball-handling skills (still strictly with his left hand), Ingles rarely goes all the way to the rim when attacking the basket, struggling to finish with contact and tending to prefer looking for space to release the ball, which leads to unbalanced shots and usual misses. Itís true that he doesnít enjoy great strength or leaping ability, but itís still a waste of his size. Instead he likes to settle for jumpers, but his shot is looking highly inconsistent, enjoying poor accuracy and not enough balance on his release. 55% of his field goal attempts come from beyond the arc this season, compared with just 40% last season, and heís making just 36% of those, compared with 38% last year. His free throw attempts are also down, from 3.9 per game last season to 3.

Defensively, Ingles plays very upright and seems to have very little lateral quickness, which makes it very difficult to imagine him defending perimeter players in the NBA. In a league that will never be known for the quality of defense teams here display, Ingles isnít doing much to change that reputation.

On the positive side, for some stretches he looks like an excellent passer, finding his teammates and even playing some casual point forward. However, if we were expecting a catalyst and team leader at this point, Ingles looks like a complimentary player out there, which is not particularly exciting if we talk about the Australian NBL. We should mention that he does play for a much better team this year (currently 20-7, and ranked first) than he did last year (where they finished last). Heís still yet to have the type of breakout season that many expected from him when he was named Australian League rookie of the year two seasons ago, though. Many of the weaknesses he displayed back then are still very evident, and his strengths have not quite materialized well enough to really compensate at this point.

Summarizing, unless he makes an impression in the pre-draft process, heís a bubble guy at this point, with enough potential to get looks late in the second round, but also perfectly capable of ending up undrafted. His best bet might be to take his English passport and find a good team in Europe where he can develop his all-around game against a higher level of competition.

[Read Full Article]

---
Getting To Know: Joe Ingles
October 11, 2007
Aleks Maric, Aaron Bruce, and Andrew Ogilvy will all play in the NCAA this year, and all attended the AIS, the Australian Institute of Sport. Andrew Bogut and Brad Newley were drafted to play in the NBA, and also have the AIS on their resume. The latest in the long line of AIS grads to have their name brought up in American basketball circles is now Joe Ingles.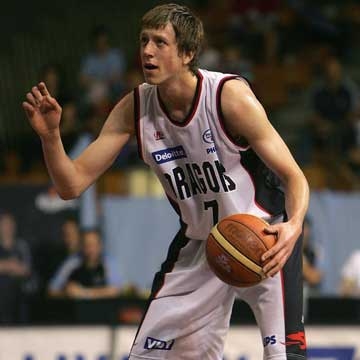 South Dragons



The 20-year-old is a legitimate 6-8, but projects strictly as a wing prospect. This versatility begins to explain why he has attracted the attention of the NBA. Ingles was eligible for the 2007 draft, but chose to stay in Australia and continue to play for the Melbourne based South Dragons of the National Basketball League.

Ingles was named the 2007 NBL Rookie of the Year and was the high school teammate of Brad Newley, the 2005 NBL Rookie of the Year and second round draft pick of the Houston Rockets this year. He set the NBL record for most points by a player in their first game, scoring 29 on 11 of 15 shooting. He averaged 15 points, 5 rebounds, and 3 assists --mostly coming off the bench for the Dragons for the year.

Ingles has an exceptionally high basketball IQ, and excellent fundamentalsóa testament to the coaching he received in high school at the AIS, essentially an academy for promising athletes in different sports from all over Australia. He has range out to the international three point range with his smooth left handed jump shot, and has recently begun to improve the quickness of his release to compliment his already excellent shooting mechanics. Because of his sweet stroke, his feel for the game, as well as his notable athleticism (especially relative to the league he plays in), he is able to put the ball on the floor effectively to get past defenders. As of now, he doesnít have the strength to finish all of his drives, but that will probably come with age and maturity. His frame is currently not at a point that would allow him to take the pounding he would get playing in the NBA, though.

To counter whatever shortcomings he may have getting into the teeth of the defense and finishing, Ingles has begun to develop a very solid mid-range game. A natural lefty, he dribbles well enough with his this hand to play off the dribble when the situation calls for it, which would allow him to avoid grinding in the post. His length allows him to rebound the ball at the NBL level, but against an increased level of competition, he will clearly need some additional bulk. Ingles can be aggressive on the boards at times, and is quite productive when doing so.

He is also a terrific passer at this point in his development, and his 3 assists a game last year would have been higher had his teammates been able to finish on a consistent basis. Just last week, he showed his potential in this area by dishing out 10 assists in a game against Adelaide for example. This all bodes well for his chances of being projected as a legit rotation player at the swing position in the NBA, however he will have to improve his lateral quickness in order to defend the more athletic players he will encounter while manning the wing. This will be one of the first question marks NBA decision makers will bring up when evaluating his play in the Australian league, figuring out whether heíll be able to defend his position at the NBA level. In a recent game we took in from just two weeks ago, he played heavy minutes at the power forward spot.

Another weakness we observed from breaking down his game footage is that he clearly isnít as strong a ball-handler with his right hand as he is with his left. Even though he can handle with this hand, and even create his own shot at times with one or two straight-line dribbles, he hesitates to do so because he of his average ball-control. It is obvious that he favors his left hand, and defenders now often dare him to go right.

Ingles, as mentioned, has good form on his shot, but isnít always as consistent as you might like from behind the arcóshooting just 32% last year from that range. He has a very deliberate follow through, which could cause him problems in the NBA, since he wonít have as much time to get his shot off.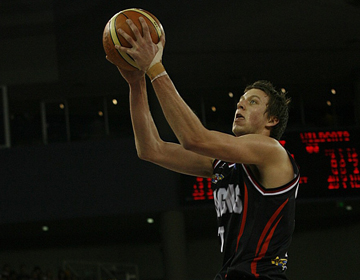 South Dragons



While Ingles does have a good combination of size and mobility for a small forward, he still isnít a terribly explosive athlete, neither laterally (defensively) nor vertically (finishing around the hoop). He does sneak up at you at times, though, making surprisingly crafty plays that you might not expect considering his somewhat unconventional style of play.

Ingles and the South Dragons are off to a disappointing 0-3 record to start off the season, so they will need his basketball smarts and versatility to right their ship. As far as his NBA chances go, heís clearly a guy that teams will have to keep close tabs on, as if he can improve on his fairly correctable weaknesses (particularly sharpening up his ball-handling, outside shooting, and perimeter defense) he could make for a truly interesting draft prospect.

Interview with Joe Ingles

What is the AIS and how would you describe to someone who has never heard of it before?

I believe the AIS is just like an American College, but in Australia. The only difference is that all the students there are playing sports. You live on site, train, physio, doctor, eat and pretty much everything on campus. All athletes there have to attend school as well. So basically just like a college, everyone is the same age. There is great coaching and individual instruction, and itís a really great setup for young athletes.

Could you run us through a typical day there?

Start the day with shooting in the morning, then head to school for a class or two, come back and have a individual or team weights, go back to school for some more classes, team training usually about 4 in the afternoon, then dinner and athletes attending school have a two hour study hall session from 7-9. So most days you are extremely busy.

What would you say are the advantages and disadvantages
of attending an academy of this type, socially, academically, and as far as basketball goes?

I know for me personally, it was a positive. First off, getting use to it is the biggest thing, and some people take longer than others, but when you get used to the system, itís great. You get to meet some many new people from all different sports, and play the sport you love 3-4 times a day. It is based in Canberra, which isnít the most riveting place in Aus, but with all your mates there you can definitely find things to do. I know if I didnít get the chance to go, I would not be where I am now.


South Dragons



What factored into your decision to stay in Australia when many of your friends at the AIS decided to go to college?

I always wanted to play in the NBL since I was a youngster, going to games and watching was great and made me really want to play in front of family and friends. Then at the AIS I started to think about going to college, but I thought I was ready to play professionally straight away. I haven't second guessed my decision one bit.

Is there any reason you decided not to declare for last year's draft?

To be honest I didnít think I was ready. There are lots of things I want to improve on before I enter the draft and I have a great situation with the Dragons where I can work on every aspect of my game. I'm not going to enter till I feel 100% comfortable and so do the people helping me with my decision. Iím excited and I think I have a future in the NBA, but thereís no use rushing into it and I am staying focused on improving so I will be ready when I go through the draft process.

Do you plan on making your name eligible for the next draft?

I will have to weigh that up at the end of this NBL season. Itís definitely not out of the picture, but I will sit down and go through the positives and negatives when the time is right. Right now I am just focused on the NBL season.

When the time is right for you to consider the NBA, do you think enough scouts are at your games for you to get a fair shot?

I think when I do decide to enter the draft, I will be doing it in 100% confidence. I think last year I sort of made a name for myself and I hope that people will follow me this year. Itís a long trip from the US to Australia, but I know scouts can rely on videotape as well. Now that I am with Priority Sports, I know they will do everything possible for all NBA teams/scouts to know all about me.

Is there a chance you would play in Europe for a year in order to help your exposure?

I would definitely consider playing over there. I am also eligible for a European passport, so that will help a lot with trying to get over there.

What do you think about the level of competition in the Australian league?

The NBL is a great league. I know personally itís been great for me to play against more experienced players instead of guys my own age at college. This year the NBL is probably the strongest itís ever been, with lots of young talent and competition across the league.

Why didn't you receive an invite to the Australian National team this summer?

I did! I made the final 15 and went on tours in China and Europe with the team. Unfortunately I didnít get to play in the 3 game series against NZ to qualify for the Olympics. But the tours and all the camps were great for my development and to see what I needed to work on to play at the level.

What are some goals you've set for this season?

This year will be a lot different from my debut season. I sat down with my coach after we recruited a strong scoring team. We decided I was going to take on a strong defensive role on the team. I want to win Defensive player of the year! But I think another goal is to keep working on my shot and strength.

What areas of your game do you think you need to work on?

Definitely core and general strength, I want to get my 3 and NBA 3 extremely consistent, and becoming a vocal leader.

One knock on your game is that sometimes you have trouble finishing through contact, would further developing your right hand help you with this?

I donít think my right hand is the problem, I think being stronger with the ball with help, I get loose with it sometimes and have been great lately, but will still work on that all year.

If you are playing in the NBA, what position are you?

Small Forward or Shooting Guard. I personally believe I can play both of them, and also believe I can bring it down and run a play for a scorer.

You are playing Brad Newley in a one on one game to elevenÖwhatís the score and who wins?

11-0 ME!

[Read Full Article]

---
Roundup: Europe Hails Ricky Rubio
December 26, 2006
ÖJoe Ingles, who reached the 20-point mark twice this past week. In the victory against the Adelaide 36ers, he had 23 points, 8 rebounds and 5 assists. In this game, 12 of his points came in the decisive fourth quarter. He was also hot in the final quarter facing the Brisbane Bullets, scoring 14 of his 20 points (plus 7 rebounds, 2 assists and 2 steals), but it was just garbage time, as the Bullets had rolled over the Dragons in the three previous quarters in an overall unimpressive performance by Ingles. The Aussie kid is regaining importance lately after a sort of hiatus suffered in November and early December. Anyway, heís the fourth best scorer on the Dragons, averaging 15.5 points, 5.2 rebounds and 2.8 assists (usually) off the bench. Thereís plenty of room to feel intrigued about him, although he also suffers the natural struggles of a kid facing veteran competition.

Inglesí combination of size, athleticism and off-the-dribble skills is remarkable. At 6-8 he often operates as a guard, taking the ball up-court or creating offensive opportunities with his slashing abilities. He likes to make decisions using his nice handles and first step, or just waiting for a pick. Heís rather aggressive stepping into the lane looking for his points or the open man. His size allows him to comfortably operate there, although his effectiveness finishing against the opposition still suffers due to his lack of right hand in these situations and he struggles converting through contact. His perimeter stroke is not bad, but his accuracy (around 33% shooting from behind the arc) would increase with better mechanics, as Ingles usually releases his jumper off balance in the air regardless of how hotly the shot is being contested. Better work with his feet and body would help greatly in this department. Ingles is not much of an off-the-ball player, and you can see his lack of maturity in the way he sometimes tries to makes things happen with the ball in his hands, while forgetting about the offensive flow (although the South Dragons aren't the best team around in terms of passing fluidity). On defense, his lateral quickness is promising for a small forwar but he still lacks a bit of aggressiveness and could be better as a helper.

[Read Full Article]

---
Newcomer Aussie Ingles Shows his Stuff
September 28, 2006
The National Basketball League (NBL) in Australia kicked off this past week, and with it, we found an intriguing showing from an 18 year old local kid playing his first ever professional game. Joe Ingles, a 6-8 small forward who plays for the Melbourne based South Dragons, announced his presence to the basketball world with an impressive 29 point showing in a 112-106 loss to the New Zealand Breakers.

Thanks to the marvels of modern technology, DraftExpress quickly acquired a copy of this surprisingly high-quality game. On first glance, it appears that NBA scouts traveling to Australia this season to keep tabs on the improvement of automatically-eligible 1984 born prospect Brad Newley might want to extend their stay for a few more days to make sure they get a look at Ingles.


South Dragons



The long and incredibly lanky Aussie small forward looked like anything but a teenager in his professional debut, making big plays for his team throughout the game and impressing especially with the excellent fundamentals, maturity and feel for the game he showed. His range appears to extend well beyond the International 3-point line, and he possesses a sweet looking stroke with good elevation off the floor. Standing a solid 6-8, he used that repeatedly without hesitation to punish New Zealandís sagging perimeter defense, knocking down 4 of the 5 three-pointers he attempted and 11 of 15 shots overall.

Ingles is a smooth lefty that isnít afraid to use the threat of his shot to put the ball on the floor and make his way into the paint, although he lacks the strength and explosiveness to get all the way to the basket and finish with authority in traffic. He has solid ball-handling skills with either hand, and the toughness and aggressiveness to deal with most anything that comes his way, but his lack of a great first step limits him a bit as far as his potential is concerned.

To counter this problem, he appears to be developing a good looking mid-range game, and he indeed stopped and pulled up on a number of occasions for a lefty jumper right before the defense could react. He also showed excellent court vision on similar occasions, making heady passes to open teammates and showing a very nice understanding of his teamís ball-movement. Ingles wasnít shy about going down low to help out on the boards either, pulling down 7 on the night.

On the flip side, Ingles will have to continue to grow into his frame and add strength to his lower body in particular. He lacks some bulk and had a tough time dealing with the physicality of New Zealandís extremely strong and athletic forward duo Brian Weathers and Carlos Powell. Defensively he will have some to improve his lateral quickness if heís to have a future at higher professional levels playing exclusively on the perimeter.

If youíre looking for a comparison to sink your teeth in, think about Steve Novak of Marquette and the Houston Rockets. To really make this comparison more realistic, though, Ingles will have to improve the quickness of his shot release. It certainly isnít bad, but itís still a bit more deliberate than most NBA scouts would hope for when weíre talking about a potential specialist who is already just an average athlete at best.

Spending two years at the renowned Australian Institute of Sports (AIS), Ingles looks like a very well coached young prospect who will regardless surely become a key component of the Australian National Team when itís all said and done. In the meantime, Ingles is penciled--in our notes at leastóas one of the players weíll be keeping close tabs on as the U-19 World Championships in Vancouver this upcoming summer approaches.

Australia will represented there, as will a team of American NCAA stars, along with France, Spain, Turkey, Puerto Rico, Serbia & Montenegro, Brazil, Argentina, Lithuania, Nigeria, Canada, Mali, and 3 teams from Asia.

[Read Full Article]

---