John Henson
Recent Tweets
All Tweets
DraftExpress: Milwaukee will take John Henson, a source tells us.
2012-06-28 08:52:31
DraftExpress: How unpredictable is this draft? Tyler Zeller and John Henson were invited to the draft. Still sitting there. Kendall Marshall is at home.
2012-06-28 07:50:56
DraftExpress: Our latest DX video scouting report from @Mike_Schmitz today is UNC's John Henson http://t.co/l653JV1E
2012-06-18 09:16:00
DraftExpress: John Henson: "I've put on probably 20-30 pound since high school and I'm still light so I got a little ways to go." http://t.co/MrDcFRjN
2012-06-15 06:00:24
DraftExpress: Perry Jones, Terrence Jones, Arnette Moultrie and John Henson will work out against each other tomorrow in Phoenix (#13 pick).
2012-06-15 05:53:12
Top 25s - Full List
Team: Bucks
Physicals
Positions
Rankings
Salary
Misc
H: 6' 10"
W: 216 lbs
Bday: 12/28/1990
(24 Years Old)

Current: PF
NBA: PF
Possible: PF

RSCI: 4

Agent: Jim Tanner
Current Salary:$1,987,320

High School: Sickles
Hometown: Greensboro, NC
Drafted: Pick 14 in 2012 by Bucks
Best Case: Marcus Camby
Worst Case: Larry Sanders

Predraft Measurements
| Year | Source | Height w/o Shoes | Height w/shoes | Weight | Wingspan | Standing Reach | Body Fat | No Step Vert | Max Vert |
| --- | --- | --- | --- | --- | --- | --- | --- | --- | --- |
| 2012 | NBA Draft Combine | 6' 9" | 6' 10.5" | 216 | 7' 5" | 9' 4" | 8.6 | 25.5 | 30.0 |



Basic Per Game Statistics

- Comprehensive Stats - Statistical Top 25s
| Year | League | Name | GP | Min | Pts | FG | FGA | FG% | 2Pt | 2PtA | 2P% | 3Pt | 3PtA | 3P% | FTM | FTA | FT% | Off | Def | TOT | Asts | Stls | Blks | TOs | PFs |
| --- | --- | --- | --- | --- | --- | --- | --- | --- | --- | --- | --- | --- | --- | --- | --- | --- | --- | --- | --- | --- | --- | --- | --- | --- | --- |
| 2015/16 | NBA | John Henson | 13 | 14.8 | 6.5 | 2.5 | 4.5 | 55.2 | 2.5 | 4.5 | 55.2 | 0.0 | 0.0 | &nbsp | 1.6 | 2.3 | 70.0 | 1.9 | 1.9 | 3.8 | 0.6 | 0.3 | 1.1 | 1.4 | 2.3 |

Player Page&nbsp&nbsp| Player Stats | Mock Draft History | Related Articles&nbsp&nbsp| Add to My Draft Express&nbsp
&nbsp
2012 NBA Draft Media Day Interviews Part Two
June 28, 2012
[Read Full Article]

---
NBA Combine Interviews: Henson, Moultrie, James
June 24, 2012
[Read Full Article]

---
Situational Statistics: the 2012 Big Men Crop
June 23, 2012
-John Henson also doesn't rank very favorably in this analysis, which perhaps isn't a surprise given how raw he's considered to be offensively. He garnered a decent amount of usage (14.1 possessions per game, 8th overall among the 26 prospects), but wasn't terribly efficient (.923, 5th worst) with those touches, mainly due to his struggles getting the free throw line (2nd worst) and the fact that he's neither a prolific scorer with his back to the basket (.805, 42% FG%), or a consistent jump-shooter (.691, 35% FG%). Unlike Anthony Davis, Henson was asked to do those types of things far more frequently at North Carolina (he ranked 3rd in total jump-shot attempts and 12th in post-ups), which makes you wonder a bit about the role he was asked to play.

One interesting note: while Tyler Zeller is often the North Carolina big man lauded for his ability to run the floor, Henson actually did so more often (1.9 transition possessions, vs. 1.4), leading all 26 big men prospects in that category.

[Read Full Article]

---
John Henson Video Scouting Report
June 18, 2012
Mike Schmitz takes a look at the strengths and weaknesses of John Henson with the help of North Carolina game film, Head Coach Roy Williams, ESPN analyst Jay Bilas, and Henson himself.






---




More DraftExpress Video Breakdowns:


-Perry Jones Video Scouting Report
-Thomas Robinson Video Scouting Report
-Andre Drummond Video Scouting Report
-Quincy Miller Video Scouting Report
-Tony Wroten Video Scouting Report
-Terrence Ross Video Scouting Report
-Tyshawn Taylor Video Scouting Report
-Damian Lillard Video Scouting Report
-Jeremy Lamb Video Scouting Report
-Bradley Beal Video Scouting Report
-Dion Waiters Video Scouting Report
-Kendall Marshall Video Scouting Report
-Moe Harkless Video Scouting Report
-Meyers Leonard Video Scouting Reports
-Michael Kidd-Gilchrist Video Scouting Reports
-Harrison Barnes Video Scouting Report
-Austin Rivers Video Scouting Report
-Tyler Zeller Video Scouting Report
-Arnett Moultrie Video Scouting Report


---


Mike Schmitz is a writer for ValleyoftheSuns, a member of the TrueHoop Network. Follow him on twitter and subscribe to his YouTube page.

[Read Full Article]

---
Trending Prospects (3/1/2012)
March 1, 2012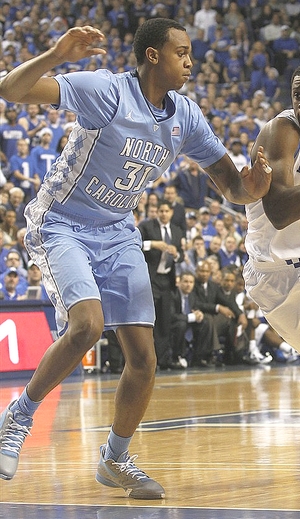 Icon SMI



Joe Treutlein

John Henson has steadily improved his game in each of his three seasons in Chapel Hill, but the former top-5 high school recruit is still nowhere near his potential, which is scary given how key a role he already plays on one of the best teams in college basketball.

Henson's minutes and role have expanded slightly this season, as he's seeing a higher percentage of opportunities with his back to the basket, but his production and efficiency numbers are similar to last season.

On the offensive end, Henson has greatly improved his post-game in his three years at UNC, and has developed a solid go-to move in his unorthodox left-handed hook shot, which he uses far more often than his natural right hand. Henson's post game is unconventional in style, something that stems largely from his very unique physical characteristics, namely his very long legs and superb coordination and balance for his size.

Henson does a great job establishing a wide base in the post, spreading his legs out to take full advantage of his range on drop-steps and turnaround hook shots, getting separation with ease.

His ability here is enhanced even further by his coordination and balance, as he is very fluid going from move to counter move, and has no problem going up from awkward positions. He's very capable of finishing from areas of the court that would be difficult for other bigs, using his freakish length and smooth athleticism to extend up from under the rim, showing good ability to finish with both touch and power.

Projecting Henson's post game to the next level, there are some significant question marks, namely in how he will adjust when his notable lack of strength becomes more of an issue. Henson doesn't show significant problems establishing deep post position against college level competition, but could have a much tougher time against pros. His ability to finish consistently outside 10 feet is not great at this stage, as his jump shot is still unreliable and he uses face-up drives sparingly.

Henson's ability to finish off the ball has been slightly less featured this season, as he's forced to share touches with a very dominant offensive big man in Tyler Zeller, but is certainly his most attractive offensive skill from an immediate perspective in the NBA.

Henson's combination of coordination, length, athleticism, hands, and ability to finish with finesse and power make him extremely dangerous operating on cuts and pick-and-rolls, both of which could be utilized even more effectively than they are now in the right system at the next level. Henson's actually been used very sparingly on pick-and-rolls this season, especially going to the basket, and that may actually be his most potent offensive skill at the next level.

One nice thing about Henson's game that has become more apparent as he's bulked up from 183 pounds as a freshman to a still wiry 220 pounds this season is his toughness going to the basket, as he has no problem going up for a power dunk when he has the opportunity, something that happens very frequently given his height and length.

The biggest weakness with Henson's offensive game is still his extremely unreliable shooting ability, as evidenced by the fact that his 50% free-throw percentage this season is actually a three year high (he shot 44% as a freshman, 48% as a sophomore).

Henson occasionally shows flashes with his mid-range jumper, and is slightly better with turnaround jumpers from the 10 foot range, but is extremely inconsistent overall and lacks much in the area of feel with his jumper. Developing an at least respectable free-throw and mid-range jumper would be very helpful to Henson's transition to the NBA, and should be a focus in his pre-draft preparation.

While Henson's offensive game is still raw and developing, the same cannot be said for his defense and rebounding, which are his strongest selling points in terms of immediate impact. Henson's tools on this end are phenomenal, and he does an excellent job utilizing them, as we've outlined in our past reports of him.

While there are some questions about Henson's ability to not get backed down in the post at the next level due to his slight frame and average toughness, he makes up for it somewhat by using his smothering length to block shots in man-to-man situations.

Henson's perimeter defense is much more of a sure thing to translate, as he possesses elite tools and abilities to defend power forwards in this regard, while also having the ability to effectively switch onto guards. He's also superb defending pick-and-rolls, showing excellent change of direction ability that when combined with his length allows him to trap hard and still recover to his man.

Henson's pace-adjusted rebounding and shot blocking are both slightly down this season, but still rank among the best in our database, especially for power forwards. He does a great job applying his tools in these areas with his excellent motor, and would likely be able to devote even more energy to these areas in the NBA as he continues to add strength to his frame.

Looking forward, Henson is already an extremely effective college player even though he's nowhere near his potential physically or technically. He should be able to make an instant impact in the pros on defense, the glass, and finishing of the ball offensively, though how effective he is on both ends of the floor initially will depend somewhat on how well his coach utilizes his skills.

Improving his perimeter shooting ability and continuing his difficult struggle to add strength and weight to his slight frame should be his biggest priorities in the pre-draft process, though he will likely be a top-10 pick by virtue of his tremendous upside regardless.

[Read Full Article]

---
Top NBA Draft Prospects in the ACC, Part One (#1-5)
September 16, 2011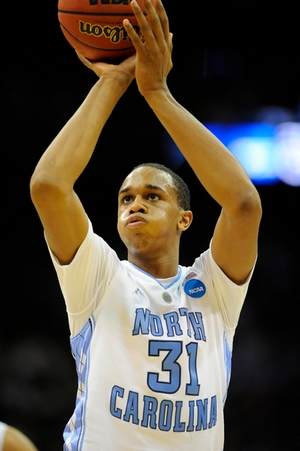 Icon SMI



Kyle Nelson

John Henson is an intriguing physical prospect, at 6'10 with a massive wingspan. He is an excellent athlete, as well, extremely mobile for his size and explosive around the basket. There are few big men in the NBA, let alone the NCAA, with Henson's athletic profile.

His frame is still skinny, however, and despite almost three years of weight training and conditioning, he only weighs around 220-pounds.This is a tremendous development considering he weighed just 183-pounds as an incoming freshman, but he still has a lot of work to do before proving that he's strong enough for the NBA post.

Similarly, despite his intriguing physical profile, his offensive game is still very raw, both inside and outside.

Henson has developed some decent footwork in the post, which allows him to better utilize his quickness to finesse his way to the basket. His back-to-the-basket game is still unpolished, however, and he struggles to score against stronger defenders. According to Synergy Sports Technology, Henson converts just 42.4% of his attempts in post-up possessions. Furthermore, he rarely looks to pass out of double teams to any of the elite scorers waiting on the perimeter.

His perimeter game is in need of some serious work as well. For one, he has regressed significantly as a shooter. While he is fairly successful shooting the ball within 10 feet of the basket, his mechanics and overall effectiveness unravels as he moves towards the collegiate three point line. He made just 25.5% of his spot-up attempts according to Synergy, which juxtaposed alongside of the facts that he is shooting 5/24 from beyond the arc and a miserable 48% from the foul line suggests he has a long way to go before being able to contribute in catch-and-shoot or spot-up capacities.

Henson is outstanding in pick-and-roll sets, however, thriving alongside of Kendall Marshall, and showing Tyson Chandler-esque qualities rolling to the basket and finishing emphatically. It is not hard to envision him playing a similar role in pick-and-roll-friendly NBA offenses.

Henson is a formidable defensive presence, as well, with some noticeable limitations in regards to his NBA future. At the NCAA level, however, he is capable of guarding every frontcourt position, inside and outside, due to his outstanding combination of lateral quickness, length, and explosiveness. An issue at the NCAA level, which will undoubtedly remain problematic in the NBA, is his strength. Despite his length and athleticism, he still gets backed down far too easily and frequently. Scouts will be watching intently this season to see if his added strength helps him as a junior.

He is a fearsome shotblocker--one of college basketball's best--to the tune of 4.4 blocks per 40 minutes pace adjusted, and his timing and explosiveness, both on his first and second jumps, are almost unrivaled at this level. In addition, he commits just 2.4 personal fouls per 40 minutes pace adjusted, anomalous amongst elite shot blockers.

He is an outstanding rebounder, as well, averaging 13.9 rebounds per 40 minutes pace adjusted, which is one of the best rates amongst returning prospects in our database. His length and athleticism allow him to be all over the floor, and only improved fundamentals hold him back from being truly elite at any level.

Henson enters his junior year with significant expectations as his body and skills continue to mature. Furthermore, while his sophomore campaign was not without inconsistencies, he seemed to learn how to play more towards his strengths as the season continued. Even if he does not develop his offensive game significantly, there are few players in the world with his elite physical profile and defensive potential. Barring a very disappointing season, it seems safe to say that Henson will be a high pick whenever he decides to enter the NBA Draft.

[Read Full Article]

---
Top NBA Draft Prospects in the ACC, Part One (#1-5)
October 17, 2010
Walker Beeken

After starting his freshman season as a player found near the top of many 2010 NBA draft boards, John Henson's stock came back towards reality when we profiled him last season, as it was clearly evident that he was not ready to be a big contributor at the college level, let alone the NBA. Though his potential was never in doubt, his lack of strength in his long, lanky frame made it difficult for him to compete, as he was often muscled around on the inside and on the perimeter.

He continued to develop and become more comfortable as the season went on, however, and following a season-ending injury to Ed Davis in mid-Februrary, Henson got the opportunity to earn more minutes, and he took advantage. While he still faced many of the same problems he had all season due to his under-developed body, Henson showed flashes of why he was regarded so highly as a future NBA prospect.

Henson's intrigue as a prospect centers around his phenomenal physical tools and his freakish length and mobility for a player at 6'10". He runs the floor extremely well and has huge strides and a tremendous wingspan, which allow him to cover a ton ground with each step he takes. While his body is obviously in need of quite a bit of extra strength, he should be able to add that in time with the proper training and work ethic. This will be the key to his development though, as he's limited in many areas because his lack of strength.

Offensively, Henson relied on his length and energy to make plays and get buckets around the rim last season, whether he was crashing the offensive boards, cutting to open spaces in the basket area, or running the floor in transition. And while he was often able to find ways to finish, he threw up quite a few awkward shot attempts in more crowded situations where he wasn't able to go up and finish strong.

Henson handles the ball very well for a player his size and has the potential to be a matchup nightmare for opposing power forwards on the perimeter, where he can utilize his quick first step and long strides to beat his man to the basket. He showed flashed of this last season, but he was too easily bumped off his path because he was so thin and weak.

As a shooter, Henson really struggled last season, as shown by the abysmal 44% he shot from the free throw line and 23% he shot on jumpers. His mechanics are much better than that though, and he shoots with a soft touch, so he should be able to improve quite a bit in this area in time, with repetition and a focus on consistency.

On the defensive end, Henson has the potential to be outstanding, especially as his body matures and he continues to add strength. He has adequate lateral quickness to cover NBA power forwards, and his tremendous length helps him recover quickly and covers up some of his mistakes. In addition to the havoc he can cause on the ball, Henson excels as a help defender as well, as evidenced by his averaging 3.6 blocks per forty minutes pace adjusted last season. He also showed a very good activity level on the glass as a freshman, posting double digit rebounds in 5 of his last 12 games.

Overall, Henson made some nice strides during the course of his freshman season, and it will be interesting to see what type of improvement he made in the offseason, both with his basketball skills and with his body. He oozes with upside and has the height, length, and mobility that scouts covet for a 4 man in today's NBA, but judging from last season, he still has some time before he'd be able to contribute at that level. Regardless, Henson will be a player to keep an eye on this season as his physical development will have a huge impact on his production as a sophomore.

[Read Full Article]

---
NCAA Weekly Performers, 12/10/09
December 10, 2009
Joey Whelan

There may not be a player in the country that can inspire more intrigue in ten minutes per game like John Henson can. The crown jewel of yet another loaded freshman class in Chapel Hill, the talented forward with the Kevin Durant-esque frame has already shown glimpses of the ability that will make him a potential top prospect when he opts to make the jump to the NBA. Like many taller perimeter players, though – especially one a young as Henson – it may be a long time before he really grows into his body and is able to reach his full potential as a player.

Packing a paltry 200 pounds (if that) onto his massively long frame, Henson gets muscled around by even the most average college players. Despite being listed as a power forward, he rarely gets touches in the post given his inability to hold his position and bang with defenders—not to mention the fact that his team is absolutely loaded at his position.

When attacking off the bounce he will get bumped off his line by opponents as well, but does often show the length and athleticism to compensate for this shortcoming right now. Obviously the UNC training staff will do all they can to get some additional mass onto him during his time with the program, which will go a long way to making him an even greater threat with the basketball in his hands. How quickly he will be able to do so will likely play a huge role in how he's perceived as a draft prospect.

The appeal of Henson's game is his combination of size and versatility. He already shows flashes of possessing the skill set to capably function on the perimeter, something he has been forced to do in the limited time he has seen on the floor this season. His ball-handling skills, though still too loose to allow him to create his own shot consistently in half-court situations, are very intriguing for a player his size. He definitely displays an above average first step for a bigger perimeter player, and is crafty enough to get to the basket in isolation situations against most defenders. When attacking the basket he uses his length very well, able to score over and around defenders with relative ease. Once he adds the strength necessary to handle the bumps he gets in the lane (which may be easier said than done), the combination will prove deadly for opposing defenses.

As a shooter, the freshman exhibits a very soft touch, but is wildly inconsistent with his release right now. He has range beyond the three-point line, but has struggled from that distance thus far given how slow his release is, due in large part to his tremendously long arms. He certainly looks comfortable shooting on the move and off the dribble, but developing consistency in this aspect of his game will be paramount to his future value as a pro prospect considering his lanky frame. What does need to be noted though is Henson's advanced understanding of how to move without the basketball. He displays a strong knack for finding open spaces in the defense, and though he doesn't always capitalize on these holes, this skill will help him a great deal when he comes a more integral part of the offense.

In the limited time Henson is on the floor he shows a great deal of hustle, particularly on the defensive end. He is very active on the glass and has already proven to be a menace as a shot blocker, swatting away 4.3 blocks per-40 minutes, the sixth highest total among the freshman class. With his wingspan and leaping ability, he often doesn't even need to be in proper position to alter shots around the basket and has already shown glimpses of his brilliance as a help side defender. His lateral quickness will need to improve in order to effectively cover perimeter players at the next level, but again, his is aided by his length in this regard.

Given his limited playing time this season (a trend that will likely continue) and the tremendous amount of physical maturing he has left to do, it seems fairly safe to assume that Henson will be staying for at least his sophomore season. Deon Thompson will be gone in 2011 and Ed Davis probably will be as well, allowing the freshman to move back to his natural power forward position and assume a larger share of the offensive load. With a year to grow physically and fine tune his skills, it would not be out of the question for Henson to have a huge second season in the ACC. Regardless of what his numbers eventually look like, his enticing combination of size, skill and upside will keep his name high on the draft board of every team in the NBA.

[Read Full Article]

---
Nike Hoop Summit, High School Prospects
April 16, 2009
Though Henson didn't really get a ton of minutes or touches considering his talent, he still managed to make a solid impact in the game, and show off excellent potential in a number of areas. The future Tar Heel showed excellent off the ball movement on multiple occasions, and his movement lead to a couple of easy dunks, one of them an impressive alley-oop. He also appeared to be quite active inside, making a good effort to rebound the ball despite his lack of strength, and gathering 5 offensive rebounds, which lead to a couple easy put-backs.

Physically, Henson has a similar build to that of a high school Kevin Durant, with a frame that will take significant time to add any type of bulk to. On the other hand, he has an impressive vertical leap, runs the court quite well, and he does play tougher than he looks.

Skill-wise, the forward likes to face the basket at this point, showing solid ball-handling ability and court-vision to go with a smooth-looking perimeter jumper. He also has very nice touch around the basket, and can knock in a hook shot with either hand from the low post. Down the road, Henson may see time at both forward spots, and could potentially develop into a mismatch nightmare if he completes both his perimeter and low post games.

Henson should get the minutes to prove himself next season for North Carolina, and has an excellent set of tools to work with as well. If he finds a way to add some strength and continues to round out his skills next season, it wouldn't be out of the question to see him develop into a very high draft pick.

[Read Full Article]

---
Player Evaluations, McDonald's All-American Game (West Team)
April 3, 2009
Henson (#3 Scout, #6 Rivals, #3 ESPN) had a strong showing this past week, putting his strengths and weaknesses on full display, and showing why some analysts consider him to have the most upside of any prospect in the 2009 high school senior class.

As we've discussed in the past, Henson is an incredibly physically gifted player thanks to his great size, nice athleticism, and freakishly long arms. The main drawback is his very poor frame, which may hinder his development somewhat early on, particularly his extremely skinny legs.

Regardless, Henson is a tantalizing prospect, as he has budding perimeter skills you typically don't see from a 6-10 player, and also is obviously a great kid with excellent intangibles as you'll be able to see in the interview below. His ball-handling skills and soft shooting touch (mostly from mid-range) are very intriguing attributes, and he also seems to have excellent instincts on the defensive end as well, showing excellent shot-blocking instincts, and seemingly getting his hands on every ball that in his area if strength isn't a factor.

Henson needs to be careful not to try and become too much of a perimeter player. One of the reasons he's so interesting is his ability to operate as a mismatch threat as a dynamic face-up power forward, a position that is very much en vogue in today's NBA, and he shows great potential for with his terrific length and athleticism. It may take him a little bit longer to develop as his body slowly fills out, but he's obviously someone that scouts will follow intently from day one at the college level.

[Read Full Article]

---
Initial Scouting Reports, High School Class of 2009 (Top 10 recruits)
July 28, 2008
One of the more intriguing big men prospects in attendance, John Henson (#4 Scout, #5 Rivals, #16 ESPN) may not have been the most productive player in Vegas, but he definitely showed some of the best potential.

Standing 6-10, incredibly skinny but with an outstanding wingspan, Henson will be drawing comparisons to all the usual big men out of Texas—Chris Bosh, LaMarcus Aldridge and Anthony Randolph, and for good reason. He's super athletic, running the floor with ease, explosive off his feet, and with a very quick first step, but also shows a budding skill level facing the basket and an excellent feel for the game, which makes him all the more intriguing.

Henson isn't strong enough to hold a spot on the block and play in the post, although he can finish around the hoop with a dunk or a nifty move with either hand (his extension around the basket is fantastic)—so he prefers to operate on the perimeter at this point. He has shaky range all the way out the 3-point line, and can even pull up off the dribble from mid-range, although we're pretty sure Roy Williams won't want him doing that anytime soon at Carolina next year.

He did drop some gorgeous glimpses of potential in the form of crafty pivot moves starting from the perimeter and finishing right at the rim, and seems to have semi-decent ball-handling skills for a player his size to compliment his excellent first step. His passing skills look excellent from what we saw in the two games we took in, particularly on the interior. It's great to see a big man with such a developed feel for the game considering how raw he is offensively, and you could clearly see that his intangibles are solid and that his teammates enjoy playing with him.

Henson looks very off-balance at times with his moves, which is a product of his lack of strength combined with his lack of experience and offensive polish. He still has a long ways to go before being able to execute the moves he tries at times on a consistent basis, which is why he'd be best off not falling in love with his perimeter game so fast. We saw him take some highly questionable shots at times, showing poor decision making in the process. This is something he'll have to clean up at the collegiate level.

Defensively, Henson plays hard and looks inclined to compete, but he's extremely limited by his lack of strength, which is a real hindrance at this point. His length gives him the ability to be very disruptive in the paint once, but he gets pushed around too easily to be a consistent shot-blocking threat at this stage in his development.

All in all, we're talking about a guy who obviously has a lot to work on, but clearly has a great base of natural tools and skills to build off as well. The NBA likes these new-age hybrid 4's who are athletic mismatches facing the basket, and that might be the mold Henson falls into in time. He looks like a solid bet to develop into something special if he continues to work hard, but we'll have to continue to monitor his progress over the next few years.

[Read Full Article]

---