John Wall
STRENGTHS:
- Ability to get to free throw line
- Mix between scoring/passing
- Pick and roll play
- Pure point guard
- Versatility
- Ability to create own shot
- Ability to contest shots
- Commitment to playing defense
- Lateral quickness
- Versatility to defend multiple positions
- Body language
- Coachable
- Energy/Intensity
- Huge upside
- Leadership skills in clutch
- Winning mentality
- Work ethic
- High-level productivity
- Court vision
- Ability to finish around basket
- Body control
- Freakish athleticism
- Size for position
- Wingspan
- Free throw shooting
WEAKNESSES:
- Mid-range game
- Turnover prone
- Advanced ball-handling skills
- Change of gears/Hesitation moves
- Struggles to create with off hand
- 3-point range
- Ability to shoot off the dribble
- Inconsistent shooter
Recent Tweets
All Tweets
DraftExpress: 2010 Top Vegas Summer League PERs Ty Lawson Demar Derozan Marcus Landry Russell Robinson John Wall Bobby Brown Sam Young Javale Mcgee
2013-07-17 13:24:59
DraftExpress: RT @DraftExpress2 Ben McLemore goes 4-23 in debut. Next two worst 4 make VSL shooting performances? John Wall and Kevin Durant had 4-19 ga\u2026
2013-07-13 21:15:24
DraftExpress: Ben McLemore goes 4-23 in debut. Next two worst 4 make VSL shooting performances? John Wall and Kevin Durant had 4-19 games as rooks.
2013-07-13 20:39:50
DraftExpress: Sounds like John Wall wants the Wizards to draft Anthony Bennett "we need a four man that can pick and pop" http://t.co/XJ7yUhRG7Q
2013-06-02 10:14:50
DraftExpress: John Wall is also on the USA Select roster. I missed that in the press release. Apologies.
2012-05-21 12:18:15
Top 25s - Full List
Team: Wizards
Physicals
Positions
Rankings
Salary
Misc
H: 6' 4"
W: 196 lbs
Bday: 09/06/1990
(25 Years Old)

Current: PG
NBA: PG
Possible: PG

RSCI: 2

Agent: Dan Fegan
Current Salary:$13,701,250

High School: Word of God Christian
Hometown: Raleigh, NC
Drafted: Pick 1 in 2010 by Wizards
Best Case: Russell Westbrook W/ Better Court Vision
Worst Case: 6-4 Version Of Kyle Lowry

Predraft Measurements
| Year | Source | Height w/o Shoes | Height w/shoes | Weight | Wingspan | Standing Reach | Body Fat | No Step Vert | Max Vert |
| --- | --- | --- | --- | --- | --- | --- | --- | --- | --- |
| 2010 | NBA Draft Combine | 6' 2.75" | 6' 4" | 196 | 6' 9.25" | 8' 5.5" | 5.6 | 30.0 | 39.0 |



Basic Per Game Statistics

- Comprehensive Stats - Statistical Top 25s
| Year | League | Name | GP | Min | Pts | FG | FGA | FG% | 2Pt | 2PtA | 2P% | 3Pt | 3PtA | 3P% | FTM | FTA | FT% | Off | Def | TOT | Asts | Stls | Blks | TOs | PFs |
| --- | --- | --- | --- | --- | --- | --- | --- | --- | --- | --- | --- | --- | --- | --- | --- | --- | --- | --- | --- | --- | --- | --- | --- | --- | --- |
| 2015/16 | NBA | John Wall | 14 | 33.0 | 16.1 | 5.7 | 14.6 | 39.0 | 4.5 | 10.4 | 43.2 | 1.2 | 4.2 | 28.8 | 3.5 | 4.8 | 73.1 | 0.8 | 2.7 | 3.5 | 7.6 | 2.1 | 1.0 | 4.3 | 2.3 |

Player Page&nbsp&nbsp| Player Stats | Mock Draft History | Related Articles&nbsp&nbsp| Add to My Draft Express&nbsp
&nbsp
2010 Boost Mobile Elite 24: John Wall Post Game Commentary
September 20, 2010
[Read Full Article]

---
NBA Draft Media Day Interviews: Wall, Aldrich, Johnson, Patterson, etc
June 24, 2010
[Read Full Article]

---
John Wall Workout and Interview
June 6, 2010
[Read Full Article]

---
Analyzing the NBA Combine Measurements
May 22, 2010
John Wall's measurements are simply outstanding for a point guard. Physically, he looks superior to Derrick Rose (6-1 ½ without shoes, 6-8 wingspan) and Russell Westbrook (6-2 ¼ without shoes, 6-7 ¾ wingspan), two players he's often compared with.

At 6-2 ¾ without shoes, with a 6-9 wingspan, Wall should have no problem defending NBA shooting guards, making him extremely versatile in the sense that he can be paired in the same backcourt with another combo guard, such as Gilbert Arenas. Add in the fact that Wall was the biggest star of the weekend in both the NBA team and media interviews, and this combine could not have gone any better for him.

The gap between Wall and Turner appears to be too wide to close at this point, barring something disastrous happening in Washington.

See how Wall stacks up historically with other point guards drafted in the top 15 in our measurements database.

[Read Full Article]

---
NBA Combine Video Interviews: Wall, Favors, Monroe, Udoh, Orton
May 21, 2010
Part One: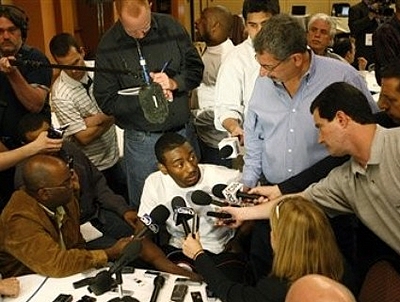 AP
Part Two:
[Read Full Article]

---
John Wall Signs with Dan Fegan and BEST
May 3, 2010
The biggest name in the draft has selected an NBA agent, DraftExpress learned tonight.

Kentucky freshman John Wall, the leading candidate to be selected first overall in the 2010 draft, has signed with Dan Fegan of Blue Entertainment Sports Television (BEST).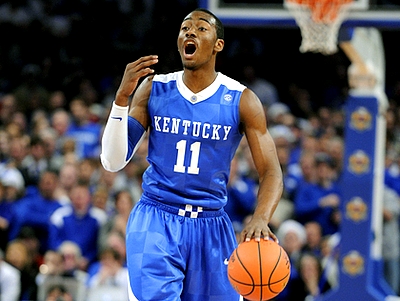 Icon SMI



Fegan, a Yale Law School graduate and one of the most powerful agents in the NBA, made a big splash for Jonathan Blue's agency, which acquired his practice in 2008, with this signing.

It has been heavily rumored in recent weeks that BEST will be acquired by French sporting and publishing giant Lagardere S.A., as reported by Sports Business Journal. The sale has not yet been finalized according to sources, but is surely in the works at this point.

The signing of Wall is a major coup for Fegan, BEST and, potentially, Lagardere. They've landed a player widely considered to immediately join an elite group of young NBA point guards. Wall's unique combination of exceptional physical tools—size, speed and explosiveness—along with his terrific playmaking skills and superb intangibles make him a game-changing presence in today's NBA, and an extremely marketable one at that.

Wall is not only a physical specimen with an unlimited amount of talent and upside, but he's also an extremely unselfish and highly competitive player—making him an incredibly rare and coveted prospect for NBA teams, and beyond.

Fegan also represents another highly marketable future star point guard in Ricky Rubio, along with the likes of Anderson Varejao, Nene, Jrue Holiday, Shawn Marion, Yi Jianlian, Jason Terry and Troy Murphy.

Industry sources and other top NBA agents we've spoken with since the news broke about Lagardere's acquisition of BEST expect them to immediately compete with fellow top media conglomerates Creative Artists Agency (CAA) and Wasserman Media Group (WMG), companies that have slowly taken over the NBA agent landscape. This is a major step in that direction and will provide a huge amount of exposure in turn.

It has yet to be determined what will happen with Wall's marketing rights. Marketing is considered to be a major piece to the puzzle with Wall, given the pull the projected No. 1 pick will likely have in the sneaker world and beyond.

Yahoo's Adrian Wojnarowski reported a few weeks back that Wall could join LeBron James' marketing firm, LRMR, but that deal appears to have fallen apart.

BEST is reportedly in the process of finalizing an agreement to co-represent Wall's marketing rights along with another company, not LRMR.

Look for Dwon Clifton—part of Wall's AAU team, D-One Sports—to leave his position as assistant coach at Baylor University as part of this signing.

[Read Full Article]

---
Landry Fields: The Players You See. The Players I Play
April 25, 2010
Finally, John Wall. There are many words to describe Wall, but the word I have chosen is, winner. No one had more hype in the nation than this guy so when we heard we would have a chance to play him we gladly accepted the challenge. His game against us ended just OK but I don't think that reflected his entire game. His last five minutes going into overtime were outstanding. That's why I call him a winner. Even in a game where he wasn't playing all his best, he still found a way to will his team to victory. Not to mention he's a pretty decent defender. I remember 4 or 5 different guys having to guard me that game and he was one of them. Anyway, he was the one to knock down the clutch free throws for them to send it into overtime. Then he proceeded to have a great last five minutes. Game over.

[Read Full Article]

---
NBA Draft Prospect of the Week: John Wall
December 16, 2009
John Wall's freshman season feels like one big highlight reel thus far, starting with his very first game against Miami Ohio in which he knocked down a terrific pull-up jumper to win the game for Kentucky.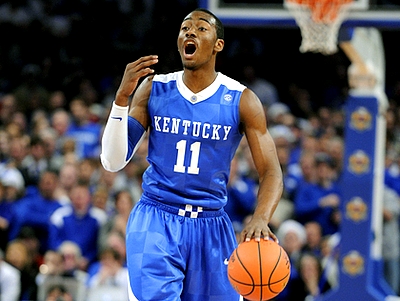 Icon SMI



That continued with more late-game heroics against Stanford in a tournament in Cancun, keeping his team in the game to force overtime and win a game they probably shouldn't have.

The legend only grew after that as seemingly the entire basketball nation tuned in to CBS on a Sunday afternoon to watch him carve up North Carolina's defense with some incredibly athletic plays in transition, only to see his value magnified as his team fall apart the moment he was forced to leave the game with a minor injury.

As the stage got bigger—this time in Madison Square Garden—Wall's notoriety continued to grow, as more clutch second half play and a season high 25 points gave his team yet another big win against a very tough UConn squad.

Needless to say, Wall has done everything that's been asked of him and then some, both on and off the court, and is at this point the run-away favorite to be drafted first overall in June, regardless of who is making the pick. The question now becomes, just how good can he become in the future? And what does he need to do to get there?

Plenty of words have already been spent on the athletic gifts of John Wall, both here and otherwise. He's in a class of his own in college basketball as far as his quickness and explosiveness is concerned, as he's shown on countless occasions with some incredible highlight reel plays.

After all, how many NCAA teams have a set play in their offense for a backdoor cut and alleyoop lob intended for their point guard? We called Derrick Rose the "most athletic point guard we've ever evaluated at the college level," and feel strongly about the fact that Wall is every bit his equal in that category, if not better.





A place where Wall might still be underrated though is in his passing ability. Not only does he rank 6th amongst all draft prospects in assists per-40 minutes pace adjusted, but more notably he ranks 8th in assists per field goal attempt ratio.

This is an interesting stat to evaluate Wall by because it compares the amount of assists he racks up with the number of shots he takes, which could be a good way to rate how unselfish he's been. Right now he stacks up favorably in that category with the collegiate numbers posted by the likes of Chris Paul, Deron Williams, Rajon Rondo and Ty Lawson, and absolutely blows away what Derrick Rose did as a freshman.

More important than the numbers is the fact that Wall is clearly showing excellent instincts as a passer, both with the creativity in which he gets the ball to teammates in different spots on the floor—he's more than just a vanilla drive and dish point guard—and also with the willingness he displays to get others involved.

This is exactly what you want to see from a modern day NBA point guard—the ability to take over as a scorer and shot-creator when needed, to go along with the selflessness to want to make everyone around him better.

Another area in which Wall has been better than advertised is with his play on the defensive end. Not only does he have the physical attributes required to be a lockdown defender—with his terrific size, wingspan and lateral quickness—but (unlike Derrick Rose) he also shows the type of aggressiveness and intensity to take advantage of his tools.

The huge number of blocks and steals he generates immediately jumps off the page at you, but seeing the way he absolutely smothers his opponents on the perimeter with his length and his ability to cover ground and contest countless shots around the basket each game is far more impressive.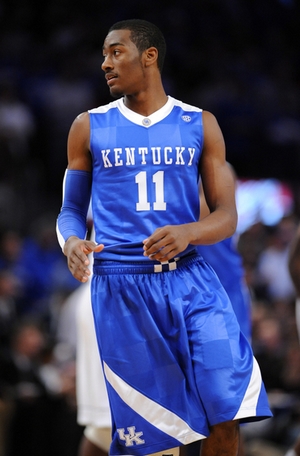 Icon SMI



The scariest thing about John Wall right now is that as good as he is—he's clearly the frontrunner for NCAA player of the year honors—he's still only scratching the surface on how good he might become down the road.

The most glaring weakness we can recognize revolves around his ability to operate in the half-court. According to the data we have at our disposal, Wall's field goal percentage in transition situations sits at an amazing 77%. Once he's forced to play in the half-court, though, his field goal percentage plummets to just 40%. Similarly, he's been able to draw fouls in the half-court on just 10% of his possessions, as opposed to 27% in transition.

Wall's ball-handling skills in tight spaces are currently not up to par with his amazing athleticism. His ability to change speeds and directions when creating his own shot out of a stand-still position is just average right now, as he tends to struggle if he can't just blow by his defender purely with his first step. He overwhelmingly favors driving left (doing so in 71% of his possessions), and is mostly relegated to either passing or pulling up off the dribble if forced to drove right.

Because he's a far better slasher at this point than he is a shooter, defenses tend to sag off him and force him to beat them with his still-erratic pull-up jumper. He's been showing major improvement with it as the year's moved on, though, so it will be interesting to see how he progresses in this area.

Due to Wall's struggles and those of his teammates in the half-court, he is exceedingly turnover prone, ranking fourth amongst all draft prospects in turnovers per-40 minutes pace adjusted, at 5.2. He's forced to carry an awfully big share of Kentucky's offense—27.2% to be exact—and it's clear his decision making skills still need work, something that will likely come in time with experience.

Improving his perimeter jumper should help, and Wall has already looked a little better than anticipated in this regard, making 7/19 3-point attempts, some of them coming from fairly deep, sporting solid mechanics and shot-making ability (particularly in the clutch) that leaves plenty of room for optimism regarding the future.

Despite his obvious weaknesses, Wall's talent level has consistently been high enough to overcome any issues he's faced thus far in the NCAA, which is in no part due to his superb intangibles.

Beyond making more clutch plays in his first nine games than most college basketball players make in four years, Wall has shown a competitive will to win that hints at great things to come in the future.

His court demeanor is excellent, knowing how to fire up the crowd and his teammates with his constant energy level, but not getting too high or low in any moment of the game, showing outstanding poise for a 19-year old.

The more up and down style that is played in the NBA will favor him—ask Brandon Jennings--as will NBA teams' huge reliance on the pick and roll, an area Wall has shown fantastic potential in. In the limited amount of possessions we've been able to take in of Wall playing pick and roll, he looked far more natural and comfortable than he has in the dribble drive motion offense.

It's possible that as the season moves on Kentucky as a whole and Wall in particular will improve in this area, though. The type of chemistry he can develop with Patrick Patterson, who is looking more and more like a top-10 pick with each game that goes by, will be key.

Right now Wall looks about as close to a can't miss prospect as we've evaluated in this our 7th NBA draft. It will be interesting to see who lands the top pick in June and how they decide to approach the draft. Most of the top candidates (Utah [via the Knicks], New Jersey, Minnesota) don't appear to have a glaring need for a point guard at this juncture, but Wall is likely just far too talented to pass up.

[Read Full Article]

---
NBA Draft Roundup, May 5
May 5, 2009
Citation unlikely to hurt John Wall

Tim Stevens of the Raleigh News & Observer gathers quotes from high school analysts indicating that John Wall's poor decision-making is unlikely to affect his recruiting process.

John Wall received a misdemeanor citation last week, accused of breaking and entering a house in Southeast Raleigh, but the highly regarded high school basketball point guard probably still has his choice of college scholarship offers.

Dave Telep, the national recruiting analyst for scout.com, and Bob Gibbons, the analyst for All-Star Sports recruiting service, agreed a misdemeanor charge probably wouldn't deter most of the eight programs on Wall's list of potential schools.

"I think as long as things stay status quo and nothing else comes of this, I don't believe it will have much effect, if any, on his recruitment," Telep said.

Wall had planned to cut his list of Baylor, Duke, Florida, Kansas, Kentucky, Memphis, Miami and N.C. State to three or four schools on Monday. He also had planned a trip to N.C. Central University last Friday but did not go.

Efforts to reach Wall for comment were unsuccessful.

Anna E. Smith, Wall's attorney, said, "Mr. Wall was never arrested. He was simply given a citation. And we are fully cooperating with the DA's office to resolve this matter as soon as possible."
Telep said schools aren't likely to stop recruiting Wall on the basis of the citation.

While this probably isn't a huge issue for most of the college coaches recruiting him (let's be honest here—from a moral standpoint, most of them can't be passing judgment on anyone), this is, at the very least, going to be something that NBA teams look very closely at when they begin to evaluate him off the court next April.

Wall had somewhat of a reputation earlier in his career which he has managed to overcome, but he can't afford to have any more slip-ups after this. From the very little we know, this may be a minor digression in the grand scheme of things, but any kind of publicized legal issues can be enough to scare away certain NBA franchises—see teams such as the Portland Trailblazers, Indiana Pacers, San Antonio Spurs and others.

[Read Full Article]

---
Jordan Brand Classic, Day One
April 17, 2009
The first 45 minutes of the practice could accurately have been described as "the John Wall show." He came roaring out of the gates, putting his incredible athleticism on full display in the form of a number of breathtaking dunks and blocks, doing a magnificent job of picking apart the defense with his ridiculous first step and finding players time after time with phenomenal pinpoint passes right underneath the rim for easy baskets.

Considering that this is the first time we've seen Wall play live since last July, we noticed a number of substantial improvements. For one, his ball-handling skills look crisper than they did over the summer, as he went left or right with his typical explosiveness, but also looked very much under control. His court vision appears to have improved substantially—his teammates looked surprised on a number of occasions by the passes he was able to deliver right into their hands-- and he did a much better job running the pick and roll as well.

His attentiveness to playing defense looks better too—he constantly was urging his teammates to "D up!" and he set the tone for them from the very start, coming up with at least a half dozen blocks over the course of the practice. His ability to close out his man never looked more evident than in the 1 on 2 runout drill the players conducted, where Wall was easily able to overcome the substantial initial head-start his matchup had thanks to his blazing speed, often meeting him right at the rim for an emphatic block. His body language and overall maturity level also looked substantially better than it did the last time we saw him—the impression you got from the way he handled himself on the court was very strong this time around. Dave Telep of Scout.com prepared us for this in advance, noting that Wall has "made incredible strides as a person" in a conversation this past week, telling us that he has "come a long way."

One part of his game that may not have come very far based on results alone is his jump-shot. We charted Wall making just one of the eight jumpers he attempted today, a mid-range pull-up from about 15 feet. Every other shot he took was a miss, sometimes a brick, and a few of them being wide open looks from 17 or 18 feet. The positive thing to note here is that Wall's shooting mechanics look a lot better than we remember them, as he no longer seems to flail his elbow out. He needs to do a better job getting his legs underneath the ball and add some more arc to his jumper, as well as making sure he releases it consistently every time—but watching him play, you don't feel like his shot is broke, even if he obviously has a lot of room to improve.

Later in the scrimmage, Wall seemed to run out of gas, as he looked very much incapable of fighting through screens or creating his own shot anywhere near as well as he did previously—being very much content deferring to his teammates. He later told us that he was extremely tired after the long flight from Portland ("seven hours it felt like") and that this was the first time he had picked up a basketball in "three or four days." With that in mind, it isn't all that surprising that he looked so exhausted, especially when you consider the spotlight he's been under as of late.

We also had a chance to speak with Wall about the report on ESPN.com that he is trying to figure out whether he is eligible for this year's NBA draft. He emphatically dismissed those rumors, saying you can "throw that out," explaining that he promised his father he will attend college for at least a year, and that he doesn't "want to break that," promise.

As one of the schools that is most actively recruiting Wall informed us, he is still not eligible for college at this point. Wall stated that he will take the SAT on "May 4th" and then the ACT as well, and that he is on course to graduate on "May 28th." He said he took an "extra math class and extra science…just in case."

Wall said that the NBA draft discussion and whether or not he's even eligible is something that "just popped up…the other day" and that he hasn't had a chance to talk to his mother about it yet. He says that he discussed the matter with his AAU coach (Brian Clifton, who we quoted yesterday) but that they "decided we're just going to throw it out the way…we're not going to look into it."

When pressed and asked whether the lure of being the #1 overall pick would not be enough to sway him, Wall smiled and said "I don't think so. It's tough. I'm going to just say no because I haven't talked to my parents and my coach yet, but as of right now, its no."

You can watch the full interview we conducted right here:





[Read Full Article]

---
Nike Hoop Summit, High School Prospects
April 16, 2009
Entering the Nike Hoop Summit week, there wasn't a prospect we looked forward to seeing more than John Wall. The top ranked player in the high school class of 2009, he was not eligible to play in the McDonald's All-American Game as a fifth year senior. Throughout the practices, the athletic guard lived up to his billing as the top player in his class, showing off his freakish athleticism, impressive court vision, and constant motor. He had no problem standing out in the game Saturday night either, breaking the record for assists, and proving why he currently ranks as the top player in our 2010 mock draft.

After watching Wall play Saturday night, it's hard not to come here and spew every bit of hyperbole that comes to mind. His freakish physical tools were on full display throughout the whole game, coming in handy on both ends of the floor. We are still working with USA Basketball to get the official measurements, but Wall appears to stand around 6'3" at least, with very long arms, and a strong build for his size. In terms of quickness with the ball, he reminds of Chris Paul or Derrick Rose. The talented guard used his end to end speed on many fast break chances, showing the ability to weave through traffic on the run, or accelerate to the hoop quickly using his impressive first step.

Wall also possesses an incredibly explosive vertical leap for a point guard, which he displayed more than once in the game. He first wowed every fan in the Rose Garden by throwing down a thunderous dunk on the fast break from the right wing, taking off from the very edge of the free throw line before powering the ball through the basket. The quickness combined with the vertical leap allows the guard to finish quite effectively at the rim, where he shows good touch as well.

Defensively, the point guard has every tool you could ask for both physically and mentally, and this was on display throughout the game. With his length and quick hands, Wall generated 5 steals throughout the game. He does tend to gamble in the passing lanes a little too often, which will have to change the next level. He gathered most of his steals the old fashioned way, however, first denying penetration before closing out and swiping the ball away. If his pressure defense on the ball and ability to generate steals wasn't enough, the guard shows a very surprising ability to block shots as well. In an impressive display of athleticism and effort, Wall backed up defensively on one fast break and blocked a shot by opposing big Kevin Seraphin, who looked to have an easy lay-up coming his way. If he continues to play with the same intensity on the defensive end, it's not unreasonable to say he can become a lock-down defender in the NBA.

As a point guard, Wall also shows outstanding potential. Throughout the week, he displayed very impressive court vision and the ability to create for others off of penetration. On one possession, he penetrated past three World Select defenders who were playing zone, and opened up a shot for one of his shooters on the perimeter by creating his own driving lane. For all his tools and ability to make flashy passes, there is room for improvement before Wall can be called an elite floor general. He must learn to better pick apart a half-court defense, and cycle through his options on the pick and roll. To improve here, it would make sense for him to model his game after Chris Paul in terms of reading angles and spacing.

In the practices, Wall appeared to be a good shooter off the dribble from mid-range, but he seems to lack range beyond about 18 feet (P.J. Carlesimo even called his mid-range jumper "excellent" after watching him in the practices). In order to further extend his range, he'll need to improve his shooting mechanics, much like Derick Rose did his freshman season at Memphis. Wall also has a flat release at the free throw line, but usually shows decent accuracy from the charity stripe.

It was very positive to see leadership and intensity from John Wall during the practices, in a setting where many of his teammates didn't appear to be taking the experience so seriously. The representatives from Nike had very positive comments about him outside of the practices as well, which can only be viewed as good news considering he has been labeled as being a bit immature in the past.

More than one NBA scout in attendance said that Wall would receive strong consideration for the top slot in the draft whenever he declared, and it's easy to understand why he's such a popular prospect. With the court vision, physical tools, and defensive ability of an elite prospect, it will be quite interesting to see how he wraps up his recruiting process, and what comes of the NBA draft rumor that originated a couple days ago.

[Read Full Article]

---
Initial Scouting Reports, High School Class of 2009 (Top 10 recruits)
July 28, 2008
Considered by some to be the top prospect in the 2009 high school class, John Wall (#3 Scout, #1 Rivals, #7 ESPN) looked motivated and then some to prove his worth in the eyes of his evaluators every time we watched him compete.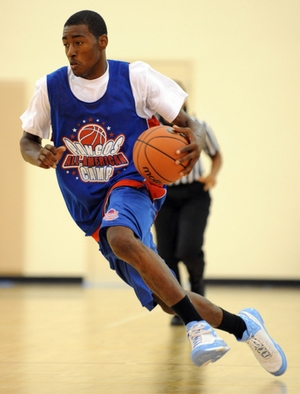 Icon SMI



There is no question that Wall has the physical tools needed to even be considered the top NBA prospect in this somewhat underwhelming class—as he has great size at 6-4, an excellent wingspan, and a frame that should fill out in time. Wall was easily the most athletic guard we evaluated—incredibly fast in the open floor, showing a super explosive first step, and capable of changing directions and utilizing fluid hesitation moves extremely well to keep his defender off-balance at all times. He gets to the rim almost whenever he pleases at this level, and is more likely to throw down an emphatic dunk than he is to simply lay the ball in. He likes to spin violently into the paint with his terrific initial burst, and then shows terrific body control keeping his balance and getting his shot off smoothly.

Wall is a superb ball-handler for his age, capable of going either left or right, and is absolutely terrific in transition, but he will have to learn how to slow down, read defenses and stay in control better if he's going to reach his full potential. He has a tendency to just turn the jets on at all times and explode right into the paint, often ignoring his teammates, running into brick walls and being somewhat turnover prone in the process. He's just so much faster than everyone else at this level that he's capable of playing that way and not getting into too much trouble, but as the competition improves in college and eventually the NBA, he'll have to adapt his game and learn how to play at different speeds.

His jump-shot is probably the part of his game that needs the most work at this point. Wall is pretty solid at using a screen and elevating from mid-range for a 15-foot pull-up jumper, but anywhere beyond that and he gets very streaky. His shooting mechanics need a lot of work—his elbow sticks out and his footwork is sloppy, so he may need to take a Derrick Rose-like approach and completely change the way he shoots the ball if he's to be anywhere near as good a prospect as he probably hopes to become. His shot-selection isn't always what you would hope for from a guy billed a pure point guard, but there is certainly plenty of time to work on that.

Wall's playmaking skills are mostly a mixed bag at this point. On one hand, he is clearly not a selfish player and definitely has solid court vision—you'll regularly see him making heady full-court chest passes to an open man streaking in transition and beautiful one-handed bullet passes on the drive and dish—where he really excels. He'll rack up assists at a very good rate because of the way he dominates the ball, but has a tendency to get a little too flashy at times and try to do too much. As he matures and gains more experience and hopefully high-level coaching, he should improve in this regard if he's willing to listen and learn.

Defensively, Wall's potential is off the charts thanks to his terrific combination of size, length, quickness and endless energy. He regularly picks up blocks, steals and rebounds and never seemed to tire even late in the grueling week (where teams regularly compete two or three times a day). His fundamentals aren't the best, though, and he doesn't always put in the greatest effort at this stage in his career, but if he puts his mind to it and gets with the right program, he could be an absolute force on this end in time.

The main concern we have with John Wall at this time revolves around his often-poor body language on the court, especially around his teammates. He tends to get frustrated easily when things aren't going well, blaming others for his own mistakes, taunting his opponents, and just generally looking quite immature. It seems like the incredible amount of success he's received over the last year may be going to his head a little bit, and there is a real risk that he may not reach his full potential if he isn't willing to be humble about his flaws and learn how to channel his emotions better.

This is not uncommon amongst players this age who receive so much hype so early on, but it's still something to follow over the next two years, leading up to him being eligible for the draft. There is no question that he is everything the NBA looks for in a point guard prospect and then some, but the jury is still out regarding whether he is indeed the next Derrick Rose as some have billed him as, or is he more likely to develop into a Keyon Dooling type prospect. Only time will tell, and a lot will depend on how Wall handles himself.

[Read Full Article]

---
RBK U - Day Two- Top Prospects and Performers
July 11, 2007
Wall took the title of camp's biggest leaper and ran with it on day two. He turned in a 20-point performance in the morning session followed up by a 17-point performance in the afternoon. He scored in every possible way -- getting into the lane, cashing in from deep, pulling up from 16 feet -- were all part of Wall's arsenal on this day.

Standing a shade over 6'3", Wall exhibited guard speed more suited for a guy much smaller. No one on the court could guard him. If there is a player who has exploded onto the national radar at RBK, Wall is that guy.

[Read Full Article]

---