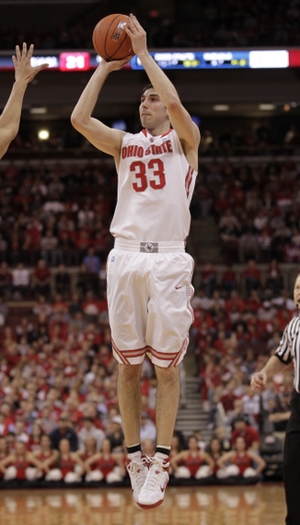 Kyle Nelson
Ohio State shooting guard
Jon Diebler
has been one of the best shooters in college basketball throughout his four-year career. In fact, Salim Stoudemire is the only comparable player in our database (which dates back to 2001) to record
a similarly prolific season as a shooter.
At 6'6, Diebler has good size for an NBA wing player. His skinny 200-pound frame and average wingspan, however, leave much to be desired from a physical perspective. He is just an average athlete, as well, lacking ideal quickness and explosiveness for his position.
While Diebler's physical profile is less than impressive, he ranks as
one of the most efficient players
in college basketball over the last decade, ranking #1 in True Shooting Percentage and points per possession.
Diebler's efficiency stems primarily from the role he plays and his acceptance of his function in Ohio State's offense—for which his skill-level is perfectly tailored. Over 40% of his offensive possessions come in the form of spot-up jump shots, and Diebler converts an outrageous 50% of 7.2 three-point field goal attempts per 40 minutes pace adjusted. As one would expect, his mechanics are flawless, he elevates well, and he is nearly automatic in rhythm. Furthermore, he is just as effective shooting with or without a hand in his face, thanks to his solid size and quick release.
Though he attempted just a handful of shots each game inside the arc this season (1.9 2-point attempts per 40 minutes pace adjusted), he made 52.5% of these looks and continued to show improvement as the year moved on. Though his first step is subpar, he looked more comfortable putting the ball on the floor as a senior, understanding how to pick and choose his spots when opponents close out on him too aggressively. He is a poor finisher, however, due to his lack of explosiveness and strength and he struggles to finish with contact. Furthermore, he gets to the foul line just 2.5 times per 40 minutes pace adjusted.
Diebler will not be responsible for much outside of his shooting prowess at the next level and his skill set situates him well for a career as a role player—ala
Kyle Korver
or
Jason Kapono
. He has solid court vision and he is an unselfish player. He rarely makes bad decisions either, representative in his absurdly low 1.1 turnovers per 40 minutes pace adjusted, and terrific 2.5/1 assist to turnover ratio.
One significant obstacle to his professional potential, however, is his defense. While Diebler actually seems to possess decent fundamentals and works hard in Ohio State's team defense, he struggles against more athletic players. As was clear in the final game of his college career in the NCAA tournament against Kentucky, he simply lacks the lateral quickness or strength to stay in front of NBA-caliber athletes. This will likely be the biggest question marks scouts have about him, and something he will need to address in private workouts.
Diebler's future at the next level is highly dependent on the situation he's placed in, and the willingness his future coaching staff will have for utilizing his strengths while masking his weaknesses. If recent history is any indication (see the shorter and inferior shooting
Andy Rautins
, drafted in the early second round last year), however, then he has a legitimate chance of getting drafted. It will be up to him to prove to scouts at the Portsmouth Invitational Tournament and in private workouts that he can contribute on both ends of the floor at the next level.