Jon Leuer
Recent Tweets
All Tweets
DraftExpress: RT@WojYahooNBA Milwaukee trades Shaun Livingston, Jon Brockman and Jon Leuer and 12th pick to Houston for Samuel Dalembert and 14th pick.
2012-06-27 03:56:32
DraftExpress: RT @GoodmanCBS: Jon Leuer staying close to home - source told CBSSports.com he will be taken by Milwaukee Bucks.
2011-06-23 10:53:14
DraftExpress: Other prospects still available: Jon Leuer, E'Twaun Moore, David Lighty, Jereme Richmond, Charles Jenkins, Isaiah Thomas, Andrew Goudelock
2011-06-23 09:44:54
DraftExpress: West Coast Workout Swing, part five- Checking in on the progress of Chandler Parsons and Jon Leuer (video+analysis) http://bit.ly/mpvzgZ
2011-06-09 03:50:04
DraftExpress: Video interviews from the NBA Combine in Chicago w/ Trey Thompkins, Justin Harper, JaJuan Johnson and Jon Leuer http://bit.ly/luVN6j
2011-05-24 06:52:54
Top 25s - Full List
Team: Suns
Physicals
Positions
Rankings
Salary
Misc
H: 6' 11"
W: 223 lbs
Bday: 05/14/1989
(26 Years Old)

Current: PF
NBA: PF
Possible: PF

RSCI: 89

Agent: Mark Bartelstein
Current Salary:$967,500

High School: Orono
Hometown: Orono, MN
Drafted: Pick 40 in 2011 by Bucks

Predraft Measurements
| Year | Source | Height w/o Shoes | Height w/shoes | Weight | Wingspan | Standing Reach | Body Fat | No Step Vert | Max Vert |
| --- | --- | --- | --- | --- | --- | --- | --- | --- | --- |
| 2011 | NBA Draft Combine | 6' 10" | 6' 11.5" | 223 | 7' 0" | 8' 9.5" | 5.4 | 29.5 | 36.5 |



Basic Per Game Statistics

- Comprehensive Stats - Statistical Top 25s
| Year | League | Name | GP | Min | Pts | FG | FGA | FG% | 2Pt | 2PtA | 2P% | 3Pt | 3PtA | 3P% | FTM | FTA | FT% | Off | Def | TOT | Asts | Stls | Blks | TOs | PFs |
| --- | --- | --- | --- | --- | --- | --- | --- | --- | --- | --- | --- | --- | --- | --- | --- | --- | --- | --- | --- | --- | --- | --- | --- | --- | --- |
| 2015/16 | NBA | Jon Leuer | 17 | 16.3 | 6.7 | 2.5 | 5.8 | 43.9 | 1.6 | 3.8 | 42.2 | 0.9 | 2.0 | 47.1 | 0.7 | 1.0 | 70.6 | 0.9 | 4.3 | 5.2 | 1.1 | 0.5 | 0.2 | 0.7 | 2.0 |

Player Page&nbsp&nbsp| Player Stats | Mock Draft History | Related Articles&nbsp&nbsp| Add to My Draft Express&nbsp
&nbsp
West Coast Workout Swing Part Five: 360 Sports
June 9, 2011


One of the most polished big men in this year's draft, Jon Leuer was a later bloomer on the high school level, but was amongst the most productive players in the NCAA this season. Averaging over 25 points per-40 minutes pace adjusted as a senior, Leuer consistently improved his game each year he spent with the Badgers and earned First Team All-Big Ten honors to cap off an impressive senior campaign.

Here at the 360 Sports Performance Center, Leuer finds himself in an extremely unique position to develop his skill set, since his trainer, Don MacLean, found considerable success on the NBA level playing the role Leuer will likely find himself in. He's also benefitting from the presence of David Lee, who was constantly giving both draft prospects here feedback, making it clear what works in the NBA and what does not.

The first order of business for Leuer in this workout was to prepare to shoot the NBA three. Given the role he'll play at the next level, his ability to space the floor out to 24-feet is especially important, and MacLean had all of the players here attempting shots from distance with their feet set. Leuer's shooting from beyond the arc tapered off a bit late in the season as we noted the last time we wrote about him, thanks in large part to teams doing a better job closing him out.

Despite their efforts, Leuer still finished the season shooting a solid 37% in catch and shoot situations. His footwork and release are extremely sound and consistent, and while his mechanics aren't as fluid as some of the players we've seen in his mold, the results we saw here from beyond the NBA line looked promising.

As the training session went on, we got to see Leuer open up his game a bit, working on his pull-up jump shot and matching up against David Lee in the two-on-two session.

MacLean had Leuer working extensively from the elbows and pinch post, both in drills and during competitive play, two things he'll do regularly in private workouts with teams in the coming weeks. Leuer's footwork was a big factor when he was looking to score inside the arc, and he appeared comfortable knocking down midrange shots off the bounce, but MacLean and Lee looked to drill home a few details to help him maximize that part of his game.

Leuer showed that he can consistently score both facing the basket and with his back to the basket at Wisconsin, but in the single session we watched, it was interesting to see pieces of his game dissected and how the minor changes he made added to what he does. Tending to hold the ball for too long and look at the floor and jab if he can't get a shot off as soon as he turns to face from the midrange, Leuer had some initial struggles scoring off the bounce against Lee, but he more than held his own after MacLean and Lee pointed out the changes he needed to make. Once he did a better job turning to face, keeping his eyes on the rim, looking for contact on the up and under, and not telegraphing his moves, he looked extremely crisp.

Though Leuer struggled at times with the stronger and more explosive Lee down low--like many NBA power forwards did last season--he competed admirably on the defensive end, and had some stretches of brilliance offensively that even had Lee impressed.

As much a coach as a participant since he was coming off a long season and short vacation, it was refreshing to see Lee pushing Leuer to work on his weaknesses, and his presence is only going to work in the Wisconsin product's favor as he competes against his peers in the draft in private workouts.

One of the top clear-cut role-players at the power forward position in this draft, it was hard not to come away impressed with Leuer. He's going to benefit immensely from incorporating MacLean's instruction into his game long term, and if he can continue to make strides in the strength and conditioning department, his time at the 360 Sports Performance Center will have been well spent.

[Read Full Article]

---
NBA Combine Interviews: Trey Thompkins, J. Harper, J. Johnson, Leuer
May 24, 2011
[Read Full Article]

---
Trending Prospects (2/3/2011)
February 3, 2011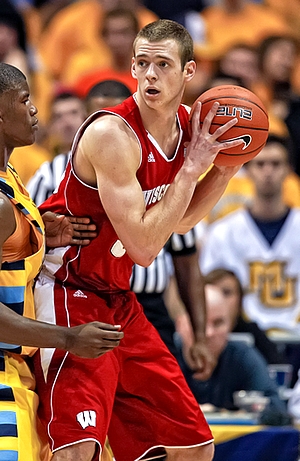 Icon SMI



Derek Bodner

Wisconsin senior Jon Leuer is continuing to show progress as a player, developing into one of the most productive players in college basketball this season. Leuer's 19.4 points per game places him third in the Big Ten in scoring, a feat more impressive considering the slow pace Bo Ryan and his swing offense operate at. In fact, Leuer's 26.7 points per 40 minutes pace adjusted ranks in the top five amongst all prospects in our database, flashing an inside-outside game that makes him an incredibly effective collegiate big man.

Upon first look at Leuer, it would be easy to write him off as a prospect due to his below average athleticism, slender frame, and a lack of a true position to defend. That being said, he possesses an excellent basketball IQ to go along with some offensive skills that are in high demand, skills that he should be able to translate to the NBA reasonably well.

Leuer has continued to improve his post-game, showing a nice right handed hook shot and a smooth turnaround jump shot. According to Synergy Sports Technology, Leuer's 1.021 points per shot ranks in the 88th percentile in college basketball, a vast improvement over his efficiency during his first two years at Wisconsin. He shows soft touch on the turnaround hook, which has developed into his go to move in the post, and shows the ability to hit these when contested.

Its unlikely Leuer will be a frequent post scorer in the NBA, as he lacks the lower body strength to consistently establish position. He's not all that explosive and may struggle to get his shot over longer defenders, and doesn't have a wide array of counter, all of which could leave him limited to fade-aways and tougher post shots in the NBA. However, he has enough in the way of post moves to take advantage when he does get a favorable matchup.

The key to Leuer's ability to translate his game to the next level has been the continued development of his perimeter game. Leuer, who entered high school as a point guard before experiencing a dramatic growth spurt, has good ball handling ability for a big man. While he doesn't possess the first step or leaping ability to consistently create separation on drives, he's more than capable of using one or two dribbles to setup a pull-up jumper, and shows the ability to hit shots off the dribble, doing a good job of gathering himself and going straight up for the shot, showing good body control. He's also fairly fluid for someone of his size, moving well both with and without the ball.

More importantly, Leuer continues to extend his range out beyond the college three point line. After improving from 29.6% as a sophomore to 39.1% from three point range last season, Leuer has continued to build upon that part of his game. Now taking 4.6 three point attempts per game, he is converting at an extremely efficient 44.8% this season. Leuer wastes little motion on catch and shoots, and does a good job making a quick decision before the defense has time to recover. His ability to translate this part of his game is an absolute key in becoming a contributor at the next level.

Overall, Leuer has a good basketball IQ, showing itself most notably by his low turnover rate relative to his usage, which ranks amongst the best in college basketball.

He also shows solid defensive fundamentals and consistent effort, although his physical limitations manifest themselves on this side of the court. Lacking great lower body strength and limited lateral mobility, Leuer lacks a true position to defend, struggling both against physical post players and on the perimeter. Bo Ryan plays a largely man to man defense at Wisconsin, switching on most picks on the perimeter, which doesn't help in hiding Leuer's defensive shortcomings. Leuer's length and timing allows him to block some shots at the collegiate level and he does a good job of rotating over, but his lack of explosion likely prevents him from being much of a paint presence in the NBA.

Another area where Leuer's lack of lower body strength shows itself is on the defensive glass. While Leuer does show good technique boxing out and gives consistent effort, his lower body strength puts him at a decided disadvantage.

Right now, Leuer's basketball IQ and ability to be a threat on the perimeter in catch and shoot situations should allow him to contribute in the right offensive scheme. Perhaps as much as anybody, Leuer's success may be dependent on going to the right situation, playing for the right coach, and with the right personnel. If Leuer could add some lower body strength to help him in defending the post and become a more consistent defensive rebounder, he could prove to be a good value for a playoff team looking to strengthen their rotation.

[Read Full Article]

---
Top NBA Draft Prospects in the Big Ten, Part Three (#11-15)
September 6, 2010
Joseph Treutlein

Coming off a breakout season in which he led the Badgers in scoring, nearly doubling his previous season's output, Jon Leuer brings an intriguing set of skills the table for a player his size. A 6'10 big man with a smooth perimeter game, Leuer is a very tough matchup at the college level and a big reason for Wisconsin's potent offensive attack.

From a physical standpoint, while Leuer has good height for a PF/C, he doesn't have ideal strength and overall size, and he seems to lack the frame to add significantly more upper body mass. Athletically, he has very high levels of coordination and mobility for someone his size, though he's certainly a below average athlete by NBA standards all things considered, lacking in explosiveness both with his first step and vertical leap. While he probably can improve some in these areas, most notably by working on his lower body strength, this isn't an area that's likely to be a strength for him in the future.

On the offensive end, Leuer is an extremely effective and efficient college player with a large variety of skills, being able to beat his opposition equally well inside and out. According to Synergy Sports Technology, his 1.09 points per possession rank in the 95th percentile of all college players, and in watching him play it's easy to see why. Possessing an extremely high basketball IQ, Leuer makes outstanding decisions with the ball, nearly never turning it over, as evidenced by his ridiculously low 0.08 turnovers per possession, second lowest of any player in our entire database.

While Leuer does most of his damage with his back-to-the-basket at the college level, his perimeter game is most intriguing from an NBA standpoint, as there are multiple concerns projecting his post game to the pros. Leuer has outstanding footwork, a great touch, and a nice array of hook shots and turnaround jumpers in the post, but his lack of strength prevents him from establishing great position and his lack of explosiveness prevents him from getting good separation against long, athletic defenders, leading him to rely heavily on fadeaway shots when matched with NBA-caliber defenders.

On the perimeter, Leuer combines a deadly jump shot with surprisingly adept ball-handling abilities, making him a multi-dimensional threat with the ball in his hands. As a shooter, Leuer possesses excellent form with a high and quick release, having range to the college three-point line and the ability to hit shots equally well pulling up off the dribble and moving from side to side. While Leuer shot a strong 39.1% from three-point range this season, he did so on only 1.8 attempts per game, though this is certainly something he will want to make a more prominent facet of his game going forward, as it is a skill that will translate very well to the next level and is something that is often in high demand for players his size.

In terms of creating his own shot off the dribble, Leuer does a very good job at the college level, having short, confident dribbles with both hands and a good command of some advanced moves such as crossovers and spins. He moves very nimbly for someone his size and is very capable of pulling up out of his moves into jumpers and floaters, though his ability to get separation is sometimes underwhelming, as he often relies on hitting high difficulty shots with a hand in his face (which he does well), something that may not work nearly as well at the next level.

Defensively, Leuer has a great fundamental base and approach to the game in general, showing a high motor and awareness level in all areas. His lateral quickness on the perimeter is not great, but he makes up for it somewhat by always being in position and keeping his feet moving. In the post, despite showing great fundamentals, his lack of lower body strength leads to problems with holding position, while he's also prone to being shot over and beat laterally. Considering the quality of post players he'd see in the NBA are considerably high than those he sees in college, this area is a major cause for concern. On the positive side, he never gives up on plays and does a good job making rotations and staying involved, though his underwhelming physical attributes hold him back in some areas, namely rebounding, where he pulls in just 9.0 per 40 minutes pace adjusted, well below average among PF/C in our database.

Looking forward, while Leuer has a very intriguing skill set, good size, and excellent intangibles, there are some question marks in how his game will translate to the NBA, along with what position he'd play and defend. Maximizing his physical abilities and continuing to develop his overall perimeter game (specifically his three-point shot) should be among his priorities, while stepping up his rebounding also would certainly help. As of now, Leuer isn't projected to be drafted, but with a strong senior season he could certainly be in second round discussions, and finding an eventual niche in the NBA is certainly possible, even if it may require some significant adjustments to his game.

[Read Full Article]

---