Jonas Jerebko
STRENGTHS:
- Efficiency
- Transition play
- Versatility
- Ability to contest shots
- Ability to get in passing lanes
- Activity level
- Defensive potential
- Off-ball defense
- Focus
- Fundamentals
- Poise
- Role-player potential
- Strong Intangibles
- Work ethic
- Level of competition
- Positional versatility
- Above average athleticism
- Size for position
- Solid frame
- Offensive rebounding
- Rebounding tools
- Ability to catch and shoot
WEAKNESSES:
- Ability to get to free throw line
- Predictable offensively
- Stuck between 3 and 4
- Ability to create own shot
- Ball-handling skills
- Not always assertive
- Jack of all trades, master of none?
- Pull-up jumper
Recent Tweets
All Tweets
Angelico Biella is the club that developed and sent current NBA starters Thabo Sefolosha and Jonas Jerebko to the draft.
2010-05-16 12:19:02
Top 25s - Full List
Team: Celtics
Physicals
Positions
Salary
Misc
H: 6' 9"
W: 210 lbs
Bday: 03/02/1987
(28 Years Old)

Current: PF
NBA: PF
Possible: PF

Agent: Doug Neustadt
Current Salary:$4,500,000

High School:
Hometown: Boras, Sweden
Drafted: Pick 39 in 2009 by Pistons
Best Case: Matt Harpring
Worst Case: Matt Barnes




Basic Per Game Statistics

- Comprehensive Stats - Statistical Top 25s
| Year | League | Name | GP | Min | Pts | FG | FGA | FG% | 2Pt | 2PtA | 2P% | 3Pt | 3PtA | 3P% | FTM | FTA | FT% | Off | Def | TOT | Asts | Stls | Blks | TOs | PFs |
| --- | --- | --- | --- | --- | --- | --- | --- | --- | --- | --- | --- | --- | --- | --- | --- | --- | --- | --- | --- | --- | --- | --- | --- | --- | --- |
| 2015/16 | NBA | Jonas Jerebko | 18 | 13.9 | 3.2 | 1.1 | 3.2 | 35.1 | 0.9 | 2.5 | 37.8 | 0.2 | 0.7 | 25.0 | 0.8 | 0.9 | 87.5 | 0.9 | 2.0 | 2.9 | 0.9 | 0.3 | 0.2 | 0.9 | 1.6 |

Player Page&nbsp&nbsp| Player Stats | Mock Draft History | Related Articles&nbsp&nbsp| Add to My Draft Express&nbsp
&nbsp
Reebok Eurocamp Summary, Part One
June 11, 2009
Coming off an impressive showing in the Italian league semi-finals, Jerebko played only one game here on the camp's final day. Regardless, he was able to make his presence felt immediately, looking impressive in both the morning drills and the actual game--giving the NBA people a very good feel for what he brings to the table. Jerebko shot the ball well throughout the day, only missing one of his seven shots in the game, while picking up 5 steals, 4 rebounds and 2 assists in 28 minutes. He also showed something of a back to the basket game, using his superior size to get off a pretty and very old-school sky-hook shot in the lane. He played very physical man to man defense on the perimeter, while always looking to make the proper rotation on team defense. He also showed plenty of hustle, going the length of the floor with reckless abandon at one point to come up with a loose ball, and using his length to alter plenty of shots around the paint as well, not giving his matchup anything easy. Considering the small sample size, there wasn't a whole lot more Jerebko could have done. After seeing him a number of times in person over the past year and a half, it's safe to say that there aren't many players like him in this draft.

[Read Full Article]

---
NBA Draft Roundup, May 11
May 11, 2009
•

Jonas Jerebko Interview / Evaluation



Before we traveled to Rome, we had a chance to visit with Swedish small forward and projected second round pick Jonas Jerebko, both playing and practicing with his team Angelico Biella in the Italian first division. Jerebko's team knocked off Armani Jeans Milano in impressive fashion on primetime TV in their sparkling, beautiful new gym, and their starting 3-man had a typical game by his standards.

Not a whole lot has changed with Jerebko since the last time we evaluated him in late January—many of his strengths and weakness remain the same. It is impressive to see his physical profile in person and notice how much he's worked on his body—he's gone from a scrawny 192 pounds when he first arrived here to a chiseled 225.

In the scrimmage in particular he did a great job showing how much he can impact the game with his terrific length and activity level. He gets his hands on pretty much everything in his area, coming up with tons of deflections, steals and offensive and defensive rebounds, indeed ranking amongst the top players in the league in those categories at his position.

Offensively, he looked solid knocking down shots with his feet set, but still isn't much of a threat on this end of the court, as his skill-level remains average at best. He lacks aggressiveness on this end of the floor, not showing much confidence in his ball-handling skills, and passing up opportunities to attack his matchup, which helps explain why he almost never gets to the free throw line.

This is also part of the reason he's such a valuable role-player, though, as he understands his role perfectly, rarely commits mistakes, and is very comfortable doing the little things for his team. The maturity and unselfishness he shows at his age is very impressive.

Defensively, Jerebko knows how to use his terrific size, length and activity level to his advantage, and didn't seem to have much of a problem staying in front of a very aggressive 6-4 shooting guard in David Hawkins, one of the best scorers in the Italian league. His potential on this end of the floor is considerable.

Before the game, we had a chance to sit down with Jerebko and pick his brain on a couple of issues, which you can see here:





As mentioned in the video, Jerebko will be competing at the Eurocamp in Treviso, where he may be able to show a more well-rounded offensive game than he can at Biella.

[Read Full Article]

---
European Roundup: Double-Double Jerebko
January 28, 2009
Coming off back to back double-doubles (two identical 16 point, 10 rebound outings) in the extremely competitive Italian first division, this seems like as good a time as any to chart the progress of promising Swedish small forward prospect Jonas Jerebko. Last year was an up and down affair for Jerebko, playing his first season outside of the Swedish league, but we've seen considerable improvement in 08-09 with Angelico Biella.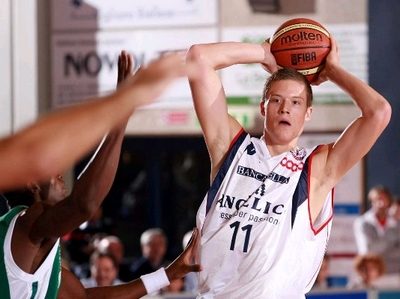 pallacanestrobiella.it



Jerebko's body is looking better and better, as it's clear that the work he's put in with Biella's physical trainers is reaping huge benefits. He's gained almost 30 pounds since arriving in Italy, up from a scrawny 191 pounds to a much healthier 220—which is a big deal in such a physical league like the Italian A1. He continues to play the small forward position almost exclusively despite standing 6-9, and looks far more confident, focused and intense than he did when we first saw him just over a year ago. Few teams in European basketball would have the patience or foresight to allow Jerebko the opportunity to play through his mistakes the way the coaching staff at Biella has (in a starting role no less) from the moment he arrived, and it's starting to reap huge dividends for them—not all that unlike what this same team went through developing Thabo Sefolosha a few years back.

Jerebko is a pure role-player in the Italian league, a niche that he thrives in considering his versatility. He does a little bit of everything for Biella, be it running the floor in their extremely up-tempo offense, crashing the offensive glass, rotating defensively, or doing a terrific job in the passing lanes. Jerebko's combination of size, length, athleticism and activity level really stands out in this setting, and with the increased toughness he's showing, he's been able to make a big difference on both ends of the floor.

Defensively is where Jerebko is probably at his best at the moment. Looking very comfortable guarding perimeter players, and having a huge size advantage over anyone he matches up with, Jerebko has the length and lateral quickness to contest almost every shot. He is extremely competitive on top of that, doing a terrific job switching on screens and being extremely difficult to shoot over, as he's very fundamentally sound. He comes up with a fair share of steals and blocks, and is a very good rebounder for his position. This type of hybrid-forward—capable of playing the 3 on a half-court team, or the 4 in a more up-tempo system, is very much en-vogue these days, especially when they can defend both positions. As his frame continues to fill out, he will only become a better defender.

Offensively, Jerebko is somewhat limited, but clearly seems to be making strides. He's an extremely efficient player—shooting 64% on 2-pointers, and 42% on 3's, even if he only averages 9 points per game (in 25 minutes). Jerebko's jump-shot looks very good with his feet set, and recently he's even showing an ability to come off screens and make shots as well—which is very intriguing at his size. He's a limited ball-handler, being somewhat predictable with his drives, and therefore has only gotten to the free throw line 7 times all season long in 16 games. His very nice athleticism makes him an explosive finisher around the basket, though—he's come up with a number of highlight reel caliber dunks already this season.

Jerebko has a good feel for the game and is nowhere near a finished product at this point, still capable of adding plenty of polish as well as continuing to get stronger. Having left Sweden a little bit later than he probably should have, he's still learning the nuances of high-level basketball, but has proven to be an extremely quick study. Considering his physical tools and the fact that he's a late-bloomer, Jerebko's upside is significantly higher than the typical 1987-born European player. NBA teams could very well take a liking to him due to his athleticism and defensive potential, which are not all that typical on this side of the ocean.

His American background and comfortable buyout situation (he has just one more year on his contract with Biella after this season) are also big pluses, making it very easy to see him getting drafted somewhere in the second round, possibly very early on. He'll need to become a reliable outside shooter from the NBA 3-point line and show that he can continue defend his position in order to develop into a legit NBA rotation player, but that's beginning to look more and more like a legit possibility.

[Read Full Article]

---
2008 Reebok Eurocamp in Treviso, Days Three and Four
June 10, 2008
The Swedish forward ended up having a very nice camp here, showing more offensive versatility and all-around potential than we were able to see at times in Biella this season. He's added a great deal of weight to his excellent frame, completing a pretty intriguing physical package at the small forward position if his perimeter game continues to progress, as he is a very good athlete with great size for a 3.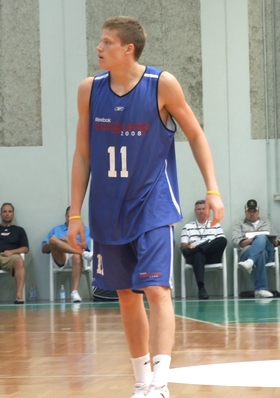 Jonathan Givony, DraftExpress



Skill-wise, Jerebko looked comfortable putting the ball on the floor and attacking the rim at this camp, showing plenty of confidence and aggressiveness getting to the basket, and even some nice moves adjusting his body to avoid oncoming defenders in mid-flight. He showed a lot of toughness holding his ground inside the paint when bigger players tried to post him up, and displayed decent lateral quickness staying in front of wing players on the perimeter. He's a fairly tough guy who doesn't seem afraid to mix things up.

Jerebko's long-range jumper remains the final piece to the puzzle needed to make the transition to being a full-time perimeter player. His release is fairly slow and even though he can hit shots from behind the arc, it's too streaky to count on consistently at this point. Regardless, he showed more tools than most of the players at this camp, particularly when long-term potential is taken into consideration, and is someone that teams will look at closely next season in the Italian league to decide if he's draft-worthy.

[Read Full Article]

---
2008 Reebok Eurocamp in Treviso, Day One
June 8, 2008
One of the most solid players in the first day of the camp, the Swedish prospect (who plays his ball just a few hours up the road in Biella) showed a nice skill set to go along his excellent physical build. He's a tall and fairly strong player for the small forward position, with broad shoulders and nice wingspan, while he shows solid athleticism. In terms of skills, he showed nice ability slashing towards the basket, using both hands in the process and some touch to finish with layups around the basket. Perhaps not the most consistent shooter around, he enjoys three-point range and decent form in his shot. He does seem to understand the game pretty well. He's also working very hard and leaving a very strong impression thus far.

[Read Full Article]

---
Blogging through Europe (Part Four: Italy)
December 3, 2007
It was just our luck that we got to witness the breakout performance of 6-9 Swedish forward Jonas Jerebko. The 1987-born player has been starting consistently over the past few weeks at the small forward position, but has usually played strictly in the 1st quarter, between 6-8 minutes per contest.

Slowly but surely improving from game to game, Jerebko was able to play 23 minutes this time around, scoring 12 important points (4/6 FG) and grabbing 10 rebounds. He outplayed the more heralded Danilo Gallinari in the matchup of small forward NBA draft prospects, and surely gained a great deal of both confidence and notoriety around Europe in the process. Besides us, also here in attendance to scout him were the Houston Rockets (Sam Hinkie and Gianluca Pascucci), who were actually the first NBA team to come watch him practice this season, as well as the Seattle Supersonics (Massimo Biasin) and the Milwaukee Bucks (Scott Roth).

Jerebko is a 6-9, but physically underdeveloped combo forward who is still coming into his own as a basketball player. An excellent athlete for a European prospect, Jerebko is defined first and foremost by the energy and activity level he brings to the floor, translating into 10 rebounds in this particular game. Both in practice and in the game you could notice the fact that he was constantly around the ball, getting his hands on offensive rebounds and trying to make a difference in the passing lanes. Jerebko has long arms and a decent frame that should fill out decently over the next few years. He is immature physically even for his age group, and it's not hard to tell his youth on first glance.

The son of an American basketball player of Russian heritage who moved to Sweden to play and later coach (and married a Swedish woman), Jerebko has received some attention already early on in his career. He was offered a contract by Real Madrid before Biella came into the picture, and also had some thoughts of playing college basketball—being recruited by prestigious programs such as Syracuse, Boston College and West Virginia. After an excellent showing in the U-20 Division B European Championships this past summer in Poland, he was offered a three year contract by Biella. He'll become automatically eligible for the draft in 2009, and if he continues to make progress off what he showed us this past weekend, could receive some consideration to be drafted potentially.

Jerebko is a player who does many things well at the moment, but nothing outstanding yet. His perimeter shot has improved since arriving in Biella, showing good touch and nice (flat-footed) mechanics, although a fairly slow release. He hit the only 3-pointer he attempted in the first quarter, and shot the ball pretty well in practice the day before. Athletic enough to get to the basket using a screen or off one or two short dribbles going either direction, Jerebko's ball-handling and shot-creating skills could still use work in order to be considered a full-time small forward. He has a high basketball IQ, and this shows in the way he passes the ball and generally conducts himself out on the floor—looking pretty focused for a player with such limited high level European experience. Defensively, he lacks strength in both the lower and upper body—meaning he can't be considered a great perimeter defender, nor could he avoid being posted up in the game by players such as Danilo Gallinari or Travis Watson.

All in all, Jerebko is an excellent situation to continue to develop as a basketball prospect, and is someone that teams should take note of because of the intriguing tools, talent and upside he brings to the table. Right now he's taking his first steps in professional basketball, and is just starting to gain the confidence of his coaching staff to be thrown out on the floor in such a demanding environment. He's making good progress and fairly quickly as well, to it will be interesting to see how he continues to develop.

[Read Full Article]

---