Jonas Valanciunas
Recent Tweets
All Tweets
DraftExpress: RT @mySynergySports Over his last 15 games Jonas Valanciunas is scoring 1.203 points per-possession which would rank first in the NBA ...
2013-04-06 10:52:05
DraftExpress: Over his last 15 games Jonas Valanciunas is scoring 1.203 points per-possession which would rank first in the NBA this season.
2013-04-06 09:37:06
DraftExpress: Here's a copy of Jonas Valanciunas' buyout agreement from last June: https://t.co/2u27uygN - Everything spelled out there.
2012-05-30 09:28:17
DraftExpress: There isn't any "negotiation" that needs to be conducted for Jonas Valanciunas to join the Raptors. Everything's been agreed upon already.
2012-05-30 09:27:31
DraftExpress: Checking in on the performances of Jonas Valanciunas, Nikola Mirotic, Nikola Vucevic, Kyle Singler & Donatas Motiejunas http://t.co/yR736erc
2011-12-19 03:56:39
Team: Raptors
Physicals
Positions
Salary
Misc
H: 6' 11"
W: 240 lbs
Bday: 05/06/1992
(23 Years Old)

Current: C
NBA: C
Possible: C

Agent: Sarunas Broga
Current Salary:$3,678,360

High School:
Hometown: Utena, Lithuania
Drafted: Pick 5 in 2011 by Raptors
Best Case: Andris Biedrins Meets Joakim Noah
Worst Case: Omer Asik




Basic Per Game Statistics

- Comprehensive Stats - Statistical Top 25s
| Year | League | Name | GP | Min | Pts | FG | FGA | FG% | 2Pt | 2PtA | 2P% | 3Pt | 3PtA | 3P% | FTM | FTA | FT% | Off | Def | TOT | Asts | Stls | Blks | TOs | PFs |
| --- | --- | --- | --- | --- | --- | --- | --- | --- | --- | --- | --- | --- | --- | --- | --- | --- | --- | --- | --- | --- | --- | --- | --- | --- | --- |
| 2015/16 | NBA | Jonas Valanciunas | 14 | 27.3 | 12.7 | 4.9 | 8.9 | 55.6 | 4.9 | 8.9 | 55.6 | 0.0 | 0.0 | &nbsp | 2.9 | 3.7 | 76.9 | 3.0 | 6.3 | 9.3 | 0.4 | 0.3 | 0.7 | 1.6 | 2.6 |

Player Page&nbsp&nbsp| Player Stats | Mock Draft History | Related Articles&nbsp&nbsp| Add to My Draft Express&nbsp
&nbsp
Top European Performers of the 2011 NBA Draft Class
December 19, 2011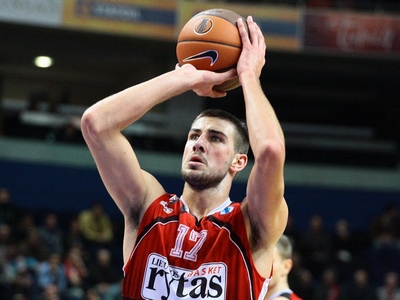 bc.lrytas.lt



The second European player off the board in the 2011 NBA Draft, Jonas Valanciunas spent the summer continuing to build his resume across the pond by leading Lithuania to a U19 World Championship victory and playing rotation minutes for the nation's Senior National Team, which finished 5th at the 2011 Eurobasket.

Returning to Lietuvos Rytas for the 2011-2012 season, the Lithuanian 7-footer has continued to make small, incremental strides, leaving plenty of room for optimism for his future arrival in the NBA.

Though he could not help Rytas advance out of the Euroleague qualifying round and has not shown tremendous improvement in any one area, Valanciunas is having a solid season in a bigger role that better reflects what the Raptors are likely going to expect from him long-term.

His efficiency as a scorer has not wavered significantly this season despite playing next to a more scoring oriented guard in Tyrese Rice who doesn't create pick and roll opportunities quite as well as Sarunas Jasikevicius did a year ago.

Seeing a much higher rate of touches with his back to the basket compared with last season, Valanciunas continues to score both prolifically (19.5 points per-40) and efficiently (66% FG%, 83% FT%) through 20 games –a trend worth keeping an eye on as he matures offensively.

Valanciunas still hasn't had the time off needed to properly work on his body due to his incredibly busy summer schedule, and thus remains underdeveloped physically.

He continues to foul at a high rate as well, but is showing more flashes of midrange jump shooting potential—which will surely serve him well in the future. His new role has had somewhat of an impact on his proficiency on the offensive glass and passing numbers, but Valanciunas continues to stay true to his game, and execute, two big reasons why he was selected to play in last summer's Eurobasket.

Considering his increased playing time and usage this season, the fact that he continues to score with deft touch in the paint, make an impact with his work ethic on both ends, and play with impressive efficiency are all promising signs for a 19-year old only scratching the surface of his potential.

[Read Full Article]

---
Media Day Interviews: Irving, Knight, Valanciunas, Leonard, Burks
June 23, 2011
[Read Full Article]

---
Situational Statistics: the 2011 Big Men Crop
June 21, 2011
Jonas Valanciunas is an extremely intriguing prospect at 18-years old, but one of the reasons scouts like him so much is how efficient he was in the role he played for Rytas this season. In many ways, he's a clean slate, with some good habits that could serve him well in his development.

The young center played with a proficiency that belied his age, ranking amongst the top players in this group of bigmen in a number of different categories, including overall points per-possession (1.178, #1). Though it is important to note that he posted that mark in fairly small role (7.9 Pos/G), it ranks him well ahead of every prospect in this study, and 7th overall amongst all players in Europe.

Though it would be easy to point to Valanciunas's size, length and touch as the driving factors behind his efficiency, the young Lithuanian excels in a few key areas. His terrific effort level and hands made him a terrific pick and roll finisher. When Valanciunas was on the court for Rytas, he was asked to play hard and spend a considerable amount of time setting screens out on the perimeter. Roll man situations accounted for nearly a quarter of his touches (2nd) and he scored on an absurd 73% of his possessions when catching the ball rolling to the rim. This ranked him 3rd in this category behind Tristan Thompson and Kenneth Faried, who saw less than 2% of their offensive possessions in this manner, a far cry from Valanaciunas' 23.2%. Cuts also played a substantial part of his offense (20%), and he converted nearly a point and a half per opportunity (3rd) here as well.

Breaking down Valanciunas in the halfcourt, his ability to finish the touches he sees around the rim is a big part of his overall efficiency. Nearly 82.2% of Valanciunas's shots come around the basket in finishing situations, the most among all the big men in our sample, and he made 68% of those attempts last season (5th). A big target moving off the ball and a threat to score on the offensive glass, it is safe to say that Valanciunas thrived on catch and finish chances.

In terms of his ability to score one-on-one, Valanciunas has plenty of room for growth on paper. Seeing a meager 1.3 possessions per-game in the post (3rd last), and zero in isolation situations, Valanciunas wasn't asked to score with his back to the basket last season, especially in EuroLeague play. Part of the reason for that was his propensity to turn the ball over after receiving an entry pass, which he did at a 29% rate (1st). He flashed some basic post-moves in junior play, but still needs to develop a go-to-move and improve his physical strength. Additionally, Valanciunas attempted only 8 (of 427 total possessions) jumpers all season, although the fact that he did convert on 5 of those and shot 80% from the free throw line leaves some room for optimism.

[Read Full Article]

---
Valanciunas/Motiejunas Interview/Workout Videos
June 17, 2011
An interview we conducted with Jonas Valanciunas at the adidas EuroCamp in Treviso in June.



Another previously unreleased interview we did with Valanciunas at a restaurant in Vilnius in December



[Read Full Article]

---
Tracking the Progress of Jonas Valanciunas
December 26, 2010
Jonathan Givony

The first time Jonas Valanciunas showed his face on the international level, he was nothing more than skin and bones – a raw, timid 16-year-old star struck by the bright lights of Madison Square Garden at the Jordan Brand Classic international game in April, 2008.

That was the first of many epic showdowns Valanciunas would have with Turkish phenom Enes Kanter, and while the future Kentucky student had his way in New York City en route to 22 points, 17 rebounds and a well-deserved MVP award, the Lithuanian did little to hint that he would develop into arguably the most talented prospect in European basketball just a few years later.

These were the first baby steps Valanciunas would take on the international level, but the talented youngster would progress quickly. First came the NBA Basketball without Borders camp in Istanbul in June, where Valanciunas began to show real potential. Then the Under-16 European Championships in Italy in July, where he led the tournament in rebounding and blocks, and most importantly, helped his team win the championship.

The following May, we were able to see Valanciunas once again, this time in a more natural environment at the Euroleague's Nike International Junior Tournament in Berlin. He had an eye-opening performance under the watchful eye of some key NBA decision makers, helping his team make the finals and making the tournament's all-first team along the way. Valanciunas' body was slowly but surely filling out and he was a much more confident and intense player than he was a year before. His work was starting to pay off.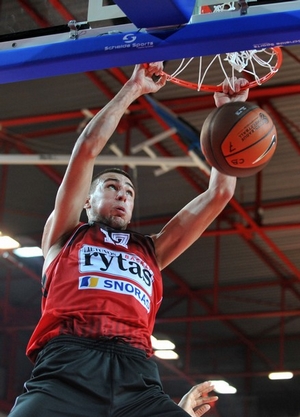 bc.lrytas.lt



All Valanciunas has done since is continue to improve steadily every time we've seen him. There he was in the U-18 European Championships in Metz in the summer of 2009, going up against arch-rival Enes Kanter in a pair of epic matchups that frequently get mentioned by NBA scouts as pivotal moments in their evaluations. 19.3 points, 10.6 rebounds, 2.6 blocks, on 72% FG and 79% FT were the final tallies in France.

And there he was again in the Under-18s the following summer, helping Lithuania win the European Championship and hoisting the tournament MVP trophy after averaging 19.4 points (70% FG, 78% FT), 13.4 rebounds and 2.7 blocks.

In between, Valanciunas has continued to progress from year to year on the club level, starting in hometown Utena in the Lithuanian third division, then moving to Perlas Vilnius in the second division and later to Lietuvos Rytas in the first division.

This year, he is competing in the highest level of European basketball in the Euroleague as well, and ranks as one of the top players in the competition on a per-40 minute basis in points (21.8), rebounds (13.6), blocks (1.8), field goal percentage (74.4%), free throw percentage (87.5%), and fouls (9.1). That's quite an accomplishment for a skinny 18-year-old.

The natural question to ask would be—"Where will it end?" The answer to which seems quite obvious: shaking David Stern's hand at the NBA Draft.

How Valanciunas managed to make such large strides over the last two and a half years is a more interesting question to ponder.

The answer to that one is a bit more complex, which is why boarded a plane to Lithuania (and Croatia) to watch him play and speak with him face to face.

Standing 6-6 ˝ when he arrived in Vilnius in February of 2007, Valanciunas has grown at least four inches since (I'm now 210 centimeters [almost 6-11] without shoes," he informed us) and has slowly grown into his excellent frame. He's retained all of the quickness he had earlier on in his career and still sports a mammoth 7-6 wingspan, (again according to him.)

"I have very long arms," Valanciunas says modestly, with a smile. "It helps a lot."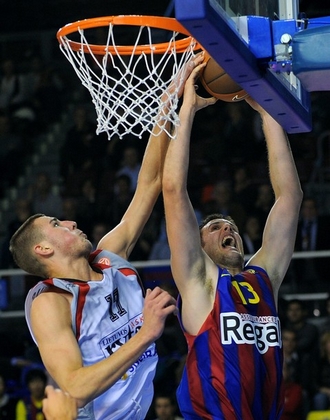 bc.lrytas.lt



All the physical tools in the world wouldn't mean anything if he didn't have the will to use them, though. Fortunately for Valanciunas, he's an incredibly intense competitor, a boundlessly energetic player who never stops working for a moment and whose presence is constantly felt on the court.

He runs the floor extremely well, is quick off his feet and has no qualms whatsoever about throwing his body around in the paint. Not one to just stand around and wait for opportunities to come to him, Valanciunas wants to be productive all the time, which is a big reason he's been able to earn playing time in such a demanding environment this season, despite his obvious immaturity.

"I don't have very good skills right now, many good moves, so I have to fight," he tells us.

Essentially an afterthought in Lietuvos Rytas' offense, Valanciunas satisfies his hunger for touches through his work on the offensive glass. The largest portion of his offense (27%) comes from this area according to Synergy Sports Technology, a testament to his length, quickness, timing, hands, activity level and instincts. He pulls down over five offensive rebounds for every 40 minutes he's on the floor, and watching him play, it's not difficult to tell why.

As attractive a skill as his offensive rebounding might be, Valanciunas' most important source of scoring comes from his ability to finish plays created for him by teammates around the basket. He takes special pride in his ability to operate as a pick-and-roll finisher -- "That's my basketball," he said. This is a skill that should translate to the NBA immediately.

Valanciunas does a good job setting screens and then rolling to the basket with pinpoint timing, arms high in the air, vigorously pleading for the ensuing pass. He has extremely soft hands and attacks the rim with real purpose, elevating above the rim and finishing strong, with a dunk if possible – and preferably an emphatic one at that.

He realizes he's not going to be able to back his man down at this stage in his development ("My points are not from playing on the low post", he admits) and thus does his best to put himself in position to receive the ball and convert these plays as effectively as he can.

It seems to be working. According to Synergy Sports Technology, Valanciunas has had 52 possessions thus far this season deemed as pick-and-rolls or cuts to the basket, and has scored or drawn a foul on 42 of them. When unable to finish with a dunk, he shows very nice touch around the basket, often using the glass softly.

While Valanciunas' length and athleticism clearly play a big role in his success here, it's his toughness and fearlessness that really stand out the most. He's not afraid to challenge opponents, even if that means taking a nasty spill to the floor and tasting the hardwood.

Valanciunas also gets some opportunities from time to time in post-up situations, an area that he's not nearly as proficient. He lacks the girth to establish deep position inside the paint at the Euroleague level, even if that doesn't stop him from trying.

Against weaker opponents, he can put the ball down once or twice and dig a bit for better position to get his jump hook off (showing nice touch and great extension around the rim), but he doesn't really have the strength to finish through contact against high-level opponents.

He needs to work on his left hand and get quicker and more proficient with his foot-work and counter moves, as he doesn't look terribly natural creating his own shot down low.

Valanciunas is largely untested on the perimeter at the moment. He's taken one jumper this season—a surprisingly confident looking 3-pointer with the shot clock running out against Zalgiris. It went in.

Although we don't have very much data to work with right now ("I don't have opportunities to shoot," he tells us. "My job to play in the low post,") it doesn't seem unreasonable to expect that he'll become at least a capable mid-range shooter down the road.

The most shocking part of Valanciunas' game, in fact, might be his free throw percentage —he's made 43 of his 50 (86%) free throws this season; something he's done throughout his career.

"I spend a lot of time working on this," Valanciunas explains to us. "After every practice I shoot around 200 free throws."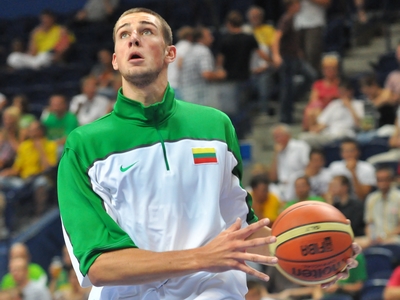 Augustas Cetkauskas/acfoto.lt



The rest of Valanciunas' game needs refinement, particularly his ball-handling and passing abilities. He turns the ball over at a pretty high rate and definitely has a ways to go in terms of improving his basketball IQ and overall experience level.

The place this seems to show up most is on the defensive end. Valanciunas is a major presence in the paint with his terrific size and length. His mobility helps him out quite a bit as well. He can contest shots around the rim and has good timing for blocking shots, even if he's not what you would call a high-flyer.

With that said, he's not the smartest, most reactive player you'll find right now, especially on the perimeter, which can lead to some poor rotations and open shots for opponents.

Interestingly enough, even when you see him getting beat at times outside the paint he still has the ability to recover and make a play at the rim, which is a testament to his foot speed and wingspan.

Nevertheless, he's still gaining experience and learning the nuances of the game on this end, which is one of the main things holding him back from getting even more playing time for Rytas.

Inside the paint, Valanciunas is a frequent target for opposing teams to post up due to his narrow frame and lack of experience, especially in the Euroleague, where almost every team has a bulky old school back-to-the-basket pivot who can simply overpower Valanciunas in one-on-one situations.

That's a big reason why Valanciunas has had consistent foul problems over the course of the year -- another reason that his playing time has been limited. In the Euroleague, for example, he commits approximately one foul for every 4 minutes he's on the court.

Despite the negatives described here, Valanciunas is undoubtedly an outstanding prospect, especially when we consider that he doesn't turn 19 until May. Players with his combination of size, length, mobility, toughness and budding skills are extremely difficult to come by.

The fact that he's producing at the rate he is in the Euroleague, Lithuanian league, and VTB League at his age is an extremely positive sign. Considering the tools he has, it's safe to say that his upside to continue to improve is huge.

It's easy to see him developing into an Andris Biedrins-type rebounder/defender/hustler in the NBA, but he likely has more even potential offensively than the Latvian big man due to his superior hands and touch (he probably has more of a nasty streak too).

While the impending NBA lockout this summer looks like a major thorn in the side of most college players, for Valanciunas it couldn't be better news. He'll be able to lock himself into a very favorable spot on the NBA rookie scale by being drafted this year but will still have the opportunity to return to Lithuania for another season (if he chooses to) and come to the NBA as a much more ready prospect.

Valanciunas has some issues to work out with his buyout from Rytas still, but he unequivocally wants to play in the NBA, telling us that that's his dream in fact.

"My biggest point is to go to the NBA, Valanciunas says. "It's my dream. My goal is to improve so I can play in the NBA."

With that said, Valanciunas isn't necessarily willing to leave at all costs. "I want to go to the NBA when I can play," he told us. "Not to go there and sit on the bench. If I go and sit on the bench that not good for me and it's not good for the club."

Valanciunas' European agent, Sarunas Broga, says that its "too early to say what's going to happen, but the decision about the NBA will ultimately be made by Jonas."

He plans on using the next few months to learn more about his draft stock and the teams that will likely be picking in the lottery—with the help of Valanciunas' new American agents, Leon Rose and Steven Heumann of CAA—and reach an agreement with Lietuvos Rytas about a sliding buyout scale figure to get out of his contract if needed. An invitation to play in the Nike Hoop Summit in Portland in April is also in the works.

The Valanciunas camp doesn't seem to be in any rush to commit to anything at this point.

"I'm thinking about making good results in basketball, Valanciunas says. "If I make good results, these things will come. When the season ends I will look at everything and me and my agent will think about all. Right now we're only halfway through the season. I still have a lot of work to do. I need to focus on basketball."

[Read Full Article]

---
Euroleague Final Four: Nike International Junior Tournament
May 8, 2009
Likely the prospect with the most overall upside as far as the NBA is concerned, the Lithuanian national team frontcourt appears to be in excellent hands for the future with the emergence of Jonas Valanciunas and Donatas Motiejunas—two big men that appear to complement each other extremely well.

Only born in 1992, Valanciunas is still a somewhat raw player, mostly due to his lack of strength, but he possesses a frame that should fill out and an incredible wingspan that allows him to make a huge impact in the paint at this level on both ends of the floor. He's a fairly mobile big man who runs the court well and can get off the floor with ease, particularly for impressive dunks around the basket. His hands are both soft and extremely big, making him a very reliable presence as a pick and roll finisher, and the extension he gets around the rim allows him to finish everything.

Although he's clearly an inside oriented player, Valanciunas can face up from 8-10 feet and put the ball on the floor for a dribble or two, possibly mixing in a shot-fake and then a crafty pivot move. His lack of strength makes it difficult for him to finish every play that's created for him, and he may lack just a degree of toughness and feistiness that hopefully he'll develop further down the road. Valanciunas is an unselfish player who operates fairly impressively on the court, although he clearly lacks experience and a great feel for the game, which is not a shock considering that he's still only 16 years old. He seemed to disappear for stretches, and clearly needs to work on his conditioning level.

While possessing nice touch from the free throw line, Valanciunas didn't show anything resembling a mid-range jumper, something he'll probably be working on in the future considering the gene pool he comes from.

Defensively, Valanciunas can be a presence as a shot-blocker coming from the weak-side, as he possesses solid timing and terrific length as mentioned, but he tends to struggle in man to man defense in the half-court due to his lack of strength. He got moved around in the post quite a bit and was outmuscled trying to crash the defensive glass, although he was quite a force as an offensive rebounder.

While it's probably too early to make any definitive statements, Valanciunas is clearly one of the most talented players in his age group, and will generate quite a bit of interest from NBA scouts over the next few years depending on what route he decides to take.

[Read Full Article]

---
L'Hospitalet 2009: Mirotic Makes History
January 8, 2009
The MVP of the last U-16 European Championship provided ingredients for the intrigue with his performance. A 6-10 center with the potential to evolve into a power forward, and perhaps a growth spurt still in his future, he's a nicely built player with long arms, solid athleticism, good coordination and a notable understanding of the game.

His game still spells raw for the most part, but there's some stuff to work with. Offensively, he's a low-post player. His footwork is pretty limited, and he can barely perform anything more than a spin move looking for contact to try to seal his opponent, although executed with nice footspeed. Not a great finisher around the basket, he doesn't look comfortable at all using his left hand.

Valanciunas shows excellent shooting mechanics from the free-throw line, especially considering the kind of player he is. On the other hand, he barely took advantage of them in other situations, looking extremely inconsistent the few times he attempted a mid-range jumper.

The strongest part of his game right now revolves around his rebounding and defensive skills. Showing remarkable positioning, he usually finds himself in the right spot to challenge shots or clean the glass, while he rarely risks his defensive position. Jonas not only enjoys excellent hands, but the athleticism and length to make things easier.

Only born in 1992, it's a bit early to draw any long-term conclusions, but the Lithuanian has some serious potential and he's a player to closely monitor in the coming years.

[Read Full Article]

---