Jordan Adams
Recent Tweets
All Tweets
DraftExpress: Top performers from the 2014 Orlando Summer league (PER) Mason Plumlee James Ennis Nerlens Noel Kentavious Caldwell-Pope Jordan Adams.
2014-07-12 22:39:05
DraftExpress: Top Performers at Orlando SL so far (50 total min+) in PER Mason Plumlee Kentavious Caldwell-Pope James Ennis Nerlens Noel Jordan Adams
2014-07-10 10:13:35
DraftExpress: New Video on DX Evaluating Zach Lavine without Jordan Adams and Kyle Anderson on the court. http://t.co/XtBmPFjeX8 (via @Mike_Schmitz)
2014-06-10 16:33:29
DraftExpress: Top NBA Prospects in the Pac-12 #6-10 Kyle Anderson Jordan Adams Josh Scott Devon Collier Nick Johnson http://t.co/FHsd9SxSEI
2013-10-04 01:15:53
DraftExpress: Jordan Adams has a little Jordan Hamilton to his game. Just gets buckets. No conscience whatsoever. 22 points already.
2012-11-19 23:03:23
Team: Grizzlies
Physicals
Positions
Rankings
Salary
Misc
H: 6' 5"
W: 209 lbs
Bday: 07/08/1994
(21 Years Old)

Current: SG
NBA: SG
Possible: SG

RSCI: 58

Agent: Wallace Prather
Current Salary:$1,344,120

High School: Oak Hill Academy
Hometown: Lawrenceville, GA
Drafted: Pick 22 in 2014 by Grizzlies

Predraft Measurements
| Year | Source | Height w/o Shoes | Height w/shoes | Weight | Wingspan | Standing Reach | Body Fat | No Step Vert | Max Vert |
| --- | --- | --- | --- | --- | --- | --- | --- | --- | --- |
| 2014 | NBA Draft Combine | 6' 3.5" | 6' 4.75" | 209 | 6' 10" | 8' 6" | 10.8 | 24.5 | 29.5 |



Basic Per Game Statistics

- Comprehensive Stats - Statistical Top 25s
| Year | League | Name | GP | Min | Pts | FG | FGA | FG% | 2Pt | 2PtA | 2P% | 3Pt | 3PtA | 3P% | FTM | FTA | FT% | Off | Def | TOT | Asts | Stls | Blks | TOs | PFs |
| --- | --- | --- | --- | --- | --- | --- | --- | --- | --- | --- | --- | --- | --- | --- | --- | --- | --- | --- | --- | --- | --- | --- | --- | --- | --- |
| 2015/16 | NBA | Jordan Adams | 2 | 7.5 | 3.5 | 1.0 | 3.0 | 33.3 | 1.0 | 2.5 | 40.0 | 0.0 | 0.5 | 0.0 | 1.5 | 2.5 | 60.0 | 0.0 | 1.0 | 1.0 | 1.5 | 1.5 | 0.0 | 1.0 | 1.0 |

Player Page&nbsp&nbsp| Player Stats | Mock Draft History | Related Articles&nbsp&nbsp| Add to My Draft Express&nbsp
&nbsp
Situational Statistics: the 2014 Shooting Guard Crop
June 19, 2014
UCLA's Jordan Adams profile suggests that he's one of the most unique players in this class. For starters, though he leads this group of shooting guards in field goal percentage, he ranks just 5th in points per-possession.

On top of that, what makes Adams so interesting is his unique situational breakdown. While he uses fewer pick and roll, spot-up, and isolation possessions than any player in this sample, each by a fairly considerable margin, he ranks 3rd seeing 4.3 possessions per-game in transition and 2nd averaging 3.3 off screen possessions per-game.

Though Adams is often maligned for his athleticism, he ranks as the 2nd best finisher in this group scoring 1.376 points per shot around the rim in the half court, seemingly on instincts and assertiveness alone. The worst jump shooter in this group scoring .853 points per-jump shot, Adam's unique role had a polarizing effect on his perimeter efficiency as he didn't see nearly as many traditional catch and shoot opportunities as his peers a year ago. With that in mind, it will be interesting to see how the trimmed down Adams is used as a rookie and how he adjusts to potentially more traditional role.

[Read Full Article]

---
2014 NBA Combine Interviews: Adams, Williams, Kane
May 19, 2014
[Read Full Article]

---
2014 NBA Draft Combine Measurements Analysis
May 15, 2014
Jordan Adams: While Adams has average size for a two-guard at 6-4 ¾ in shoes, he impressed with a 6-10 wingspan and most notably a much slimmer body at 209 pounds, down from 230 pounds. Maintaining that weight is very important for Adams, who is already a bit behind the eight-ball athletically. Although much different players, Adams' measurable compared well to 2013 draftee Victor Oladipo, who measured at 6-4 ¼ and 213 pounds with a 6-9 ¼ wingspan.

[Read Full Article]

---
Jordan Adams Scouting Report and Video Breakdown
April 30, 2014
Scouting Report by Jonathan Givony. Video Breakdown by Mike Schmitz

Jordan Adams had a very productive sophomore year, after which he declared his intentions to return to UCLA, but ultimately changed his mind at the last minute and elected to enter the NBA Draft. We take an inventory of everything he displayed this season as an NBA prospect, as well as the things he still has to improve on.
---
-Isaiah Austin Scouting Report and Video Breakdown
-Jerami Grant Scouting Report and Video Breakdown
-James Young Scouting Report and Video Breakdown
-Gary Harris Scouting Report and Video Breakdown
-Kyle Anderson Scouting Report and Video Breakdown
-P.J. Hairston Scouting Report and Video Breakdown
-Zach Lavine Scouting Report and Video Breakdown
-Artem Klimenko Scouting Report and Video Breakdown
-Tyler Ennis Scouting Report and Video Breakdown
-Rodney Hood Scouting Report and Video Breakdown
-Doug McDermott Scouting Report and Video Breakdown
-Andrew Wiggins Scouting Report and Video Breakdown
-Elfrid Payton Scouting Report and Video Breakdown
-Marcus Smart Scouting Report and Video Breakdown
-NBA Draft Prospect of the Week: C.J. Wilcox (Video Scouting Report)
-NBA Draft Prospect of the Week: T.J. Warren (Video Scouting Report)
-NBA Draft Prospect of the Week: A.J. Hammons (Video Scouting Report)
-NBA Draft Prospect of the Week: K.J. McDaniels (Video Scouting Report)
-NBA Draft Prospect of the Week: Deonte Burton (Video Scouting Report)
-NBA Draft Prospect of the Week: Noah Vonleh (Video Scouting Report)
-NBA Draft Prospect of the Week: Nik Stauskas (Video Scouting Report)
-NBA Draft Prospect of the Week: Aaron Gordon (Video Scouting Report)
-NBA Draft Prospect of the Week: Clint Capela (Video Scouting Report)
-NBA Draft Prospect of the Week: Thanasis Antetokounmpo (Video Scouting Report)
-NBA Draft Prospect of the Week: Shabazz Napier (Video Scouting Report)
-NBA Draft Prospect of the Week: Bogdan Bogdanovic (Video Scouting Report)
-NBA Draft Prospect of the Week: Joel Embiid (Video Scouting Report)
-NBA Draft Prospect of the Week: Julius Randle (Video Scouting Report)
-NBA Draft Prospect of the Week: Jabari Parker (Video Scouting Report)
-Revisiting Giannis Antetokounmpo (Video Scouting Report)
-Revisiting Damian Lillard (Video Scouting Report)
-Revisiting Nikola Mirotic (Video Scouting Report)
-Revisiting Alexis Ajinca (Video Scouting Report)
---
Ranked outside the top-50 by most high school recruiting services, Adams was not projected to have a major impact early on at UCLA. Nevertheless, he exceeded expectations and could very well have been considered the most productive member of a class that included top-10 recruits Shabazz Muhammad and Kyle Anderson, averaging 15 points per game as a freshman.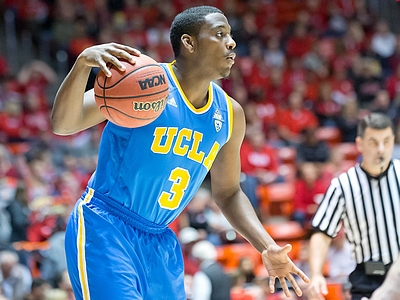 US Presswire



Adams had an even better sophomore campaign, emerging as one of the best scorers in college basketball, being both extremely prolific (23 points per-40, 9th among Top-100 prospects) and efficient (60% TS%, 15th best) in the way he put points up on the board.

Adams is slightly undersized for a shooting guard at around 6-5, but makes up for that with an extremely long wingspan and a strong frame that he will need to continue to tone. He's not a great athlete in terms of sheer quickness or explosiveness, but finds a way to be productive thanks to terrific scoring instincts and strong anticipation skills.

Adams scored his points in a variety of ways this season, be it in transition, posting up, moving without the ball, coming off screens, or making spot-up jumpers.

Mostly a straight line ball-handler, Adams can overpower opponents en route to the rim and is able to absorb contact and finish strong using his length, strength and creativity, despite not possessing great athleticism. He ranks as one of the better finishers inside the paint among wing players in this draft, converting an outstanding 64% of his attempts around the basket. He also gets to the free throw line at a solid rate (7 times per-40), and knocks down 84% of his attempts once there.

In perpetual motion offensively, Adams has a knack for finding scoring angles instinctively, and will regularly back-door his opponent with a well-timed cut to get an easy look at the rim. He's also a prolific rim-runner, despite not being overly fast, knowing when to leak out in transition and scoring a significant amount of his points there (27% of offense—Synergy) at a relatively efficient clip.

Adams' tremendous anticipation skills really shine through with his work on the offensive glass. He ranks first by a wide margin among DX Top-100 shooting guards with the 2.5 offensive rebounds per-40 minutes he averages.

Not a prolific ball-handler (just 8% of his offense this season came in pick and roll or isolation situations), Adams lacks great pure explosiveness, and doesn't do a great job of changing speeds or directions with the ball either. He's also not a great off the dribble shooter, making just 29% of his attempts this season (8/29), as he lacks the speed or leaping ability to create separation from his defender and get his jumper off effectively.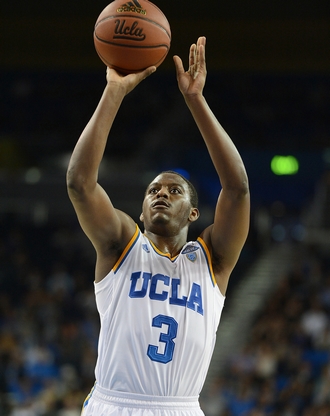 US Presswire



For that reason, Adams' ability to space the floor will likely be a major key to any success he finds at the NBA level. He was somewhat streaky in that area in his two seasons in college, making 36% of his catch and shoot attempts as a sophomore and 32% as a freshman. Adams has a quick release and consistent mechanics, even if he tends to pull his head back and get sloppy with his follow through at times, which hurts his accuracy. Better shot-selection should help, as he's a bit of a gunner at times, but his scoring instincts leave a lot of room for optimism regarding how his shooting will evolve in time.

Defensively, Adams is a real mixed bag. On one hand he ranks among the most prolific ball-thieves in college basketball, averaging 3.5 steals per-40 minutes, tied with Fuquan Edwin and Marcus Smart for #1 in this draft class. He's got long arms, quick hands and terrific instincts for knowing when to swipe at the ball to poke it away from opponents, and also excellent anticipation skills for getting in the passing lanes and igniting the break.

On the other hand, Adams' fundamentals are fairly poor, as he's rarely in an actual stance, gets lost off the ball frequently, and gambles incessantly. His lateral quickness is average at best, and his effort-level leaves a lot to be desired at times as well. He'll have to improve his intensity level and focus to make up for his lack of athleticism on this end of the floor, even if his length and instincts give him a chance to develop if he's willing to put the effort in.

Getting on a real strength and conditioning program and improving his body will go a long ways in maximizing his physical tools. He looked extremely out of shape to start his sophomore season, and even if he slimmed down as the year moved on, NBA teams could have some concerns due to his thick body type which looks prone to gaining weight in the off-season and could make him susceptible to injuries. With that said, he's one of the youngest players in this draft class, not turning 20 until July, so time is certainly on his side in that regard.

We've taken a more visual look at Adams' strengths and weaknesses thanks to game film from UCLA in the following video scouting report, courtesy of Mike Schmitz.



All of our video scouting reports this season can be found here.

[Read Full Article]

---
Top NBA Draft Prospects in the Pac-12, Part 4 (#6-10)
October 3, 2013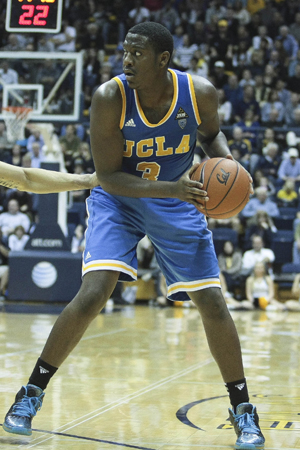 US Presswire



Josh Riddell

Jordan Adams had an impressive UCLA debut, posting 20+ points in each of his first four games before falling into a slump in January and early February. He recovered nicely at the end of the year, scoring 20+ points in four of his last eight games before falling victim to a broken bone in his right foot on the final play of UCLA's victory over Arizona in the semifinals of the Pac-12 tournament. New coach Steve Alford is bringing Adams back slowly but all signs point to him being healthy at the start of the season. Entering his sophomore season, Adams will be looking for consistency on the offensive end and a more steady scoring output throughout the season.

Adams has nice size for a shooting guard at 6'5" with a strong frame at 220 pounds but the rest of his physical attributes, including his length, quickness and athleticism are merely average compared to other NBA level shooting guards.

Offensively, Adams relies on perimeter shooting for most of his production, as 70% of his field goals came from jump shots, according to Synergy Sports. His two point field goal percentage is efficient at 54% but he struggled with his outside shooting, as his 3 point percentage was only 30%, one of the lowest among shooting guards in our database . One cause for his struggles may be his inconsistent release, which seems to vary with almost every shot. At the same time, many of his shots close to the end of the season fell short which may show he tired during his freshman season.

If Adams' outside shot is taken away, he did show an ability to drive to the rim, staying under control on penetration, although he struggled with finishing at the rim through contact. He does not shy away from contact through, which allows him to get to the line 4.6 times per game. Adams shot 84% on free throws which ranked 17th among shooting guards in our database last season.

Adams moves well off the ball, constantly looking to run off screens or cut into open space. He reads the defense well and derives many of his perimeter shots and layup attempts from his constant movement without the ball. He is a tireless worker when he is looking for the ball but this energy doesn't translate to the defensive end.

While Adams' quick hands allow him to create 2.2 steals per game, sixth among shooting guards in our database last season, this is really the only defensive area where he shows any commitment. He has a tendency to stand straight up when guarding the ball, which allows him to easily get beat off the dribble. This problem is compounded when he reaches for a steal and misses, putting himself off balance and out of position to defend. He then scrambles to recover and can sometimes make the spectacular play but this style of defense won't work against quicker NBA players.

Adams doesn't work to avoid screens, which puts him in trouble against the pick and roll, as he often runs right into the ball screen. He is then slow to recover after the ball handler gets by him and relies on the help defense to rotate over, which leaves the defense exposed. He sometimes works hard to recover after this lapse but more often than not, he has a lackadaisical approach to defense. Scouts are not going to like a second season of this from Adams and will look for an increased effort on this end, at a minimum.

Going into his sophomore season, Adams has the foundation to attract the eye of draft scouts with his ability to score but he will need to show he can be a more consistent outside shooter now that he is used to the rigors of a full college season. Scouts will also want to see a more concerted effort on the defensive end, even if he still struggles with the concepts. It will be interesting to see how Alford fits him into the offense this season and whether he can hold onto playing time if he continues to give such a poor effort on the defensive end. Adams has the potential to be a nice complementary NBA player but he needs to show some improvement in his outside shooting and defensive effort this season.

[Read Full Article]

---
HoopHall Classic Scouting Reports: 2012 Prospects (Part Two)
January 19, 2012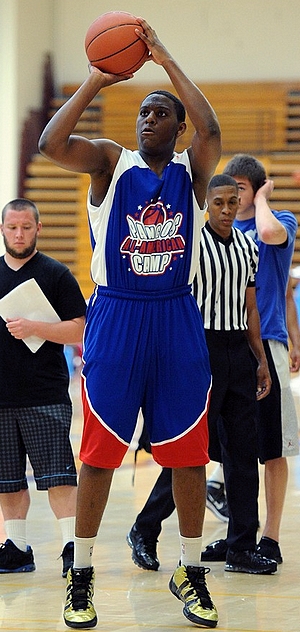 Icon SMI



Joe Treutlein

Jordan Adams (#73 Scout, #74 Rivals, #50 ESPN) had one of the most potent offensive games of the tournament, scoring an outstanding 23 points in just 23 minutes, and doing so on a very efficient 9-for-14 shooting.

Standing 6'5 with just decent length, a solid frame, and average athleticism, Adams has good size for a shooting guard, but clearly is more appealing due to his skills than his physical tools.

Adams' game revolves heavily around his spot-up jump shot, specifically from three-point range, where he shot a scorching 5-for-7 in his team's dominant 85-55 win. Adams has effortless range and excellent mechanics, being very dangerous both in the half court and transition. His release in high and quick and he does a good job getting open off the ball, as he clearly has a good feel for utilizing this potent weapon.

Beyond his excellent shooting ability, Adams' game doesn't stand out notably in any other ways. He does a decent job complementing his shooting by finishing on simple lay-ups in transition and straight-line drives, just enough to keep the defense honest. He doesn't show much in terms of shot creating ability, either on the perimeter or going to the basket, but seems well aware of the role he's best suited to play.

Adams also benefits from playing in an extremely well-run offense with very talented players on Oak Hill, something that will be interesting to compare playing next season at UCLA. How he adjusts to a more level playing field and bigger, more athletic competition will be key to his development, along with what tools he improves to add to his somewhat limited repertoire.

Looking forward, it's tough to say what Adams' ultimate long term potential is at this stage, as it is highly dependent on how his role playing ability translates to the college level.

[Read Full Article]

---