Jordan Adams
Recent Tweets
All Tweets
DraftExpress: Top NBA Prospects in the Pac-12 #6-10 Kyle Anderson Jordan Adams Josh Scott Devon Collier Nick Johnson http://t.co/FHsd9SxSEI
2013-10-04 01:15:53
DraftExpress: Jordan Adams has a little Jordan Hamilton to his game. Just gets buckets. No conscience whatsoever. 22 points already.
2012-11-19 23:03:23
DraftExpress: RT @rushthecourt RT @lukewinn Kind of amazing to see all the talent on UCLA's bench to start this game. Shabazz Jordan Adams Tony Pa ...
2012-11-19 21:21:01
DraftExpress: RT @lukewinn Kind of amazing to see all the talent on UCLA's bench to start this game. Shabazz Jordan Adams Tony Parker Josh Smith.
2012-11-19 21:13:21
DraftExpress: HoopHall 2012 Reports, part 2: Tony Parker (GA), Omar Calhoun, Ricardo Gathers, Jerami Grant, Jordan Adams, Rosco Allen http://t.co/lTVmQo2N
2012-01-19 09:15:32
Team: UCLA, Sophomore
Physicals
Positions
Rankings
Misc
H: 6' 5"
W: 220 lbs
Bday: 07/08/1994
(19 Years Old)

Current: SG
NBA: SG
Possible: SG

Pick: 24 in 2015 Mock Draft
Rank 15 in NCAA Sophomores
RSCI: 58

High School: Oak Hill Academy
Hometown: Lawrenceville, GA




Basic Per Game Statistics

- Comprehensive Stats - Statistical Top 25s
| Year | League | Name | GP | Min | Pts | FG | FGA | FG% | 2Pt | 2PtA | 2P% | 3Pt | 3PtA | 3P% | FTM | FTA | FT% | Off | Def | TOT | Asts | Stls | Blks | TOs | PFs |
| --- | --- | --- | --- | --- | --- | --- | --- | --- | --- | --- | --- | --- | --- | --- | --- | --- | --- | --- | --- | --- | --- | --- | --- | --- | --- |
| 2013/14 | NCAA | Jordan Adams | 36 | 30.1 | 17.4 | 5.8 | 11.9 | 48.5 | 4.3 | 7.9 | 55.1 | 1.4 | 4.1 | 35.6 | 4.4 | 5.3 | 83.6 | 1.9 | 3.5 | 5.3 | 2.3 | 2.6 | 0.1 | 1.5 | 2.2 |

Player Page&nbsp&nbsp| Player Stats | Mock Draft History | Related Articles&nbsp&nbsp| Add to My Draft Express&nbsp
&nbsp
Top NBA Draft Prospects in the Pac-12, Part 4 (#6-10)
October 3, 2013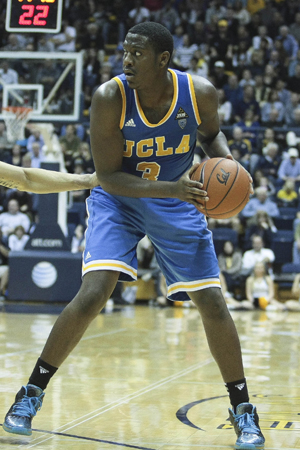 US Presswire



Josh Riddell

Jordan Adams had an impressive UCLA debut, posting 20+ points in each of his first four games before falling into a slump in January and early February. He recovered nicely at the end of the year, scoring 20+ points in four of his last eight games before falling victim to a broken bone in his right foot on the final play of UCLA's victory over Arizona in the semifinals of the Pac-12 tournament. New coach Steve Alford is bringing Adams back slowly but all signs point to him being healthy at the start of the season. Entering his sophomore season, Adams will be looking for consistency on the offensive end and a more steady scoring output throughout the season.

Adams has nice size for a shooting guard at 6'5" with a strong frame at 220 pounds but the rest of his physical attributes, including his length, quickness and athleticism are merely average compared to other NBA level shooting guards.

Offensively, Adams relies on perimeter shooting for most of his production, as 70% of his field goals came from jump shots, according to Synergy Sports. His two point field goal percentage is efficient at 54% but he struggled with his outside shooting, as his 3 point percentage was only 30%, one of the lowest among shooting guards in our database . One cause for his struggles may be his inconsistent release, which seems to vary with almost every shot. At the same time, many of his shots close to the end of the season fell short which may show he tired during his freshman season.

If Adams' outside shot is taken away, he did show an ability to drive to the rim, staying under control on penetration, although he struggled with finishing at the rim through contact. He does not shy away from contact through, which allows him to get to the line 4.6 times per game. Adams shot 84% on free throws which ranked 17th among shooting guards in our database last season.

Adams moves well off the ball, constantly looking to run off screens or cut into open space. He reads the defense well and derives many of his perimeter shots and layup attempts from his constant movement without the ball. He is a tireless worker when he is looking for the ball but this energy doesn't translate to the defensive end.

While Adams' quick hands allow him to create 2.2 steals per game, sixth among shooting guards in our database last season, this is really the only defensive area where he shows any commitment. He has a tendency to stand straight up when guarding the ball, which allows him to easily get beat off the dribble. This problem is compounded when he reaches for a steal and misses, putting himself off balance and out of position to defend. He then scrambles to recover and can sometimes make the spectacular play but this style of defense won't work against quicker NBA players.

Adams doesn't work to avoid screens, which puts him in trouble against the pick and roll, as he often runs right into the ball screen. He is then slow to recover after the ball handler gets by him and relies on the help defense to rotate over, which leaves the defense exposed. He sometimes works hard to recover after this lapse but more often than not, he has a lackadaisical approach to defense. Scouts are not going to like a second season of this from Adams and will look for an increased effort on this end, at a minimum.

Going into his sophomore season, Adams has the foundation to attract the eye of draft scouts with his ability to score but he will need to show he can be a more consistent outside shooter now that he is used to the rigors of a full college season. Scouts will also want to see a more concerted effort on the defensive end, even if he still struggles with the concepts. It will be interesting to see how Alford fits him into the offense this season and whether he can hold onto playing time if he continues to give such a poor effort on the defensive end. Adams has the potential to be a nice complementary NBA player but he needs to show some improvement in his outside shooting and defensive effort this season.

[Read Full Article]

---
HoopHall Classic Scouting Reports: 2012 Prospects (Part Two)
January 19, 2012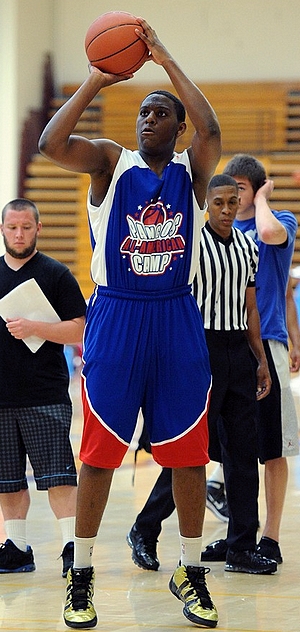 Icon SMI



Joe Treutlein

Jordan Adams (#73 Scout, #74 Rivals, #50 ESPN) had one of the most potent offensive games of the tournament, scoring an outstanding 23 points in just 23 minutes, and doing so on a very efficient 9-for-14 shooting.

Standing 6'5 with just decent length, a solid frame, and average athleticism, Adams has good size for a shooting guard, but clearly is more appealing due to his skills than his physical tools.

Adams' game revolves heavily around his spot-up jump shot, specifically from three-point range, where he shot a scorching 5-for-7 in his team's dominant 85-55 win. Adams has effortless range and excellent mechanics, being very dangerous both in the half court and transition. His release in high and quick and he does a good job getting open off the ball, as he clearly has a good feel for utilizing this potent weapon.

Beyond his excellent shooting ability, Adams' game doesn't stand out notably in any other ways. He does a decent job complementing his shooting by finishing on simple lay-ups in transition and straight-line drives, just enough to keep the defense honest. He doesn't show much in terms of shot creating ability, either on the perimeter or going to the basket, but seems well aware of the role he's best suited to play.

Adams also benefits from playing in an extremely well-run offense with very talented players on Oak Hill, something that will be interesting to compare playing next season at UCLA. How he adjusts to a more level playing field and bigger, more athletic competition will be key to his development, along with what tools he improves to add to his somewhat limited repertoire.

Looking forward, it's tough to say what Adams' ultimate long term potential is at this stage, as it is highly dependent on how his role playing ability translates to the college level.

[Read Full Article]

---