Jordan Bachynski
Recent Tweets
All Tweets
DraftExpress: Notable Undrafted 2 Deonte Burton Mike Moser Bryce Cotton Sim Bhullar Sean Kilpatrick Kendall Williams Jordan Bachynski Niels Giffey
2014-06-27 00:11:20
DraftExpress: Top NBA Prospects in the Pac-12 #11-15 http://t.co/uCHlJVWvF6 Brandon Ashley Tony Parker Jordan Bachynski Damyean Dotson Xavier Johnson
2013-10-06 11:51:02
DraftExpress: DX scouting reports this week Victor Oladipo (w\/video) Jordan Bachynski Chris Obekpa Jahii Carson Isaiah Canaan http://t.co/Ga2EXBdc
2013-02-08 18:32:42
DraftExpress: DX Taking stock of 7-2 Arizona State center Jordan Bachynski one of the most improved players in college basketball http://t.co/8Ypk5o8Y
2013-02-06 12:40:57
Team: Westchester
Physicals
Positions
Salary
Misc
H: 7' 2"
W: 265 lbs
Bday: 09/06/1989
(26 Years Old)

Current: C
NBA: C
Possible: C

Agent: Michael Lindeman

High School: Centennial
Hometown: Calgary, AB

Predraft Measurements
| Year | Source | Height w/o Shoes | Height w/shoes | Weight | Wingspan | Standing Reach | Body Fat | No Step Vert | Max Vert |
| --- | --- | --- | --- | --- | --- | --- | --- | --- | --- |
| 2015 | D-League Elite Camp | 7' 1" | 7' 2.25" | 265 | 7' 3.5" | 9' 0.5" | NA | 30.5 | 34.0 |
| 2014 | NBA Draft Combine | 7' 1.25" | 7' 2" | 254 | 7' 4" | 9' 0.5" | 7.5 | 29.0 | 33.0 |



Basic Per Game Statistics

- Comprehensive Stats - Statistical Top 25s
| Year | League | Name | GP | Min | Pts | FG | FGA | FG% | 2Pt | 2PtA | 2P% | 3Pt | 3PtA | 3P% | FTM | FTA | FT% | Off | Def | TOT | Asts | Stls | Blks | TOs | PFs |
| --- | --- | --- | --- | --- | --- | --- | --- | --- | --- | --- | --- | --- | --- | --- | --- | --- | --- | --- | --- | --- | --- | --- | --- | --- | --- |
| 2015/16 | DLEAGUE | Jordan Bachynski | 5 | 25.2 | 12.2 | 4.6 | 7.6 | 60.5 | 4.6 | 7.6 | 60.5 | 0.0 | 0.0 | &nbsp | 3.0 | 4.0 | 75.0 | 2.6 | 3.8 | 6.4 | 1.2 | 0.4 | 3.0 | 1.8 | 3.6 |

Player Page&nbsp&nbsp| Player Stats | Mock Draft History | Related Articles&nbsp&nbsp| Add to My Draft Express&nbsp
&nbsp
2014 NBA Combine Interviews: Stokes, Bairstow, Bachynski
May 17, 2014
[Read Full Article]

---
Jordan Bachynski Updated Scouting Report
March 30, 2014
Quite possibly the tallest player eligible for the 2014 NBA Draft, the 7'2 Jordan Bachynski ended his senior season on a high note individually, scoring 25 points on 8-14 shooting against fellow prospect Cameron Ridley in an 87-85 loss to Texas in the Second Round of the NCAA Tournament. A much improved player over his four year NCAA career, Bachynski helped Herb Sendek's program to 21 wins, averaging 11.5 points and 8.2 rebounds per-game. One of the top senior center prospects in the country, it would not be at all surprising if the Calgary native found himself on a NBA roster next season.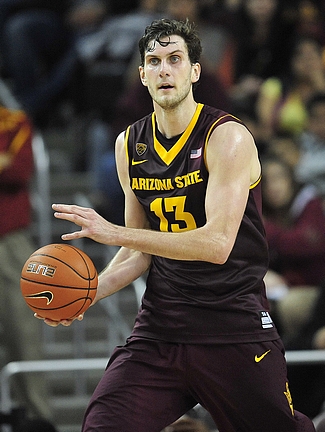 US Presswire



Should that indeed wind up being the case, Bachynski's size will have a lot to do with it. Possessing well above average height for the center position and a 7'4 wingspan, the Canadian center who took a Mormon mission before starting his college basketball career certainly stands out among his peers. Weighing right around 250-pounds, Bachynski will need to continue getting stronger to maximize his frame moving forward.

Athletically, Bachynski has surprising straight line speed for a player his size, but like most 7-plus-footers, he doesn't accelerate or get off the floor especially well. His lateral quickness is a point of interest in breaking down his skill set for the next level, as his ability to keep up with the pace of the NBA game when he steps out on the perimeter defensively will be key to his ability to translate his strengths to the next level. In college he is simply able to park inside the paint for entire possessions, which is not an option in the NBA due to the defensive three second rules.

Bachysnki has been Arizona State's primary interior option for each of the last two years, using 69.4% of the Sun Devils' post possessions and 14.7% of their total possessions this season, the third highest percentage of the team's total possessions behind Jahii Carson and Jermaine Marshall. His role offensively revolves around his ability to gain position on the block and score over defenders and play off the penetration of his teammates by ducking in behind the defense to provide an outlet inside. He has attempted just one jump shot this season, and is a traditional back to the basket center, lacking the ability to step out to the midrange. Somewhat inconsistent game-to-game despite his advanced age, Bachynski struggled at times, scoring less than 6 points in 8 games this season due to poor shooting or foul trouble.

On the low block, Bachynski displays decent footwork and an effective hook shot with his left hand. He bends his knees well for a man his size, does a decent job fighting for position underneath despite his high center of gravity and lack of strength relative to some of the players defensive him, and has the mobility to adjust to poorly thrown entry passes inside. Though he will force the action to his left hand at times, he will pivot back to his right hand for a scoop or quick push shot when he feels the defense clearly overplaying his strong hand. He's made significant progress with his post arsenal since arriving at Arizona State, but is unlikely to emerge as much of a back to the basket threat in the pros due to his relatively narrow frame, which probably won't change that much in the future considering he's already 24 years old.

51.4% of Bachynsi's total shot attempts came in the post this season, and while he is not a power player on the block by any stretch, he's developed the ability to use his size to score over the top in the paint. His 1.016 points per shot out of the post ranks in the 67th percentile nationally according to Synergy Sports Technology and reflect his solid shooting touch but his inconsistency when he can't maintain his balance and the times his predictable post repertoire plays against him.

When he isn't operating in the post, Bachynski does a good job identifying and setting up shop in the soft spots of the defense, but can't always take advantage when he receives the ball inside as effectively as he could. Despite his running ability, he isn't overly explosive, nor is he always aggressive attacking the rim with purpose off the catch, both of which limit his effectiveness as a finisher. He is most effective when he can simply tip the ball in off a miss or can catch the ball on the move rolling to the rim to get some momentum to elevate and finish above the rim, and certainly doesn't struggle inside. Bachynski scores a respectable 1.258 points per shot around the rim in finishing situations which ranks in the 75th percentile among all Division I players. An improved foul shooter, Bachynski's ability to convert at the line has helped his scoring numbers, even if he could still stand to improve on the 69.3% he shot this season.

Just an average rebounder, Bachynski ranks second to last in offensive rebounds per-40 minutes pace adjusted and 10th in total rebounds per-40 minutes pace adjusted among the 16 centers in our top-100. Compounding his struggles on the boards, he tends to bring the ball down once he secures it, especially on the offensive end, which often leads to avoidable turnovers. Despite his length, Bachynski is an area rebounder who doesn't seemingly have the same instincts and anticipation on the glass that make him a standout defender.

One of the elite shot blockers in the country, Bachynski's lack of rebounding ability belies his knack for using his size and length inside defensively. He anchored Arizona State's interior defense this season contesting shots rotating over from the weakside and stringing out ball handlers when he meets penetrators in the lane. He doesn't have great lateral speed and doesn't get great lift, but has very good timing and quick hands, often swatting the ball away before finishers are able to get it out of their hands. Bachynski led the NCAA blocking 4 shots per-game and ranked 9th in blocks per-40 minutes pace adjusted among players in our database.

As an individual defender, Bachynski's lack of strength and lateral movement are concerns in projecting him to the next level. He struggles when defenders draw him away from the rim as he doesn't have the quickness to stay in front of face up scorers in the midrange. His ability to show and recover on the pick and roll is also a question mark. Able to get by simply sitting back in the paint when his man set a ball screen this season, he'll need to show the ability to step out to the perimeter and quickly retreat to the paint if he's going to fit in defensively in the NBA. On the block, his size made him an intimidating presence defending the post one-on-one at the NCAA level, but he'll need to continue getting stronger if interior defense is going to be his calling card as a pro.

A known commodity at this point, Bachynski is a prolific shot blocker with a nice hook shot and excellent size who will have a few questions to answer in the coming months regarding how he'll fit in at the NBA level. His lack of strength and lateral quickness will certainly be under the microscope as teams gauge what kind of impact he can have defensively at the next level.

Teams will also surely look into Bachynski's ankle issues from his high school days, but he hasn't missed a game in two years. Their more imminent concern may be his age, since at 24, Bachynski is the oldest player in our top-100 and will be judged against players that may be perceived to have more long-term upside. Either way, Bachynski could certainly hear his name called on draft night, and even if he doesn't, he'll get plenty of looks this summer and have his choice of options if he doesn't find himself in the NBA immediately.

[Read Full Article]

---
Trending Prospects: Jordan Bachynski
February 6, 2013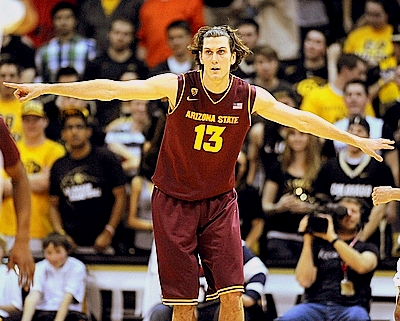 US Presswire



Kyle Nelson

Junior center Jordan Bachynski has hardly had a conventional college career, enrolling as a freshman at Arizona State at age 21 after spending two years in Florida on a Mormon mission. Bachynski was not a very well-known recruit after playing most of his high school career in Canada and being hampered by a serious ankle injury when he finally did move to the States to attend Findlay Prep. The story of how he ended up electing to sign at Arizona State over the likes of UConn, Oregon State, UNLV and others is one of the more unique you'll encounter.

Bachynski was a role player during his first two years on one of the NCAA's worst high major teams. A lot changed over the summer, as Arizona State sits just one game out of first place in the PAC-12, and Bachynski is posting career highs in nearly every statistical category while logging four double-doubles and one triple-double. In the wake of a 22 point, 15 rebound, and 6 block performance during Arizona State's 78-60 drubbing of UCLA, NBA scouts are no longer wondering whether he is a PAC-12 caliber player, but rather, the question has become: is Jordan Bachynski a legitimate NBA prospect?

At 7'2 with a 7'4 wingspan and a solid 248 pound-frame, Bachynski has excellent size for the center position at the next level, though he must continue to add more muscle to his frame. Furthermore, he is an above average athlete for his size, running the floor well with solid mobility and explosiveness around the basket. His physical profile alone is intriguing from a scout's perspective, as he looks to be physically and athletically capable of playing at the next level.

While Bachynski has been a relatively unknown commodity thus far in his career on the offensive end, he has emerged as a competent, albeit inconsistent, post scorer as a junior, to the tune of 14.8 points per 40 minutes pace adjusted, looking proficient scoring both in the post and out of the pick-and-roll.

Bachynski shows good hands and much improved footwork along with soft touch around the basket, evidenced in his career high 60.5% FG%. Though his post repertoire is still fairly basic, he now looks comfortable attempting hook shots with his left hand, as well as a variety of up-and-unders, scoop shots, and simple spin moves. While he still has a tendency to look mechanical in his movements, his instincts are much improved compared to where he was as a freshman, particularly his patience in the post, his willingness to use the glass, and the fact that he goes straight up after receiving the ball around the basket.

That being said, Bachynski must continue to get stronger as he sometimes struggles to carve out space, hold his position, and finish with authority against smaller post players. Similarly, smaller players have little trouble ripping the ball out of his hands when he brings it down or puts it on the floor. Along these lines, improving his ball-handling ability and further developing his right hand will allow him to be more efficient at this level and more useful at the next. Finally and perhaps most importantly, continuing to build upon his success operating out of the pick-and-roll will be essential to his NBA prospects, as he shows perhaps his best potential as an offensive player with the timing and finishing ability he displays here.

On the defensive end Bachynski has improved as a rebounder – posting a career high 10.4 rebounds per 40 minutes pace adjusted – and he has blossomed into an elite shot blocker. Despite playing fewer minutes than Jeff Withey and Nerlens Noel, his 4.1 blocks per game ranks fourth among prospects in our database and his 6.0 per 40 minutes pace adjusted establishes him as the second most prolific shot blocker in our database.

With that said, he is not a particularly focused post defender, often biting on pump fakes and getting out of position and occasionally losing track of his man, leading to easy looks around the basket. Furthermore, he struggles to close out on shooters and lacks ideal lateral quickness to defend both perimeter oriented big men and the pick-and-roll. Therefore, while he is an excellent defensive presence inside, there remain significant question marks as to whether he can hold his own here in the NBA.

Bachynski's NBA prospects are still somewhat up in the air. For one, scouts will have to determine to what extent the 23-year-old junior can continue to develop considering his advanced age. Though he has not played nearly as much organized basketball as his age suggests due to spending five years in high school and his LDS mission, he will be a 25-year-old NBA rookie should he elect to stay at Arizona State through his senior year. Furthermore, his jaw-dropping performance at UCLA has so far proved to be an exception rather than the rule, as he has struggled against frontcourts with NBA-caliber size and athleticism, particularly in match-ups against the likes of Arizona, Oregon, USC, Washington, and Creighton.

That being said, there is quite a bit to like about Bachynski and his developmental trajectory, combined with what seem to be excellent intangibles and a solid work ethic, suggests that he will continue to improve. Mobile 7'2 centers who can block shots and finish around the basket will always attract NBA scouts' attention; so, if he can become more consistent, as well as prove that he can contribute offensively and defend his position consistently against NBA caliber players, then his stock will rise accordingly. What is clear, though, is that the 7'2 junior is no longer flying under the radar and will have every opportunity to realize his potential as a prospect at Arizona State.

[Read Full Article]

---