USA Basketball U16 Training Camp Scouting Reports: Big Men
June 4, 2015
One of the most improved players from October to June among those that attended both the USA Basketball Development Camp and this training camp, 2018 recruit Jordan Brown (#6 Future150) not only grew an inch and added 7 pounds to his now 190-pound frame, but also became a significantly better player.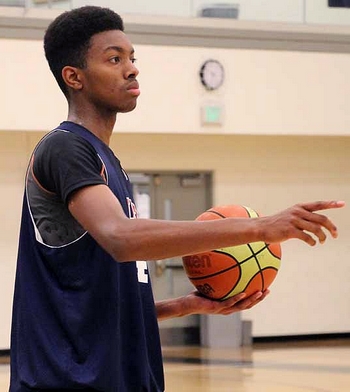 USA Basketball
He has good size for a big man at 6-9, to go along with a near 7-foot wingspan and nice athletic ability. Offensively, he showed very intriguing versatility, with the ability to create his own shot from the perimeter in a straight line, execute pretty spin moves with impressive body control, and very soft touch on his floaters. He has good shooting form, with the ability to knock down mid-range jumpers fairly consistently, and even some off the dribble shooting prowess too. He was active on both the offensive and defensive glass utilizing his length, quickness, explosiveness and solid timing, even if his lanky frame doesn't always allow him to finish around the rim.
While Brown's frame has a long ways to go, it looks like should fill out nicely considering he's only 15 years old and has big shoulders. That will help him defensively, where he struggles at times. He's not going to wow anyone with his production anytime soon, but has a chance to develop into a nice versatile power forward down the road if he continues to work hard.
We talked to him about as development as a basketball player and much more in the following interview:
[
Read Full Article
]