Jordan Henriquez
Recent Tweets
All Tweets
DraftExpress: Top NBA Prospects in Big 12 (#6-11) http://t.co/ac8fCVbX Rodney McGruder, Jordan Henriquez, Steven Pledger, Cory Jefferson Sheldon McClellan
2012-10-03 06:29:31
Team: Jena
Physicals
Positions
Salary
Misc
H: 7' 0"
W: 250 lbs
Bday: 08/29/1989
(26 Years Old)

Current: C
NBA: C
Possible: C

Agent: Greg Nunn

High School: Winchendon Academy
Hometown: Port Chester, NY




Basic Per Game Statistics

- Comprehensive Stats - Statistical Top 25s

Player Page&nbsp&nbsp| Player Stats | Related Articles&nbsp&nbsp| Add to My Draft Express&nbsp
&nbsp
Norvel Pelle, Josiah Turner, Jordan Henriquez Workout Videos
June 1, 2013
[Read Full Article]

---
Top NBA Draft Prospects in the Big 12, Part Four
October 2, 2012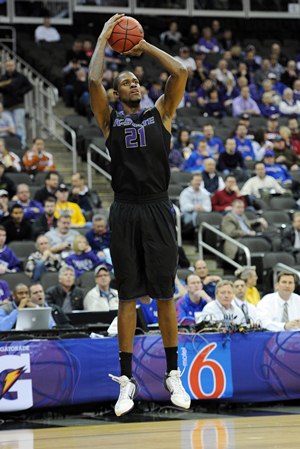 US Presswire



Kyle Nelson

Jordan Henriquez struggled with inconsistency for much of his junior season and did himself few favors when he was suspended for "conduct detrimental to the team". Yet, he filled Kansas State's void in the middle, helped the Wildcats make a brief run in the NCAA Tournament, and really took a step forward in his development. The question now is whether Jordan Henriquez can take the next step, building on his late season emergence, to convince scouts that he is a legitimate prospect.

Though Henriquez stands around 7'0 with very long arms and a frame that still looks skinny at 250-pounds, he struggles to hold his own against centers at the NCAA level and must continue to get stronger. This development is particularly important given that he's only an above-average athlete for his size. Henriquez lacks elite explosiveness and quickness in the open floor to compensate for his lack of strength. Improving his physique could help him maximize his athleticism, but it is remains to be seen how much he can continue to develop physically and athletically given that he is already 23-years-old.

On the offensive end of the floor, Henriquez was one of the least productive scores among centers in our database. While he made major strides in his shooting efficiency, he scored just 7.6 points per game in just over 20 minutes per game and took less than 10% of Kansas State's shots.

Henriquez finds most of his attempts around the basket, usually off of cuts and while posting up. While he looks solid by the numbers at 54.4% 2FG, he doesn't appear to have the greatest hands and sometimes struggles to power through big and athletic post defenders to finish in traffic. Additionally, he struggles to carve out space on the block against more aggressive defenders and doesn't have much in the way of post moves.

He does do a good job, however, hustling hard on the offensive boards and cleaning up missed shots. He could improve even further in this area if he relied less upon his physical gifts and worked more on his fundamentals. In fact, he's a good rebounder across the board, despite his relative lack of fundamentals, measuring quite well among returning centers in our database.

One area in which Henriquez has thus far been underwhelming, but nonetheless shows potential to improve is with his spot-up shooting. Henriquez attempted around 20 jump shots last year, primarily in a catch-and-shoot capacity, with mixed success and inconsistent mechanics. His 55.6% FT, long arms, and advanced age suggest that he may not have great potential at this stage, but scouts will be watching nonetheless to see if he can correct his mechanics and become simultaneously more comfortable and prolific.

Though his skinny frame and underwhelming hands are not ideal, he nonetheless has solid mobility and awareness to succeed as a finisher in the pick and roll. Given Kansas State's relative dearth of true point guards and his low skill level, Henriquez has not been used in this capacity that much, but it's worth noting that his past successes and potential emergence as a spot-up shooter could allow him to develop further in this area in the future.

On defense, Henriquez solidified his reputation as one of the nation's premier-returning shot blockers. His combination of length, size, and athleticism allow him to contest shots on the weak-side, while trailing, and even one-on-one around the basket. Unfortunately, his lack of bulk ultimately prevents him from being a dominant defender at this level, as he simply cannot always hold his own in the post despite what looks to be solid effort and focus. It remains to be seen whether he can defend the pick-and-roll and perimeter oriented big men at the next level, however, as he lacks standout lateral quickness and struggles to close out on shooters.

Jordan Henriquez has a lot of work to do to legitimize his draft stock. While he has a few intriguing skills relative to his size, potential on the defensive end, and a long frame that should be able to add more bulk; he is a 23-year-old big man who is still lacking much in the way of skills and awareness, as reflected by his 3.1 turnovers per game average and foul proneness. With this in mind, Henriquez will have to prove that he's the answer to Kansas State's inside scoring woes while showing improvement and growth across the board if he hopes to secure a spot at the Portsmouth Invitational Tournament.

[Read Full Article]

---
National Prep Showcase--Best of The Rest
November 26, 2008
Jordan Henriquez (unranked Scout, Rivals, ESPN) was nowhere near as impressive as he was when we evaluated him in April, now noticeably hampered by some sort of knee injury that severely limited his mobility. Not running the floor or having anywhere near the explosiveness that he had seven months ago, we were looking at a very different player.

Henriquez tended to stick around the high post, opting to shoot mid-range jumpers rather than do his damage in the post. While he did knock down a few 17-footers with relative ease, we would much rather see a player with his size doing his damage in the paint. In the few times he did decide to post up, the New York native turned toward his left shoulder virtually every time, generally fading away from the basket in the process. However, Henriquez did throw a number of gorgeous passed when doubled down on in the post, showing his above average court awareness.

On the defensive side, Jordan was still able to make an impact with his shot blocking ability despite the fact that he was not leaping anywhere near as well as the last time we saw him. The 5th year prep was still able to maintain a presence in the paint through his nice timing and large wingspan. While he didn't face any players who opted to face him up, Henriquez was also slower moving laterally then before, putting himself in a situation where he could only guard the center position.

Henriquez is a player widely considered to be a mid-major plus prospect until his strong play this spring, when he surprised many with his mobility and athleticism. In the games we took in this weekend, that mobility and athleticism wasn't there. Henriquez's size, soft touch, and passing ability make him an interesting prospect down the road, but there must be considerable development under Frank Martin and co. at Kansas State

[Read Full Article]

---
2008 King James Classic: Top Big Men
May 4, 2008
Originally a member of the class of 2008, it appear that Henriquez will have to spend a year at prep school to resolve some academic issues, therefore making him a part of the class of 2009. His game relies almost strictly off of his physical attributes which include a massive wingspan, nice motor, and the ability to run up and down the floor better than most 6'11 players. The New York post did not back down when matched up against the more heralded Zeke Marshall, aggressively attacking Marshall and drawing four fouls on the big man in a 6 minute stretch of the second half. Surprisingly enough the lefty has a very soft touch when facing the basket, drilling a number of jump shots when facing the basket out to the 17 foot mark. Equally as impressive was the motor and leadership he displayed, a rarity for the majority of seven footers in the AAU game today.

While there are flashes of potential, Henriquez is still incredibly raw on the blocks and owns very little in terms of moves once he receives the ball in the post. His footwork at the point is incredibly undeveloped and he almost never uses his right hand or turns towards his left shoulder. Being a year older then the players he is pegged against, one would hope that he would have a little more polish to his game then he does at the moment.

As one Atlantic 10 coach said "Jordan is a mid-major player right now with high-major potential", and that coach couldn't have been more right. Coaches love his motor and mean streak, so it wouldn't be surprising to see more high major programs jump in the mix for this athletic big man. While far from a finished product, he is a player whose progress is definitely worth tracking in the future.

[Read Full Article]

---