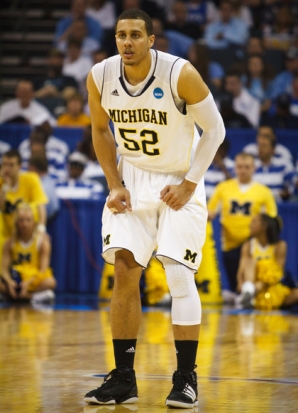 Matt Williams
Jordan Morgan
showed up in Ann Arbor two years ago heavy, out-of-shape, sporting a few bad habits, and rehabbing some lingering injuries. As a redshirt freshman last season, the young big man looked lean, prepared to compete at the Division I level, completely healthy, and seemed to have used his year on the bench getting in the right place both physically and mentally. Returning for his third year with the Wolverines and poised to build on a highly productive freshman campaign, Morgan is a player worth keeping an eye on considering his efficiency and strength for a young big man.
Standing 6'8 with an adequate wingspan, the young center is undersized for the position he plays most regularly for the Wolverines at the NBA level, and has yet to show the skills to warrant consideration as a power forward prospect, but he has plenty of time to do so. The Michigan native weighs in at a fairly lean, and powerfully built, 240 pounds, and is a good but not great athlete. He can play above the rim when he can gather himself, but lacks the explosiveness that would let him rebound outside of his area defensively and dunk everything at the basket offensively.
Last season, Morgan shot a terrific 62.7% from the field, finishing the looks he was spoon-fed by
Darius Morris
very consistently. He also created some opportunities for himself with his hustle on the offensive glass, but did not otherwise show the ability to step away from the basket to score, knock down many short-range jumpers, or create his own look off the bounce or with post-moves.
His post repertoire appeared fairly basic when he was asked to operate with his back to the basket, and he relied on a right-handed hook to score over the top of defenders. At this point, Morgan does not have a defining skill on the offensive end, and he'd be well served to become more versatile and improve his stroke to become a more complete threat and improve on his 56% shooting from the line.
On the defensive end, Morgan showed significant improvement over time, though he remains a bit foul prone. Early in the year he struggled to defend back to the basket scorers, which isn't surprising considering he was getting his first taste of Division I action. Over the course of the season, Morgan showed a knack for using his physical strength to body his man and not give up easy angles in the post.
At this point, his lack of length and leaping ability limits him as a help-side defender, rebounder, and in one-on-one situations on the perimeter, but his growing comfort level in the post seems to indicate that he's capable of making the adjustments to compensate for his weaknesses away from the basket and commit fewer fouls in time.
This 2012 season is going to be an interesting one for Morgan and the Wolverines on the whole. Considering how much time
Darius Morris
spent handling the ball and how many looks he created for his teammates, Morgan will be asked to be more than just a catch-and-finish option for Jim Beilein's squad. How he responds the new demands on his skill set could be a precursor to what we can expect from his a few years down the road as his true NBA potential begins to reveal itself.