Jordan Taylor
Recent Tweets
All Tweets
DraftExpress: More undrafted: Leon Radosevic, Hollis Thompson, Kostas Sloukas, Jordan Taylor, Eric Griffin, John Shurna, Mitchell Watt, Ricardo Ratliffe
2012-06-29 12:04:35
DraftExpress: A new participant list for the NBA Combine was sent out. Evan Fournier is out, Jordan Taylor & Tomas Satoransky are in: http://t.co/fljjVmJd
2012-06-04 01:33:36
DraftExpress: Wasserman Media Group's 2012 draft haul thus far: Jordan Taylor, Fab Melo, Yancy Gates, Tony Wroten, Jorge Gutierrez and Dominique Sutton
2012-04-23 10:45:10
DraftExpress: Great 1st half for Zack Rosen. Doing a very job defensively on Jordan Taylor. Making extra pass. Really running his team. Just not scoring.
2012-04-11 09:32:41
DraftExpress: I know a lot of college coaches who would have liked to have Jordan Taylor and Reggie Hamilton in the same backcourt. Their team is up next.
2012-04-11 08:39:05
Team: Alba Berlin
Physicals
Positions
Salary
Misc
H: 6' 2"
W: 193 lbs
Bday: 09/30/1989
(26 Years Old)

Current: PG
NBA: PG
Possible: PG

Agent: Dan Curtin

High School: Benilde-St. Margaret
Hometown: Bloomington, MN
Best Case: Chris Duhon
Worst Case: Omar Cook

Predraft Measurements
| Year | Source | Height w/o Shoes | Height w/shoes | Weight | Wingspan | Standing Reach | Body Fat | No Step Vert | Max Vert |
| --- | --- | --- | --- | --- | --- | --- | --- | --- | --- |
| 2012 | NBA Draft Combine | 6' 1" | 6' 2" | 193 | 6' 3" | 7' 8.5" | 5.5 | 33.0 | 36.5 |
| 2012 | Portsmouth | 6' 0.75" | NA | 191 | 6' 3.25" | NA | NA | 30.3 | NA |
| 2011 | Deron Williams Camp | NA | 6' 1.5" | 193 | 6' 1" | NA | NA | NA | NA |



Basic Per Game Statistics

- Comprehensive Stats - Statistical Top 25s
| Year | League | Name | GP | Min | Pts | FG | FGA | FG% | 2Pt | 2PtA | 2P% | 3Pt | 3PtA | 3P% | FTM | FTA | FT% | Off | Def | TOT | Asts | Stls | Blks | TOs | PFs |
| --- | --- | --- | --- | --- | --- | --- | --- | --- | --- | --- | --- | --- | --- | --- | --- | --- | --- | --- | --- | --- | --- | --- | --- | --- | --- |
| 2015/16 | Eurocup | Jordan Taylor | 7 | 26.4 | 11.0 | 3.4 | 9.1 | 37.5 | 2.3 | 6.0 | 38.1 | 1.1 | 3.1 | 36.4 | 3.0 | 4.1 | 72.4 | 1.1 | 2.3 | 3.4 | 3.7 | 0.7 | 0.1 | 2.1 | 3.7 |

Player Page&nbsp&nbsp| Player Stats | Mock Draft History | Related Articles&nbsp&nbsp| Add to My Draft Express&nbsp
&nbsp
2012 Portsmouth Invitational Tournament Measurements Released
April 13, 2012
Jordan Taylor has decent size for a point guard at 6-0 ¾ without shoes, even if his 6-3 ½ wingspan is just average.

[Read Full Article]

---
Trending Prospects (1/26/2012)
January 26, 2012
Reuters



Matt Kamalsky

Last time we checked in on Jordan Taylor, he was fresh off one of the top individual performances of the 2011 season, having led the Badgers to victory over the then top-ranked Ohio State Buckeyes with 21 second-half points, and was in the midst of a breakout junior campaign. After missing out on the tryouts to compete for Team USA at the World University Games to undergo minor ankle surgery this summer, Taylor has had a hard time replicating his individual success as a senior, even though he's led his team to a 16-5 record and top-25 ranking.

With the departure of John Leuer, Taylor seemed poised to carry the load for the Badgers as a senior, and not only has his usage decreased, but he has struggled to retain the scoring efficiency that garnered him attention last season and made him look like a legitimate prospect. Taylor started off this season in a serious shooting slump as this table of data mined from Synergy Sports Technology indicates:


| | | | | | | |
| --- | --- | --- | --- | --- | --- | --- |
| Period | Games | Jump Shots/G | 2P Jump Shots/G | 2P Jump Shot FG% | 3P Jump Shots/G | 3P Jump Shot FG% |
| 2010/2011 Season | 35 | 8.5 | 3.5 | 28.6% | 5 | 44.4% |
| 2011/2012 Season | First 13 | 6.6 | 3 | 38.5% | 3.6 | 29.8% |
| 2011/2012 Season | Last 8 | 8.2 | 3.2 | 38.5% | 5 | 37.5% |


Though he's knocked down a higher percentage of his pull-up jumpers inside the arc than he did last year and has improved his 3-point shooting since entering conference play, Taylor has not been able to match his prolific shooting from last season up to this point, and is scoring four fewer points per-40 minutes pace adjusted and shooting below 40% from the field overall because of it.

Taylor's ability to shoot the ball more consistently to close the season is significant because of its importance to his role-player potential and, as we noted in our last report, how it opens up the rest of his scoring arsenal. Lacking elite physical tools, Taylor has never shown the ability to regularly turn the corner off the dribble and create high percentage looks at the rim, isn't a very good finisher, and without the threat of his jump shot, is a far less intimidating scorer on isolations, which account for more than a third of his touches according to Synergy. His 2-point percentages continue to hover around 43-44%, which ranks last amongst point guard prospects in our top-100 rankings, but is indicative of how he's fared his entire career inside the arc at Wisconsin.

When Taylor is shooting the ball well, his scoring ability complements his heady point guard play and physical toughness. A terrific floor general who executes Bo Ryan's offense with incredible poise, Taylor has not been quite as efficient of a passer as he was last season with his assist-to-turnover ratio dropping from 3.8 to 2.9, which still ranks among the top four prospects in our database this season. He continues to do a good job feeding the post, finding the open man in transition, using his dribble to create passing angles, and playing low-mistake basketball.

On the other side of the floor, Taylor has been the leader of arguably the best defense in the country. He shows a high basketball IQ, constantly knowing where his help is coming from, stays active with his hands, and always tries to recover when beat –three things that make him a terrific team defender in the college game. Despite his merits, his lack of size and quickness, as well as his mediocre 6-1 wingspan, raise some questions about how he'll handle guarding his position one-on-one at the next level.

Considering his recent resurgence and the number of games left on the schedule, Taylor is going to be a player to watch down the stretch. He gained a lot of steam last season, and may have played above his head for stretches, but even with the slow start, if he can finish the season on a high note, he'll be able to regain some of that momentum. As of right now Taylor remains a likely second round prospect, and will need to finish out the year strong to ensure of being drafted.

[Read Full Article]

---
NBA Draft Prospect of the Week: Jordan Taylor
February 18, 2011
Walker Beeken

Wisconsin's Jordan Taylor has emerged as one of the most improved players in the country in 2010-2011. The junior point guard has gone from having an average sophomore season to improving his production in virtually all areas of his game as a junior and becoming one of the premiere point guards in the college game.

Taylor has stepped up to play big minutes this season under coach Bo Ryan, and he's been a catalyst for the Badgers so far, running the team's offense and scoring from the point guard position, and doing so in a very efficient manner, while sporting an outstanding 29.2 PER, good for 7th best amongst all point guards in our database.


Icon SMI



From a physical standpoint, Taylor lacks the physical tools of a prototypical NBA point guard prospect. He's a bit on the small side at 6'1" with a strong, sturdily built frame, and athletically, he doesn't have the speed or explosiveness that scouts might like to see from an NBA player his size.

While Taylor hasn't completely come out of nowhere (he played 29.5 minutes per game last season), his improvements from season to season have been tremendous. A big key to these improvements has been the strides he's made as a shooter. His percentages from the field, 3-point arc, and free throw line were terrible his freshman season, but he's turned himself into a very solid shooter, connecting on 85% of his free throws and 42% of his 3-pointers this season.

Almost 70% of Taylor's shot attempts are jumpers, and his effectiveness as a shooter has really opened up the rest of his game. He actually shoots more jumpers off the dribble than he does off the catch, and he shoots a better percentage off the dribble as well, smoothly dribbling into his shot going either direction, and comfortable pulling up behind the arc or in the mid-range area with a quick release.

Much of Taylor's success off the bounce comes from the strength advantage he has over nearly any point guard he faces at the college level. He makes up for his lack of explosiveness by changing speeds and overpowering defenders and using his strong body to bump them and create space, either for his jumper or to get to the basket.

Taylor doesn't get to the rim off the dribble often, but when he does, he's able to use his strength to finish, as he shoots a solid 62% on shots around the basket, and also gets to the free throw line at a high rate. He's shown flashes of an effective floater in the lane as well, which will be an even more important shot for him to have as he attempts the transition the NBA level, where he'd face longer, more athletic defenders in the paint. Even at the college level he struggles to score efficiently inside the arc at times, as evidenced by his sub-50% shooting from 2-point range. This is unlikely to improve in the NBA, which is what makes his perimeter shooting ability so important.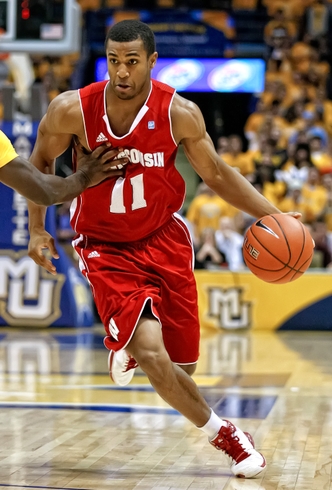 Icon SMI



Coach Bo Ryan shows tremendous trust in Taylor, and although the Badgers do run a methodical offense with lots of ball movement, Taylor still has the freedom to make plays, either off the pick-and-roll or isolation opportunities. He embodies Wisconsin's mistake-free, efficient, style of play on the offensive end, playing at a nice pace and showing great poise and decision making skills, as evidenced by the fact that he leads all players in our database in both assist-to-turnover ratio and pure point rating. He commits a shockingly low amount of turnovers relative to the huge role he plays for Wisconsin, which bodes well for his likely-future as a low-mistake backup a coach can count on for solid minutes off the bench.

As a defender at the college level, Taylor does a nice job defending point guards, utilizing his strength, toughness, and smarts. These traits will help him moving forward, but there will be questions about how well he'll translate defensively. He could have trouble staying in front of quicker guards in space as his lateral quickness appears to be just average, and his lack of elevation and length will hurt him challenging shots and defending dribble penetration.

Overall, Taylor has made outstanding strides as a player in each season he's been at Wisconsin, which is very encouraging. He doesn't possess the ideal physical attributes for a point guard prospect, but he's been far too productive to ignore this season. While his bulky frame and strength advantage may not translate to the NBA, his shooting ability and decision making are extremely valuable skills that make him worth keeping an eye on. He'll likely still be at Wisconsin for another year, and if he's able to continue to build on this season's success while working on maximizing his athleticism and shot-creating ability, he'll be a guy that NBA teams will surely take a long look at as a potential backup point guard candidate.

[Read Full Article]

---