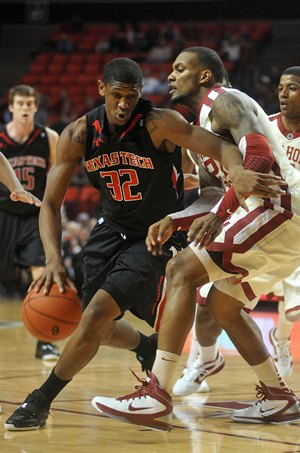 Matt Williams
A largely unheralded recruit coming out of high school,
Jordan Tolbert
was one of the most productive freshman in the Big XII last season. Averaging 11.5 points and 5.7 rebounds for a Texas Tech team that finished 1-17 in conference play, the young power forward emerged as an intriguing long-term prospect amidst his team's struggles. Headed back to Lubbock for his sophomore year, Tolbert is a player to keep an eye on as the Red Raiders look to pick up the pieces after a tumultuous offseason.
Standing 6'7 with a big wingspan and a 210-pound frame that should fill out in time,
Jordan Tolbert
is physically similar to former San Diego State prospect
Malcolm Thomas
. He is undersized for the power forward position, but is a terrific athlete who runs the floor well and dunks almost everything around the basket, sometimes in impressive fashion.
At this point in his career, Tolbert's offensive game is largely inconsistent and almost entirely predicated on his ability to use his athleticism in different situations. Despite lacking much in the way of advanced post moves, nearly 40% of Tolbert's offense comes in back to the basket situations. He converted an impressive 49.1% of those touches by outworking his man for position on the block and making strong, explosive moves to the basket last season. His touch is still a work in progress, and he needs to become more confident with his left hand and develop a more polished repertoire to become more consistent and prepare himself for the next level, but he quickly proved to be an effective post scorer in the college game.
In addition to his post scoring, Tolbert is an excellent catch and finish threat, looking to dunk everything at the rim. He does a good job crashing the offensive glass and moving without the ball, earning himself some easy looks by virtue of his consistently high energy level on this end of the floor. When he doesn't have an open lane to the rim, the Texas native has room for improvement. He forces some difficult short range shots over defenders, appearing out of control and trying to do a bit too much at times.
If Tolbert can become a bit more patient and develop his skill level facing the rim, he should be able to improve on already-solid 57% shooting at the rim and become a more dangerous offensive player on the whole. As a jump shooter, Tolbert made 8 of the 20 shots he attempted last year, looking confident on his makes, but still clearly only just developing that part of his game and needing to become more consistent with his mechanics. As Tolbert begins to improve his face-up game, he'd be well served to shore up his ball-handling ability as well, as his explosiveness could make him an effective slasher from the midrange.
Defensively, Tolbert had some good and bad moments in his first season of college basketball. He needs to improve his fundamentals, and will always be at a disadvantage against bigger forwards on the block, but plays with energy and does a nice job defending face-up big men away from the basket. Tolbert's ability to get stronger and fight for position on the block will be a key to his success on this end of the floor as he gave up some easy baskets after allowing his man to catch the ball with two feet in the paint and could always keep his man off the glass last season.
Moving forward, the name of the game for
Jordan Tolbert
is consistency and improvement. He struggled to make his presence felt for stretches as a freshman, but led Texas Tech in scoring through those growing pains nonetheless and showed some promising attributes and potential in the process. Likely to play a huge role for his team in coming seasons, if he can continue improving his ability to score away from the basket, he'll be a player to keep an eye on in the future.