Jordan Williams
Recent Tweets
All Tweets
DraftExpress: I-95 Battle of Bridgeport cnt'd: Josh Selby, Ryan Gomes, Sam Young, Donte Greene, Jordan Williams and some other NBA guys I don't recognize.
2011-11-18 08:17:40
DraftExpress: Jordan Williams has lost of ton of weight and improved his jump shot. Will be interesting see what that means to his game next year.
2011-06-23 09:43:05
DraftExpress: If you needed combine numbers to tell you that Jordan Williams is a non-athlete, you may want to find a new line of work. No surprises here.
2011-05-25 10:53:06
DraftExpress: 4th group scheduled for Minnesota workout tomorrow Charles Jenkins, Josh Selby, Shelvin Mack, Travis Leslie, Jordan Williams Michael Dunigan
2011-05-23 11:55:24
DraftExpress: Video interviews from the NBA Combine w/ Jeremy Tyler, Michael Dunigan, Keith Benson & Jordan Williams http://bit.ly/jW6SqC
2011-05-22 07:13:10
Team: North Texas, PRO
Physicals
Positions
Rankings
Misc
H: 6' 6"
W: 205 lbs
Bday: 00/00/0000

Current: G
NBA:
Possible:

RSCI: 150

High School: Justin F. Kimball
Hometown: Dallas, TX




Basic Per Game Statistics

- Comprehensive Stats - Statistical Top 25s
| Year | League | Name | GP | Min | Pts | FG | FGA | FG% | 2Pt | 2PtA | 2P% | 3Pt | 3PtA | 3P% | FTM | FTA | FT% | Off | Def | TOT | Asts | Stls | Blks | TOs | PFs |
| --- | --- | --- | --- | --- | --- | --- | --- | --- | --- | --- | --- | --- | --- | --- | --- | --- | --- | --- | --- | --- | --- | --- | --- | --- | --- |
| 2014/15 | NCAA | Jordan Williams | 29 | 34.4 | 14.6 | 4.9 | 12.7 | 38.4 | 3.6 | 7.8 | 46.2 | 1.3 | 4.9 | 26.1 | 3.6 | 4.9 | 74.5 | 1.3 | 3.4 | 4.7 | 1.8 | 1.4 | 0.4 | 2.8 | 2.3 |

Player Page&nbsp&nbsp| Player Stats | Related Articles&nbsp&nbsp| Add to My Draft Express&nbsp
&nbsp
NBA Combine Interviews: Jeremy Tyler, Dunigan, Benson, Williams
May 22, 2011
[Read Full Article]

---
West Coast Workout Swing Part Two: Joe Abunassar's Impact Basketball
May 21, 2011
One of only a handful the highest ranked sophomores big men to keep their name in the 2011 draft, Jordan Williams has carried on one of the more positive trends we often get to see develop in these private workouts year to year.

When we saw Williams in Las Vegas, the first thing that jumped out to us was how much weight he appeared to have lost. Every year at least one big man seems to take the extra steps to overhaul their frame to improve their draft position. Last season, that player was Derrick Caracter, and this season, that player is Williams. He's lost somewhere in the ball-park of 10 pounds so far, but looks significantly trimmer as you'll see in the video below, and the positive changes he's making are clearly paying off.

Not only has Williams put in some serious work on his body, he's also made a considerable effort to add to his game. Williams was one of the few players in three-on-three competition not named Jon Diebler confident enough to attempt jump shots under the one-shot-and-out rules the prospects were playing under. We didn't see much in the way of a midrange game from Williams at Maryland, but his form looks compact, consistent, and is definitely a notable development in his arsenal.

Williams is not a freak athlete, but his weight loss and development as a potential pick-and-pop option at the next level are intriguing. Jockeying for position with a number of longer, more athletic big men, if Williams can continue making progress and show what he showed us to NBA decision-makers, he's going to surprise some people and fit into some roles that we couldn't have penciled him into during the college season.

Jordan Williams Pre-Draft Interview and Workout



[Read Full Article]

---
Trending Prospects (1/20/2011)
January 20, 2011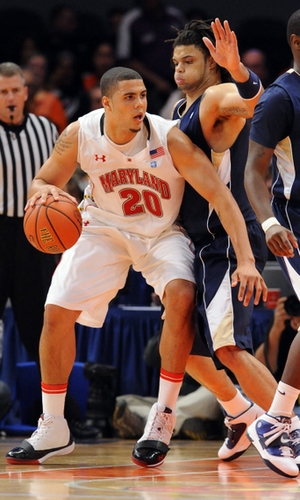 Icon SMI



Derek Bodner

After a strong finish to his freshman campaign that culminated in being named the runner up in the ACC rookie of the year voting, Jordan Williams has had to should a much heavier offensive load for Maryland. With the graduation of Maryland's top three scorers from a year ago, Williams has gone from an offensive role player who got most of his points off offensive rebounds, transition opportunities and simple catch and finish opportunities to the focal point of the Maryland offense.

Williams has had success in his new role, going from 14.7 points per-40 minutes pace adjusted to his freshman year to 20.8 this year, while increasing his efficiency. Despite the progress, Williams has some more work to do to overcome the athletic disadvantage he'll face in the NBA.

Williams still operates almost exclusively in the paint offensively, getting the vast majority of his half-court offense from offensive rebounds, cuts, and post-ups. He's a very active player with broad shoulders, good length, good touch around the rim, and has made significant strides with his conditioning compared with where he was last year, although he still has some work to be done in that regard. He's deceptively quick in transition, being more agile in the open court than you would expect someone of his size and overall athleticism.

The biggest strides Williams has made have been in his post game, doing a better job of using his strength to establish good post position down low, showing a soft touch with his right hand, and displaying improved footwork on the blocks. According to Synergy Sports Technology, Williams has increased the amount of touches he gets on the block, while increasing his efficiency doing so.

Despite making strides in his post-game, Williams still has a considerable amount of question marks on how well, if at all, that will translate to the next level when he faces the length of NBA frontcourts, when he won't have a decided strength advantage over the man guarding him. He's often times slow and predictable with his moves, which when combined with his lack of vertical explosion leads to difficulty getting his shot off at times. While his footwork has improved, he still lacks a go-to move and has little diversity when going over his right shoulder, showing a weak left hand in these situations and more often than not settling for a difficult fade away jump shot.

Moving well off the ball, Williams has very good hands, showing an ability to catch most passes down low and get his shot off quickly, doing a good job of keeping the ball high. Williams has shown almost nothing in terms of a mid-range jumper, a skill set he's probably going to need if he hopes to stick with an NBA team. His form looks solid, and with enough repetition it may in fact become an option for him down the line, but as is evidenced by his free throw percentage (51.6%), Williams has a lot of work ahead of him before becoming a reliable threat from the perimeter.

Another area where Williams could stand to improve is as a passer, particularly doing a better job of recognizing the double teams quicker, as often times he's unable to use the considerable attention he generates in the post to his teams benefit. He ranks amongst the five worst passers amongst all prospects in our database, highlighting his struggles in this area. That being said, Maryland's overall lack of reliable shooting from the perimeter hurts Williams in this regard, which makes it hard to accurately gauge his improvement in this facet of the game.

On the defensive side of the ball, Williams does a solid job using his size and strength when engaged in the post, although he suffers at times from waiting too long to deny post position before his man gets the ball. He has decent enough fundamentals showing on the pick and roll, but lacks the foot speed to recover, a problem that looks to be a serious one when trying to project his defense against the face-up big men he would encounter in the NBA. The same lateral mobility issues creep up when defending a good isolation big. While Williams has solid timing and good length, and thus will get the occasional block, he isn't quick enough or explosive enough off his feet to project to being a consistent shot blocking threat in the NBA. Gary Williams' largely man to man defensive scheme gives us a solid look at the difficulties Williams will have when trying to defend NBA big men.

The one skill that Williams should be able to hang his hat on is his rebounding, and it's a big one at that. Williams is an outstanding rebounder on both sides of the floor, ranking 7th in our database in rebounds per-40 minutes pace adjusted. He's active on the offensive glass, constantly moving to gain position. On the defensive side of the ball, despite not having the quickness or reaction time to cover a lot of space, he does a good job boxing out and uses his good hands to clean up what's available to him. Williams is on pace to have one of the best rebounding seasons by a sophomore in ACC history, and should be able to translate that skill to the professional level.

Williams has made great strides in productivity with an entire college offense built around him, and has placed himself on the radar for being an NBA prospect. That being said, he still has a way to go to diversify his offensive game to show that he can play a similar role in the league. Displaying success shooting the ball, developing a pick and roll game, and making better use of his left hand in the post would go a long way towards quelling the concerns of his current offensive skills translating.

With the ACC portion of the schedule now underway, how well Williams performs against some of the better defensive teams, and some NBA-level defensive big men, will be telling when evaluating his status as a legitimate prospect. The early returns have been promising, as he's outplayed significantly higher rated prospects in Villanova's Mouphtaou Yarou and Duke's Mason Plumlee. How well he does the rest of the way will be telling of how far he's come as an NBA prospect, and perhaps on how far he still has to go before erasing all of his concerns.

[Read Full Article]

---
Top NBA Draft Prospects in the ACC, Part Four (#16-20)
October 24, 2010
Kyle Nelson

Freshman center Jordan Williams exceeded expectations in his first season at Maryland. He improved throughout the course of the season and he was also an essential component of Maryland's NCAA tournament run including a 21-point and 17-rebound performance in the first round against Houston. After a solid freshman season, Williams will assume a larger role in Maryland's offense and must fill the significant void left in the wake of Greivis Vasquez's graduation.

Williams has good size and length for a post player at 6'10 with an impressive wingspan. His weight, however, is certainly a concern even if he has slimmed down to 255 pounds as reported. Even considering his slimmer frame, Williams is likely a below-average athlete. He runs the floor relatively well, but his quickness in the post is lacking and will certainly be an issue at the next level.

His lack of ideal athleticism stunted him significantly on the offensive end where he averaged 14.7 points per 40 minutes pace adjusted. According to Synergy Sports Technology, Williams was a below average finisher in post-up possessions. Though he has a soft touch around the basket, his lack of explosiveness and quickness really limits his effectiveness as defenders easily alter his shot. Similarly, his lack of established post-moves and countermoves and right-handed dominance do not help matters.

Williams succeeds in the post at this level largely because he is stronger than much of his competition and his size allows him to establish position in the post. His basketball IQ does seem well above average, as evidenced in his above-average passing abilities, suggesting that while his skill set is underdeveloped, he does have potential to continue to improve. He likely will not have a size advantage on a nightly basis at the next level and he will have to improve considerably if he wants to overcome his physical limitations.

Williams is most effective as an energy player at this stage, scoring in transition or via offensive rebounds. He has excellent hands and, though he is fairly limited rebounding outside of his immediate vicinity, he grab 4.4 offensive rebounds per 40 minutes pace adjusted. Similarly, while his foot speed in the open floor is just average, he is fairly mobile for his size and does a good job of scoring in transition. His soft touch helps him significantly as a finisher and is certainly an asset at any level.

He rarely ventured outside of the post, both as a result of his extremely low usage rate within the Maryland offense and his limited skill set. He struggled in pick-and-roll sets, where he was underutilized despite his touch and mobility. He was similarly underwhelming in spot-up possessions boasting truncated mechanics and an ineffective jump shot. It is difficult to even project him as a shooter in the future, especially given his 52.9% free throw percentage.

Williams was not particularly impressive on the defensive end as a freshman, either. His average lateral quickness offsets his strength advantage in the post, as quicker offensive players have little trouble getting around him. He simply cannot stay in front of his man on the perimeter, either, though he does a decent job of closing out on shooters.

He is more impressive on the defensive boards where his length, strength, and soft hands allow him to pull in 8.8 defensive rebounds per 40 minutes pace adjusted. His fundamentals look just average, so his productivity could increase should he improve.

Ultimately, Jordan Williams had a solid freshman season and looks as though he'll develop into a prospect down the road. Not only will he be playing on a lighter frame as a sophomore, but he will also receive more touches with an increased role in Maryland's offense. Scouts will likely remain skeptical of Williams's potential because of his mediocre athleticism and raw skill set, but he will have every opportunity to prove himself this coming season.

[Read Full Article]

---