Josh Scott
Recent Tweets
All Tweets
DraftExpress: Top NBA Prospects in the Pac-12 #6-10 Kyle Anderson Jordan Adams Josh Scott Devon Collier Nick Johnson http://t.co/FHsd9SxSEI
2013-10-04 01:15:53
Team: Colorado, Senior
Physicals
Positions
Rankings
Misc
H: 6' 10"
W: 245 lbs
Bday: 07/13/1993
(22 Years Old)

Current: C
NBA: C
Possible: C

Rank 25 in NCAA Seniors
RSCI: 46

High School: Lewis Palmer
Hometown: Monument, CO




Basic Per Game Statistics

- Comprehensive Stats - Statistical Top 25s
| Year | League | Name | GP | Min | Pts | FG | FGA | FG% | 2Pt | 2PtA | 2P% | 3Pt | 3PtA | 3P% | FTM | FTA | FT% | Off | Def | TOT | Asts | Stls | Blks | TOs | PFs |
| --- | --- | --- | --- | --- | --- | --- | --- | --- | --- | --- | --- | --- | --- | --- | --- | --- | --- | --- | --- | --- | --- | --- | --- | --- | --- |
| 2014/15 | NCAA | Josh Scott | 26 | 30.8 | 14.5 | 5.0 | 9.2 | 54.4 | 5.0 | 9.0 | 54.9 | 0.0 | 0.2 | 25.0 | 4.4 | 5.9 | 75.2 | 3.4 | 5.0 | 8.4 | 1.1 | 0.7 | 1.8 | 0.9 | 1.7 |

Player Page&nbsp&nbsp| Player Stats | Mock Draft History | Related Articles&nbsp&nbsp| Add to My Draft Express&nbsp
&nbsp
Top NBA Draft Prospects in the Pac-12, Part 6: Prospects #10-14
September 8, 2014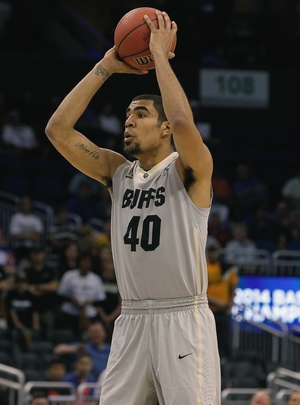 US Presswire



Kyle Nelson

When Spencer Dinwiddie went down with a torn ACL last seasonin mid-January, Colorado was ranked 15th in the country and looking to advance to their first Sweet 16 in 50 years. Yet even without Dinwiddie, the Buffaloes managed to secure their third straight NCAA Tournament bid, logging a 23-12 record and finishing third in the Pac-12. Colorado's run to the NCAA Tournament would not have been possible if not for the efforts of Josh Scott. The now-junior big man rose to the challenge, emerging as Colorado's best overall player and earning a spot on the All-Pac 12 First Team, alongside five players who heard their names called on NBA draft night.

Coming off a standout sophomore season and already an RSCI top-50 player out of high school, scouts are well aware of his potential and now must decide just how high his ceiling is at the next level.

Scott remains an interesting prospect from a physical perspective. At 6'10 and 245-pounds with solid length and mobility, Scott can play either power forward or center at the collegiate level with relative ease. Yet, he is not a particularly explosive athlete and, though he is more agile than one would expect, his first step and overall quickness are only above average. Perhaps most important is that he continue to get stronger, however, though it looks like he could definitely add weight to his frame.

On the offensive end, Scott took a step forward in his development to the tune of 17.6 points per 40 minutes pace adjusted with improved percentages and efficiency metrics across the board. Though he saw 78.3% of his shot attempts around the basket, he proved himself to be a more versatile scorer as a sophomore, adding a consistent mid-range jump shot and increased ability to operate in the pick-and-roll to his offensive repertoire.

As a sophomore, Scott continued to find a majority of his possessions in the post and he improved his efficiency scoring out of post ups (48% FG) and around the basket (59% FG). Though he struggles to carve out and maintain deep post-position, and often looks very deliberate and predictable with his moves, Scott is able to exploit his length, mobility, soft hands and shooting touch to his advantage in a series of runners, scoops, and jump hooks across the lane. Furthermore, he did a great job of drawing contact around the basket and his 6.2 free throw attempts per game ranked eighth among centers in our database.

Yet, outside of variations on a spin move, Scott's footwork appears average and he likely lacks the requisite skill-level and athleticism to be a formidable post scorer against higher level competition than what he normally faces in the Pac-12. Ultimately and while showed intriguing flashes of skill in the post, getting quicker and developing his left hand would bolster his back-to-the-basket game significantly.

While Scott does not have a particularly intimidating back-to-the-basket game, he did make significant strides as a face-up scorer. In the post, Scott looked very comfortable grabbing passes and facing up his man, looking proficient both pulling up for a short jumper and taking man off of the dribble. He can also face-up from the perimeter, nothing fancy or creative at this point, but he is quick enough to be a significant match-up problem at the collegiate level against slower big men who aren't used to being challenged off the dribble.

He also improved somewhat as a jump shooter, making 36% of his 47 attempts and showing the ability to stick a mid-range jumper when left open. His mechanics become significantly less fluid and more forced the farther that he is from the basket, however, so he will have to continue working on his range if he hopes to develop into an inside-outside threat in the future. His sophomore improvement alongside of his 81% FT suggests that this is within the realm of possibility.

On defense, Scott's lack of strength and explosiveness continued to do him few favors in the post. Though his height and length work are assets in terms of disrupting shots, he simply cannot prevent his man from establishing deep post position and getting to the basket. On the perimeter, Scott usually finds mixed results. He has average lateral quickness and struggles to stay in front perimeter oriented big men. He has a difficult time closing out on shooters, and he shows the tendency to fall for fakes when he does manage to make it out in time. Furthermore, he is simply not as aggressive or focused guarding the pick-and-roll as one would like to see from a player with his physical tools.

Scott's lack of rim-protection ability—he blocked just 40 shots in over 1100 minutes—continues to make him somewhat of a tweener at the NBA level. He likely doesn't have the size or athleticism to continue to operate at the center position like he did in college, but isn't particularly skilled and may be a little too rigid to guard power forwards full time.

Scott made some much-needed improvement on the defensive boards as a sophomore, averaging 6.9 defensive rebounds per 40 minutes pace adjusted, which situated him in the middle of the pack among NCAA centers in our database. While it does not seem as though Scott will ever be an elite rebounder or defender due to his average toughness and explosiveness, he can and should continue to improve in both of these areas moving forward by playing with more energy.

Overall, Scott remains a prospect NBA teams need to continue to track, if no other reason than the fact that he is 6-10 and relatively productive in a strong college conference. He did quite well after being thrust into a featured role as a sophomore and should continue to improve as the focal point of Colorado's offense as a junior. His defense presents a significant question mark, particularly due to the fact that he is very much stuck between positions and nowhere near good enough at either. Getting stronger and becoming more fluid and explosive could go a long way in masking his weaknesses in this area, however, even if he projects as above average at best at the next level.

While he is not as intriguing as past Colorado players such as Alec Burks and Spencer Dinwiddie in terms of his NBA prospects, it is difficult to rule him out this early in his college career. With a better impression of his strengths and weaknesses on both ends of the floor, scouts are expecting big things from Josh Scott as a junior and will have plenty of opportunities to determine just how much he can continue to improve in the future.

[Read Full Article]

---
Top NBA Draft Prospects in the Pac-12, Part 4 (#6-10)
October 3, 2013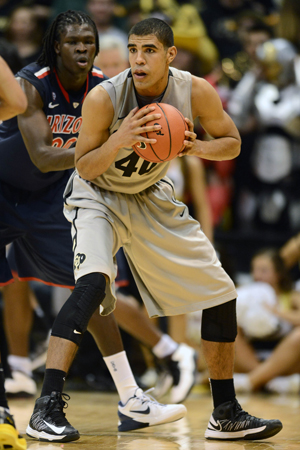 US Presswire



Jonathan Givony

The best high school player the state of Colorado has produced in some time, Josh Scott arrived on campus in Boulder to much fan-fare, as the highest rated prospect (#46 RSCI) to sign with the Buffaloes since former Pacers first round pick David Harrison.

Possessing good height for a big man at 6-10, and now listed at 245 by Colorado this offseason, Scott has nice size for a collegiate center even if he's somewhat stuck between positions by NBA standards. He's also not an amazing athlete, playing largely below the rim, even if he does show solid mobility for a player his size.

Scott started from day one as a freshman, giving Colorado some much needed size inside, playing 28 minutes per game, while averaging a solid 10 points and 6 rebounds per.

Used primarily as an inside threat by head coach Tad Boyle, Scott saw a steady stream of touches in the post all season, even if he was not overly effective there, making just 38% of his field goal attempts with his back to the basket.

His immature frame had something to do with this, as Scott struggled to gain great post-position at times against Pac-12 defenses, lacking a degree of toughness, and does not possess a very advanced back to the basket repertoire. Although he shoots the ball right-handed, Scott is very much a left-hand dominant player, struggling badly when forced to make plays with his right hand.

Despite possessing good hands, soft touch, and solid scoring instincts, Scott is just an average finisher in general, even in non-post up situations, making just 51% of his field goal attempts around the basket, and not drawing a huge amount of fouls to compensate. He does not play above the rim very often, and gets his shot blocked a fair amount, seemingly avoiding contact at times.

As a jump-shooter, Scott does not show the prettiest mechanics with his long, slow release, which noticeably lacks fluidity or rhythm. He did make a handful of outside shots last season, though, hitting 10 of the 26 mid-range jumpers he attempted, so there could certainly be potential here if he continues to work on his form, as he has good touch on his shot. He converted an impressive 75% of his free throw attempts last season.

Thrown straight into the fire of the Pac-12 last season, Scott was overmatched at times defensively last season. His lack of strength was a major issue, as he had a difficult times preventing opposing centers from establishing deep position and backing him down. He is not much of a rim protector either, as he lacks the explosiveness to be much of a factor rotating from the weakside. On the plus side, Scott is a fairly agile big man with relatively nimble feet, allowing him to cover ground and step out on the pick and roll and recover effectively.

With that said, there are some question marks about what position he is best suited to defend long-term in the NBA. Will he be tasked with guarding centers or power forwards? He lacks a bit of size for a traditional 5-man, and he may struggle to keep up with more agile power forwards, as he is somewhat upright in his stance.

Additionally, while Scott did a good job crashing the offensive glass last season (4 offensive rebounds per-40), he was an exceptionally poor defensive rebounder. He ranked last by a wide margin in this category among all returning top-100 centers and power forwards, pulling down a paltry 4.1 defensive rebounds per-40, worse than some of the guards in our top-100.

Some of this might be due to the fact that he played next to one of the best defensive rebounders in college basketball in Andre Roberson, who is now off to the NBA. It will be interesting to see how he fares in this category this season, as he almost certainly is not skilled enough offensively to be such a liability on the glass in the NBA. Oftentimes we see prolific shot-blockers struggle badly in this area as they tend to be out of place when the ball comes off the defensive glass, but Scott averaged a very pedestrian 1 block per-40 minutes,

Nevertheless, Colorado was a very good defensive team last season relative to their slow pace, ranking in the top-25 in defensive efficiency according to KenPom. Unlike Andre Roberson, Scott did little to fill up the stat-sheet in terms of blocks or steals, so it will be interesting to track how all that changes now that he's gone.

Few big men played as big a role in their freshman season as Scott did for Colorado last season. While he struggled at times to handle the amount of responsibility that was thrown his way, the experience he garnered will likely reap major dividends moving forward. It will be interesting to see how much he's able to improve his frame, athleticism and skill-level between his freshman and sophomore seasons, which should teach us a great deal about what the extent of his upside is.

[Read Full Article]

---