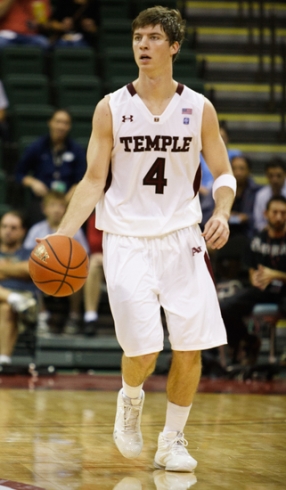 Jeff Rush
Despite some late heroics in the NCAA Tournament to get the Temple Owls out of the Round of 64 against Penn State,
Juan Fernandez
took a major step back in his junior season. Fernandez's shooting percentage dropped across the board, including a staggering 12% from the three-point line in a similar number of attempts to the year before. This sizeable drop is interesting because Temple returned most of the important pieces from their 2009-10 team, and it did not appear that we can blame his inefficiency on a change in expectations or his role.
A
knee injury
and a loss of confidence due to being cut from the Argentinean national team during the summer are typically the two main reasons offered, so it will be interesting to see how he bounces back this season.
At 6'4, Fernandez has very good size for the point guard position, but does not possess the type of athleticism that you look for in your prototypical NBA guard. He makes up for his lack of explosive athletic ability with an advanced feel for the game and a number of crafty moves that allow him to get his shot off against taller and longer players. He also does a good job of playing at different speeds which helps make up for his lack of explosiveness. How much that would translate to the NBA remains to be seen, but he clearly has a lot to offer as far as the college game is concerned.
Fernandez has a somewhat awkward release on his shot in part because of the fact that he often does not get his feet set properly underneath him when he is shooting, but also because of the variety of ways that he gets his shot off against more athletic defenders. Both of those factors limited his consistency last season, but didn't prevent him from shooting 45% from beyond the arc as a sophomore.
Despite his sometimes erratic shooting, Fernandez is adept at creating space nonetheless by thanks to his very versatile in-between game coming off of ball screens. He has a nice repertoire of pull-up jump shots and runners that he uses effectively and will even go all the way to the basket at times to keep the defense honest in guarding him. He hasn't been particularly efficient scoring inside the arc at any point in his career, though, never exceeding 40% from 2-point range at his peak, which is a very poor rate. He doesn't get to the free throw line at a high rate to compensate either.
Fernandez is not the most traditional point guard, but he does show a very solid feel for the game. He is a very good passer off of the dribble, using ball screens and finding rollers, spot up shooters, and cutters through traffic in the lane. That being said, he only averaged 5.0 assists per 40 minutes pace adjusted which puts him behind many of the other point guard prospects in his class nationally, several of which are considered more scorer than distributor. His 1.83 assist-to-turnover is solid, but is improvable considering the pace Fernandez plays at.
Defensively, Fernandez will always be at a disadvantage considering his average athleticism, but is smart enough to know how to compensate. He lacks the strength and quickness to get through screens at times, which forces him to go underneath at give up open 16'-20' looks for the player he's guarding. He is smart though and does a good job playing angles and seeing openings that the offense tries to exploit and covering them up. He will never be considered a lock down defender, and certainly would struggle guarding the world class athletes that he would see at the next level, but like every other part of his game, he has developed ways to make up for his deficiencies.
Heading into his senior year, Fernandez has a lot of questions to answer that will give us a better picture of what level we will see him playing at in the future. The first of which will be about his drop off in his shooting in his junior year. If it is just a blip on the radar he may be able to prove that he is capable of developing into the type of player that can make up for his lack of athleticism by being able to spread the floor and play smart basketball.