Julius Randle
Recent Tweets
All Tweets
DraftExpress: Here's Julius Randle talking about potentially playing for @usabasketball this summer at the U19 World Championship http://t.co/rcLNm4s4MZ
2013-05-23 14:34:29
DraftExpress: Gabriel Deck guarding Julius Randle is not going to work under ANY circumstances
2013-04-20 20:26:13
DraftExpress: RT @DraftExpress2 Julius Randle being aggressive like he was at the Jordan Brand Classic too explosive and skilled not to get his offensi\u2026
2013-04-20 19:17:50
DraftExpress: Julius Randle being aggressive like he was at the Jordan Brand Classic too explosive and skilled not to get his offensively.
2013-04-20 19:17:08
DraftExpress: 54-41 US at end of 3. Ex-college players struggling with conditioning running out of steam. Julius Randle has been a handful inside.
2013-04-19 22:33:11
Team: Kentucky, Freshman
Physicals
Positions
Rankings
Misc
H: 6' 9"
W: 248 lbs
Bday: 11/29/1994
(19 Years Old)

Current: PF
NBA: PF
Possible: PF

Pick: 4 in 2014 Mock Draft
Rank 4 in Top 100 Prospects
Rank 4 in NCAA Freshmen
RSCI: 2

High School: Prestonwood Christian
Hometown: Dallas, TX

Predraft Measurements
| Year | Source | Height w/o Shoes | Height w/shoes | Weight | Wingspan | Standing Reach | Body Fat | No Step Vert | Max Vert |
| --- | --- | --- | --- | --- | --- | --- | --- | --- | --- |
| 2013 | Hoop Summit | NA | 6' 9" | 248 | 6' 11" | 8' 9.5" | NA | NA | NA |
| 2012 | LeBron James Camp | NA | 6' 10" | 240 | 6' 11" | NA | NA | NA | NA |
| 2011 | LeBron James Camp | NA | 6' 9" | 243 | 6' 10" | NA | NA | NA | NA |
| 2011 | Amare Stoudemire Camp | NA | 6' 9" | 243 | 6' 10" | NA | NA | NA | NA |



Basic Per Game Statistics

- Comprehensive Stats - Statistical Top 25s
| Year | League | Name | GP | Min | Pts | FG | FGA | FG% | 2Pt | 2PtA | 2P% | 3Pt | 3PtA | 3P% | FTM | FTA | FT% | Off | Def | TOT | Asts | Stls | Blks | TOs | PFs |
| --- | --- | --- | --- | --- | --- | --- | --- | --- | --- | --- | --- | --- | --- | --- | --- | --- | --- | --- | --- | --- | --- | --- | --- | --- | --- |
| 2013/14 | NCAA | Julius Randle | 40 | 30.8 | 15.0 | 4.9 | 9.8 | 50.0 | 4.8 | 9.4 | 51.6 | 0.1 | 0.5 | 16.7 | 5.1 | 7.2 | 70.6 | 3.5 | 6.9 | 10.4 | 1.4 | 0.5 | 0.8 | 2.5 | 2.3 |

Player Page&nbsp&nbsp| Player Stats | Mock Draft History | Related Articles&nbsp&nbsp| Add to My Draft Express&nbsp
&nbsp
NBA Draft Prospect of the Week: Julius Randle
December 9, 2013
Julius Randle has been dominant at times nine games into his freshman season, averaging 18 points and 12 rebounds per contest thus far, shooting 55% from 2-point range and getting to the free throw line over nine times per game.

---
-NBA Draft Prospect of the Week: Jabari Parker (Video Scouting Report)
-Revisiting Nikola Mirotic (Video Scouting Report)
---

Randle's Kentucky squad is still finding their way as a team, having lost their two toughest games thus far in close neutral floor losses to Michigan State and Baylor, but still have plenty of time to come together with a challenging schedule in front of them the next four months.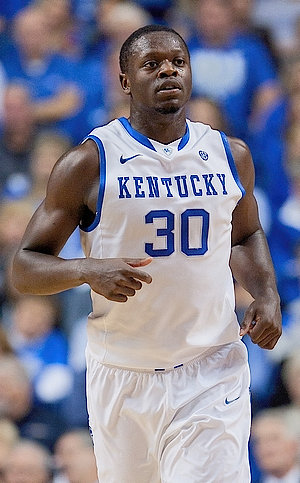 US Presswire



Playing on some of the biggest platforms of college basketball thus far has given us ample opportunity to evaluate Randle's very distinct strengths and weaknesses as a prospect, which we've done in the following video scouting report courtesy of Mike Schmitz.



All of our video scouting reports this season can be found here.

[Read Full Article]

---
2013 Hoop Summit USA Junior Team Measurements
April 19, 2013
Julius Randle
Height w/ Shoes: 6'9
Weight: 248
Reach: 8'9.5
Wingspan: 6'11

[Read Full Article]

---
High School Class of 2013: Elite Prospect Scouting Reports
September 5, 2012
Jonathan Givony

Recruiting Rankings: ESPN: #3, Scout: #4, Rivals: #1, 24/7: #1

Strengths:
-Measured 6-10 in shoes, and 240 pounds at the Nike Skills Academies
-Outstanding athlete in terms of fluidity, agility and explosiveness
-Great first step. Tremendous ball-handler for size, with excellent body control slithering his way around opponents
-Rare combination of finesse and power
-Unstoppable mismatch threat at high school level. Too strong for forwards to handle inside, and too skilled for big men to stop from the perimeter
-Draws fouls, gets to the free throw line prolifically
-Spins, and finishes through contact, bounces off opponents
-Has a back to basket game. Can post up
-Tremendous footwork for a player his age
-Absolutely lethal in transition
-Competes on defense
-Willing to compete inside the paint
-Done a great job with body

Weaknesses:
-No real fundamentals on defense
-Has the type of body that can get out shape quickly
-Should continue to expand the range on his jump-shot in time. Will make him much more dangerous in the half-court if opponents need to respect him out to the 3-point line.
-Turnover prone at times. Tends to just bully his way to the basket, usually works at high school level, won't be the same story in college

Outlook:
Extremely unique prospect due to his combination of size, strength, scoring instincts and ball-handling skills. Very difficult to find players with his skill-set, at any level of competition. Has work to do, on the defensive end in particular, but he's clearly a top-notch prospect for the NBA.

Highlights:


[Read Full Article]

---
HoopHall Classic Scouting Reports: 2013 and Beyond Prospects
January 24, 2012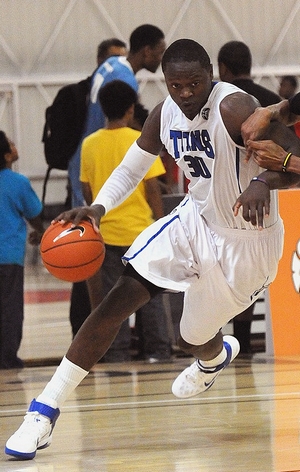 Icon SMI



Jonathan Givony

Julius Randle's (#2 Scout, #4 Rivals, #3 ESPN) Prestenwood squad lost by 30 points to a very deep Oak Hill Academy team, with most of his 23 points coming in garbage time. Nevertheless, we've been able to get a very good feel for Randle's strengths and weaknesses watching him over the past year or so, and have always came away fairly impressed.

Randle sports an unbelievable frame for a 17-year old, to go along with good size at 6-9, but just an average wingspan at 6-10 (measured at the Nike Skills Academy).

Playing the face-up power forward position that seems to be incredibly en-vogue in today's basketball, Randle is a very fluid and mobile athlete with soft hands and outstanding scoring instincts, posing a tremendous mismatch threat for opponents every time he steps on the floor.

A very talented ball-handler, Randle has an excellent first step and an array of shot-creating skills he can utilize in the mid or high post. Very left hand dominant, he shows terrific footwork and creativity on his drives, both in the half-court and in transition, mixing in jab-steps, crossovers, spins and other advanced moves. With his strong frame, nimble feet, excellent body control, and solid leaping ability, he can finish aggressively through contact in traffic and gets to the free throw line at a very good rate.

Randle has good mechanics on his jumper and is a threat to catch and shoot with range out to the 3-point line. With that said, he tends to prefer slashing all the way to the rim and at times will force the issue driving and spinning into brick walls. A natural lefty, he can become a bit predictable for defenders since he's much better with this hand, and isn't a great passer to boot.

Showing the ability to post up inside, Randle should be able to do significant damage with his back to the basket in time with his terrific footwork and touch. Right now he gets a little too caught up in showing off his perimeter skills, though, and doesn't always fully utilize this part of his game.

Just an average defender, at best, at this stage, Randle's fundamentals and awareness will need plenty of work if he is to reach his full potential on this end down the road. He regularly takes plays off, doesn't get in any type of stance, and reaches excessively – issues that we often see in players this age. His conditioning appears to be just average at this point as well, something he'll likely want to shore up by the time he lands in college.

Randle might fancy himself as being somewhat of a small forward, but at his size and with the way his body is developing, that might not be ideal for his long-term development, as it appears he'd be a far more potent weapon at the 4. Comparisons to Al Harrington and Terrence Jones are already making the rounds, and Randle's scoring ability seems to justify them.

Considered one of the top prospects in a loaded 2013 high school class, Randle will be drawing plenty of attention from scouts the moment he steps on a college campus.

[Read Full Article]

---