Justin Harper
Recent Tweets
All Tweets
DraftExpress: Startling how much weight Justin Harper was able to put on in just one year in the NBA. The guy was a twig at Richmond. Solid 240-245 now?
2012-07-11 05:18:41
DraftExpress: Video interviews from the NBA Combine in Chicago w/ Trey Thompkins, Justin Harper, JaJuan Johnson and Jon Leuer http://bit.ly/luVN6j
2011-05-24 06:52:54
DraftExpress: Justin Harper pulled out of PIT, and was replaced by Joe Trapani. Same story every year. No point in getting excited about initial rosters.
2011-04-05 10:03:24
DraftExpress: When scouts go back and watch the film, they're gonna see that Justin Harper quietly did some nice things in this blowout loss to Kansas.
2011-03-25 09:19:30
DraftExpress: That play at 3:42 (giving up off reb off FTs to Faried) is exactly what's plaguing Justin Harper's stock. Teams wonder if he's tough enough?
2011-03-19 06:10:18
Team: Magic College Team: Los Angeles
Physicals
Positions
Salary
Misc
H: 6' 9"
W: 228 lbs
Bday: 08/30/1989
(26 Years Old)

Current: PF
NBA: PF
Possible: SF/PF

Agent: Chris Emens

High School: Meadowbrook
Hometown: Richmond, VA
Drafted: Pick 32 in 2011 by Cavaliers

Predraft Measurements
| Year | Source | Height w/o Shoes | Height w/shoes | Weight | Wingspan | Standing Reach | Body Fat | No Step Vert | Max Vert |
| --- | --- | --- | --- | --- | --- | --- | --- | --- | --- |
| 2011 | NBA Draft Combine | 6' 8" | 6' 8.75" | 228 | 6' 11.75" | 8' 10" | 4.0 | 28.5 | 33.0 |



Basic Per Game Statistics

- Comprehensive Stats - Statistical Top 25s
| Year | League | Name | GP | Min | Pts | FG | FGA | FG% | 2Pt | 2PtA | 2P% | 3Pt | 3PtA | 3P% | FTM | FTA | FT% | Off | Def | TOT | Asts | Stls | Blks | TOs | PFs |
| --- | --- | --- | --- | --- | --- | --- | --- | --- | --- | --- | --- | --- | --- | --- | --- | --- | --- | --- | --- | --- | --- | --- | --- | --- | --- |
| 2015/16 | DLEAGUE | Justin Harper | 6 | 16.0 | 9.0 | 3.3 | 6.0 | 55.6 | 2.0 | 3.0 | 66.7 | 1.3 | 3.0 | 44.4 | 1.0 | 1.0 | 100.0 | 0.5 | 1.0 | 1.5 | 0.8 | 0.3 | 0.3 | 0.7 | 2.0 |

Player Page&nbsp&nbsp| Player Stats | Mock Draft History | Related Articles&nbsp&nbsp| Add to My Draft Express&nbsp
&nbsp
NBA Combine Interviews: Trey Thompkins, J. Harper, J. Johnson, Leuer
May 24, 2011
[Read Full Article]

---
Justin Harper: NCAA Tournament Breakout Performer?
March 14, 2011
Eight games into his college career Justin Harper had a breakthrough.

Less than eight minutes into a home game against William & Mary the Richmond freshman buried the first of three three-pointers that night. The unheralded forward who grew up just a few miles from the Robins Center scored a season-high 13 points that night, shooting 50% from the floor in 24 minutes while helping lead the Spiders to a three-point win over the Tribe.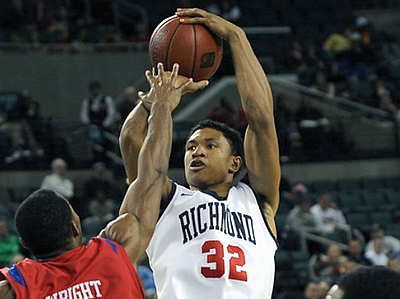 AP



It wasn't a crystallization of the talent buried within the freshmen's frame. It wasn't a performance that suddenly set in motion what Harper would blossom into four years later. It was simply a moment, nothing more, nothing less.

But the funny thing about moments is, over time, if you compile enough of them, you suddenly have something. In Harper's case, the confidence necessary to flourish as a senior.

"I couldn't point to any one exact moment, but just the work I did this summer has really helped me gain a new mindset, I've learned to approach the game like a professional," Harper says. "I'm learning to utilize every single day to get better as a player."

The results have been staggering, as Harper can make a legitimate claim to not only being the most improved player in the nation this season, but arguably the best shooter. After averaging 10.6 points and 5 rebounds in 25 minutes as a junior, he is leading the Spiders with a line of 18 points and 7 rebounds in 31 minutes, and is fresh off helping his team win the Atlantic 10 tournament championship this weekend. Richmond will play Vanderbilt in the NCAA tournament on Thursday in Denver.

Harper's dramatic improvement goes far beyond standard production. The senior has developed into one of the most efficient scorers in the country, ranking in the 98th percentile in the NCAA in scoring efficiency according to Synergy Sports Technology. With over 46% of his field goal attempts being categorized as jumpers, the Richmond star has posted marks of 59% shooting from 2-point range and 47% from beyond the arc, percentages that rank him among the likes of Jon Diebler and Derrick Williams as one of the most efficient players in college basketball.

Those closest to the program – including head coach Chris Mooney – certainly consider the Richmond senior to be among the countries top marksmen, but he has managed to separate himself from the pack due to his physical advantages.

"The biggest difference with Justin is he's doing all of this at 6-10," Mooney says. "It's incredible that he has the kind of range and touch that he does at that size, in addition to all the other things he can do. He's clearly one of the best shooters in the country, and again, it's so unique given his size."

And that's where the tremendous intrigue of Harper's game comes into focus. While the practice of evaluating international prospects with size and skill is an annual practice among NBA scouts, rare is the American college player that presents this kind of package at the high level that the Richmond senior does. While he certainly isn't on the same level as Kevin Durant, it's easy to make the argument that no college player has so closely resembled the current NBA star since he left the University of Texas four years ago.

Harper has shown off an advanced skill set throughout the season, but may have only scratched the surface of what he is capable of from a skills perspective, meaning he could further impress when it comes time for individual workouts.

"When I get to those individual workouts people are going to see that I'm not just a spot-up shooter, but I can score pretty effectively with my back to the basket as well," Harper says.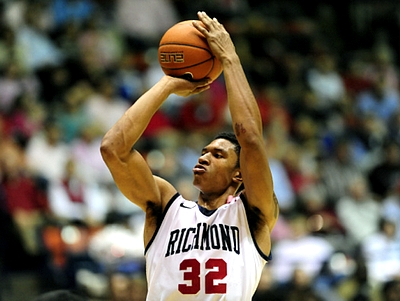 Icon SMI



Not surprisingly, Mooney who has thought of his star as a pro player since his freshman year, sees the workout setting as the place where Harper will make a massive jump in the NBA draft picture.

"I think when teams get to see how fluid he is, how well he moves, how well he dribbles, just how effortless his shooting is, it's really going to impress people," he says. "There aren't many guys his size, it's not even close, that are that fluid. It's a very rare for a player to have all of those abilities."

It's even rarer for a player this talented to not even be the top college scorer in his own house.

Ollie Harper – Justin's father – was a star for Niagara University in the mid-70's, scoring over 1,300 career points and ultimately earning an induction into the school's athletic hall of fame. The presence of a strong father figure and a mentor who has gone through the ups and downs of stardom as a college player has played a major role in the newfound confidence that Harper has exuded this season.

"It really helps," Harper says. "Having that mentor always there, talking you through this stuff because he's been there, he's done so much for me. He had such an aggressive mindset when he was a player and he's instilled that in me and it's obviously helped me a lot on the court."

Now that Richmond has earned its second straight NCAA Tournament berth, the Spiders need to hope for their star's confidence to reach an all-time high if they want to advance beyond the first round for the first time in 13 years.

It will be another moment along the path of Harper's blossoming career, bigger this time than in the past, but another moment nonetheless. As it sparks the senior's confidence to continue growing, the NBA will be preparing for many more moments on the pro game's stage.

[Read Full Article]

---
Trending Prospects (1/6/2011)
January 6, 2011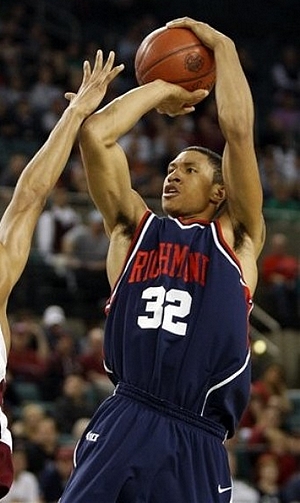 AP



Kyle Nelson

A solid contributor at Richmond throughout his career, power forward Justin Harper has taken a big step forward as a senior. Harper has proven himself as one of the nation's most skilled big men and perimeter shooters, developing into a legitimate NBA prospect along the way. Now, as Richmond begins its conference schedule, scouts will be watching to see if Harper can maintain his efficient scoring and heady play and finish off the season on a positive note.

At 6'10, Harper has excellent size for the power forward position, but he could still stand to add strength to his 225-pound frame, particularly to his lower body. He is an above average athlete, as well, with decent quickness in the open floor and good explosiveness around the basket.

Harper has improved significantly on the offense end, where he averages 23.1 points per 40 minutes pace adjusted. He is most effective spotting up around the perimeter, where he finds over a quarter of his possessions, and shoots a blistering 50.8% on 4.2 attempts per game.

Though he does not get much elevation on his shot, he has a lightning quick release and a consistent, fluid shooting motion. His range extends well past the NBA three-point line, as well, and he shows very good potential as a pick-and-pop threat. Clearly this will be his calling card as an NBA prospect.

His scoring abilities around the basket have improved, as well, where he displays improving footwork and a developing arsenal of moves. Though he likely lacks the strength to carve out position at the next level, his touch around the basket is solid and he has become more comfortable attacking the rim as a senior.

He does have a tendency to shy away from contact, however, preferring to fall away from the basket instead of going straight up with the ball.

This lack of aggressiveness results in a subpar 3.2 free throw attempts per 40 minutes pace adjusted, which is disappointing given his size, athleticism, and skill. His ball handling also limits his effectiveness as an inside scorer, as he rarely uses his left hand or exploits his above-average first step.

Harper shows a solid basketball IQ, and clearly knows his role as a senior. Even though he's averaging slightly less touches than he did as a junior, he is putting up career highs in almost every category, and is doing so in an efficient manner at that.

Furthermore, he turns the ball over just 1.7 times per 40 minutes pace adjusted, a career low and indicative of his overall court awareness and passing ability. Harper is a savvy player, rarely playing outside of his strengths and seemingly knowing his limitations, looking more than capable of finding a role at the next level.

Never known as the toughest or most active player throughout his career, Harper is just an average rebounder at best, collecting an unspectacular 9.4 rebounds per 40 minutes pace adjusted. While occasionally he will crash the offensive glass, he does not have great fundamentals and oftentimes finds himself out of position on the perimeter.

On defense, Harper displays just average lateral quickness and could struggle guarding perimeter oriented power forwards at the next level. He is not the most consistent defender either, particularly inside where his lack of strength does him few favors, but where he also fails to contest every shot.

He will have to prove to scouts that he can play with intensity and consistency against interior and perimeter oriented big men, as this is not something he's been known for in his four years at Richmond.

Scouts will be watching nonetheless to see if Harper can continue to prove himself against quality opponents in the Atlantic-10 portion of Richmond's schedule. At this point it is not difficult to imagine him in a Channing Frye or Matt Bonner-type role, spotting up around the perimeter and knocking down shots.

With that said, he must continue to show effort and consistency on the defensive end and on the boards, proving to scouts that he can compete with the much higher level big men he'd potentially be facing every night in the NBA.

Garnering zero draft buzz up until now, Harper is a bit of sleeper at this stage, and is well worth watching as the season continues. Not only is he a late bloomer, but he doesn't turn 22 until late September, giving him quite a bit more upside than your typical college senior.

Players with his size, athleticism skill-set are difficult to come by, and if he can finish the season as strongly as he started, and ride that momentum into the pre-draft process, he'll definitely have a chance to hear his name called on draft night.

[Read Full Article]

---