K.J. McDaniels
Recent Tweets
All Tweets
DraftExpress2: K.J. McDaniels is one of those guys who looks more athletic on film than he tests in a combine setting. Freak in-game athlete.
2014-06-26 23:01:41
DraftExpress: Philadelphia selects K.J. McDaniels #32. Stock had slid due to poor workouts but you won't find many better athletes than him. Good value.
2014-06-26 23:00:53
DraftExpress: Best available players now according to the DX Top-100 rankings K.J. McDaniels P.J. Hairston Kyle Anderson Jerami Grant Jarnell Stokes
2014-06-26 22:16:12
DraftExpress: Rodney Hood vs K.J. McDaniels - Head to Head Matchups Video Analysis http://t.co/qdJWCOQ8ah (via @Mike_Schmitz)
2014-06-19 11:11:04
DraftExpress: Top NBA Prospects in the ACC #20-24 http://t.co/jJ5l7h5Ntf K.J. McDaniels Justin Anderson Akil Mitchell Talib Zanna and Montay Brandon.
2013-09-13 11:30:51
Team: Rockets
Physicals
Positions
Salary
Misc
H: 6' 6"
W: 196 lbs
Bday: 02/09/1993
(22 Years Old)

Current: SF
NBA: SF
Possible: SF

Current Salary:$507,336

High School: Central Park Christian
Hometown: Birmingham, AL
Drafted: Pick 32 in 2014 by 76ers

Predraft Measurements
| Year | Source | Height w/o Shoes | Height w/shoes | Weight | Wingspan | Standing Reach | Body Fat | No Step Vert | Max Vert |
| --- | --- | --- | --- | --- | --- | --- | --- | --- | --- |
| 2014 | NBA Draft Combine | 6' 4.5" | 6' 6" | 196 | 6' 11.25" | 8' 6" | 4.5 | 33.0 | 37.0 |
| 2013 | LeBron James Camp | NA | 6' 6" | 198 | 6' 9.5" | NA | NA | NA | NA |
| 2013 | Kevin Durant Camp | NA | 6' 6" | 198 | 6' 9.5" | NA | NA | NA | NA |



Basic Per Game Statistics

- Comprehensive Stats - Statistical Top 25s
| Year | League | Name | GP | Min | Pts | FG | FGA | FG% | 2Pt | 2PtA | 2P% | 3Pt | 3PtA | 3P% | FTM | FTA | FT% | Off | Def | TOT | Asts | Stls | Blks | TOs | PFs |
| --- | --- | --- | --- | --- | --- | --- | --- | --- | --- | --- | --- | --- | --- | --- | --- | --- | --- | --- | --- | --- | --- | --- | --- | --- | --- |
| 2015/16 | NBA | K.J. McDaniels | 6 | 6.0 | 1.5 | 0.5 | 2.5 | 20.0 | 0.3 | 1.5 | 22.2 | 0.2 | 1.0 | 16.7 | 0.3 | 0.7 | 50.0 | 0.5 | 0.8 | 1.3 | 0.2 | 0.2 | 0.3 | 0.5 | 0.8 |
| 2015/16 | DLEAGUE | K.J. McDaniels | 2 | 41.5 | 15.0 | 6.5 | 14.0 | 46.4 | 5.5 | 9.0 | 61.1 | 1.0 | 5.0 | 20.0 | 1.0 | 1.0 | 100.0 | 2.0 | 5.0 | 7.0 | 3.0 | 2.0 | 3.0 | 8.0 | 4.5 |

Player Page&nbsp&nbsp| Player Stats | Mock Draft History | Related Articles&nbsp&nbsp| Add to My Draft Express&nbsp
&nbsp
Situational Statistics: the 2014 Small Forward Crop
June 20, 2014
Clemson's K.J. McDaniels doesn't stand out on the whole scoring an average 1.00 points per possession, and his usage doesn't stand out in any particular playtype, but he nonetheless excels in a few key areas. McDaniels ranks as the top transition scorer in this group, scoring 1.49 points per fast break possession. He also ranks as the 3rd best finisher in the half court, scoring 1.36 points per possessions round the rim. McDaniels ranks as a below average perimeter scorer, putting up .83 points per-shot, but if he can develop his shooting efficiency enough to complement his athleticism, he could provide value as a roleplayer at the next level.

[Read Full Article]

---
2014 NBA Draft Combine Measurements Analysis
May 15, 2014
K.J. McDaniels: The Clemson forward showed one of the reasons why he was able to register 1.4 steals and 3.3 blocks per 40 minutes as a small forward last season as he measured with a 6-11 ¼ wingspan. McDaniels' wingspan measured 1 ¾ inches longer than it did in 2013, when he measured 6-6 with a 6-9 ½ wingspan at LeBron James Camp. McDaniels' "new-found" length is important, as it should allow him to defend small forwards comfortably, despite standing just 6-6 in shoes and weighing 196 pounds. McDaniels' build is similar to that of Gerald Green (6'6 without shoes, 192 pounds, 6'9 ¾ wingspan) or Josh Childress (6'5 ¾ without shoes, 196 pounds, 6'11 wingspan).

-[p=Adreian Payne]Adreian Payne: The athletic stretch four measured with the third biggest wingspan at 7-4 after measuring a 7-foot wingspan in 2009 at the LeBron James Camp. He also has gained 25 pounds since then, which is impressive. Payne had one of the largest height-to-wingspan differentials with a plus-7. Payne's measurable (6-9 no shoes and 239 pounds) are similar to 2012 draftee Andrew Nicholson, who measured 6-8 ½ with no shoes and 234 pounds with a 7-4 wingspan. Payne's measurements aren't that far off from Derrick Favors' actually, as he's actually a quarter of an inch taller, with a similar wingspan and standing reach, but is six pounds lighter (Favors was much younger at the same stage though).

[Read Full Article]

---
K.J. McDaniels 2014 NBA Pre-Draft Workout and Interview Video
May 12, 2014
We went out to visit K.J. McDaniels in Los Angeles as he's working out with Joe Abunassar and preparing for the NBA Combine and private workouts.

McDaniels narrates the video explaining what type of player he is, and his decision to leave Clemson, among other topics.



[Read Full Article]

---
NBA Draft Prospect of the Week: K.J. McDaniels
February 25, 2014
K.J. McDaniels has emerged from obscurity to develop into one of the best all-around players in college basketball, helping his Clemson squad to a 8-6 record in the ACC thus far. McDaniels has been stuffing the stat sheet all season long, ranking very highly among top-100 prospects in a variety of categories, including points per-40 pace adjusted (6th overall), rebounding (4th among wing prospects), steals (4th among wings), and blocks (1st among wings and 8th overall).
---
-NBA Draft Prospect of the Week: Deonte Burton (Video Scouting Report)
-NBA Draft Prospect of the Week: Noah Vonleh (Video Scouting Report)
-NBA Draft Prospect of the Week: Nik Stauskas (Video Scouting Report)
-NBA Draft Prospect of the Week: Aaron Gordon (Video Scouting Report)
-NBA Draft Prospect of the Week: Clint Capela (Video Scouting Report)
-NBA Draft Prospect of the Week: Thanasis Antetokounmpo (Video Scouting Report)
-NBA Draft Prospect of the Week: Shabazz Napier (Video Scouting Report)
-NBA Draft Prospect of the Week: Bogdan Bogdanovic (Video Scouting Report)
-NBA Draft Prospect of the Week: Joel Embiid (Video Scouting Report)
-NBA Draft Prospect of the Week: Julius Randle (Video Scouting Report)
-NBA Draft Prospect of the Week: Jabari Parker (Video Scouting Report)
-Revisiting Giannis Antetokounmpo (Video Scouting Report)
-Revisiting Damian Lillard (Video Scouting Report)
-Revisiting Nikola Mirotic (Video Scouting Report)
-Revisiting Alexis Ajinca (Video Scouting Report)
---
McDaniels has outstanding physical attributes for a NBA prospect, standing 6-6, with an excellent frame, long arms, and arguably the best athleticism of any wing player in the draft not named Andrew Wiggins. He's as explosive a leaper as you'll find, being responsible for some of the most impressive highlight reel plays of the college season thus far.

McDaniels has done a good job of finding ways to score this season, as he's posting an impressive 23.4 points per-40 minutes pace adjusted thus far, up from 16.7 last year. He's able to produce thanks to his ability to run the floor, crash the offensive glass, make open jumpers, and get to the free throw line, despite playing on one of the worst offensive teams in high major college basketball. Clemson scores just 62 points per game, and ranks 13th of 15 ACC teams in offensive efficiency, struggling to crack 45 points on a few occasions this season.

The lack of spacing and general scoring prowess alongside McDaniels makes it easy for opposing teams to key in on him at times, further exacerbating the fact that he's not the most skilled wing player around at the moment. His ball-handling skills are just average, as he struggles to change speeds or directions with the ball, and doesn't he create much offense for teammates either, as his court vision and feel for the game are not off the charts.

McDaniels isn't the most consistent shooter you'll find either. His release is fairly slow and he struggles when rushed or contested, making just 31% of his 3-point attempts on the season, down from 33% last year.

Nevertheless, McDaniels can't be classified as a non-shooter, as his 1.7 makes per-40p from beyond the arc ranks a respectable 7th among small forwards in our top-100 prospects. He's relatively reliable with his feet set and a glimmer of daylight (41%), and hits a terrific 87% of his free throw attempts (3rd best among all top-100 prospects), which leaves some room for optimism. He's athletic enough to rise up and create separation from defenders, which helps him in off the dribble situations, he just needs to speed up his release and improve his ball-handling ability to further take advantage of this skill.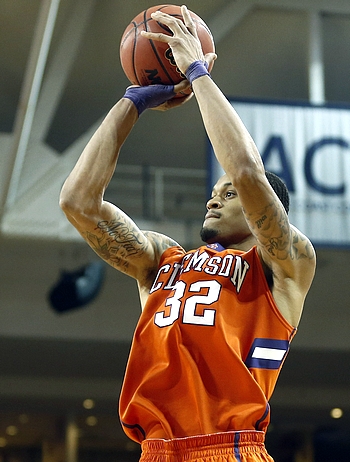 US Presswire



Despite the considerable improvement he's shown offensively this season, where McDaniels really shines as a NBA prospect is on the other end of the floor. His size, length, and tremendous athleticism allows him to guard up to four positions at the college level, and give him the potential to emerge as a lockdown defender in the NBA. He's a huge playmaker already, putting up gaudy numbers as a rebounder, shot-blocker and ball-thief, even if he still has room to improve here, particularly with his ability to defend off the ball and stay consistent with his effort.

McDaniels has a very different profile than most of the players currently projected to be drafted, as he was an unheralded high school recruit who committed to Clemson relatively late and barely played his freshman season. He spent most of his time at the power forward position early on in his career, and is still learning the game from an experience and basketball IQ standpoint. Despite the terrific season McDaniels is having, he's still figuring out when to pick his spots offensively and defensively, as he struggles with passivity on both ends of the floor at times.

Nevertheless, McDaniels is a late bloomer who has made more strides the last two years than arguably any player in college basketball, and thus may still be developing. His physical tools, combined with the improvement he's shown on both ends of the floor give him an ideal framework of skills to build around as a NBA role player, particularly if he can continue to hone his jump-shooting ability.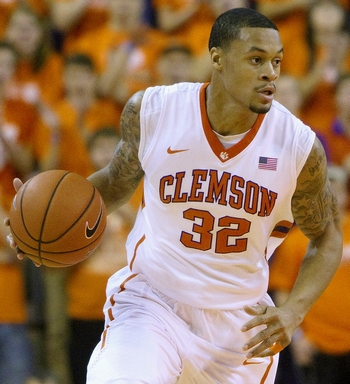 US Presswire



Unfortunately for McDaniels, and NBA scouts who would like to evaluate him outside the ACC, Clemson looks like a real longshot to make the NCAA Tournament at the moment, as their non-conference schedule (ranked 335th at the moment) has given them basically no margin for error. McDaniels is generating very little buzz among other NBA draft services at the moment, but appears to be a real sleeper who could see his stock rise considerably as the pre-draft process evolves (should he elect to enter).

Matchups against the likes of Duke, Syracuse, Virginia, Pittsburgh, North Carolina, Florida State and others have given us ample opportunity to evaluate McDaniels' strengths and weaknesses as a prospect, which we've done in the following video scouting report, courtesy of Mike Schmitz.



All of our video scouting reports this season can be found here.

[Read Full Article]

---
Top NBA Draft Prospects in the ACC, Part Eight (#20-24)
September 13, 2013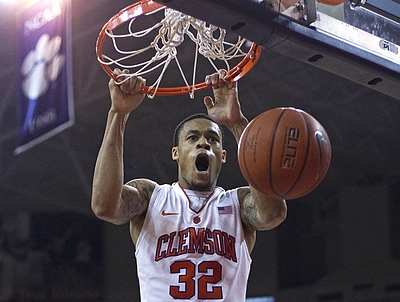 US Presswire



Derek Bodner

Standing 6'6" with a solid wingspan and tremendous athleticism, K.J. McDaniels became a much bigger part of the Clemson Tigers team during his sophomore season, as he saw his minutes increase from 10.1 minutes per game during his freshman season to over 27 per night last year and upped his scoring from a meager 3.9 points per game to 10.9.

Athleticism is the basis of McDaniels' intrigue as a prospect, as he possesses excellent open court speed and explosive leaping ability, making him a highlight waiting to happen. This gives McDaniels all kinds of advantages in the transition game, where he uses his speed to get out ahead of the break and finishes with spectacular displays of athleticism. It also presents itself off on the offensive glass, where you routinely see McDaniels soar in and throw a putback down with authority.

To build on top of this, McDaniels has worked hard to add a spot-up game to his repertoire, giving him a much more prominent role in the half-court. While McDaniels can be streaky at times, he has re-worked his release and now has a very quick and compact release, making him a threat in catch and shoot situations. According to Synergy Sports Technology, McDaniels made 39% of his attempts with his feet set, albeit on a fairly limited sample size. With more repetition, this looks like it could become a more prominent and consistent part of his arsenal, which would greatly enhance his draft stock.

Creating off the dribble is where McDaniels' deficiencies begin to show up. He is able to find some offense from simple straight line drives to the basket, particularly when his defender closes out a little bit too aggressively on him, but his ball-handling skills are relatively primitive for a wing player and he struggles to get all the way to the rim regardless of which direction he's driving. This is compounded by the fact that he doesn't have a reliable pull-up game—he made just 22% of his off the dribble jumpers last season--and struggles in general with his balance and footwork when shooting off the dribble, and hasn't yet developed much in terms of pull-ups or floaters in the lane.

While his half-court game is largely as a standstill, catch and shoot player, McDaniels' ability to draw fouls in transition, off of cuts and from offensive rebounds keeps his free throw rate respectable at 4.3 free throw attempts per 40 minutes pace adjusted, despite his struggles creating offense off the bounce.

Perhaps not surprising due to his lack of shot creation ability, McDaniels doesn't present much of an asset as a passer, generating only 1.2 assists per 40 minutes pace adjusted. He does do a good job of rotating the ball on the perimeter, with the ball not frequently getting "stuck" in his possession for very long.

On the defensive side of the ball, McDaniels' physical attributes once again shine. His 3.2 blocks per 40 minutes pace adjusted far outshines any other swingman in our database. In fact, you would have to go back to Dominic McGuire at Fresno State in 2006/2007 to find a wing prospect with a higher total. He also possesses good lateral quickness, a solid wingspan, and a strong upper body, making him a good defensive prospect. He does a good job of fighting through screens and giving effort on this side of the court, although he can at times get too upright on the perimeter and be prone to misdirection.

A relative unknown in high school who played a marginal role as a freshman, K.J. McDaniels' improvement last season combined with his physical profile presents a fair amount of intrigue as a prospect, and his development of a reliable catch and shoot game is the first (and very important) step in diversifying his skill set on the perimeter. With Clemson losing Devin Booker and Milton Jennings to graduation, McDaniels will have to shoulder a much heavier load in the half-court and will be relied upon to create more offense for both himself and his teammates. Continuing to improve his ball-handling, while showing further improvement in his shooting, will be important for McDaniels going forward. If he continues to show progress with his skill-set, he has a chance to draw some serious attention to himself as pro prospect moving forward.

[Read Full Article]

---