Karl Towns
Recent Tweets
All Tweets
DraftExpress2: Albeit in limited action UK commit Karl Towns has the 3rd best PER at the FIBA Americas Championship. Not bad for a 17 year old.
2013-09-06 15:08:57
DraftExpress: RT @AdamZagoria Karl Towns Sr. says his son will pitch for the baseball team at St. Joe's-Metuchen next season. Loves baseball hasn't pl\u2026
2013-06-02 18:50:32
DraftExpress: Karl Towns Sr. says his son will pitch for the baseball team at St. Joe's-Metuchen next season. Loves baseball hasn't played in 2 yrs
2013-06-02 18:21:02
DraftExpress: Nike Hoop Summit Reports the Big Men Mouhammadou Jaiteh Livio Jean-Charles Karl Towns Joel Embiid Gabriel Deck http://t.co/8bR7ARHUr8
2013-04-26 10:03:43
DraftExpress2: That Andrew Wiggins to Karl Towns alley oop could wind up being a number one pick to number one pick hook up a few years from now.
2013-04-20 19:47:50
Predraft Measurements
| Year | Source | Height w/o Shoes | Height w/shoes | Weight | Wingspan | Standing Reach | Body Fat | No Step Vert | Max Vert |
| --- | --- | --- | --- | --- | --- | --- | --- | --- | --- |
| 2014 | UK Pro Day | 6' 10.25" | 6' 11.25" | 250 | 7' 3.25" | 9' 1" | 8.1 | 29.0 | 36.5 |
| 2014 | Hoop Summit | NA | 7' 0" | 248 | 7' 3.5" | 9' 5" | NA | NA | NA |
| 2013 | Hoop Summit | NA | 7' 0" | 243 | 7' 3.5" | NA | NA | NA | NA |



Basic Per Game Statistics

- Comprehensive Stats - Statistical Top 25s
| Year | League | Name | GP | Min | Pts | FG | FGA | FG% | 2Pt | 2PtA | 2P% | 3Pt | 3PtA | 3P% | FTM | FTA | FT% | Off | Def | TOT | Asts | Stls | Blks | TOs | PFs |
| --- | --- | --- | --- | --- | --- | --- | --- | --- | --- | --- | --- | --- | --- | --- | --- | --- | --- | --- | --- | --- | --- | --- | --- | --- | --- |
| 2014/15 | NCAA | Karl Towns | 39 | 21.1 | 10.3 | 3.7 | 6.6 | 56.6 | 3.7 | 6.4 | 57.7 | 0.1 | 0.2 | 25.0 | 2.8 | 3.4 | 81.3 | 2.4 | 4.3 | 6.7 | 1.1 | 0.5 | 2.2 | 1.4 | 2.9 |

Player Page&nbsp&nbsp| Player Stats | Mock Draft History | Related Articles&nbsp&nbsp| Add to My Draft Express&nbsp
&nbsp
Back to the Future? Andrew Wiggins to Karl Towns at Nike Hoop Summit
May 20, 2015
If Andrew Wiggins and Karl Towns end up as teammates in Minnesota, it won't be their first time in uniform together. The two actually played on the World Select Team at the Nike Hoop Summit, and collaborated on this very pretty play.



[Read Full Article]

---
Karl Towns NBA Draft Scouting Report and Video Breakdown
April 6, 2015
Video Analysis by Mike Schmitz. Scouting Report by Jonathan Givony

Karl Towns was not really a favorite of the high school recruiting services, as he was ranked just the ninth best prospect in his class according to ESPN, and seventh in the RSCI as a whole. Nevertheless, NBA scouts were extremely high on him after two strong performances in the Nike Hoop Summit World Team practices and scrimmages in Portland, Oregon in 2013 and 2014.

Towns played only 21 minutes per game as a freshman at Kentucky, but was extremely productive on a per-40 minute basis, at 20 points (57% 2P%, 82% FT%), 13 rebounds, 4.4 blocks and 2.2 assists, good for a PER of 31.9 that ranked below just Frank Kaminsky among DX Top-100 prospects.

(Video may not load with Internet Explorer. Use Chrome or Firefox)

Towns has terrific physical attributes for an NBA big man, standing 7-0 in shoes with a 7-3 ˝ wingspan and a strong 250 pound frame. While not a fast-twitch, freakishly explosive athlete, he is extremely mobile and coordinated for a player his size, running the floor well and showing very nice agility.

Towns shows excellent versatility on both ends of the floor, spending time at both the power forward and center positions for Kentucky, which he'll likely continue to do in the NBA.

Offensively, he was most frequently utilized in the post, with 43% of his touches coming with his back to the basket. He shot 51% from the field in these situations, as he was often able to establish deep low-post position with his strong frame and then turn to either shoulder, where he has excellent touch with both hands.

Towns' post-game is not the most advanced, as he doesn't sport very nifty footwork due to his gigantic feet, and lacks much in the way of counter-moves, making him somewhat predictable at times. He turned the ball over at a relatively high rate on the block (18% of possessions), avoiding contact at times and struggling with stronger and more physical opponents, but got better with this part of his game as the year moved on, particularly with his willingness to establish post-position and finish strong in traffic.

Towns shows excellent potential in the post with his strong frame and long arms, which gives him an excellent vantage point to just throw the ball in the basket with extremely soft touch. Besides his jump-hook, which he can shoot with either hand (but clearly prefers utilizing his right), he also shows a nice turnaround jump-shot he can go to, as well as the framework of an old-school swooping hook shot running across the lane.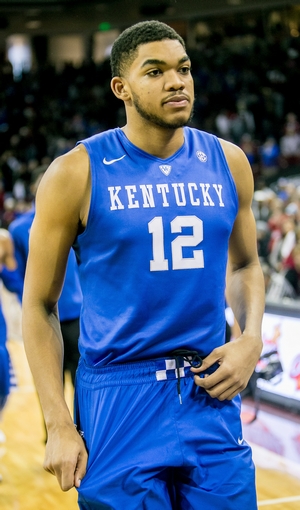 US Presswire



Unlike most 7-footers, Towns has no problem operating from the high post or even further out, being very smart and reliable with the ball in his hands. He can execute half-court sets intelligently, passing the ball accurately out of the low post or the elbow, doing a nice job in high-low situations. He is very mature and polished for a player his age, and should be able to develop into quite a weapon in pick and roll, pick and pop or dribble-handoff situations with better spacing and shooting around him in the NBA—giving him the ability to play alongside another paint-oriented big man if needed.

Towns grew up as a perimeter oriented power forward who didn't hesitate to fire away from beyond the arc when left open, leading his high school team in 3-pointers made, and hitting 46% of his attempts as a 15-year old on the Dominican Republic U17 team on 5.5 tries per game. He didn't show much of that at Kentucky, only taking eight threes on the year (of which he made two), but his excellent shooting mechanics, combined with his outstanding 82% free throw percentage as a freshman, leads you to believe he'll continue to hone this part of his game in the NBA.

He's also a solid ball-handler in the open court or driving in straight lines, and should be able to become a more prolific shot-creator from the perimeter as he continues to improve his offensive polish.

Defensively is where Towns separates himself as a prospect, and where his one year at Kentucky really helped him improve the most. He has the size and strength to defend centers effectively, but also the length and mobility to contain most 4s, giving him terrific positional versatility that is highly coveted in today's NBA.

Towns has terrific timing as a shot-blocker, with his 4.4 blocks per-40 minutes ranking fifth best among DX Top-100 prospects. He covers ground nicely, being agile enough to hedge screens out to the perimeter and still make it back into the paint in time to make a play at the rim. It's not rare to see him take charges, close out effectively on shooters on the perimeter, or even switch out onto guards in pick and roll situations. He's also an excellent rebounder thanks to his terrific size, length and instincts, grabbing 13 boards per-40 minutes pace adjusted, the third best rate among DX Top-100 prospects.

(Video may not load with Internet Explorer. Use Chrome or Firefox)

Towns is not a finished product on this end of the floor, as he still has plenty of room to continue to improve his technique and consistency like all young players. He was at times a little too aggressive biting on pump-fakes or putting his hands on opponents on the perimeter, and doesn't always play on the balls of his feet due to their sheer size, which can leave him flat-footed and make it difficult for him to slide and contain quicker players at times. His 5.7 fouls per-40 minutes was the third highest rate among DX Top-100 prospects.

He's also not the most explosive player around, needing time and space to gather himself from a standstill to finish plays around the rim. His tremendous length, touch and smarts made this mostly a non-issue at the college level, where he converted an outstanding 66% of his plays around the basket in the half-court, but it's something to pay attention to as he transitions to better competition in the NBA.

Towns wasn't terribly consistent as a freshman, fouling out six times and being somewhat of a non-factor in a handful of other contests. He's still figuring out how to play with the same type of mindset each and every game, as he's been criticized at times for lacking a degree of toughness, particularly in terms of fighting for post-position, finishing through contact and having rebounds taken away from him. Only turning 19 years old early in the college season, that's to be expected to a certain extent, and something he can clearly continue to improve on.

Towns' positional versatility on both ends of the floor makes him something of the prototype for your modern day NBA big man. He can protect the rim and score inside the paint like a center, but is also capable of stepping away from the rim guarding the pick and roll or as a floor-spacer on the perimeter. It's extremely difficult to find players who can do all these different things, which could easily convince a team to use the #1 pick on him should he decide to enter this year's draft.

[Read Full Article]

---
Karl Towns vs Jarell Martin Video Analysis
February 12, 2015
(Video may not load with Internet Explorer. Use Chrome or Firefox)
More Situational Videos from Mike Schmitz
-Jahlil Okafor vs Frank Kaminsky Head to Head Matchup Video Analysis
-Myles Turner vs Kentucky's NBA Frontcourt Video Analysis
-Kristaps Porzingis vs Barcelona Video Analysis
-Ben Simmons vs Ivan Rabb Video Analysis
-Jakob Poeltl vs Cliff Alexander Head to Head Matchup Video Analysis
-Montrezl Harrell vs Kentucky's NBA Frontcourt Video Analysis
-Rashad Vaughn vs Arizona Video Analysis
-Christian Wood vs Arizona Video Analysis
-Jerian Grant vs J.P. Tokoto Video Analysis
-Bobby Portis vs Damian Jones Video Analysis
-D'Angelo Russell vs Louisville Video Analysis
-Delon Wright vs Rondae Hollis-Jefferson Video Analysis
-Stanley Johnson vs Anthony Brown Head to Head Matchup Video Analysis
-Robert Upshaw vs Jakob Poeltl Head to Head Matchup Video Analysis
-D'Angelo Russell vs Indiana Video Analysis
-Justise Winslow vs Justin Anderson Video Analysis
-Mario Hezonja vs Real Madrid Video Analysis
---
Take a look at our video section for a compilation of all the videos we've produced this year.
[Read Full Article]

---
2014 Kentucky Combine Measurements and Analysis
October 11, 2014
Karl Towns was Kentucky's longest player posting a 7'3.25 wingspan at 6'10.25 without shoes and 250-pounds. His measurements are consistent with the numbers he posted at the last two Nike Hoop Summits. His athletic testing, however, were fairly impressive, as his maximum vertical is just an inch lower than the marks posted by Cody Zeller and Joakim Noah when they were coming out of college. Towns has never been known as a high-flyer, and it will be fascinating to see if his impressive testing here is a sign of how his body is progressing in a college strength program.

[Read Full Article]

---
Top NBA Prospects in the SEC, Part 1: Karl Towns Scouting Video
September 18, 2014


Mike Schmitz is the video analyst for DraftExpress. Follow him on twitter and check out the DraftExpress video section. He will be breaking down the NBA draft in digital format all year long for us.

[Read Full Article]

---
2014 Nike Hoop Summit Recap
April 12, 2014
One of the more unique near 7-footers to emerge from the high school ranks in recent memory, Karl Towns had a number of flashes of brilliance this week.

Standing about 7'0 with a 7'3.5 wingspan and a massive 9'5 standing reach, Towns looked a bit more mature than he did a year ago physically, sporting more muscle in his upper body. He's not a freak, but is nonetheless a fairly impressive athlete for a player his height.

Towns came out on game day and was far and away the most impressive player on the floor early on, putting his size and skill to good use scoring inside and challenging a number of shots defensively. Finding himself in foul trouble, Towns played just 17 minutes and wasn't very effective late in the game, which was in many ways a microcosm of what we saw from him throughout the week.

Finishing an impressive dunk, tossing in a number of hook shots, and scoring with deft touch in practice, Towns had some truly impressive moments in Portland, but was also quiet for stretches. His skill level and ability to make shots from the perimeter was clear in drills, but he seemed coast on the outside at times and wasn't always as physical operating inside as he was at others during the competitive portion of practice.

Towns is an impact player on both ends of the floor when he's engaged, and it will be interesting to see just what John Calipari can draw out of the young center. He has truly unique touch and coordination for a player his size, but can be even more imposing when he's assertive in the post. Looking like an obvious one-and-done candidate regardless, it will be interesting to see what kind of balance Towns is able to strike on the offensive end as a freshman in what figures to be a very crowded Kentucky big man rotation.

[Read Full Article]

---
2014 Nike Hoop Summit Video Interview: Karl Towns
April 12, 2014
An interview with Kentucky commit Karl Towns of the World Select Team at the 2014 Nike Hoop Summit.
---
2014 Nike Hoop Summit: USA Practice Day Two
2014 Nike Hoop Summit International Practice Day Four
2014 Nike Hoop Summit USA Practice Day One
2014 Nike Hoop Summit International Practice Day Three
2014 Nike Hoop Summit International Practice Day Two
2014 Nike Hoop Summit International Practice Day One
2014 Nike Hoop Summit International Measurements
2014 Nike Hoop Summit International Roster Breakdown
---
[Read Full Article]

---
2014 Nike Hoop Summit: International Measurements
April 8, 2014
Karl Towns
Weight: 248 lbs.
Height (w/ shoes): 7'0"
Wingspan: 7'3.5"
Standing Reach: 9'5"
Hand Width: 10.75"
Hand Length: 9.6"

[Read Full Article]

---
2014 McDonald's High School All-American Dunk Contest – Karl Towns
April 4, 2014
DraftExpress was once again in Chicago at the McDonald's All-American dunk contest, filming every dunk with our exclusive slow-motion technology, lovingly dubbed DX-Mo. See what Karl Towns had to offer.

2014 McDonald's High School All-American Dunk Contest – Grayson Allen
---
Karl Towns First Dunk
Karl Towns Second Dunk
Karl Towns Third Dunk
Karl Towns Fourth Dunk
[Read Full Article]

---
Nike Hoop Summit Scouting Reports: Big Men
April 26, 2013
Jonathan Givony

The youngest player competing at the Hoop Summit on either roster, not turning 18 until November, not much was expected of high school sophomore Karl Towns, who isn't even considered one of the top-10 prospects in his class according to some recruiting services.



Imagine our surprise when we walked into practice for the first time and saw a legit 7-footer with a NBA caliber frame and a long wingspan draining 3-pointers from beyond the NBA line, handling the ball in transition, making behind the back passes in traffic, and scoring with both hands inside the paint.

Towns is still a baby in many aspects, as you can expect considering his age, but it's difficult not to be impressed by what he could develop into if he continues to work on his frame and skill-level and stays hungry and humble despite the immense amount of attention he is certain to generate. He has excellent hands, soft touch, a terrific feel for the game, and is almost as impressive off the court with the way he carries himself as he is on it.

While Towns' skill-level on the perimeter is extremely unique, he would be wise to not fall in love with his jump-shot as his career progresses and continue to improve his post-game and toughness inside the paint. His footwork is raw and he at times tends to shy away from contact at the rim—something that is not surprising considering his age—but his size, frame, length, tough and ability to operate over either shoulder give him huge potential here.

Defensively, Towns shows nice instincts and has the size, length and timing needed to alter shots around the rim, but his fundamentals are average at best, and he tends to bite excessively on pump-fakes. He's not terribly explosive at this stage of his physical development, and probably won't ever be considered a freakish athlete, so he'll have to keep adding strength and experience to play the center position his size and average lateral quickness likely makes him best suited for long-term, at least on this end of the floor.

Towns obviously gained very valuable experience as a member of the Dominican Republic national team competing in the Olympic Qualifying tournament in Venezuela last summer, even if cynics would point out that his head coach there, John Calipari, used this to his advantage in steering him to an early commitment to Kentucky. He recently reclassified and will skip his junior year of high school (thanks to his 4.3 GPA, according to him) and become a senior this upcoming fall, which will bring him a year closer to college and potentially the NBA draft, whenever he decides to move in that direction. Towns could again spend this summer with the Dominican national team as they try to qualify for a spot in next year's World Championship in Spain through the FIBA Americas Championship in Caracas in late August.

While he won't be eligible for the draft until 2015 at the earliest, NBA teams are already very much aware of him thanks to his strong showing in Portland, and many scouts we spoke to feel he could be a very high draft pick if he continues to develop accordingly. This certainly won't be the last time we'll be writing about his progress.

[Read Full Article]

---
2013 Nike Hoop Summit Practice Drill Videos
April 24, 2013
[Read Full Article]

---
2013 Nike Hoop Summit World Select Team: Practices Three and Four
April 18, 2013
Karl Towns has also made a very strong first impression on NBA scouts here. Standing nearly 7 feet tall with a 7-3 wingspan, Towns has excellent size for a prospect who stated in an interview with us that he sees himself as a player versatile enough to play some 3, 4, or 5. He is not a freak athlete, but has a very promising frame and good mobility for a player his size. What sets him apart from the average high school junior is his high skill level and feel for the game to go along with his physical tools. Capable of shooting the ball from the perimeter, making plays with his size in the lane, and recently working to develop a back to the basket game, Towns has quickly developed deft touch on his hook shot. An excellent student with a 4.3 grade point average, Towns is a young, charismatic talent worth watching closely in the coming years.

[Read Full Article]

---
2013 Hoop Summit World Select Team Measurements
April 16, 2013
Karl Towns
Height w/Shoes: 7'0
Weight: 243
Wingspan: 7'3.5

[Read Full Article]

---