Kawhi Leonard
Recent Tweets
All Tweets
DraftExpress2: RT @SethDavisHoops Question Who is the Kawhi Leonard of this year's draft? Answer Whomever the Spurs pick.
2014-06-25 15:01:31
DraftExpress2: Question Who is the Kawhi Leonard of this year's draft? Answer Whomever the Spurs pick.
2014-06-25 14:55:20
DraftExpress: What kind of player was Kawhi Leonard coming out of college? How did he develop into the MVP of the 2014 NBA Finals? http://t.co/wPZfQxWR7D
2014-06-17 13:59:32
DraftExpress2: RT @Mike_Schmitz How Kawhi Leonard went from 15th pick in the 2011 draft to the 2014 NBA Finals MVP http://t.co/iLHTM4y1Ay
2014-06-17 13:01:28
DraftExpress: RT @Mike_Schmitz How Kawhi Leonard went from 15th pick in the 2011 draft to the 2014 NBA Finals MVP http://t.co/iLHTM4y1Ay
2014-06-17 12:25:08
Top 25s - Full List
Team: Spurs College Team: Spurs
Physicals
Positions
Rankings
Salary
Misc
H: 6' 7"
W: 227 lbs
Bday: 06/29/1991
(24 Years Old)

Current: SF
NBA: SF
Possible: SF

RSCI: 54

Agent: Mitch Frankel
Current Salary:$2,894,059

High School: King
Hometown: Riverside, CA
Drafted: Pick 15 in 2011 by Pacers
Best Case: Shawn Marion
Worst Case: Luc Richard Mbah A Moute

Predraft Measurements
| Year | Source | Height w/o Shoes | Height w/shoes | Weight | Wingspan | Standing Reach | Body Fat | No Step Vert | Max Vert |
| --- | --- | --- | --- | --- | --- | --- | --- | --- | --- |
| 2011 | NBA Draft Combine | 6' 6" | 6' 7" | 227 | 7' 3" | 8' 10" | 5.4 | 25.5 | 32.0 |



Basic Per Game Statistics

- Comprehensive Stats - Statistical Top 25s
| Year | League | Name | GP | Min | Pts | FG | FGA | FG% | 2Pt | 2PtA | 2P% | 3Pt | 3PtA | 3P% | FTM | FTA | FT% | Off | Def | TOT | Asts | Stls | Blks | TOs | PFs |
| --- | --- | --- | --- | --- | --- | --- | --- | --- | --- | --- | --- | --- | --- | --- | --- | --- | --- | --- | --- | --- | --- | --- | --- | --- | --- |
| 2015/16 | NBA | Kawhi Leonard | 16 | 34.4 | 22.0 | 8.7 | 16.6 | 52.3 | 6.7 | 12.6 | 53.2 | 2.0 | 4.1 | 49.2 | 2.6 | 3.0 | 87.5 | 1.3 | 6.4 | 7.8 | 2.4 | 1.9 | 1.4 | 1.4 | 2.0 |

Player Page&nbsp&nbsp| Player Stats | Mock Draft History | Related Articles&nbsp&nbsp| Add to My Draft Express&nbsp
&nbsp
The Evolution of Kawhi Leonard- from San Diego State to San Antonio
June 17, 2014
Studying the evolution of Kawhi Leonard's game, from San Diego State to the San Antonio Spurs. What kind of player was he coming out of college, and what areas of his game did he improve the most in to help him develop into the MVP of the 2014 NBA Finals?



[Read Full Article]

---
Media Day Interviews: Irving, Knight, Valanciunas, Leonard, Burks
June 23, 2011
[Read Full Article]

---
Situational Statistics: the 2011 Wing Crop
June 22, 2011
The top ranked wing on our Big Board, Kawhi Leonard's stock is based primarily on his physical attributes, defensive abilities, and upside, so it's not a huge surprise that he doesn't fare very well from a purely statistical standpoint. His profile strongly indicates that he's destined to play a complimentary role in the NBA, at least in his first few seasons.

Leonard's 0.889 points per possession overall ranks third worst of the 17 wings we evaluated, and his adjusted field goal percentage of 46.3% ranks dead last, a strong illustration of his scoring woes. On the positive side, Leonard's overall turnover percentage of 11.8% ranks third best in the class, and he could actually even stand to improve at the next level when he's projected to have even less shot creation responsibility initially.

Another interesting note looking at Leonard's possessions is that only 13% of his possessions came in transition, which ranks him 13th overall in the group. Leonard played on one of the slowest-paced teams in college basketball, likely due to his team's mediocre guard play. For a player with his physical tools, this is less than ideal, and he could certainly see a spike in that regard at the next level, which should help his overall efficiency.

In the half-court, Leonard ranks seventh of all wings in the percentage of his possessions coming from isolations, at 15%. His .721 PPP on these possessions ranks 15th, indicating that he struggled to create shots effectively for himself last season. He was unable to get to the free throw line consistently (11.3%, 12th) for many of these same reasons, and did not finish around the basket at a high rate, where his 1.069 PPS ranked 13th.

If Leonard ever does develop into a more reliable isolation threat, improving his left hand should be among his top priorities, as despite seeing a near equal breakdown of drives in both directions (37 possessions going right, 35 going left), Leonard's efficiency going right (0.865 PPP) more than doubled his efficiency going left (0.429 PPP).

Leonard is not only an average ball-handler, but he also struggles to make shots consistently from beyond the arc. His 0.743 points per shots on jumpers ranks 16th of 17 in the class, where he shot an abysmal 31% from the field. His struggles extend both to his catch and shoot jumpers (32%) and pull-ups (28%).

While these numbers point out some glaring weaknesses, it's important to remember the different role Leonard is projected to play in the pros, and how most of the strengths in his scouting report (such as defense and rebounding) come in areas largely unquantifiable by statistics of this nature (at least reliably).

[Read Full Article]

---
Analyzing the NBA Combine Athletic Testing Results
May 27, 2011
Kawhi Leonard didn't stand out in any particular measurement, mustering a 32.5 inch vertical leap and 3 reps on the bench. His numbers were pretty average across the board, which seems to be the trend amongst the top players in this class of prospects. As Chad Ford wisely speculated on twitter earlier today, this could very well have to do with the fact that the top prospects did not have the benefit of going through an extensive warm-up prior.

[Read Full Article]

---
NBA Combine Interviews: Kawhi Leonard, Hamilton, Thompson, Lee
May 21, 2011
[Read Full Article]

---
Analyzing the 2011 NBA Combine Measurements
May 21, 2011
With a wingspan some 9 inches longer than he is tall at 6-6, Leonard has one of the most unique physical profiles in this class. His hands, as expected, are absolutely gigantic, ranking him amongst 7'0 foot centers in terms of hand width and length. His 7-3 wingspan is amongst the largest ever for a player 6-6 or under. Leonard's 227-pound frame actually weights in heavier than many of the power forwards in this class, which only adds to sentiments that he'll be able to guard the power forward position for stretches at the next level.

[Read Full Article]

---
West Coast Workout Swing Part One: Joe Abunassar's Impact Basketball
May 15, 2011




One of the most highly touted prospects here training at Joe Abunassar's Impact Basketball, Kawhi Leonard was amongst the most impressive players we had the opportunity to see on a number of levels. Working on his shooting mechanics, ball handling, and overall perimeter skills, Leonard also impressed with his physical tools and stoic demeanor.

Leonard's workouts are geared towards his development as a full-time wing player. He sees himself as a long-term shooting guard/small forward with the ability to defend multiple positions, and seems to have a very good understanding of what he needs to work on. Since the day he arrived in Las Vegas, Leonard has been looking to add polish to his perimeter arsenal, especially his jump shot. We saw some promising strides in his skill level as we watched him go through extensive shoot-arounds, participate in two skill development sessions under the tutelage of Chauncey Billups, and play a few games of three-on-three.

One of the more positive signs we saw from Leonard came in the simple shooting sessions he went through on both days we watched him. Spotting up and knocking down shots from the midrange and beyond the NBA 3-point line, Leonard's shooting mechanics look significantly more consistent than they did during his days at San Diego State. His release point looked the same on almost every shot he attempted, and his footwork appeared to get better as he got more shots up.

In the skill development sessions, we got to see Leonard, along with Alec Burks and Malcolm Lee, work on a number of different spin dribble, step-back, and aggressive scoring moves. With Chauncey Billups taking time to teach each player the nuances of each of the things they were working on, Leonard looked exceptionally crisp putting the ball on the floor. Unlike Lee and Burks, Leonard has quite a bit of power to his gameósomething that should ease the transition he needs to make from the NCAA to the NBA.

Leonard was able to showcase that more easily than his jump shot in three-on-three competition. The rules of the game limited each team to one shot and out, meaning there were no second chance opportunities from offensive rebounds. Under those restrictions, each team was trying to get high-percentage shots on every possession.

Over the course of the games we watched, Leonard looked comfortable handling the ball in traffic and finding teammates moving without the ball. With his biggest strength, rebounding, removed from the equation here, he still made his presence felt on offense with a few midrange shots and finishes around the bucket, but did most of his damage defensively. As you'll see in our workout video, he was extremely aggressive when defending the perimeter and made some impressive plays rotating back to his man on the pick and roll. Leonard did nothing to dispel sentiments that he's one of the top defenders in this class.

Amongst all the prospects we saw here, Leonard may be the biggest beneficiary of Impact's on-court training. He's a ridiculous physical specimen with no body fat, long arms, and giant hands, but has room to improve skill-wise. He's been able to take advantage of his time here to the fullest since he loves being in the gym. With his defensive ability and workman-like interior game, Leonard's ability to showcase what he's been working on at Impact at the combine and in private workouts is worth keeping an eye on as he looks to climb up draft boards.

[Read Full Article]

---
Finding a Niche For: Kawhi Leonard
May 4, 2011
Video and Scouting breakdowns by Matt Kamalsky

Flying largely under the radar as a freshman--as one of the youngest members of his class--Kawhi Leonard generated some buzz late last season as an athletic combo forward with a nose for the ball and a relentless work ethic. Returning to San Diego State for his sophomore season next to the Aztecs' talented senior class, the Riverside native did not light the world on fire statistically, but he did the little things to help his team win, lifted them to the best finish in program history, and showed progress in some areas.

It was Leonard's intense, consistent effort level down the stretch that generated the wave of praise that has propelled him towards the middle part of the first-round on draft boards and elicited his decision to declare for the 2011 NBA draft and hire an agent. Despite his current standing, the same questions scouts had about Leonard when he burst onto the national scene as a freshman have remained largely unchanged.


---
Kawhi Leonard (#15) Strengths/Weaknesses Video
Watch in full screen mode by clicking button in upper right hand corner of video
---



More DraftExpress Video Breakdowns:


-Terrence Jones
-Alec Burks
-Derrick Williams
-Jimmer Fredette
-Kenneth Faried
-Harrison Barnes
-Marcus Morris
-Perry Jones

---


Able to do so many different things for Head Coach Steve Fisher at San Diego State, Leonard blurred positional boundaries every time he stepped on the floor, leaving NBA decision-makers wondering what spot he is best suited to fill at the next level. His defensive versatility was obvious, but his offensive inefficiency and lack of a signature skill on that end of the floor made the answer to that question even less clear.

The intrigue surrounding Leonard stems from the synergy between his unique physical profile and the terrific effort he gives on every possession. Listed at 6'7 and sporting a lean frame that he could stand to add weight to at the next level, Leonard does not look a power forward, but his exceptional wingspan (rumored to be around 7-2) and giant hands certainly allow him to rebound like one. If nothing else, Leonard's rebounding is a clear-cut NBA caliber tool.

Often compared to former MWC standout Shawn Marion, Leonard shares Marion's quick second bounce and ability to do a bit of everything. Though Leonard is often purported as a great athlete, he is far more smooth than explosive. He's not the type of player that can blow by a defender at will for an easy layup without first setting him up with a series of jabs, or someone who will finish at the basket because he can simply out-jump the players around him.

The trait that makes Leonard seem like such a physical specimen is how well his tremendous length and fluidity complement his current skillset. He is exceptionally good at pursuing the ball on both ends of the floor, keeping his feet moving on defense, filling lanes in transition, and, generally speaking, involving himself on both ends of the floor in almost every way imaginable.

What makes Leonard an enigmatic prospect is his lack of a go-to offensive skill, despite the many different ways he was involved in San Diego State's game plan. According to Synergy Sports Technology, no single offensive situation accounted for more than 17% of his touches, with Spot-Ups, Isolations, Put Backs, Fast Breaks, Cuts, and Pick and Roll situations each accounting for anywhere between 8-18% of his total possessions. Leonard ranks right around the 45th percentile amongst all NCAA players in each of those metrics in terms of Points Per-Possession.

His lack of tremendous situational efficiency stems from the fact that there are a number of holes in his game that he'll need to work on, especially out on the perimeter. Leonard's most notable weakness is his lack of jump shooting ability. Connecting on just 32% of his catch and shoot jumpers and 28% of his pull-ups last season, the sophomore struggled with his consistency from range. As with all players noted for their hand size, there are questions about Leonard's ability to develop a reliable jump shot. While there is some merit to that stereotype, if will be necessary for Leonard to continue honing that part of his game to the greatest extent possible.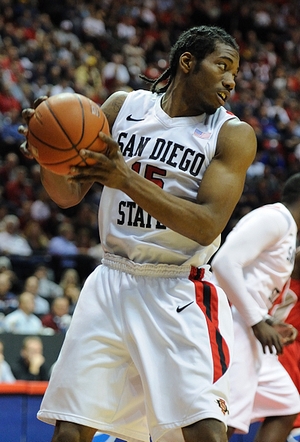 Icon SMI



In addition to his limitations out on the perimeter, Leonard finishes at just an average 53% rate around the rim, which is somewhat surprising considering his quick leaping ability, length and aggressiveness. What limited Leonard at the basket was his somewhat questionable decision-making off the dribble and the fact that his team looked to him to create his own looks late in the shot clock. His rangy strides and solid ball-handling skills made it exceedingly easy for him to create decent looks from 7-12 feet virtually any time he wanted to. Though he knocked down some key midrange shots for San Diego State late in the year, those were not high percentage looks.

Leonard will need to continue to hone his shot-creating and finishing ability to become a far more efficient player than he was in college, as he ranks amongst the worst prospects in the draft in the True Shooting Percentage and Effective Field Goal Percentage categories.

Though Leonard does not excel in one area quantitatively, he has a number of tools that could become very significant should he connect the dots and fill out his game. In addition to his obvious energy and rebounding, Leonard has good court vision and the ability to use his dribble to make plays for others, something he showed regularly on the pick and roll this season. He's also quite capable of scoring with his back to the basket down low. Using the same fakes to get open that he does off the dribble from the mid-post, he can exploit mismatches in the post, a useful ability for a player who doesn't have a defined position.

On the defensive end, Leonard has some truly impressive tools. He does an exceptionally good job fighting over screens, and his length often allows him to make plays in the passing lanes and contest shots. He'll be able to switch on the pick and roll at the NBA level and defend both wing positions effectively and even slide over to matchup with some power forwards and guards depending on the situation. Though he doesn't have truly elite lateral quickness, you can see in our scouting video how well he moves his feet when defending one-on-one.

At this juncture, Leonard's lack of defined, efficient offensive tools makes it difficult to indisputably pigeon-hole him in a given niche. There are, however, a few different roles he could play immediately. Similarly to Terrence Jones, Leonard would excel in a hustle-based role for a half-court oriented team with the ball-movement to capitalize on his energy level, a stretch-four to give him position versatility, and the shooters and interior scorers to take advantage of his passing ability.

The ideal setting for Leonard as a rookie would likely be one next to a slew of shooters who can push tempo and score one-on-one. Though he may not have the tools to be an high-level option from day one on the NBA-level, his ability to get up the floor, crash the glass, and do a little bit of everything would fit well on a team with a defined offensive hierarchy in their backcourt. He has the tools to excel in a fast break oriented system that would allow him to get out and run, something he didn't get a chance to do all that regularly in the NCAA on a San Diego State team that ranked 301 of 345 in terms of the tempo they played at.

In terms of his fit defensively, Leonard is essentially a plug and play option. His length, versatility and intensity are ideal, and with additional strength and experience he could be a terrific team defender. The team drafting Leonard would optimally let him defend comparable sized and athletic forwards, since matching him up against stretch fours and pure shooters would take away from his ferocious rebounding.

Insofar as Leonard lacks a high-usage role to play immediately at the next level, he can make an impact with his hustle, length, and rebounding, but until his offensive efficiency pieces itself together, he's going to be a lower usage player offensively. That means he won't be spending near as much time with the ball in his hands isolating or spotting-up out on the perimeter like he did at San Diego State, which plays away from his weaknesses. With that in mind, the opportunity to develop his game, see consistent minutes, and receive regular attention from a team's coaching staff are as significant a part of the niche he fits in as what his role will be as a rookie.

Despite his raw offensive game, Leonard has an excellent foundation to build on. His few bad habits are correctable and his extreme youth (he won't turn 20 until late June) and work ethic should allow him to develop his skill set and provide direction to his value in the NBA while his rebounding and hustle help him see the floor early on in some capacity. Whatever team drafts him will need to manage their expectations of what he can offer early on offensively, but Leonard's gym-rat nature and late-blooming status could accelerate his development if he lands in the right environment.

[Read Full Article]

---
NCAA Weekly Performers, 3/18/10
March 18, 2010
Matthew Kamalsky

After a slow start, Kawhi Leonard has emerged as a legitimate draft prospect as of lateĖan impressive accomplishment for an 18-year old who came to San Diego without a defined position. Garnering the MWCís Freshman of the Year Award before earning MVP honors as the Aztecs won the MWC tournament, Leonard has caught the attention of the national media and NBA decision-makers alike with his inspired play late in the year.

A consensus top-60 recruit according to RSCI, Leonard is a unique talent benefitting from a situation that has given him the opportunity to expand his game, maximize his current skill set, and play a key role on a team bound for a NCAA tournament matchup with Tennessee this Thursday. Reaping the benefits of opting for a mid-major over a perennial powerhouse, Leonard has been one of the most productive freshmen in the country.

A great deal of Leonardís success, and much of the attention heís receiving from the next level, can be attributed to his impressive physical profile and high energy level. Standing 6í7 with a huge wingspan and adequate physical strength for a wing, Leonard is not the most fluid player around, but thereís an effortlessness with which he moves in the open floor that is impressive to say the least.

Showing impressive leaping ability when he can gather himself or has a head of steam in transition, Leonard will need to continue to develop his polish and overall strength to add a degree of explosiveness to his offensive repertoire.

Assertive and extremely active in half-court sets, Leonardís athleticism manifests itself most frequently on dribble drives to the mid-post and cuts to the basket. The California native likes to attack defenders off the dribble, using his solid first step and long strides to create short-range scoring opportunities.

He also shows a knack for being in the right place at the right time on his cuts, showing a good understanding of when to go backdoor and how to create angles for his teammates to hit him for easy looks. Though Leonard converts from the paint at a very respectable rate thanks to his ability to get his shot off over defenders, heís capable of being more effective.

Often opting for difficult floaters from the mid-post instead of creating contact and getting to the line, Leonard is able to get by on his explosiveness and length on the college level. His lack of advanced ball handling ability makes it difficult for him to create clean looks for himself at the rim, despite his aptitude for protecting the ball, lowering his shoulder, and positioning himself effectively for his runner.

More than capable of getting creative to finish and able to hit contested, off-balance jumpers, Leonard needs to improve his ball-handling skills and hone his ability to stop-and-pop off of one or more dribbles, as his current repertoire wonít be as efficient against NBA caliber help defenders.

Although Leonardís habit of attempting difficult shots around the rim may be problematic at times, he compensates for it by regularly rebounding his own missed shots. Ranking amongst the top-20 pace adjusted offensive rebounders in our database, his length and ability to create shots within eight feet of the rim allow him to use his impressive second bounce to clean up his own misses.

Though much of his offense comes in or around the key, Leonard will also step out to the perimeter for some spot up opportunities, flashing his biggest weakness in the process. Able to make an impact with his pull-up jumper by virtue of his ability to get deep into the lane and elevate, Leonardís mechanics are exposed when he opts to catch and shoot.

Showing a very slow, methodical release that lacks elevation, Leonard connects on roughly 25% of his catch and shoot opportunities according to Synergy Sports Technology. On film, it is clear that he struggles when he does have ample time and space, as his sub-20% three point percentage indicates.

Overall, Leonardís offensive game remains a big work in progress. Leading his team in scoring, his natural ability to get inside with his dribble is intriguing, but heíll need to make some adjustments to be as effective on the next level.

One of those adjustments will be developing his jumper, as his lack of perimeter polish and impact make him look much more like an undersized four at the moment than a legit small forward prospect. Wherever Leonard is next season, it will be important for him to take the time to become a reliable outside threat, as that will compliment the other things he already does well.

On the defensive end, Leonard uses his length and athleticism to actively pursue the ball off the rim. Prone to leaving his man to chase both rebounds and blocked shots, Leonard could stand to improve his fundamentals, though his current mentality will definitely serve him well in the long-run.

His length allows him to contest shots from the perimeter effectively, but he doesnít do a great job leaving a cushion to deny dribble penetration and is prone to over-committing when defending off the ball, showing a lack of focus at times in the process. Leonard has some brilliant defensive possessions, but needs the right coach to correct his mistakes and motivate him to reach his potential as a stopper.

Looking at his body of work this season, Leonard is one of the most interesting players in the freshman class. Heíll test out as a great athlete and physical specimen whenever he declares, but his athleticism didnít translate as completely this season as it could down the road.

With some good offensive and defensive habits, Leonard is stuck between positions in terms of the tools he currently possesses, but is the type of project that could pay off for a team able to dedicate significant time and resources to his development. Regardless, Leonard is a developing player who is worth keeping tabs on as he continues to grow.

[Read Full Article]

---