Trending Prospects (12/23/2010)
December 23, 2010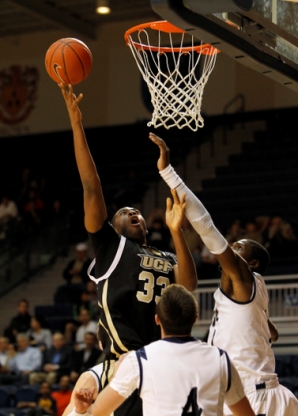 Icon SMI
Walker Beeken
Sophomore forward
Keith Clanton
has led the UCF Knights to a surprising 10-0 record, with wins against Florida, South Florida, and Miami, while establishing himself as one of the best players in college basketball that most people have likely never heard much about. A player we liked a great deal
when we saw him in high school
, despite not being on the recruiting radar at all at that stage, the versatile power forward had a solid freshman season for the Knights in 2009-2010, but he obviously made some major improvements to his game in the offseason, as his numbers have risen in nearly every statistical category as a sophomore.
Standing at 6'8Ē with a nice frame for a player his age, Clanton is matchup nightmare at the college level as a power forward because of his versatility and high skill. His athleticism is only about average by NBA standards as he isn't the most explosive player, but he is a very fluid athlete, and he moves well for a guy his size.
Through ten games this season, Clanton's been one of the more efficient players in the country, highlighted by an excellent 32.58 PER. The biggest difference from his freshman to sophomore season appears to be how well he is shooting the basketball. He's increased his true shooting percentage from 52% up to an outstanding 67% this season, as he's converting more of his attempts in the basket area, and also has added the 3-point shot to his offensive arsenal, which he's knocking down at 59% so far on 1.7 attempts per game. He shoots a set-shot and has a bit of a slow release, but his form is solid, and his improvement over the past year is very encouraging, making it a legit possibility that he'll eventually be a player who can consistently knock down shots with his feet set from NBA 3-point range.
Clanton plays primarily as a face-up power forward for UCF, as he's very comfortable catching the ball on the perimeter and taking advantage of mismatches against some of the slower players who he often finds defending him. Coach Donnie Jones likes to use Clanton as the screener on high ball screens, where he's able to pop back out and catch the ball behind the 3-point line. He's shown that he's capable of putting the ball on the floor and pulling up off the dribble or taking the ball all the way to the basket, and he operates with a smoothness to his game for a player his size. His biggest weakness right now in his dribble game is his lack of passing instincts, which often leads to poor decision-making and turnovers.
About 20 % of Clanton's possessions in the half-court have come in the post, and he's shown a wide variety of moves for a sophomore, and has scored extremely efficiently through the his first ten games this season, at 1.3 points per possession. And while he still has a ways to go in developing in left hand to become a more well-rounded weapon on post up opportunities, he has displayed a nice feel and skill level with his back to the basket, utilizing ball fakes and good footwork, and showing some counter moves to go along with his jump hook and fall-away jump shot.
Defensively, Clanton still has quite a bit of work to do. He often stands too upright in his defensive stance, which limits his lateral quickness and makes him vulnerable against dribble penetration. On the interior, Clanton sometimes lacks the understanding of positioning, but he does block shots and rebound very well at the college level. Going forward, it will be interesting to see how he adjusts to guarding the perimeter. His game on the offensive end could develop to where he could see some time playing small forward, but he'll have to prove that he's not a liability defensively guarding that position.
Overall, Clanton's early season success should at least garner some buzz amongst NBA scouts and get some more eyes on him as UCF goes through conference play. His numbers so far are likely a bit inflated at this stage, but he possesses an intriguing skill set as a versatile, face-up four man who can affect the game in a number of ways. It's still a bit premature to jump to too many conclusions about his pro potential only ten games through his sophomore season, especially because he's been so under the radar virtually his entire career. However, he is certainly a player to keep an eye on going forward, and if his impressive play continues throughout this season, he's a player we'll likely be talking much more about in the future.
[
Read Full Article
]
Top Prospects at the Amare Stoudemire Invitational Classic (Part II)
January 7, 2008
A completely unheralded junior coming into this tournament Keith Clanton (non-top 150 player on either Scout or Rivals) did an excellent job proving his worth in the two games we saw him in, looking far more impressive than most of the other top-100 big men in attendance here.

Clanton is a 6-8 power forward with an excellent body and wingspan, with magnets for hands and an impressive skill-set facing the basket. He can put the ball on the floor extremely well for a player his size, creating his own shot with either hand, and spinning into the lane impressively with superb body control. Most college power forwards couldnít execute most of the moves he was making here, even if Clanton overdid it at times with his ball-handling, leading to a number of turnovers. He also stepped away from the hoop and knocked down a couple of smooth 3-pointers, and then proceeded to go into the post and score with a jump-hook shot. He has terrific touch around the basket, even if he spends too much time hanging out on the perimeter at this point trying to prove his small forward skills. Considering his body and somewhat average explosiveness, heís clearly a power forward at the collegiate level, but he could be an extremely dangerous one if he truly committed to playing to his strengths.

Defensively, Clanton was not very effective, showing poor awareness and gambling excessively for steals. Heís a bit on the soft side in addition to being just an average athlete, although he did show very nice timing coming up with a couple of on-ball blocks. When he did play hard, he was very productive hitting the glass as well, not a surprise considering the quality of his hands, although like a lot of players his age (just a junior keep in mind), his good moments seemed to come in spurts.

Considering what we witnessed, itís our guess that itís only a matter of time before Clantonís name shows up on the national radar screen, unless what we saw in Orlando was just a complete aberration to how he normally plays. After all, itís not every day you see a big man with such an advanced skill set.
[
Read Full Article
]