Kelly Oubre
Recent Tweets
All Tweets
DraftExpress: Kelly Oubre is far from a polished player at this point but is incredibly talented. Size length scoring instincts are off the charts.
2014-07-12 14:57:36
DraftExpress: Strong showings today from Kelly Oubre & Sam Dekker. Look like the two best wing prospects here. Jarell Martin and Vincent Hunter also solid
2014-07-12 14:55:43
DraftExpress2: Kelly Oubre is going to be good for a few highlights at Kansas next year. Kawhi Leonard like wingspan. Loves to try and dunk on guys.
2014-04-12 19:30:46
DraftExpress: 2014 High School Class Scouting Reports the Wings http://t.co/yvnohyHbPP Stanley Johnson Rashad Vaughn Daniel Hamilton Kelly Oubre & more
2013-09-05 15:13:29
DraftExpress: Kelly Oubre (@K_Ctmd22) Video Highlights and Interview http://t.co/4EEgAKM5Jp
2013-09-03 12:11:54
Predraft Measurements
| Year | Source | Height w/o Shoes | Height w/shoes | Weight | Wingspan | Standing Reach | Body Fat | No Step Vert | Max Vert |
| --- | --- | --- | --- | --- | --- | --- | --- | --- | --- |
| 2015 | NBA Draft Combine | 6' 5.75" | 6' 6.75" | 203 | 7' 2.25" | 8' 6.5" | 5.7 | 34.5 | 37.0 |
| 2014 | Nike Skills Academy | NA | 6' 7" | 199 | 7' 1.5" | NA | NA | NA | NA |
| 2014 | Hoop Summit | NA | 6' 6.5" | 204 | 7' 2" | 8' 8" | NA | NA | NA |
| 2013 | USA Basketball | NA | 6' 7" | 197 | 7' 1" | 8' 7" | NA | NA | NA |
| 2013 | LeBron James Camp | NA | 6' 7" | 190 | 7' 1" | NA | NA | NA | NA |
| 2013 | Kevin Durant Camp | NA | 6' 7" | 190 | 7' 1" | NA | NA | NA | NA |



Basic Per Game Statistics

- Comprehensive Stats - Statistical Top 25s
| Year | League | Name | GP | Min | Pts | FG | FGA | FG% | 2Pt | 2PtA | 2P% | 3Pt | 3PtA | 3P% | FTM | FTA | FT% | Off | Def | TOT | Asts | Stls | Blks | TOs | PFs |
| --- | --- | --- | --- | --- | --- | --- | --- | --- | --- | --- | --- | --- | --- | --- | --- | --- | --- | --- | --- | --- | --- | --- | --- | --- | --- |
| 2014/15 | NCAA | Kelly Oubre | 36 | 21.0 | 9.3 | 3.1 | 6.9 | 44.4 | 2.1 | 4.3 | 49.7 | 0.9 | 2.6 | 35.8 | 2.2 | 3.1 | 71.8 | 1.1 | 3.8 | 5.0 | 0.8 | 1.1 | 0.4 | 1.2 | 2.0 |

Player Page&nbsp&nbsp| Player Stats | Mock Draft History | Related Articles&nbsp&nbsp| Add to My Draft Express&nbsp
&nbsp
Kelly Oubre Interview
May 10, 2015
Discussing a variety of topics with Kelly Oubre in Santa Barbara, including what he's working on on and off the court, his time at Kansas, and how he's looking forward toward the pre-draft process.

(Video may not load with Internet Explorer. Use Chrome or Firefox)
---
More Pre-Draft Interviews/Workout Videos
-Stanley Johnson Interview
-Frank Kaminsky Interview
-Chris Walker Interview
-Chris Walker Workout Video
-Cameron Payne Workout Video
-Cameron Payne Interview
[Read Full Article]

---
Kelly Oubre NBA Draft Scouting Report and Video Breakdown
March 26, 2015
Scouting Report by Jonathan Givony. Video Analysis by Mike Schmitz

Kelly Oubre came into this season with high expectations, a top-10 recruit having to replace #1 overall draft pick Andrew Wiggins at small forward for Kansas. He got off to a fairly rocky start, playing only 8 minutes per game in his first seven contests, becoming somewhat of a whipping boy for Bill Self due to his uneven efforts defensively and struggles finding himself in the Jayhawks' half-court offense early on.

Oubre found his way back into Kansas' rotation as the year moved on, starting every game from mid-December to the end of the season. He had some very impressive outings in the Big 12 against the likes of TCU, Baylor, Texas and Oklahoma, but the season ended in disappointment for all parties with a double-digit loss in the NCAA Tournament's Round of 32 to in-state rivals Wichita State. Up and down throughout the season, Oubre showed flashes of his talent, but didn't have a great season overall, playing only 21 minutes per game on average.

(Video may not load with Internet Explorer. Use Chrome or Firefox)

The intrigue around Oubre starts with his prototypical tools for a NBA wing player, standing 6-7 in shoes, an ideal basketball frame, and a wingspan measured between 7-1 and 7-2. Although not a freakish athlete, he is nevertheless an extremely smooth and fluid player.

The place where he'll be able to put those tools to use most prominently early in his NBA career should be on the defensive end, where he is far from a finished product, but shows terrific potential as a wing stopper. Oubre moves his feet exceptionally well for his size and has the length to contain pretty much any type of backcourt player. He can put terrific pressure on the ball and has excellent instincts for getting in the passing lanes (2.2 steals per-40). He also rebounds well for his position (7.6 D-Reb per-40) and comes up with an occasional block at times as well.

Once his frame fills out (he has plenty of room to add another 10-15 pounds, if not more) and he figures out how to play with the same type of intensity level on every possession, he has a chance to be an absolute handful on this end of the floor, as long as he puts his mind to it.

Offensively, Oubre's most NBA-ready attribute is likely his jump-shot, as he has soft touch, natural scoring instincts, a nice follow through, and smooth mechanics when in rhythm. He was a little bit streaky at times (36% 3P%) as a freshman, partially due to shot-selection issues, but he has a nice foundation in place to make this part of his game a dangerous weapon with repetition. Oubre has a tendency to change up his release point at times when rushed, sometimes shooting the ball on the way down, off the side of his hand, or with very little arc, but he's improved steadily on this part of his game over the past few years and should continue to do so in time with proper instruction.


US Presswire



As a shot-creator, Oubre is very much a work in progress still. His ball-handling skills are rudimentary, almost entirely confined to his stronger (left) hand, and with a fairly high dribble that slows him down off the bounce and neutralizes his excellent natural tools to a certain extent.

He doesn't get to the rim in the half-court all that prolifically for that reason, and is just an average finisher when he does, making 53% of his shots around the basket, a fairly average rate for a player with his physical tools. Part of that is due to his still-developing frame, some of that is because of his extreme reluctance to finish with his right hand, and part is because he simply isn't the type of monster leaper vertically to overcome those challenges at this stage of his career against a rotating defense waiting for him in the paint.

Oubre doesn't compensate for that with a tremendous feel for creating offense for his teammates, as his 8% assist percentage ranks last among wing players in our Top-100 prospect rankings. He is a reluctant passer at times, but also doesn't have a great understanding of time, score, and situations at this stage, which hopefully will improve as his career moves on. While defensively he should be able to defend both wing positions in the NBA, offensively he is more of a small forward right now due to his average shot-creation ability for himself and others.

Oubre wasn't ready to be a go-to guy for Kansas as a freshman, and shouldn't be expected to be anything close to that as a NBA rookie. While he is extremely gifted physically and is blessed with a great deal of natural talent, he'll need to get much more consistent with his approach to the game, and improve his overall awareness and polish on both ends of the floor to reach his very high potential down the road.

[Read Full Article]

---
Top NBA Prospects in the Big 12, Part 1: Kelly Oubre Scouting Video
September 9, 2014



Mike Schmitz is the video analyst for DraftExpress. Follow him on twitter and check out the DraftExpress Video section. He will be breaking down the NBA draft in digital format all year long for us.

[Read Full Article]

---
2014 Nike Hoop Summit Video Interview: Kelly Oubre
April 13, 2014
[Read Full Article]

---
2014 Nike Hoop Summit: USA Measurements
April 12, 2014
Kelly Oubre
Weight: 204 lbs.
Height (w/shoes): 6'6.5"
Wingspan: 7'2"
Standing Reach: 8'8"

[Read Full Article]

---
2014 McDonald's High School All-American Dunk Contest – Kelly Oubre
April 6, 2014
DraftExpress was once again in Chicago at the McDonald's All-American dunk contest, filming every dunk with our exclusive slow-motion technology, lovingly dubbed DX-Mo. See what Kelly Oubre had to offer.

2014 McDonald's High School All-American Dunk Contest – Grayson Allen
2014 McDonald's High School All-American Dunk Contest – Karl Towns
---
Kelly Oubre First Dunk
Kelly Oubre Second Dunk
Kelly Oubre Third Dunk
[Read Full Article]

---
High School Class of 2014 Scouting Reports, Part Three- the Wings
September 5, 2013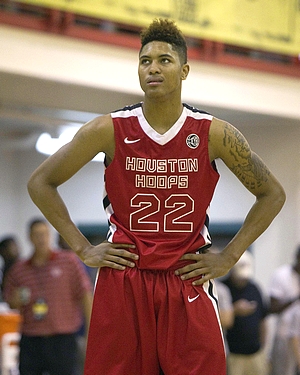 US Presswire



Jonathan Givony

Recruiting Rankings: 247: #4, ESPN: #20, Scout: #28, Rivals: #19

Strengths:
-Good size for a wing at 6-7 to go along with a very strong frame
-Very good athlete. Powerful. Quick off feet. Can play above the rim
-Effective scorer inside the arc. Can attack the basket and create high percentage opportunities. Finishes well around the basket
-Gets to the free throw line frequently
-Very good in transition
-Nice scoring instincts. Can make outside shots even if he isn't consistent yet
-Solid passer
-Solid rebounder
-Has the potential to be a good defender if he wants to thanks to his size, length, strength and athleticism

Weaknesses:
-Awkward lefty stroke. Flings the ball at the basket, doesn't get much arc
-Not a consistent shooter. Made just 31% of his 3-point attempts at the Nike EYBL on over five attempts per game
-Shot-selection can be poor. Doesn't know his limitation. Forces the issue regularly
-Needs to improve his off hand. Only wants to drive and finish with left
-Average defender at best. Rarely gets in a stance. Fundamentals are poor

Outlook: Physically imposing small forward with very good scoring instincts. Has seen his stock rise dramatically over the past year. Needs to improve his outside shot to take his game to the next level.

[Read Full Article]

---
Kelly Oubre Video Highlights and Interview
September 3, 2013
Kelly Oubre out of Findlay Prep talking about what he's trying to prove on the court, how he's trying to improve his game, what it's like getting noticed, where he might go to college, how he fits in there, what that would mean to him, and how that fits in with his NBA plans. From the 2013 Under Armour Elite 24.



Filmed and edited by: Farhod Family

Twitter: twitter.com/farhaaaad

Website: http://farhod.com

[Read Full Article]

---