Kennedy Meeks
Recent Tweets
All Tweets
DraftExpress: RT @jamesplowright @DraftExpress I have never seen Kennedy Meeks play and he's already my favourite player in college ball next year #K ...
2013-04-05 10:38:10
DraftExpress: @DraftExpress I have never seen Kennedy Meeks play and he's already my favourite player in college ball next year #Kentuck39-1 #5thOT127-125
2013-04-05 10:16:53
DraftExpress: Also McDonald's All-American Duke-UNC Smackdown Part 7 w\/ Jabari Parker Matt Jones Kennedy Meeks and Isaiah Hicks http://t.co/a9j2VOLRqO
2013-04-05 09:49:21
DraftExpress: Duke-UNC Smackdown Part 7 from the McDonald's AA Game w\/ Jabari Parker Matt Jones Kennedy Meeks and Isaiah Hicks http://t.co/qFXh6gqN6t
2013-04-04 00:13:32
DraftExpress: Kennedy Meeks (tarheel_01) reached UNC-Duke smackdown legend status today. RT @bDOTmitch23 Who was the biggest trash talker?
2013-04-02 15:38:49
Predraft Measurements
| Year | Source | Height w/o Shoes | Height w/shoes | Weight | Wingspan | Standing Reach | Body Fat | No Step Vert | Max Vert |
| --- | --- | --- | --- | --- | --- | --- | --- | --- | --- |
| 2012 | LeBron James Camp | NA | 6' 9.5" | 297 | 7' 0" | NA | NA | NA | NA |
| 2012 | Amare Stoudemire Camp | NA | 6' 9.5" | 297 | 7' 0" | NA | NA | NA | NA |
| 2011 | LeBron James Camp | NA | 6' 9" | 279 | 7' 0" | NA | NA | NA | NA |



Basic Per Game Statistics

- Comprehensive Stats - Statistical Top 25s
| Year | League | Name | GP | Min | Pts | FG | FGA | FG% | 2Pt | 2PtA | 2P% | 3Pt | 3PtA | 3P% | FTM | FTA | FT% | Off | Def | TOT | Asts | Stls | Blks | TOs | PFs |
| --- | --- | --- | --- | --- | --- | --- | --- | --- | --- | --- | --- | --- | --- | --- | --- | --- | --- | --- | --- | --- | --- | --- | --- | --- | --- |
| 2015/16 | NCAA | Kennedy Meeks | 6 | 25.0 | 14.3 | 6.0 | 9.8 | 61.0 | 6.0 | 9.8 | 61.0 | 0.0 | 0.0 | &nbsp | 2.3 | 3.3 | 70.0 | 2.3 | 5.7 | 8.0 | 1.7 | 1.5 | 1.0 | 1.8 | 2.5 |

Player Page&nbsp&nbsp| Player Stats | Mock Draft History | Related Articles&nbsp&nbsp| Add to My Draft Express&nbsp
&nbsp
Top NBA Prospects in the ACC, Part Six: Prospects #6-10
October 12, 2015
Kyle Nelson

Kennedy Meeks arrived in Chapel Hill as a McDonald's All-American, but weighed 317-pounds and struggled to stay on the court, seeing just 16 minutes per game. By his sophomore year, Meeks shed 40 pounds and posted an improved, albeit inconsistent season that culminated in a Sweet 16 loss to Wisconsin. While the talented big man showed flashes of dominance early in the season, he faded mightily down the stretch, struggling with knee injuries and scoring a mere 7.3 points per game on 49% true shooting percentage over his last 10 games. With his junior season right around the corner, scouts will be watching to see if Kennedy Meeks is finally ready for a breakout campaign.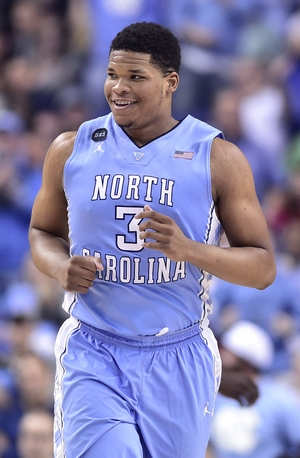 US Presswire



At 6'9 with a 7'0 wingspan and reportedly down to 265-pounds, Meeks is undersized for the center position in the NBA, even if this rarely seems to affect him at the collegiate level. This is due to his unique combination of strength, mobility, and high skill-level as Meeks has no problem powering through defenders of all sizes as a sophomore. On the other hand and though he has strength and talent to spare, he does not possess prototypical NBA-caliber athleticism for his position, as he is very much a below the rim player. For this reason, scouts will be watching to see if his improved frame and a healthy offseason afford him an athletic boost as a junior.

On the offensive end of the floor, Meeks saw over 90% of his possession around the basket and averaged an impressive 18.5 points per 40 minutes pace adjusted while utilizing 23% of North Carolina's possessions.

On the block, Meeks demonstrates soft hands with the ability to carve out space in the post and a willingness to bully his way to the basket. He had no problem backing down collegiate big men, even if he at times struggles to finish over players that he could not simply power through. He has very good shooting touch and nice footwork on the block, but due to his average length and explosiveness, isn't the most efficient threat with his back to the basket, converting under 40% of his field goal attempts in these situations last season. Meeks is just an average passer as well, generating an assist on just 8.7% of his possessions, even though he does not turn the ball over very frequently.

Considering Meeks' lack of size and average athleticism, it seems like he will have to find other ways to score against NBA level competition than strictly with his back to the basket, even though post-ups make up a significant portion of his touches at the college level.

Where Meeks shows real promise is as an offensive rebounder. He is averaging a career 4.7 offensive rebounds per-40 at North Carolina thus far, as he has terrific hands and great instincts for pursuing loose balls, being a little bit quicker off his feet than you might suspect. His soft touch around the basket helps him significantly as a finisher here as well, as he converts nearly 65% of his non-post up attempts around the basket in the half-court overall, which is a terrific rate. These same attributes make him very effective as a cutter, running the floor in transition (which he does surprisingly well), and finishing on pick and rolls. He sets excellent screens, and has very nice timing rolling to the basket, where his soft hands and touch allow him to finish the job effectively, despite his lack of length and explosiveness.

At 6'9, it's very likely that Meeks will be asked to spend quite a few minutes at power forward in the NBA, something he rarely does at UNC. While bruising big men in his mold where once very much en vogue in the past, Meeks will likely need to expand his shooting range significantly to make the transition to power forward realistic. He hasn't shown much of a jump-shot in college yet, hitting just 5 of his 15 attempts from mid-range last year, and 62% of his career free throw attempts. His touch and form shows some promise, though, even if his release is quite slow, so it's possible he may be able to develop this part of his game in time, something he'll likely need to do.

Defensively is where NBA scouts will likely have the most question marks regarding Meeks' pro potential. His limited physical attributes make him best suited to guarding power forwards, but there are real questions about whether his lateral quickness is sufficient to step outside of the paint on a consistent basis, particularly in pick and roll situations. As a center, he is decidedly undersized and lacks the length and explosiveness to be much of a shot-blocking presence.

With that said, inside the paint, Meeks does a solid job of defending the post. He is difficult to move off of the block due to his wide base and is active enough to stay with most players around the basket. Likewise and though he is not a great athlete, his timing, wingspan, and nose for the ball allow him to block 2.0 shots per 40 minutes pace adjusted and grab a very solid 7.1 defensive rebounds.

Scouts will want to see how his improved conditioning affects his play on the defensive end, as showing the potential to guard power forward style players in the NBA could be a huge boon for his draft stock.

Playing for one of the projected top teams in college basketball this season, in a featured role, Meeks has a major opportunity to show what type of NBA prospect he is. He not only must prove that he can dominate at the collegiate level, but he will also have to show that he is capable of contributing against NBA athletes on both ends of the floor on a nightly basis. Thus, scouts will be watching to see if Meeks is better conditioned and more consistent as a junior. Early season matchups against Maryland, Texas, and UCLA will be particularly revealing, therefore, as Meeks not only has a lot to prove as a prospect, but also to a team that needs major production from its talented junior center in order to make a NCAA Tournament Final Four run.

[Read Full Article]

---
Kennedy Meeks vs Kentucky Video Analysis
March 3, 2015
(Video may not load with Internet Explorer. Use Chrome or Firefox)
More Situational Videos from Mike Schmitz
-Jahlil Okafor vs Frank Kaminsky
-Myles Turner vs Kentucky's NBA Frontcourt
-Kristaps Porzingis vs Barcelona
-Ben Simmons vs Ivan Rabb
-Jakob Poeltl vs Cliff Alexander
-Montrezl Harrell vs Kentucky's NBA Frontcourt
-Rashad Vaughn vs Arizona
-Christian Wood vs Arizona
-Jerian Grant vs J.P. Tokoto
-Bobby Portis vs Damian Jones
-D'Angelo Russell vs Louisville
-Delon Wright vs Rondae Hollis-Jefferson
-Stanley Johnson vs Anthony Brown
-Robert Upshaw vs Jakob Poeltl
-D'Angelo Russell vs Indiana
-Justise Winslow vs Justin Anderson
-Mario Hezonja vs Real Madrid
-Karl Towns vs Jarell Martin
-Delon Wright vs Tyrone Wallace
-Jerian Grant vs Kris Dunn
-Christian Wood vs James Webb
-Kevon Looney vs Arizona
-R.J. Hunter vs Iowa State
---
Take a look at our video section for a compilation of all the videos we've produced this year.
[Read Full Article]

---
Top NBA Prospects in the ACC, Part 7: Prospects #7-11
October 23, 2014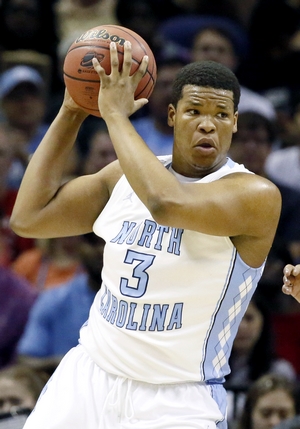 US Presswire



Derek Bodner

After arriving at Chapel Hill a reported 317 pounds, the 6'9" Kennedy Meeks flashed an intriguing skill set during his freshman season at UNC, but was ultimately held back by his poor conditioning.

At 17.5 points and 14.1 rebounds per 40 minutes pace adjusted, Meeks was able to produce extremely well on a per-minute basis, but keeping the big man on the court for an extended period of time proved difficult. This was partly due to foul trouble, as Meeks averaged 4 fouls per 40 minutes pace adjusted, but largely due to problems stemming from being so drastically out of shape.

Meeks offensive game was primarily based out of the post, which accounted for over 35% of his offense, according to Synergy Sports Technology. Meeks' post game is relatively straightforward, primarily revolving around a hook shot over either shoulder, and a turnaround jump shot that he prefers to use when going over his right. He does a really good job of using his size and strength to establish position and seal off the defender, and he has good touch around the hoop with either hand.

That being said, he shows flashes of a more advanced post game that could develop into a reliable weapon down the road. He shows the ability to use both drop step and up-and-under moves to his advantage, with the ability to use either foot as a pivot depending on what the defender gives him. It will be interesting to watch Meeks' post-game expand as he continues to refine his skills and becomes more experienced at the collegiate level.

The rest of his offensive game primarily comes off of hustle opportunities around the basket, including from offensive rebounds and cuts to the basket. Meeks was a downright dominant offensive rebounder, with his 5.5 offensive rebounds per 40 minutes pace adjusted ranking as the best figure in the DraftExpress Top 100, regardless of position. He struggles at times to convert these, as his weight hindered his ability to elevate in traffic, as does being relatively undersized for the pivot position at 6'9". But his soft hands, excellent feel for the game, constant motor and willingness to fight for position should continue to pay big dividends as he rounds himself into better shape.

The same problems crop up when finishing off cuts to the basket. Meeks does a fairly good job of finding seams in a defense, and has very reliable hands, catching most entry passes that come his way. But the combination of being undersized and his lack of explosion comes into play here as well, which causes him to hesitate and use pump fakes to try to get off a clean look, which in turn allows help defenders to come and contest the shot even further. Still, he has soft touch, and a willingness to battle through contact, which makes him a threat to finish down low despite being a below the rim player.

Meeks doesn't show a whole lot away from the basket, attempting only 11 jump shots according to Synergy Sports while doing virtually nothing off the dribble in a compact role as a freshman. He did show some solid touch on short jumpers out of post-up situations, and whether or not he is able to extend this out to mid-range and beyond will be something interesting to watch going forward, as his high skill-level seems to suggest he might down the road.

On the defensive side of the ball, Meeks does a good job of holding ground on the block, but he can at times wait to engage until after the offensive player has already established deep position. He struggles changing direction on the perimeter, and as such doesn't show hard when defending the pick and roll. North Carolina does a pretty good of hiding his deficiencies on the perimeter with different schemes and matchups, but this is something that's going to become a bigger issue against higher level competition in the pros.

On the plus side, Meeks is once again a dominant rebounder on this end of the court, hauling in an impressive 8.7 defensive rebounds per 40 minutes pace adjusted, good for a defensive rebounding rate of 24.9%. Besides his strength and physicality, Meeks shows nice ability to track the ball and good technique boxing out. This is one area of the game that Meeks should be able to hang his hat on when evaluating him as an NBA prospect.

The strength and conditioning coordinator at North Carolina said that Meeks was "probably the worst-conditioned guy [he] had ever seen" when he arrived at North Carolina last season, and it clearly showed at times, limiting both the time he was able to effectively stay on the court and also what he could do during the time that he was playing. Regardless, Meeks was statistically the third most productive freshman in college basketball after Jabari Parker and Joel Embiid, with a PER of 25, albeit in only 16.3 minutes per game.

The good news is, Meeks reportedly came into camp at 266 pounds this season, an incredible 50 pound drop over the course of a year under the guidance of UNC's strength and conditioning program, showing the huge commitment he made to both his diet and exercise program. It will be interesting to watch how his new physique impacts his game, as Meeks has the tools, skill set, and style of play that could be very interesting to NBA decision makers down the road.

[Read Full Article]

---
High School Class of 2013: Elite Prospect Scouting Reports, Part Two
September 12, 2012
Jonathan Givony

Recruiting Rankings: ESPN: #17, Scout: #29, Rivals: #51, 24/7: #46

Strengths:
-6-9 ˝ in shoes with a 7-0 wingspan
-Basketball IQ is off the charts
-Operates like a point-center out on the floor
-Tremendous passer for his position
-Has the offense run through him in the high post and finds the open man cutting to the basket every single time
-Too strong for opposing big men to keep outside of the paint
-Can score in the low post
-Has phenomenal hands
-Extremely soft touch around the basket
-Can knock down an outside jumper with nice form
-Shoots a very high percentage from the floor
-Appears to be a very positive teammate. Always cheering. First one off the bench
-Has the length and timing to block an occasional shot
-Terrific rebounder

Weaknesses:
-Weighed in at nearly 300 pounds at the LeBron James Skills Academy
-Conditioning a significant factor. Gets winded easily
-Doesn't run the floor incredibly well
-Lacks great athleticism. Plays completely below the rim guy
-Undersized center at 6-9 1/2
-Doesn't always dominate offensively the way that he should. Appears to be a bit bored playing at this level
-Tends to coast a bit, hanging out on the perimeter and letting the defense off easy
-Should focus on becoming a better low-post presence: improving his footwork, left hand and counter moves

Outlook: Tremendously skilled and smart big man who is mature beyond his years. Needs to shed at least 25 pounds of baby fat before headed to college, and not settle for playing so much on the perimeter, but it's impossible to find big men with his understanding of the game. If he has the internal motivation necessary to get his weight down and utilize his strong frame more regularly, he will have a great pro career.

Highlights:


[Read Full Article]

---