Top NBA Draft Prospects in the Non-BCS Conferences, Part 4 (#16-20)
November 7, 2011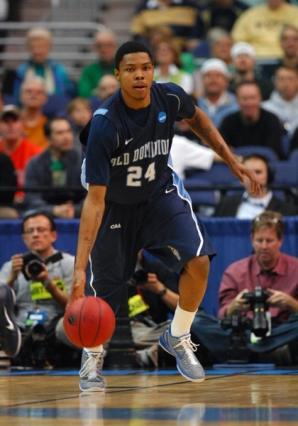 Icon SMI
Joseph Treutlein
After steadily improving his game his first three years at Old Dominion,
Kent Bazemore
has developed into a very solid college player with some interesting attributes from an NBA perspective. Despite boasting just a modest stat line with 12.3 points per game, Bazemore's athletic abilities and style of play could make him allow his game to translate well to the next level.
Standing 6'5 with a thin but wiry strong frame, Bazemore has good length and great athleticism for a wing, possessing both nice speed and reactive leaping ability. Playing a style of play well suited to his strengths, Bazemore displays a high motor on the offensive end and frequently contributes on cuts, spot-up drives, and put-back attempts that allow him to take advantage of his explosiveness.
Offensively, Bazemore could best be described as a jack of all trades but master of none, showing flashes in virtually every area but not being a go-to scorer or excelling especially in any specific area. He does most of his damage in the lane in a variety of ways, being aggressive going to the rim and creating shot attempts around the basket.
In terms of attacking off the dribble, Bazemore's skill set lacks a certain degree of polish, with him not having much in terms of advanced moves. He does most of his damage on variations of straight line drives, often starting with a half step on his man by virtue of ball movement in Old Dominion's offense, but he does show intrigue in a few areas here.
The most interesting aspect of the left-handed Bazemore's dribble-drive game is his equal ability taking the ball in both directions, being competent with both his left and right-handed dribbles. He also does a good job taking advantage of his quick first step and ability to elevate easily off the dribble, showing good ability to get past his man and rise for quality lay-up attempts. On the negative side, Bazemore's lack of polish can turn into a lack of control at times, which shows as he turns the ball over on a fairly high 21% of his possessions.
As a finisher around the basket, Bazemore shows nice creativity, instincts, and touch, often using glass on his finesse moves and being able to mix things up with floaters and runners or going up for a dunk. He elevates very easily both with and without the ball, something that shows especially in the halfcourt where he's a potent threat on cuts and backdoor alley-oop plays.
Somewhat surprising given his low scoring numbers, Bazemore also shows solid ability as a perimeter shooter, being capable hitting both pull-up mid-range jumpers and spot-up three pointers. This area of his game isn't as consistent as his ability to get to and finish around the rim, but Bazemore has a nice foundation to work with here.
Bazemore hit 40.8% of his three-pointers on a small sample of 2.2 attempts per game as a junior, but that still made up a decent chunk of his offense given his small scoring production overall. He shows decent form with adequate release height and speed when open, and it will be interesting to see if his high efficiency numbers hold up for another season or were just a fluke of small sample size, as he made 26.5% and 30% of his 3-pointers as a freshman and sophomore, again on a very limited sample size.
Bazemore also shows some potential hitting pull-up mid-range jumpers, but this is probably the weakest aspect of his game overall, and not something he's very efficient with. He's respectable in this regard when pulling up in space, but shows accuracy problems when contested, and is probably not something he'd be asked to do at the next level anyway.
Bazemore also does a solid job contributing in the little areas, moving well off the ball, attacking the offensive glass, and being an unselfish player with decent vision and passing ability for a wing, racking up a solid 4.2 assists per-40 minutes pace adjusted, mostly on ball movement but also occasionally on simple drive-and-dishes.
On the defensive end, Bazemore is a bit of a mixed bag, on one hand being a disruptive force utilizing his length and athleticism in the passing lanes, picking off 3.2 steals and even 1.3 blocks per-40p, but his commitment to fundamentals in isolation situations isn't always consistent. Despite showing good aggressiveness and a solid stance to open most possessions, along with doing a good job staying focused off the ball, Bazemore often lets out of his stance easily and doesn't keep up with his man laterally on many drives, not really showing the commitment to be the defender he's capable of with his tools. As a potential role-playing wing with limited shot creation abilities, really buckling down in this area will likely be critical for his NBA chances.
Looking forward, Bazemore should be getting his due diligence looks from all NBA teams this season, and will have ample opportunities to impress if he can further improve his numbers and continue to develop his all-around skills. His athletic tools, comfort level as a role player, and his many off-ball skills could potentially translate well to the NBA, but really stepping up on the defensive end will likely be crucial to his stock. A solid season could definitely put him into second round discussions, but he should have chances to find his way into the league next year or down the road regardless, should he continue to develop his skill-level.
[
Read Full Article
]