Kevin Jones
Recent Tweets
All Tweets
DraftExpress: Just in time for the Euroleague Top 16. RT @SpearsNBAYahoo Cavaliers have waived forward Luke Harangody and signed forward Kevin Jones.
2012-11-29 19:00:04
DraftExpress: Kevin Jones learned a valuable lesson tonight. You don't pick your older brother to be your agent. Hopefully not too late for him.
2012-06-29 12:09:55
DraftExpress: Undrafted: Kevin Jones, Drew Gordon, JaMychal Green, J'Covan Brown, Tu Holloway, William Buford, Nihad Djedovic, Casper Ware, Henry Sims
2012-06-28 11:03:29
DraftExpress: Top-5 talents available: Kevin Jones, Drew Gordon, Jamychal Green, J'Covan Brown, Tu Holloway. Alas, only one (at most) will get picked.
2012-06-28 10:58:03
DraftExpress: RT @RobDauster: Oh man ... Kevin Jones is at the draft. Like, he is sitting up in the stands. Ugh.......
2012-06-28 10:49:39
Team: Prairie View,
Physicals
Positions
Misc
H: 6' 1"
W: 210 lbs
Bday: 00/00/0000

Current: G
NBA:
Possible:

High School:
Hometown: Houston, TX




Basic Per Game Statistics

- Comprehensive Stats - Statistical Top 25s
| Year | League | Name | GP | Min | Pts | FG | FGA | FG% | 2Pt | 2PtA | 2P% | 3Pt | 3PtA | 3P% | FTM | FTA | FT% | Off | Def | TOT | Asts | Stls | Blks | TOs | PFs |
| --- | --- | --- | --- | --- | --- | --- | --- | --- | --- | --- | --- | --- | --- | --- | --- | --- | --- | --- | --- | --- | --- | --- | --- | --- | --- |
| 2001/02 | NCAA | Kevin Jones | 27 | 27.8 | 10.1 | 3.3 | 9.1 | 36.7 | 2.1 | 4.6 | 44.8 | 1.3 | 4.4 | 28.3 | 2.2 | 2.9 | 75.6 | 1.1 | 2.7 | 3.8 | 1.6 | 1.5 | 0.2 | 2.7 | 2.4 |

Player Page&nbsp&nbsp| Player Stats | Related Articles&nbsp&nbsp| Add to My Draft Express&nbsp
&nbsp
Trending Prospects (1/12/2012)
January 12, 2012


Derek Bodner

Kevin Jones has bounced back from a disappointing junior season in a major way, leading the Big East in points and rebounds while currently ranking second in field goal percentage, leading a very young West Virginia Mountaineers team to an impressive 12-5 record.

Jones has seen his scoring increase substantially, from 15.7 points per 40 minutes pace adjusted to 20.5, while also increasing his efficiency to what is by far a career best, reestablishing himself as a consistent inside-outside threat that is a tough matchup at the collegiate level.

From a physical standpoint, not much has changed with regard to Jones' physical profile. He has added some upper body strength, but he's still a undersized, but lengthy forward with below average athleticism that runs the floor unconventionally and plays mostly below the rim.

His offensive skill-set is still largely the same, albeit at a much improved rate and efficiency. He plays a fair amount in the post, and he's shooting a tremendous 60.9% from the field in post-up situations, which at a rate of 1.241 points per possession is better than 95% NCAA players, according to Synergy Sports Technology.

This is somewhat deceiving, however, because he likes to use this to setup a lot of face-up and turnaround jump shots out of these sets, which he is very efficient at. While not a major back to the basket threat, he does show good touch and a decent -- albeit not overly advanced -- set of moves that includes hook shots over either shoulder, a drop step, and fade-aways. He doesn't have tremendous lower body strength, and may have trouble establishing good post position at the next level.

His biggest asset when creating for himself is that short range jumper. He has improved his mid-range game, and while he can make the occasional collegiate three, the further out he gets the more his form looks suspect, and his efficiency drops.

When shooting from distance it appears there is too much contact with his palms, which may cause some of his problems with consistency. For somebody who is likely play further away from the basket at the next level his inability to establish himself as a reliable long range shooter (23% 3P) is perhaps the only negative so far in a senior season that has otherwise surpassed all reasonable expectations.

Jones has tremendous hands and great touch around the basket with either hand, and does a very good job of finding seams in the defense. He's also turned himself into an excellent rebounder, as his 4.8 offensive rebounds per 40 minutes pace adjusted is one of the better marks in our database, and he converts them at an excellent clip.

He does a good job of crashing the boards at every opportunity, fighting for position early and with a quick second jump, and has the aforementioned good touch around the basket. These two traits more than anything are extremely positive traits to possess when he makes the transition at the next level to less of a featured role.

Another major benefit for a potential role player is that he turns the ball over at a very low rate. In fact, his 1.5 turnovers per 40 minutes pace adjusted ranks as the 5th best rate in the top 100 prospects in our database.

The biggest change in Jones this year, and the one that may improve his draft stock even more than his re-found scoring touch, has been his defensive rebounding. Never known as a particularly effective defensive rebounder in the past, Jones has increased his productivity drastically, making it one of his strengths. His 7.5 defensive rebounds per 40 minutes pace adjusted represent a respectable number for a power forward, particularly notable for somebody who had averaged 4.5 and 5.0 the previous two seasons.

Whether it was head coach Bob Huggins getting through to him or feedback from his time in the NBA draft process last year, Jones is doing a much better job of boxing out and bodying up on the defensive glass and getting the ball at its highest point. Perhaps most importantly, he's consistently showing the energy level and focus on this end of the court that wasn't always there in years past.

Considering West Virginia did not lose any dominant defensive rebounders from last year's mediocre defensive rebounding team, the improvement cannot easily be explained through a change in role or personnel. Regardless of why, Jones' improvement on the defensive glass is a big boon to his potential value as a role player at the next level.

Defensively, Jones is an effective collegiate player, but one with some definite physical limitations. He has turned himself into a very good post defender, using his length well and denying position early in the possession. That being said, he definitely could use some added lower body strength to translate this to the next level, as he is going to be undersized for the power forward position. He's also not explosive enough of an athlete to be a shot blocking threat, and his lateral mobility is probably going to cause him problems on the perimeter.

With that said, it's tough to ignore the competitive spirit and instincts he brings to the table, reminding some of Chuck Hayes with the way he finds ways to get the job done through a combination of scrappiness and intelligence.

Jones improvement this year has breathed new life into his status as a prospect. Showing improvements in his short to medium range jump shot, and his marked improvements on the defensive glass, along with his ability to finish off the ball and also be an effective offensive rebounder, makes his transition to a lesser role at the next level a smoother one. Jones still has the same physical and athletic limitations that limit his upside as a prospect, but so far it appears his decision to return for his senior year has been a success.

While it's easy to rule out players in his mold quickly due to his obvious deficiencies, Jones has been winning over scouts all year with the leadership and competitiveness he displays and by simply being an outstanding teammate. He's highly unlikely to be a difference maker in the NBA, but has everything needed to be a quality rotation player on a winning team.

[Read Full Article]

---
Top NBA Draft Prospects in the Big East: Part Four (#16-20)
October 20, 2011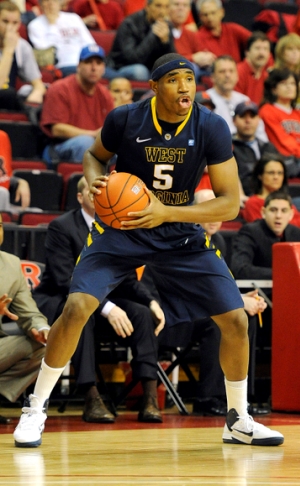 Icon SMI



Kyle Nelson

The last time we checked in on Kevin Jones, he was in a the midst of a breakout sophomore campaign, where he emerged as a true inside-outside treat for West Virginia. Jones was less successful as a junior, but still managed to lead West Virginia to a run in the Big East and NCAA Tournaments before declaring for the 2011 NBA Draft. He withdrew from the draft, however, and decided to return for his senior season, where he'll be the best returning scorer on a young and inexperienced West Virginia team.

As we last observed, Jones does not stand out from a physical perspective. He is undersized for both post positions, standing between 6'7 and 6'8, though he does have an excellent wingspan and bulked up to a respectable 247-pournds. That being said, he is an underwhelming athlete and very much a below-the-rim player at this level.

His production per-40 minutes pace adjusted actually decreased during his junior season, despite the fact that he saw more possessions. He still averaged 15.7 points per-40 minutes pace adjusted, but experienced significant dips in both TS% and eFG% while managing to shoot just 44.6% from the field.

According to Synergy Sports Technology, spot-up opportunities consisted of 25.1% of his offensive possessions and he made a mediocre 26.8% of his attempts. Furthermore, while his unorthodox shooting mechanics, resulting from his lack of elevation and slow shooting motion, were acceptable while he was shooting 40.4% from three as a sophomore, he connected on just 30.1% of three-point field goal attempts as a junior. Improving his mechanics would significantly increase his chances at the next level, as NBA teams covet big men who can stretch the floor with their shooting.

Though he is primarily a spot-up shooter, he would be well served to improve his post-game. Though his sub-50% 2FG can partly be attributed to his at times overzealous mid-range shooting exploits, Synergy reveals that he shot just 37.9% on post-up opportunities. On tape, his footwork is improved somewhat, but his skill set is still limited to jump hooks and the occasional drop step. Whether or not he can develop further is questionable, as well, given his age, his still subpar handles, and his lack of explosiveness even at this level.

That being said, Jones hardly ever turns the ball over and he is a very good finisher when West Virginia utilized him in pick-and-roll and pick-and-pop situations.

Jones is actually a solid defender at the collegiate level, especially since he has gotten stronger. While he lacks the lateral quickness to stay with athletic perimeter-oriented power forwards and still struggles to close out shooters, his post defense has improved considerably. He manages to stay in front of his man far better and he does an adequate job of contesting around the basket. Considering his length and solid effort level, he is likely be one of the top returning post defenders in the Big East even if his subpar athleticism is a less than ideal fit at the next level.

While Jones has limited potential, he can boost his stock as a senior with a return to his sophomore form. It is worth mentioning that he thrived as a sophomore alongside of Da'Sean Butler with a stable point guard rotation and noticeably struggled without both as a junior. Though he won't have either as a senior, he has a year and a half of solo experience under his belt and will have the opportunity to prove to scouts that he can better adapt to that pressure. It is obvious that Jones will have to have a standout for West Virginia to continue their recent success, but even if he doesn't he should have a solid professional career overseas as a roleplayer due to his size, ability to stretch the floor, and defense.

[Read Full Article]

---
NCAA Weekly Performers, 1/22/10
January 22, 2010
Matt Kamalsky

Coming off a terrific 2008-2009 season, the eleventh ranked West Virginia Mountaineers (14-3) are off to a fast start once again. Though DaíSean Butler remains the teams top scoring option and Devin Ebanks receives much of the attention from a NBA perspective, sophomore power forward Kevin Jones has been the teamís biggest revelation and one of Bob Hugginsí most productive contributors.

On first glance Jones does not stand out as being a great prospect due to his average physical tools. This is likely the reason his hometown Syracuse squad declined to offer him a scholarship even to be a backup, despite the fact that he badly wanted to play for them. He has average size for a power forward at just 6-8, and sports underwhelming explosiveness. He compensates for that though with a very nice wingspan, terrific smarts and an exceptional energy level. A true competitor, Jones spent last summer bulking up, and the results have shown on the court. Capable of scoring from the inside and out, Jones has emerged as a legitimate draft prospect and high-level college player thanks to his outstanding versatility, efficiency, and mentality.

From an NBA perspective, the most notable change in Jonesís game from last season to this season lies in his ability to shoot the three. After shooting only 24% from three-point range last season, Jones is now shooting an outstanding 45%. While the amount of 3-pointers heís attempted per game leaves something to be desired as far as the sample size is concerned, and he sports a fairly slow release without getting much elevation on his shot, his ability to spread the floor for his teammates at the power forward position is essential in Bob Hugginsí offense.

While Jones does not possess the quickness or ball-handling skills to create his own shot and attack defenders off the dribble, part of the reason he rarely gets to the free throw line, he knows his limitations and does an outstanding job of keeping mistakes to a minimum. He turns the ball over on just 10% of his possessions, which is an absolutely miniscule rate for a sophomore.

Jonesís effort level afforded him some success down low last season, and with his weight up to 250-pounds, he frequently exploits his length at the basket by establishing deep position and making strong, decisive moves to the rim. Displaying a very soft hook shot with his right hand, the ability to face up and hit an occasional midrange jumper when given space, and a willingness to initiate contact, Jones shoots an outstanding 51.7% in post up situations according to the data at our disposal and ranks amongst the most efficient players in our database with his 64% true shooting percentage, a testament to his shot-selection.

When he isnít outworking opposing big men on the block, Jones is able to make an impact by using his length to crash the offensive glass, finish plays operating intelligently off the ball, or run the floor in transition. An excellent finisher thanks to his length and fearlessness in traffic, Jones also ranks amongst the most prolific offensive rebounders in our database. Since he isnít the tallest, athletic or most skilled player in the world, itís good to see Jones be able to contribute to his team in different ways, something that could potentially help his transition to the NBA.

Defensively, Jones has all the tools to be an outstanding college defender with his terrific length and consistent effort level. He spends most of his team at the 5-spot for West Virginia, and though he does struggle against some of the more powerful back to the basket players he encounters, he does an admirable job competing. At his size, NBA scouts will want to see him move down one position if not two, and this is an area that raises some concerns. Jones does not possess ideal lateral quickness to defend wing players, but he has some impressive possessions regardless switching out onto the perimeter on the pick and roll, mainly due to his length and smarts. If he can improve his comfort level in that regard and show more discipline when closing out shooters, his transition to the NBA would be much more plausible.

It is hard not to be impressed by what Jones brings to the table; heís an easy player to like. He already does many of the things that NBA teams look for in a role-playing forward, and does them exceptionally well. While his upside is clearly limited by his average physical tools and shot-creating ability, heís only a sophomore and still has room to improve. If he can prove that he can consistently shut down opposing perimeter players, develop his ball-handling skills somewhat, and continue to expand his shooting range, Jones will only improve his quickly rising draft stock.

[Read Full Article]

---
Nike Super 6 High School Invitational at Madison Square Garden
January 15, 2008
The Mt. Vernon senior almost single handedly brought his team back from a second half double-digit deficit in picking up game MVP honors. Jones went on a personal 7-0 in the fourth quarter, highlighted by his lone three-pointer that thrust the Knights back into the game.

Jones is an interesting prospect because he is a dominant inside presence, but is clearly trying to make the transition to becoming more of a perimeter threat. While Jones has shown the ability to knock down shots from beyond the arc, he also has a tendency to line drive his shots when he rushes. This was the case against Patterson Catholic, as he shot just 1 of 10 from the outside. At this point, Jones is pretty much just a catch and shoot guy when he is on the perimeter, he needs room to get his shot off and isnít much of a threat to shoot off the dribble. If left alone though, he can hurt a team from the outside. He rarely if ever will attack the basket off the dribble, but from what we have seen, he needs to develop his right hand more before he can become a legitimate threat in this sense.

The majority of the damage Jones does offensively comes inside the paint. Despite scoring in bunches when he gets touches down low, Jones doesnít have a very developed post game. He does a great job sealing on the block and occasionally shows off a baby hook shot, but typically his move is to get the ball and get to the hoop by whatever means possible. Jones has a motor that never stops running, and is tenacious on the offensive glass (he had 8 offensive rebounds against Patterson). While his non-stop energy down low will certainly help him pick up scrappy points in the Big East next season, he will need to develop his back to the basket game some more. At just 195 pounds, Jones wonít be able to simply rely on his effort and athleticism to get points against bigger and stronger post players.

On the defensive end, Jones proved to be a disruptive force by combining his non-stop hustle with great anticipation. Even though he isnít that big for a post player, he was still able to block a couple of shots and alter plenty more thanks to his tremendous timing. Jones constantly has his head on a swivel and keeps his long arms up, which allows him to deflect and steal a lot of balls.

Jones is an athlete, plain and simple. Skill wise, he needs to improve almost every aspect of his game if he is going to become a polished player. What will help make him a contributor right away though is his seemingly endless amounts of energy. You can tell by watching that Jones loves to play and is having fun out on the court. His tenacity and second effort will allow him to hang in the Big East while he continues to work on becoming more of a perimeter threat.

[Read Full Article]

---
RBK U - Day One - Morning Session Games
July 9, 2007
Class of 2008 power foward Kevin Jones (Mount Vernon/Mt. Vernon, NY/2008) also turned in a nice performance for Team Livingston shooting 5-of-10 from the floor while collecting 8 boards. Jones looks like he is still growing into his body as he displays an enormous wingspan for his 6'7" frame.

[Read Full Article]

---
Nike IS8 High School Spring Championship
June 6, 2007
Tenacious; if there is one word to describe how Kevin Jones plays on the basketball court, that would be the one. The junior power forward had the most impressive performance this weekend of any underclassmen. He dropped 43 points on the Juice All-Stars in a semi-final win, and came back with another very impressive performance in the championship game on Sunday. Jones isnít the strongest player on the court, but what he lacks in bulk and strength he makes up for with hustle. He easily eclipsed 10 offensive rebounds in the championship game, and came very close to that mark in the semi-finals as well.

Jones is a long, athletic forward. He runs the floor very well, often beating his defender down the floor for easy points. He has nice touch with both hands down low in the post, and was able to drop several baby hook shots over opponents when left in a one-on-one situation on the block. His game down low still could use some work however, as he does get taken out of his game when facing stronger defenders.

The interesting thing about Jones is he has the ability to play in the post, but he also showed flashes of being able to play out on the perimeter as well. His ball-handling needs improvement, as does his shot, but at times he showed very nice touch from the outside. Jones hit two huge 3-pointers in the final minute of the semi-finals that helped Mt. Vernon advance.

Defensively, Jones was impressive. His length and quickness allow him to cover players out on the perimeter, although he was primarily down in the post. He spent much of the second half of Sundayís championship game covering Justin Burrell, and was able to hound the big man into several turnovers.

Jones still has another year to develop, and if he continues to improve his perimeter game, will make for a very nice inside-outside threat at the college level.

[Read Full Article]

---