Kevin Murphy
Recent Tweets
All Tweets
DraftExpress: Kevin Murphy starting to heat up, knocking down consecutive 3-pointers off passes from Zack Rosen. #NetsCombine
2012-05-19 12:13:41
DraftExpress: 2nd session: Zack Rosen, Ashton Gibbs, Kyle Fogg, Darius Johnson-Odom, Kevin Murphy, Drew Gordon, Mitchell Watt, Renardo Sidney #NetsCombine
2012-05-19 11:22:47
DraftExpress: DX All-Portsmouth Invitational Tournament Team: Kevin Murphy, Kyle O'Quinn, JaMychal Green, Henry Sims and Kim English http://t.co/L5IzcXhD
2012-04-16 02:02:14
DraftExpress: Portsmouth Sports Club, led by Henry Sims, Devoe Joseph, Kevin Murphy and Kyle O'Quinn advance to the finals w/a 76-74 win.
2012-04-13 08:39:24
DraftExpress: Strong first game at PIT. If all the games are like that we're in for a great week. Kevin Murphy, Kyle O'Quinn, Mitchell Watt were very good
2012-04-11 08:36:48
Team: Hitachi Sun Rockers
Physicals
Positions
Salary
Misc
H: 6' 6"
W: 194 lbs
Bday: 03/06/1990
(25 Years Old)

Current: SG/SF
NBA: SG/SF
Possible: SG/SF

Agent: Zach Kurtin

High School: Creekside
Hometown: Atlanta, GA
Drafted: Pick 47 in 2012 by Jazz
Best Case: Marshon Brooks
Worst Case: Tarence Kinsey

Predraft Measurements
| Year | Source | Height w/o Shoes | Height w/shoes | Weight | Wingspan | Standing Reach | Body Fat | No Step Vert | Max Vert |
| --- | --- | --- | --- | --- | --- | --- | --- | --- | --- |
| 2012 | NBA Draft Combine | 6' 5" | 6' 6.25" | 194 | 6' 6.75" | 8' 3" | 5.8 | 31.0 | 36.5 |
| 2012 | Portsmouth | 6' 6" | NA | 195 | 6' 7" | NA | NA | 27.8 | NA |



Basic Per Game Statistics

- Comprehensive Stats - Statistical Top 25s

Player Page&nbsp&nbsp| Player Stats | Mock Draft History | Related Articles&nbsp&nbsp| Add to My Draft Express&nbsp
&nbsp
NBA Combine Interviews: Kidd-Gilchrist, Johnson-Odom, Murphy
June 15, 2012
[Read Full Article]

---
DX All-Portsmouth Invitational Tournament Team
April 16, 2012
Perhaps the most impressive individual performer over the course of the PIT, particularly from a long-term perspective, Kevin Murphy's size (he measured 6-6 barefoot) and ability to score in a variety of ways from all over the court stood out all week long. Shooting the ball with range both off the catch and off the dribble, the Tennessee Tech product was consistently able to create separation with his dribble in one-on-one situations, knock down his spot-up jump shots, and utilize his smooth shooting mechanics to convert a number of contested shots in impressive fashion.

After emerging as one of the top scorers in college basketball this season, many were interested in seeing how Murphy would fare against BCS-level competition once outside the Ohio Valley Conference. Murphy made it clear at Portsmouth that he has elite scoring potential regardless of who he's matching up, even if he still has a ways to go to fully harness his talent.

The prolific scorer certainly isn't known for his passing ability, but he did show the ability to find the open man when the defenders here began to make an effort to keep him out of the lane and did not force any more shots than any of the other wings in attendance. He's a little bit raw in terms of his knowledge of the game and will have a little bit steeper of a transition to make than most seniors after playing on a team that did not win that many games the past four years. With that said, not many in his class boast the same upside, which could enable him to make a Marshon Brooks-esqe ascension up draft boards if he continues to perform well in private workouts over the next two months.

[Read Full Article]

---
2012 Portsmouth Invitational Tournament Measurements Released
April 13, 2012
Kevin Murphy measured extremely well for a wing player at 6-6 without shoes, even if his 6-7 wingspan isn't great and at 195 pounds he's definitely on the lanky side.

[Read Full Article]

---
Trending Prospects (3/1/2012)
March 1, 2012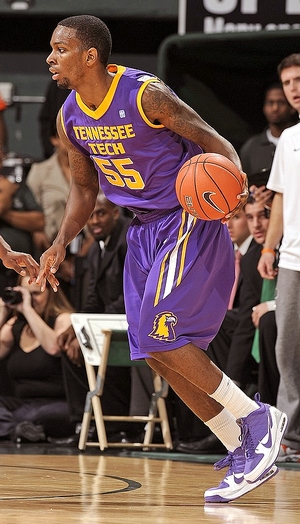 Icon SMI



Matt Kamalsky

One of the highest scoring players in all of college basketball pouring in 20.6 points per-game, Kevin Murphy has developed into one of the top low major draft candidates in college basketball. A lightly recruited prospect out of Creekside High School in Georgia, Murphy played AAU basketball alongside Hornets forward Al-Farouq Aminu for the Georgia Stars in his prep days. With concerns about his grades limiting the schools giving him looks, the prolific scorer ultimately landed at Tennessee Tech of the Ohio Valley Conference, where he became an immediate contributor and emerged as the team's primary offensive option as a sophomore.

Now a senior, Murphy has made strides in each of his four seasons at Tennessee Tech. He may not be facing elite competition on a nightly basis in the OVC, but he has become a very potent perimeter scorer, which has helped him put together some extremely impressive single game performances and garner some attention from NBA scouts.



Kevin Murphy's 50 points against Southern Illinois-Edwardsville






Though it is Murphy's ability to put the ball in the basket that has helped him catch the eye of NBA scouts, his size is also a significant plus as far as his upside as a pro is concerned. A 6'6 wing who lacks a degree of physical strength, but shows fluid athleticism operating on the offensive end, sports a big wingspan, and displays adequate lateral quickness defensively, Murphy has the size and physical tools to play his position at the NBA level –something we don't often see in prolific low-major scorers.

On the offensive end, Murphy's game is characterized by his extremely aggressive shot selection. Seeing a consistent steam of touches creating his own shot one-on-one, making plays in transition, and spotting-up in openings on the perimeter, Murphy constantly hunts his shot both on and off the ball. With jumpers accounting for almost 71% of his shot attempts, Murphy takes and makes some difficult shots from deep and midrange, connecting on 42.95% of his three-pointers and 40% of his jumpers in half court settings. More than a few of his deepest three-point attempts this season have come on the fast break, where Murphy shows no conscious in pulling up from beyond the arc running full speed whenever he sees a clogged lane in front of him. Sporting smooth shooting mechanics and a high release point, Murphy is a terrific catch-and-shoot threat who is just as good shooting the ball on the move from the mid-range as he is with his feet set from beyond the arc.

When Murphy looks to take the ball to the rim, he often does so looking to position his defender to bite on a fake so he can take a midrange jump shot. Though he is not a great ball-handler nor overly explosive, Murphy has a nice first step and some crafty moves that he uses to get his shot off in close. He shows the ability to get into the paint in one-on-one situations at the OVC level and will finish above the rim occasionally. He does not fare well when defended physically around the rim, and is too eager to force floaters and off-balance jumper shots when he finds himself in trouble –two things which, when combined with his heavy reliance on contested pull-up mid-range jumpers, play a big part in his unimpressive 45% shooting from two-point range.

Considering the freedom he enjoys on the offensive end at the college level, as Murphy makes the transition to playing a more balanced role against higher level competition, he will need to improve his shot-selection significantly to become a more efficient offensive player. He is not an entirely unwilling passer, but needs to show that he can be more discerning with the way he looks to score and make better decisions with the ball, especially off the bounce.

The Atlanta native will also have to quell some concerns about his consistency as well. Knocking down just 33% of his three-pointers as a junior, Murphy clearly spent a significant amount of time polishing his perimeter game last summer, but he'll need to shoot the ball well in workouts to show NBA teams that this season is an accurate representation of what he brings to the table as a jump shooter.

Defensively, Murphy does an excellent job playing within Tennessee Tech's team concept in both man-to-man and zone situations. He is not a lock down defender, but makes an effort to contest shots and does his best work knowing exactly where his help is on the floor in one-on-one situations. Though he could certainly stand to be more physical on this end of the floor, especially when defending the pick and roll, and will have to show that he can guard bigger, more athletic wings than he normally faces in the OVC during the draft process, Murphy has some tools to work with and seems to know his role defensively.

An intriguing talent considering his size and ability to score in a variety of ways from the perimeter, Murphy is a prime candidate for the Portsmouth Invitational Tournament, where he'll get the chance to show that he can score against a higher level of competition, play smart offensive basketball, and defend NBA-caliber wings. Any exposure Murphy can earn for himself in the postseason will certainly help his cause, and his ability to make a strong first impression at Portsmouth or in workouts will be keys for his draft stock.

[Read Full Article]

---