Kevin Seraphin
Recent Tweets
All Tweets
Kevin Seraphin, Tibor Pleiss, Ryan Richards & Thomas Heurtel are the most interesting international prospects staying in the 2010 NBA draft.
2010-06-15 12:22:06
Kevin Seraphin is in Treviso getting measured. Came out 6-9 in shoes, 278, w/7-3 wingspan, 9-1 standing reach. Walking normal, knee is fine.
2010-06-07 12:45:01
Kevin Seraphin is in Treviso getting measured. Came out 6-9 in shoes, 264, w/7-3 wingspan, 9-1 standing reach. Walking normal, knee is fine.
2010-06-07 06:20:07
Spoke to Kevin Seraphin's agent Bouna N'diaye, says they're wide open still. He'll stay in if they find a good team in 1st that likes him.
2010-06-04 15:45:01
Kevin Seraphin is out for the next 2-3 weeks with a minor knee injury, which essentially ends his season and rules him out of NBA workouts.
2010-06-02 02:53:25
Top 25s - Full List
Team: Knicks
Physicals
Positions
Salary
Misc
H: 6' 9"
W: 258 lbs
Bday: 12/07/1989
(25 Years Old)

Current: C
NBA: PF/C
Possible: PF/C

Agent: Rich Paul
Current Salary:$3,898,692

High School:
Hometown: Cayenne, French Guiana
Drafted: Pick 17 in 2010 by Bulls




Basic Per Game Statistics

- Comprehensive Stats - Statistical Top 25s
| Year | League | Name | GP | Min | Pts | FG | FGA | FG% | 2Pt | 2PtA | 2P% | 3Pt | 3PtA | 3P% | FTM | FTA | FT% | Off | Def | TOT | Asts | Stls | Blks | TOs | PFs |
| --- | --- | --- | --- | --- | --- | --- | --- | --- | --- | --- | --- | --- | --- | --- | --- | --- | --- | --- | --- | --- | --- | --- | --- | --- | --- |
| 2015/16 | NBA | Kevin Seraphin | 13 | 9.2 | 3.5 | 1.8 | 4.3 | 41.1 | 1.8 | 4.3 | 41.1 | 0.0 | 0.0 | &nbsp | 0.0 | 0.0 | &nbsp | 0.8 | 0.9 | 1.7 | 0.8 | 0.2 | 0.5 | 0.8 | 1.3 |

Player Page&nbsp&nbsp| Player Stats | Mock Draft History | Related Articles&nbsp&nbsp| Add to My Draft Express&nbsp
&nbsp
Finding a Niche for Kevin Seraphin
May 11, 2010
April 29; Portland, Oregon; Game 6 of the Western Conference Quarterfinals. 6-8 small forward Nicolas Batum hounds Steve Nash, arguably the best point guard in NBA history, into a miserable 10-point, 6-assist, 7-turnover performance.

April 29; San Antonio, Texas; Game 6 of the Western Conference Quarterfinals. 6-2 combo guard Rodrigue Beaubois comes off the bench to score 16 points in 21 minutes and spark the Mavericks to overcome an 11-point deficit – a lift that gives Dallas a chance to win the game and force a seventh game.

What do these players have in common? Both are French; both are super-athletic, physical specimens at their position; and both were severely undervalued in their respective draft classes.

The thought of whiffing on Beaubois and Batum in consecutive years in the late portion of the first round has to be keeping NBA teams up at night, watching film of the next great French athlete, determined not to make the same mistake again.

Enter 6-10, 20-year-old big man Kevin Seraphin.


FIBA Europe



Seraphin is not a perimeter player like his future French national teammates, but he is similarly gifted from a physical standpoint, and he just happens to be represented by the same agent, Bouna Ndiaye. Ndiaye surely knows how to push the right buttons. The Senegalese-born, and incredibly jovial, Dallas native doesn't need to say much more than "I don't want you to make the same mistake again my friend" in his cheerful French accent to strike fear in the hearts of NBA personnel these days.

He may not even need to say that though. Seraphin's case as an NBA prospect is made as soon as he steps foot on the court. He stands around 6-9 without shoes, has a huge wingspan, and sports a chiseled 268-pound frame. He runs the floor well, gets off his feet with ease and ranks as one of the top per-minute rebounders and shot blockers in the ultra-athletic French Pro A League.

Seraphin is still far from a finished product though.

A native of French Guiana, a colony on the northern coast of South America, he only started playing basketball at the age of 15 and has been in France for just four years now. He was discovered in his native country by Cholet junior team coach Jean-Francois Martin after growing up as a soccer player. In the years since, he has slowly but surely developed from project to prospect to a starter this season (in 13 of the last 20 games) on the top-ranked team in France.

Seraphin played just nine minutes per game in 2008-09 and barely saw minutes on the French junior national team the summer prior. He rode a strong showing in the U-20 European Championships this past July to a bigger role this season with Cholet, becoming a more prominent part of the rotation and landing a spot in the starting lineup in each of the last nine games.

He's still averaging just over 16 minutes per game, but Seraphin has improved in virtually every statistical category this season: upping his scoring numbers, getting to the free throw line more often, doing a better job on the glass, contributing more as a shot blocker, doubling his assist rate and cutting down on his turnovers.

Offensively, Seraphin remains a raw prospect by NBA standards. He does a good job using his body to carve out space in the post (where he can finish above the rim in impressive fashion thanks to his tremendous length), but he is still lacking in terms of advanced footwork and post moves. He looks a bit limited at times when double teams arrive and he's forced to improvise or make quick decisions.

Seraphin has good hands and is a terrific target for lobs and pick-and-roll finishes, but he's not the type of player you want making plays with the ball at this point in his career. Improving his repertoire of spin moves, pivots and countermoves in the post will go a long way -- as will gaining experience and improving his all-around feel for the game.

With that said, Seraphin shows interesting potential with his jump hook. He's able to get it off smoothly and convert it with either hand. He also appears to have a soft touch around the basket, particularly with a good-looking turnaround jump shot that he executes with a high release point.

Seraphin clearly has things to work on. His activity level and intensity seem to fluctuate quite a bit from game to game (leading to some inconsistent performances), he has limitations stepping away from the basket, his ball-handling skills are crude, and his mid-range jumper is very much a work in progress – all hints that his future position is clearly center, where his bulk and length should compensate for the inch or two he lacks in prototypical size for an NBA 5-man.

Defensively, Seraphin is much more useful at this point. He shows a much greater comfort level on the defensive end, where he's a terrific presence inside the paint with his superb combination of length, strength and athleticism. He displays nice timing when rotating from the weak side and is especially effective at hedging pick-and-rolls, while still having the mobility to recover back onto his man thanks to his nimble feet and nice lateral quickness. He's difficult to post up due to his wide frame, and he puts in a good effort on top of that. This puts him in a pretty rare class of prospects when considering his physical tools.

With that said, Seraphin's inexperience shows on the defensive end as well.

He displays only average awareness and tends to leave his feet on pump fakes, causing him to get into foul trouble on occasion. From time to time he gets caught flat-footed watching a defensive rebound fly over his head. He's not quite as effective in this area as you might hope, considering his tools. This is likely due to his so-so fundamentals. Seraphin is an incredible presence on the offensive glass, though, ranking in the Top five in France in offensive rebounds per-40 minutes.

Having only played basketball for five years, Seraphin is still very much playing catch-up with other prospects his age, but he is making up ground rapidly. His ceiling is extremely high, and he's rumored to be a smart and humble player -- which is always a good sign.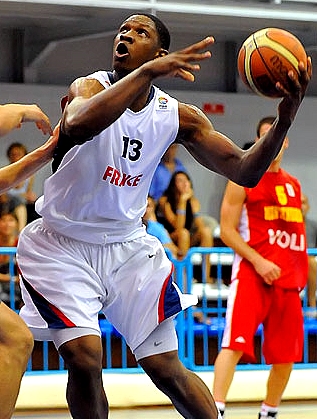 FIBA Europe



Seraphin has the flexibility of coming to the NBA immediately or staying for another year in France. He's supposedly open to either option. He signed a three-year contract with Cholet last summer, but he has a clearly-stated NBA out clause with a buyout sum that escalates depending on how high he's picked. The buyout cannot exceed $750,000.

He is also drawing heavy interest from some of the top teams in Europe — Barcelona, for example — but reportedly has his heart set on playing in the NBA.

Seraphin has until June 14 to decide whether to keep his name in the draft or pull out and become automatically eligible next year. The NBA teams evaluating him will need to decide how much they think he can improve in the next year or two, and whether being patient and drafting him now (in the late teens to early 20s portion of the first round) will get them good value down the road. We're talking about a player who is still in a very early stage of his development. If he improves as much as expected, he could very well work his way into the lottery next season. On certain NBA teams' draft boards, he could already be there right now.

The final call will likely be made based on the types of organizations showing interest. His agent Ndiaye has done a good job in recent years of steering clients to places he thinks they can develop -- such as Portland, Dallas and San Antonio -- and he'll probably take a similar route this time around with Seraphin.

From what Ndiaye told us in Paris this week, he's feeling increasingly comfortable with the information he's receiving from NBA teams in terms of keeping Seraphin's name in the draft. Look for NBA GMs to spend quite a bit of time in the next month or so in France trying to get a better handle on Seraphin's draft prospects. He holds invites to both the NBA combine and the adidas EuroCamp in Treviso, but appears unlikely to be able to accept either due to the fact that his team will be playing in the playoffs until as late as mid-June.

Although this draft is stacked with big men, Seraphin has characteristics that put him in a rare class for today's NBA game. The future of the French national team clearly looks extremely bright.

[Read Full Article]

---
European Roundup: High Expectations for Vesely
November 20, 2009
Jonathan Givony

Interesting news out of France this week, which could have some definite NBA Draft implications. The top ranked team in Pro A, Cholet, decided to loan their highest paid player, big man Claude Marquis, to Italian league based Caserta.

The reason this move is interesting from our perspective is because of the playing time it should open up for 19-year old draft prospect Kevin Seraphin, who plays essentially the same position as Marquis. Seraphin is coming off a strong summer with the U-20 French national team and an excellent showing in the Nike Hoop Summit in Portland last April, and many NBA scouts were hoping to see him make a big step forward this season with increased playing time and production in Pro A.

That did not really materialize early in the season, as Seraphin disappointingly racked up a DNP-CD in Cholet's first game in the French league and then saw sporadic playing time in the three following games. Things have been looking up for him since then, as he's become a regular part of the rotation (albeit in a backup role), and this move should open up even more playing time for him as the year moves on.

Cholet will begin playing twice a week starting on the 24th of this month as they begin to compete in the group stage of the EuroCup, ironically with a very intriguing matchup (from a draft perspective at least) with Donatas Motiejunas and Benetton Treviso. We would expect a strong turnout of NBA scouts and decision makers on hand at this game.

Can Seraphin earn the trust of Turkish coach Erman Kunter the way former Cholet players and NBA draft picks Nando de Colo and Rodrigue Beaubois were able to last season? We'll be monitoring this situation closely as the year moves on.

[Read Full Article]

---
2009 U-20 European Championship Review: Bigs
October 7, 2009
Another French player that we surely couldn't leave out of this section is Kevin Seraphin. We're talking about a chiseled athlete with good hands and explosive leaping ability, extremely quick off his feet and very agile as well, which shows up most notably in his ability to finish on the pick and roll.

On offense Seraphin can be dominant in the post, however only in flashes at the moment. Regardless of whether he scores or not, it is very difficult for defenses at this level to prevent him from making a strong move at the rim, due to the extreme physical advantages he enjoys. Combine that with his improving ability to gain position in the post, as well as show some intriguing spin moves and jump hooks, and we're talking about a pretty interesting prospect.

Seraphin is capable of finishing with his left hand, also and can even put the ball on the floor from time to time. His touch around the basket is pretty solid, and his shooting mechanics (featuring a nice, high release point) leave plenty of room for optimism regarding the future, especially with his ability to use the glass. With that said, he understands that his main value is in the post, and thus he doesn't overdo it with his perimeter jumper. From the free throw line he was solid as well at 69%.

Over the past two years Seraphin's progress has been huge. As he'll continue to develop, his general awareness will become better, hopefully resulting also in better passing and less turnovers (2.6 per game in 23 minutes, compared with 0.3 assists).

Where Seraphin can improve even more is on defense. He got into early foul trouble in several games, limiting his playing time and production. He shows a decent effort and nice toughness, but it would be nice to see him turn up the intensity level from time to time another notch. Once he learns how to play more efficient defense (with less fouls), and considering the physical potential he enjoys, he could become a much better shotblocker (0.4 per game only). The 5.7 rebounds he averaged wasn't bad for the minutes he averaged, but is still another aspect where he can improve on in a major way. He has to start boxing out his match-up better and pursue loose balls with more desire. As it is, he can be quite a presence in this area, particularly on the offensive glass.

On the whole, Seraphin had a strong showing in this tournament, showing good potential to continue to improve in the future, but also showing his limitations as well. We'll have to see how he performs against professionals in the French league this season, but there's no question that he's a player that NBA teams will need to look heavily at.

[Read Full Article]

---
Nike Hoop Summit, International Prospects
April 15, 2009
A very interesting prospect considering his size and physical tools, Kevin Seraphin really had a chance to help his stock as a prospect in this game. Playing for Cholet in France, he has only had a few solid games since being promoted from their junior team, and it was a nice chance to showcase himself in front of the 65+ scouts in attendance. Though still a raw player, Seraphin managed to impress with his clutch play late in the game.

Physically, it's easy to notice Seraphin's strong, powerful body. Though a raw basketball talent, he has a great natural frame which he has managed to add a great deal of strength to in his couple of years playing basketball. The French prospect shows an explosive vertical leap and the ability to run the court like a guard. Combined with his 7'3" wingspan, he has nearly every tool you look for in a developing big.

Throughout the game, Seraphin displayed an excellent motor, fighting for every loose ball, making an effort to block every shot in his territory, and setting big, bruising screens on the offensive end of the floor. The big man has very impressive instincts when it comes to rebounding, particularly on the offensive end of the floor. His hustle was apparent late in the game, when he provided the World Select team with their first lead of the game on a dunk off a basket cut, and a jaw-dropping block on a John Wall lay-up on the other end of the floor. Coming back down on offense, he helped seal the victory with another dunk in transition, and a key offensive rebound off a missed free throw.

Offensively, Seraphin constantly fights hard for position, and always looks for the ball early in the post. On one possession, he ran the court and sealed off his man impressively, gaining the perfect position for a rare early post lay-up (something which NBA coaches love to see). He lacks the skill-level needed to finish around the basket unless it's an easy lay-up or dunk, however, and the form on his jumper can be described as quite awkward.

As a big man prospect with all the physical tools but developing skills, Kevin Seraphin appears to be the type of big that an NBA team would draft to stash overseas and monitor his development for a couple seasons. His agent Bouna N'Diaye seemed to indicate they would explore entering his name in the draft this season, and he seemed to like the idea of Seraphin taking a similar route to one of his other clients, Ian Mahinmi. With the economy's current effect on the NBA and many teams in cost-cutting mode, it would certainly make sense to see a team go that route with him. Seraphin helped his stock with his performance here, first and foremost just by being seen and getting his name out, and it will be interesting to see if he decides to stay in the 2009 draft.

[Read Full Article]

---
Nike Hoop Summit, Day Two
April 10, 2009
Kevin Seraphin is an interesting case for a number of reasons, but most notably the fact that he has only been playing basketball for a couple of years now. He plays for Cholet in France, a young team that has struggled in domestic league competition this season, but features notable NBA draft prospects such as Rodrigue Beaubois and Nando De Colo. Seraphin's team competes in the EuroChallenge, where he has not made much of an impact, but the big has put together a few nice games in France's ProA league this year.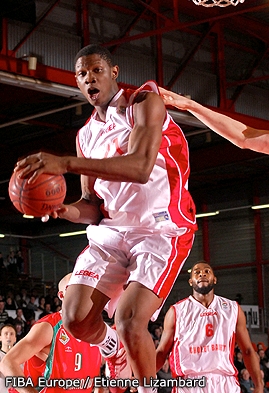 FIBAEurope.com



Seraphin has everything you could ask for in terms of measureables. He stands 6'10" without shoes, with a 7'3" wingspan. Weighing 263 pounds, Seraphin has a great body with chiseled arms, thick legs, and great all-around strength. In transition, he runs the floor like a guard, and often finishes the break with a thunderous dunk.

Skill-wise, there is a long way to go before he becomes a real player, but he has progressed quickly considering how new the game is to him. Seraphin really has a nose for the ball on the offensive glass, and often creates second looks. He rebounds the ball effectively on the defensive end as well, using his frame to push away opposing players, and his length and leaping ability to collect the board.

Defensively, Seraphin has a long ways to go. The Frenchman lacks weak-side shot-blocking ability, not for lack of leaping ability, but mostly due to timing and anticipation. His understanding and reaction to pick and roll coverages must improve greatly for him to become an effective defender as well. In the low-post, the big man uses his strength well to bang against opposing big men, but he needs to become more effective at pushing his man out of position and denying the entry of the ball, two things which he should do easily considering his measurables.

On the offensive end, Kevin Seraphin isn't the type of player who will ever have to become a go-to scoring threat, but he has a long way to go to even be considered acceptable for the NBA. His hands aren't great when it comes to catching the ball down low, and he shoots the ball quite poorly at this point in time. Down low, he tries to finish everything with a right handed hook if he can't dunk, and his accuracy on this shot needs improvement. The big man has displayed flashes of a face-up game, driving and finishing on a couple occasions during the practices.

To become a more effective offensive player, Seraphin could just focus on setting bigger screens on offense, and flashing to the dunker's spot down low. For all of his size and strength, he doesn't really look to find the guard on a pin-down, or make himself big on the pick and roll. Setting better screens would also create more guard penetration, which would likely lead to more easy looks for Seraphin around the basket.

Kevin Seraphin has all the tools you look for physically in an NBA caliber big man, but must focus on polishing his skills over the next couple of seasons. Right now he would likely be the type of player a team takes in the second round to stash overseas for a couple of years, and see how he progresses skill-wise. Considering that he's still two years away from being automatically draft-eligible, though, he could still emerge as an even more intriguing prospect if he continues to make strides with his game.

[Read Full Article]

---
European Roundup: Emir Preldzic Blossoming in the Euroleague
December 30, 2008
Kevin Seraphin is becoming one of the must-see players this season in the French LNB, when he plays that is. A member of the U-20 French National Team that played this past summer in Riga at the European Championship, he didn't see much action, but displayed enough potential to merit another look, especially since he was one of youngest players there (born in December in 1989, he was almost a junior).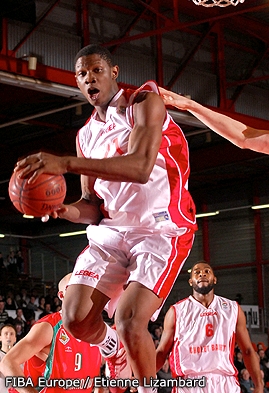 FIBAEurope.com



A nicely athletic and coordinated player carrying around 255 lb. of muscle in his 6-9 body (he's probably 6-10 in shoes), his physical assets could be considered surprising when you consider that he's been playing organized basketball for just slightly over three years, spending the past two with Cholet's Espoirs (the youth team, where he still regularly plays). Thrown into the jungle that is professional basketball, he appears very raw, but there's plenty of intrigue about his game. This intrigue isn't solely based on his potential, he's played well when given the opportunity: despite only seeing significant minutes in two French Leagues game, he came up with 12 points and 5 rebounds in 18 minutes against Strasbourg, and 17 points and 7 rebounds in 20 minutes against Nancy.

We've had the chance to witness most of Seraphin's minutes in the French League and some action with the Espoirs (in addition to his marginal performance at U-20 European Championship), getting a grasp on his current game.

Two areas clearly stand out in Seraphin's game: his low-post game and his shooting stroke. He's usually working near the basket, easily establishing position down low against young and veteran players alike, showcasing his strength in the process. Still not very good at moving without the ball, when he receives it, Seraphin appears unexpectedly comfortable playing with his back to the basket. He rarely delivers fancy moves, but shows promising footwork, nice quickness and uses his body pretty well. He usually tries to blow by his opponent looking for an easy basket with his right hand, but can also connect on turnaround shots and short jump-hooks, showing a nice soft touch near the rim (we even saw him attempt a lefty jump-hook that almost went in).

Still very inconsistent shooting jumpers from the field, which he does try to do very often, his very intriguing stroke looks reliable from the free-throw line, showing excellent mechanics. On the year he's shooting a superb 85% accuracy from the charity stripe in the French League, and 75% with the Espoirs. He probably only needs to develop rhythm and gain experience in game situations to add this extremely useful weapon to his offensive repertoire.

Apparently a pure off-the-ball player, Seraphin doesn't show any ability putting the ball on the floor. Often setting picks for teammates, he rarely demands the ball, and just doesn't seem comfortable on the perimeter. He should really work in this area, since he has the physical set to be effective attacking the rim or pulling up for mid-range jumpers in pick-and-pop plays. On the other hand, he manages to get fed around the basket, taking advantage of slow defensive rotations (although he doesn't finish with dunks as often as you would expect).

Strong, athletic and very mobile, Seraphin has the tools to be a good defender, but struggles on that end of the floor. He needs to better use his body to keep opponents from backing him down, be a little bit tougher, anticipate moves, not bite on fakes and, generally speaking, play a more fundamentally sound brand of defense. He should also could stand to work harder when boxing-out, although his excellent wingspan and good hands compensate for his lack of rebounding fundamentals.

Seraphin's basketball IQ is still a question mark. It's not that easy to distinguish between his lack of experience and a poor understanding of the game. He doesn't stand out as a passer, and he struggles passing the ball out of double-teams.

It's interesting to note that Seraphin is playing mostly as a center, but his mobility and shooting stroke should enable him to function as a power forward in a hypothetical NBA future. Having enjoyed serious playing time only as a replacement for injured teammates, his first objective should be to work as hard as possible in order to get into Cholet's rotation. He does seem to have some real draft potential, though.

[Read Full Article]

---