Klay Thompson
Recent Tweets
All Tweets
DraftExpress: USA Select team continued: Kyrie Irving; Kawhi Leonard; Jeremy Lin; Klay Thompson
2012-05-21 12:03:51
DraftExpress: Back to the crazy lineup: Ish Smith, Ellis, Klay Thompson, Rush, Ekpe Udoh-- the strength of this lineup is? Cause ... http://t.co/ZDb3QjQM
2011-12-26 12:33:47
DraftExpress: GS may regret pumping up Klay Thompson as ROY before playing even 1 game. Too much pressure on him AND them. Body language has been terrible
2011-12-26 01:18:04
DraftExpress: This lineup Marc Jackson is using: Ish Smith, Klay Thompson, Brandon Rush, Dorell Wright, Ekpe Udoh- is the ballsiest I've seen all day. Wow
2011-12-25 11:12:28
DraftExpress: Mark Jackson is guarenteeing the playoffs after the Klay Thompson pick.
2011-06-23 08:46:47
Top 25s - Full List
Team: Warriors
Physicals
Positions
Rankings
Salary
Misc
H: 6' 7"
W: 206 lbs
Bday: 02/08/1990
(25 Years Old)

Current: SG/SF
NBA: SG/SF
Possible: SG/SF

RSCI: 61

Agent: Bill Duffy
Current Salary:$3,075,880

High School: Santa Margarita Catholic
Hometown: Ladera Ranch, CA
Drafted: Pick 11 in 2011 by Warriors

Predraft Measurements
| Year | Source | Height w/o Shoes | Height w/shoes | Weight | Wingspan | Standing Reach | Body Fat | No Step Vert | Max Vert |
| --- | --- | --- | --- | --- | --- | --- | --- | --- | --- |
| 2011 | NBA Draft Combine | 6' 5.75" | 6' 7.25" | 206 | 6' 9" | 8' 7.5" | 8.0 | 26.5 | 31.5 |
| 2010 | LeBron James Camp | NA | 6' 6" | 190 | 6' 8" | NA | NA | NA | NA |
| 2010 | Paul Pierce Camp | NA | 6' 6" | 190 | 6' 8" | NA | NA | NA | NA |



Basic Per Game Statistics

- Comprehensive Stats - Statistical Top 25s
| Year | League | Name | GP | Min | Pts | FG | FGA | FG% | 2Pt | 2PtA | 2P% | 3Pt | 3PtA | 3P% | FTM | FTA | FT% | Off | Def | TOT | Asts | Stls | Blks | TOs | PFs |
| --- | --- | --- | --- | --- | --- | --- | --- | --- | --- | --- | --- | --- | --- | --- | --- | --- | --- | --- | --- | --- | --- | --- | --- | --- | --- |
| 2015/16 | NBA | Klay Thompson | 18 | 31.3 | 16.3 | 6.1 | 13.3 | 45.4 | 3.6 | 7.3 | 48.9 | 2.5 | 6.1 | 41.3 | 1.7 | 2.0 | 83.3 | 0.4 | 3.1 | 3.4 | 2.5 | 0.5 | 0.8 | 1.9 | 2.2 |

Player Page&nbsp&nbsp| Player Stats | Mock Draft History | Related Articles&nbsp&nbsp| Add to My Draft Express&nbsp
&nbsp
Situational Statistics: the 2011 Wing Crop
June 22, 2011
Klay Thompson's 21.3 possessions per game is the second highest of any wing, but his 0.971 PPP ranks just ninth overall, though that's weighed down heavily by his low percentage of transition opportunities, as his 11.3% ranks 15th of 17.

Looking solely at halfcourt possessions, 0.978 PPP ranks an impressive fourth, while his 18.9 halfcourt possessions are the highest in the class.

A versatile offensive weapon who can score in a variety of ways within a team's offense, Thompson sees a good chunk of his possessions in various different ways, with 10.8% coming from pick-and-rolls, 22% from spot-ups, 23.5% from isolations, and 11.9% coming off screens.

Thompson's 1.103 PPP on pick-and-rolls easily ranks first in the class (no one else breaks the 1.0 threshold), while his 1.15 PPP on spot-ups and 1.0 PPP on screens are both above average. Thompson is less impressive in isolations, where his 0.788 PPP ranks just 13th overall, unsurprising given his athletic limitations.

Thompson's 1.094 PPS on jumpers ranks third in the class, but his 9.1 jumpers per game is the most of any player, and the two players ranking above him in efficiency both take far fewer attempts (Jon Diebler at 5.4 and David Lighty at 4.1).

On the other hand, Thompson's limitations show in his ability to finish around the basket, where his 1.116 PPS ranks 12th overall.

[Read Full Article]

---
West Coast Workout Swing Part Four: BDA Sports
June 6, 2011




One of the top shooters in the 2011 draft class, Klay Thompson had a terrific three year career at Washington State. Emerging as an elite spot-up threat as a freshman, the California native was the top wing scorer on the west coast as a junior. Averaging 21.6 points per-game this season, Thompson earned All-Pac-10 First Team honors while solidifying himself as a first round prospect despite his team's inability to reach the NCAA Tournament.

Here at the Galen Center, Thompson has been working to adjust to the NBA three-point line, shore up his footwork, and diversify the range of moves he can use to score off the dribble. After warming up with some dynamic exercises and basic drills, Thompson got down to business in catch and shoot drills. Making roughly half of his open jumpers last season according to Synergy Sports Technology, Thompson's shot is a thing of beauty, and that becomes even more clear in a setting like this where you can see just how intense he is about his consistency and how his mechanics virtually never waver. Though he didn't knock down shots at a typical rate at the combine, scouts are fully aware of Thompson's ability to stretch the floor, and from what we saw, he looked comfortable out to NBA range.

After finishing the simple catch and shoot drills, Thompson worked on shooting coming off of all types of simulated screens, pulling up off the dribble, and a series of moves aimed at getting to the rim. His footwork looked incredibly smooth, and while he wasn't known for his quickness on the college level, he's looking to develop some ways to use the tools to he has to score inside the arc.

In competitive play, Thompson was guarded well by his brother Mychel for stretches, but had some nice moments too. Playing against his brother is a major challenge for Klay, since Mychel knows his tendencies inside and out and does not take it easy on his little brother. Obviously, a two-on-two game isn't reflective of what Thompson will be asked to do at the next level, but it was interesting to see him use some of the moves we was working on in drills in a competitive setting.

Amongst all the players we witnessed on our west coast workout swing, Thompson was amongst the most impressive. He's working on a diverse range of skills, and it will be interesting to see how those things translate to whatever system he lands in next season. His shooting will provide immediate value to the team that drafts him, and with time, he could become a very dangerous all-around scoring threat at the next level.

[Read Full Article]

---
Finding a Niche For: Klay Thompson
May 24, 2011
Klay Thompson is one of the most potent scorers in college while he made noticeable strides in multiple areas of his game this year, though he has some athletic limitations from an NBA perspective. What situation would he best be suited for in the NBA?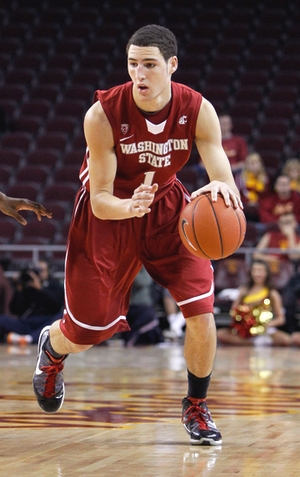 Icon SMI



Establishing himself as a dynamic scorer early in his freshman season, Thompson continued to show flashes throughout his first two years at Washington State, but struggled with inconsistency and inefficiency often. As a junior, he took his scoring game to the next level while also making strides with his passing game, both of which gave his draft stock a considerable boost.

Still, there are many questions surrounding Thompson's game and how it will transition to the next level, namely due to his lack of great athleticism and struggles on the defensive end.


---
Klay Thompson (#1) Strengths/Weaknesses Video
Watch in full screen mode by clicking button in upper right hand corner of video
---



More DraftExpress Video Breakdowns:


-Tyler Honeycutt
-Justin Holiday
-Tristan Thompson
-Brandon Knight
-Terrence Jones
-Alec Burks
-Derrick Williams
-Jimmer Fredette
-Kenneth Faried
-Harrison Barnes
-Marcus Morris
-Perry Jones
-Kawhi Leonard
-Brandon Knight
-Tristan Thompson

---

A go-to scorer at the college level who uses a good number of possessions, the biggest initial question for Thompson is how big of a transition he'll have to make in the NBA. The good news is that unlike many high-scoring college players, he isn't really a dominant ball-handler and already is used in multiple situations operating off the ball.

Relying heavily on his perimeter shot (308 jump shots compared to 123 shots around the basket in the half court this season according to Synergy), Thompson is constantly moving without the ball and coming around screens, showing a great knack for finding open areas of the floor and being multi-capable once the ball gets in his hands. Making quick decisions and showing good scoring instincts, Thompson doesn't usually have the ball for that long before it leaves his hands.

Thompson is at his most comfortable spotting up or coming around screens, showing excellent shooting mechanics with consistent balance and a high and quick release. He has cut down on bad tendencies over the course of his career and doesn't take many ill-advised shots anymore, being pretty efficient overall. He's absolutely deadly with his jumper when left open, scoring 1.46 points per shot on uncontested jumpers according to Synergy, and he should see many more of those in the NBA as he transitions to having much less defensive attention.

With many volume shooters entering the NBA, there is a large change in role in terms of how often the ball is in their hands or what types of shots they're getting, but if he lands in a good situation, Thompson's only adjustment will be the number of shots he takes, not the type. Any up-tempo team would be a good fit, though he could excel just as easily in a half court-oriented team with a lot of screening and ball movement.

Thompson's lack of great athletic tools is somewhat concerning, though his solid size at 6'7 combined with a high release and a shot that doesn't need much separation should somewhat mitigate the increased athleticism and length he'll see from defenders. Transitioning from a first to likely third or fourth option will also help, while his high motor, constant off-ball movement, and feel for getting open will likely be his biggest assets. If he continues to exhibit those traits with a smaller role, he can be a major asset for a well-run half court offense.

Thompson showed some improvements with his ability to attack off the dribble as a junior, though it is still not a great strength, as his first step is underwhelming and he lacks much in the lane of advanced ball-handling. He occasionally shows some toughness going to the rim and isn't afraid of contact, while he also has a nice floater in the lane, which he gets off easily at his size in spite of his lack of vertical explosiveness.

Thompson's biggest assets in his dribble-drive game are his decisiveness and off-ball motion, however, as he frequently gets a half step on his man before he even puts the ball on the floor due to the positions he catches the ball in. This, combined with his quick decision-making and good recognition of driving lanes make him dangerous with straight-line drives from the wing, which should at least be enough to keep NBA defenses honest.

He'll never likely be a great finisher at the rim, nor one to take his man consistently in isolation, but has the feel and skills to utilize the dribble-drive playing more off the ball, something that will likely be critical to separate him from being just a perimeter shooter.

Another area Thompson improved upon during his time in college is his passing game, something he'll likely need to continue doing at the pro level. He shows occasional prowess both on simple drive-and-dishes and operating pick-and-rolls, being a solid passer for a wing. Given his likely diminished scoring role in the pros, turning this area from adequate to a strength could definitely help him become a useful cog, and it would go well with his prowess moving off the ball.

While there are some concerns about Thompson's athleticism hurting his offensive game at the next level, the bigger concerns lie on the defensive end, where he is noticeably lacking in lateral quickness and is taken off the dribble often.

Thompson's effort level on the defensive end has improved during his time in college, and he shows solid awareness and makes good rotations off the ball, but his lack of quickness is certainly something that can be exploited. His problems can be hid somewhat on good defensive teams, and his apparent effort level and capacity for playing good team defense will certainly be useful, though he'd have a lot of work to do to even become an average NBA defender overall.

Thompson's defensive problems should be equally pronounced at either the shooting guard or small forward positions, and the questions for teams will be how much can they coach him up and whether his offensive strengths do enough to outweigh his defensive shortcomings. His progress as a junior and strong season overall definitely quell those concerns, at least somewhat.

Looking forward, Thompson's scoring versatility and the diverse roles he's played at the college level make him a potentially good fit in a variety of offenses in the NBA. His lack of great athleticism will likely always limit him from becoming an offensive focal point, and being drafted by a young team lacking go-to scorers might give him opportunities, but would likely not help his long-term development.

Currently projected as a mid-first rounder, Thompson will likely have a chance to be drafted by a playoff-caliber team, where he could find early opportunities to be an offensive cog with his off-ball movement and spot shooting ability. Being equally capable from both mid and long range while not needing the ball in his hands to score, Thompson would fit well on a team with a balanced offense that also has the defenders to make up for his shortcomings. San Antonio, Denver, and Utah are three obvious examples, especially because they're all known for their history with spot-shooting wings, though he could also excel on an up-tempo team with a penchant for pushing the ball ahead for open shots.

With his highly developed perimeter skill set and feel for the game, Thompson could contribute early in his career, and probably doesn't have a significant upside beyond what he is now due to his physical limitations. There's no guarantee he seamlessly makes the role to being a lesser scoring option, however, and he will need to stay away from the bad habits he had earlier in his college career, something being drafted onto a winning team with strong coaching would definitely help avoid.

[Read Full Article]

---
NBA Combine Interviews: Kawhi Leonard, Hamilton, Thompson, Lee
May 21, 2011
[Read Full Article]

---
Trending Prospects (12/30/2010)
December 30, 2010
AP



Joseph Treutlein

Coming off an inconsistent sophomore season, Klay Thompson has taken his game up another notch through the first 13 games of his junior year, increasing his production and efficiency across the board while making subtle improvements in a few areas of his game.

On the offensive end, Thompson is still as dynamic a scorer as ever, except he's been more efficient and done a better job playing within his team's offense, showing improved discipline with his shot selection and opting to dish the ball off a bit more than he used to.

The majority of his offense is still coming from the perimeter, with 85 of his 194 field-goal attempts thus far from behind the arc, but much fewer of his shots are coming off the dribble or early in the shot clock, having a better focus on getting open for spot-up shots and showing more consistency knocking them down. He's scoring a blistering 2.0 points per shot on open catch-and-shoot jumpers thus far and 1.35 on jumpers overall, being as dangerous as ever putting the ball in the hole, even from NBA three-point range.

While Thompson is still prone to taking some ill-advised shots coming around screens before squaring his shoulders to the rim, he's done a better job keeping his mechanics and balance consistent no matter the duress he's under, and his performance hasn't faltered even against the likes of Butler, Baylor, Kansas State, and Gonzaga in what has been a fairly tough non-conference schedule.

In terms of attacking off the dribble, Thompson is settling for fewer pull-up jumpers far away from the basket and using his craftiness to penetrate into the lane, where he's scoring well on a variety of floaters, runners, finger rolls, and lay-ups. His touch and body control are both outstanding, and despite not having a good first step or the ability to separate vertically, his size and length allow him to finish well at this level and he's continually improving his willingness to draw contact, slightly increasing the rate he's gotten to the line this season.

Concerns certainly remain with his dribble-drive game projecting to the next level, as his right hand is weak, he doesn't possess much in terms of advanced moves, and he projects to have more trouble scoring over bigger, stronger, and more athletic defenders, but this is an encouraging development for sure.

As a side effect of his improved shot selection, Thompson is having more opportunities to dish to open teammates, nearly doubling his assist numbers from last season. Rather than forcing ill-advised jumpers or trying to split double teams, Thompson is doing a good job making simple kick-out and dump-off passes to open teammates on the move, and doing a good job with flow of the offense passes as well.

On the defensive end, Thompson's problems are still largely the same, and he'll always be at a disadvantage athletically, not having the foot speed to stay in front of most NBA-caliber athletes consistently. His effort level on this end of the floor has improved throughout his three years in school, and he does do a good job using his length to compensate for some of his other shortcomings, but this is still an area he needs to continue working on. His problems are even more pronounced in pick-and-rolls and when coming off screens, as once his defender has a half-step on him he has little chance of recovering from behind.

Looking forward, making improvements to his shot selection, consistency hitting open jumpers, and passing game are all welcome developments for Thompson, but it should be noted that he started out last season at a great pace only to slow down as the season went on and conference play got underway. While he's played well against good competition thus far this year, it still remains a concern that the same thing could happen again, and it will be critical for his stock how he can maintain his improvements over the course of the season.

Thompson's future success will likely be heavily dependent on the situation he's drafted into, as his skill set's effectiveness will vary greatly depending on what system he's in. How he adjusts to not having so many plays run for him as he gets in college will also be very important.

[Read Full Article]

---
Top NBA Draft Prospects in the Pac-10, Part One (#1-5)
September 20, 2010
Kyle Nelson

Klay Thompson was one of the best scorers in the country last season and was named First Team All-PAC-10 after a productive sophomore campaign. Few players, however, demonstrated such extreme highs and lows. For example, despite averaging 25 points per game during November and December, Thompson faltered in February, where he shot just 32% from the field on his way to a paltry 13.7 points per game. As Thompson enters his junior year, scouts will be watching to see if he can shoot the ball more efficiently this season and to gauge whether or not he can successfully transition into a role player at the next level.

The numbers confirm Thompson's increased role in Washington State's offense, where he found almost 45% of his offensive possessions spotting up or in isolation sets. He ranked 18th of all prospects in our database in possessions and field goal attempts per game. He increased his productivity accordingly, scoring 22 points per 40 minutes pace adjusted.

Though his shooting numbers were only slightly better and his shooting efficiency was still far below average, Thompson honed his scoring instinct last season, looking more comfortable putting the ball on the floor and excelling in catch-and shoot opportunities. Thompson displays a smooth shooting motion with a very high release point and quick release, which, at 6'6, is an asset at this level. He can make shots off of the dribble and with his feet set and proved himself to be an extremely streaky shooter. He also does an excellent job moving without the ball and utilizes screens extremely well at this level.

Curiously, however, Thompson shot a better percentage when guarded than he did on open jumpers. While he can make difficult and contested shots, he misses far too many wide open shots with his feet set, especially given his reputation as a shooter. Thompson's mechanics break down considerably when he is out of rhythm, which is exacerbated by shooting too early in the shot clock or taking a shot outside of his range.

While Thompson proved that he was one of the best catch-and-shoot players in college basketballófrom a volume perspective at least--he must work on consistency and efficiency next season and avoid the long shooting droughts that plagued his play during his sophomore campaign. After all, NBA offenses will probably not feature him like Washington State's and there will not be many plays run for him at the next level.

Though Thompson's catch-and-shoot abilities should translate smoothly to the next level, he looked less refined as a shot creator and raised quite a few questions marks with his performance. His mid-range game was much improved and he was successfully pulling up inside of the arc after taking a dribble or two. As a slasher, however, his potential looks very limited. While his ball handling improved last year with his expanded role in the offensive, Thompson is still just an average slasher with a high dribble and continues to favor his left hand. His marginal first step and lanky frame do him no favors as a slasher, either, and his lack of explosiveness makes him an ineffective finisher around the basket.

He also turned the ball over at a very high rate last season, as he was prone to tunnel vision on his way to the basket, only looking to kick the ball out when it was too late. He forced the action too often and did not respond well to increased defensive pressure, especially against teams with solid perimeter defenders like Washington and UCLA. Next season, scouts will be watching to see if he can become a more efficient player within the framework of Washington State's offense.

While Thompson shows potential to contribute on the offensive end at the next level, his defensive ability leaves much to be desired, both in terms of fundamentals and athleticism. He is neither a particularly explosive nor fluid athlete and his below average lateral quickness severely limits him on defense. He can use his length to disrupt shooters on the perimeter, but he was often slow closing out his man. Ultimately, though he showed an increased willingness to defend, he must continue to stay focused and interested on this end of the floor he otherwise he'll almost surely struggle at the next level against more athletic offensive players.

Though his below average defense and athleticism present more than a few questions about his potential at the next level, Klay Thompson his size and scoring instinct work in his favor and make him a legitimate prospect. He can and should get better next season, especially if his comfort level increases and he continues to improve his skill set. Though it would be nice to see Thompson continue to diversify his offensive game, it is essential that he consistently hit shots with his feet set and work hard on the defensive end. Efficiency is the key, however, as Thompson must convince scouts that he can play a role as a spot-shooter in the NBA while carrying the offensive load for a young, upstart Washington State team.

[Read Full Article]

---
NCAA Weekly Performers, 12/3/09
December 3, 2009
Joey Whelan

If the NCAA gave out monthly awards like the NBA, there would be no question who November honors would have went to. The son of former NBA player Mychal Thompson, the 6-6 sophomore has started the season on an absolutely torrid shooting streak and currently leads all NCAA draft prospects in scoring at just over 26 per contest, as well as with his 31 points per-40 minutes adjusted. While some of his early scoring exploits went unnoticed, last Saturdayís record 43-point explosion in a win over San Diego in the Great Alaska Shootout championship game was enough to turn some heads.

We covered Thompson extensively during our preseason rankings and breakdowns and in his initial scouting report there was a great deal of discussion surrounding the potentially positive impact the arrival of head coach Ken Bone could have on the budding star.

Now a couple of weeks into the season, it is clear that this has been a drastic boost to Thompsonís game. Bone has made him the focal point of the offense Ė something he wasnít last year Ė and is running a tremendous number of plays specifically designed to get the ball in his bestís playerís hands, whether itís isolating him at the top of the key, putting him in pick and roll situations, or particularly running him off of screens. While he is a deadly shooter with his feet set, his ability to catch, square and fire at such a consistent rate is what really makes the youngster appealing as a pro prospect. His release is high, quick and nearly identical every single time regardless of where he is on the floor and how much pressure the defense is exerting. This is a part of his game that should translate over immediately to the professional level, giving him a nice framework to build off.

The increase in overall output from Thompson thus far in the early part of the season has been absolutely staggering. He has nearly doubled his scoring per-40 minutes pace adjusted, increased his shooting numbers from the floor and beyond the arc by 10 percent each, increased his assist numbers and most impressively has gone from attempting 1.1 free throw per-40 minutes, to eight.

While improving his ball-handling skills has certainly allowed Thompson to attack the basket off the bounce more effectively than during his freshman season, much of his increased success seems to stem from a newfound sense of confidence he is exuding. The combination of winning a gold medal with the USA U-19 team this summer and the WSU coaching staff making him the go to option has clearly gone a long way to making him more aggressive with the basketball. Thompson is looking and playing like a guy who is clearly the best player on the floor pretty much every time he steps on the court, and itís gone a long ways in increasing his assertiveness.

What this confidence on offense has done for Thompson is allow him to show NBA scouts that he is more than simply a one-dimensional shooter. While he is far from being labeled an explosive athlete, his conditioning and strength are definitely improved and he seems to be a half step quicker off the dribble than he was last season. Rather than simply being a player who needs to be run off of screens in order to get his scoring opportunities, Thompson is starting to display the ability to create scoring chances for himself.

Defense has, and will continue to be the sophomores Achilles heel. While his size, frame and excellent intensity level certainly help mask some of his shortcomings in this area as a college player, his average lateral quickness hinders his defensive potential significantly right now. At this point it looks as though he would have to guard the small forward position rather than shooting guards in the NBA, but that isnít to say he canít continue to work on his lateral quickness and improve in this area. He does show good instincts and is averaging over two steals per game thanks to his smarts and anticipation skills. Becoming a more solid and consistent defender will make Thompson an essential lock for the pro game, if he isnít one already.

It might be too much to expect Thompson to continue leading the country in scoring while playing in the Pac-10 Conference, but he has certainly displayed the skills and shooting ability to keep his average comfortably over 20 points per game, especially given how integral a role he has in the Cougars offense. Also working in Thompsonís favor is the fast start for his team as Washington State stands at 6-1 after a close road loss to perennial power Gonzaga on their home floor. Itís only a matter of time now until the rest of the country catches onto how impressive Thompson has been thus far this season.

[Read Full Article]

---
Top NBA Draft Prospects in the Pac-10 (Part One: #1-5)
September 12, 2009
Scott Nadler

The son of former NBA number one draft pick Mychal Thompson, Klay Thompson is quietly writing his own history after a stellar 2008/09 freshman campaign. The slender 6-6 wing established himself as one of the top 3 point shooters in the Pac-10 last season, earning him All-Freshman team honors. After a solid summer as a key contributor on the USA U-19 Gold Medal winning team in New Zealand, expectations are high for Thompson to lead the young Cougars back to the NCAA tournament.

Thompson was able to make a name for himself on the offensive end despite playing for one of the slowest paced teams in the country under former coach Tony Bennett, who has since moved on to UVA. With the more offensive minded Ken Bone coming to WSU, more scoring opportunities is sure to come for Thompson. In stark contrast to Bennettís style, Boneís Portland State Vikings averaged 73.4 PPG on 67.4 possessions last season, as opposed to Bennettís teamís 59.2 PPG on 59.6 possessions.

With the added possessions this season, Thompson will have more chances to show off his effortless shooting stroke and deep range. Nearly half of his shots last year came from behind the arc (5 attempts per game) and he capitalized on those attempts 41.2% of the time. His offensive game mainly consists of spot up jumpers and coming off screens (28%) Ė utilizing his quick release and great ability to move without the ball to get good looks. His high basketball IQ is easy to see when watching how he uses screens, as he almost always makes the correct read.

Thompson has the potential to be more than just a shooter, but must expand his game in order for his natural scoring instincts to come through. He averaged 17.0 points per 40 pace adjusted with 80% of his production coming from the jump shot variety. He shoots 90% from the foul line but on less than one attempt per contest Ėa result of his slight build and below-average athleticism, which also contributes to his poor ability to finish around the basket. Assuming he can develop more of an attacking mindset, itís not out of the question to see Thompson become close to a 20 point a game scorer sometime in the near future. Thompson will also benefit himself by improving his ability to drive both ways, resorting to his left hand 78% of the time a season ago.

In addition, he must develop his ball-handling skills overall. He dribbles very close to his feet, which suggests a lack of confidence to extend the ball out in order to beat his defender. He displays below-average quickness, but because of his adept shooting, he should be able to get past his man. Presently heís allowing the ball to slow him down by taking more dribbles than necessary to get to the rim.

His assist to turnover ratio is .89, which is average and could be improved. He did bring the ball up the court occasionally, playing under control and making the right plays most of the time, showing his excellent feel for the game. With that said, Thompson does have a tendency to get a little careless on occasion by jumping to make a pass or driving into traffic unnecessarily, but nothing you wouldnít expect from a freshman.

On the defensive end, Thompsonís efforts were inconsistent this past season. He plays in spurts, looking active and playing disciplined on one possession and then going for steals and jumping on ball fakes on the next possession. The majority of the time, he plays standing straight up as opposed to staying low and alert. As a result, heís often late on rotations or close outs. To go along with that, as good as he is at using screens on the offensive end, he struggles fighting through them on the defensive side of the ball. Savvy offensive players exploited his lack of positioning and ran him off screens on a nightly basis. His shot contests were also rather weak, failing to use his highest reach to distract defenders from time to time.

The Cougars go into this season with only one senior and all freshmen and sophomores, which will allow Thompson to show his skills as a leader and become the face of Washington State. With added strength, an aggressive state of mind, and learning how to adapt to a more potent offense, itís not unlikely for Klay to mold himself into an all Pac-10 performer this year. Not possessing the worldís greatest upside, heíll have to polish up his all-around game before he can start seriously thinking about the NBA.

[Read Full Article]

---
USA Basketball Junior National Teams Tryouts: Top Performers
June 20, 2009
Washington Stateís Klay Thompson clearly wasnít one of the most productive freshmen in the Pac-10 for nothing this year, as he showed here throughout the week with his steady and heady play on both ends of the floor. Thompson is an excellent shooter with a very good feel for the game, showing strong fundamentals and a nice understanding for how to move off the ball and use shot-fakes to get his shot off. He probably isnít athletic enough to be considered a great NBA prospect, but is still a guy teams will need to look at considering how productive heís likely to become by the time heís done at Washington State.

[Read Full Article]

---