Kostas Sloukas
Recent Tweets
All Tweets
DraftExpress: More undrafted: Leon Radosevic, Hollis Thompson, Kostas Sloukas, Jordan Taylor, Eric Griffin, John Shurna, Mitchell Watt, Ricardo Ratliffe
2012-06-29 12:04:35
DraftExpress: RT @DraftExpress2: Agent Panos Kapazoglou tells me Kostas Sloukas has not yet signed his new contract but will. There will be clear NBA ...
2012-06-27 09:35:27
DraftExpress: RT @SportandoBasket: Olympiacos signs Kostas Sloukas to a new three-year deal http://t.co/mR0LUe0K
2012-06-19 04:28:27
Team: Fenerbahce
Physicals
Positions
Salary
Misc
H: 6' 3"
W: 210 lbs
Bday: 01/15/1990
(25 Years Old)

Current: PG
NBA: PG
Possible: PG

Agent: Panos Kapazoglou

High School:
Hometown: Thessaloniki, Greece




Basic Per Game Statistics

- Comprehensive Stats - Statistical Top 25s
| Year | League | Name | GP | Min | Pts | FG | FGA | FG% | 2Pt | 2PtA | 2P% | 3Pt | 3PtA | 3P% | FTM | FTA | FT% | Off | Def | TOT | Asts | Stls | Blks | TOs | PFs |
| --- | --- | --- | --- | --- | --- | --- | --- | --- | --- | --- | --- | --- | --- | --- | --- | --- | --- | --- | --- | --- | --- | --- | --- | --- | --- |
| 2015/16 | EURO | Kostas Sloukas | 5 | 21.0 | 9.4 | 2.6 | 5.2 | 50.0 | 2.2 | 4.0 | 55.0 | 0.4 | 1.2 | 33.3 | 3.8 | 4.2 | 90.5 | 0.0 | 1.6 | 1.6 | 3.8 | 1.0 | 0.0 | 2.6 | 1.8 |

Player Page&nbsp&nbsp| Player Stats | Related Articles&nbsp&nbsp| Add to My Draft Express&nbsp
&nbsp
By the Numbers: The 2012 Guard Crop
June 19, 2012
To best understand what makes Kostas Sloukas such a unique prospect; you need look no further than his TS%. Playing just 14.7 minutes per-game, Sloukas is not a star in the making nor does he have great athleticism. Despite that, he had a simply outstanding year from an efficiency standpoint. He showed significant improvement as a set shooter, and coupled with his crafty play drawing contact at the rim and 87.5% free throw percentage, easily ranked as the most efficient scorer in this group. Considering the competition he was facing, that is certainly an impressive accomplishment.

[Read Full Article]

---
European Roundup: The Great Greek Revival
December 17, 2010
A standout at the U18 European Championships in 2008, Kostas Sloukas has seen his minutes nearly double from last season after being loaned to Aris Thessaloniki from Olympiakos. An extremely heady point guard, Sloukas is not a great athlete, but he has all the making of a high-level floor general on the European level, and could garner some minimal NBA attention later on in his career with the smart, consistent, low-mistake brand of basketball he plays.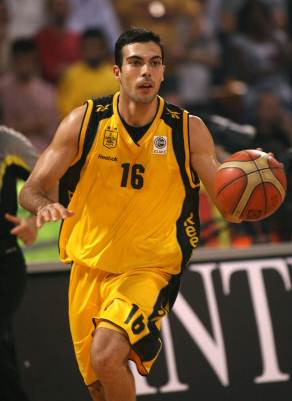 Aris BC



On the offensive end, Sloukas is first and foremost a floor general. He controls the tempo of the game, handles pressure, and makes good decisions. He's not a flashy ball-handler, nor will he make a highlight reel with his passes, but he plays like a leader, sees the floor well, and is not careless or over-aggressive.

Though he's a pass-first player, Sloukas does do some scoring, especially off the ball with his spot-up jump shot. A very capable shooter with his feet set, Sloukas has been very good off the dribble this season, which is a bit surprising considering his consistency drops of considerably when he shoots the ball with a hand in his face from a stand-still. Last summer at the U20 European Championships, Sloukas showed that he can add some offensive punch when he's not handling point guard responsibilities full time, playing next to a ball-dominant scorer in Nikos Pappas.

Though he brings some nice things to the table as a point guard and shooter, Sloukas is limited in other areas that factor prominently into his NBA potential. An underwhelming athlete, Sloukas struggles around the rim offensively and on the defensive end in the Greek League. Lacking the leaping ability to finish in a crowd and the lateral quickness to consistently deny penetration, Sloukas plays hard defensively, but simply doesn't have ideal physical tools to be effective in these areas against more athletic competition.

Despite his limitations, there's a lot to like about Sloukas on the whole. He'll post a terrific assist-to-turnover ratio, make the extra pass, and knock down shots from the perimeter. His weaknesses limit his upside to some degree, and he will need to step up and plays even more consistently in big minutes next season to garner NBA attention, but he will enjoy a fine career in Europe regardless.

[Read Full Article]

---
U-18 European Championship: From a Distance
August 6, 2008
Meanwhile, Sloukas emerged as the team's best player, probably even the championship's real MVP. The 6-2 left-handed point guard was an extremely steady presence for his team, providing basketball IQ, scoring, creation, distribution and leadership.




A solid ball-handler and a pretty nice shooter, Sloukas showed his intriguing off-the-dribble shooting mechanics with range out to the three point line and a nicely quick release. He excelled in pick-and-roll situations, being able to feed the rolling man, punish traps, stick a mid-range jumper or stay aggressive attacking the basket. He was also an extremely active presence under the boards, coming up with almost 6 rebounds per game, an outstanding amount for a player his size considering the people he had around him. On top of everything, he delivered a perfect combination of under control and creative playmaking.

[Read Full Article]

---
2008 Albert Schweitzer Tournament: Watered Down Mannheim
April 2, 2008
His partner in crime Kostas Sloukas usually came off the bench to provide perimeter shooting and passing game. He's a 6-2 lefty point guard with a sweet deep stroke –quick in the release, with off-the-dribble mechanics- combined with solid court vision. Decently quick, enjoying nice handles, he's productive on the pick-and-roll and regularly finds his teammates on the court. All in all, he's a very solid point guard to have on your side.

[Read Full Article]

---