Kris Joseph
Recent Tweets
All Tweets
DraftExpress: Celtics fans should be excited about the way their rookies Kris Joseph and Jared Sullinger looked here. Both should see minutes next season.
2012-07-12 12:45:51
DraftExpress: Looks good. So does Sullinger. RT @MottzThoughts: Thoughts on Kris Joseph? Seems to be having a decent summer league
2012-07-11 12:25:36
DraftExpress: RT @WojYahooNBA: Boston will select Kris Joseph with the 51st pick, league source tells Y! Sports.
2012-06-28 11:25:49
DraftExpress: RT @chrislittmann: Bradley Beal, Kidd-Gilchrist, Johnson-Odom, Bernard James, Kris Joseph, Quincy Acy working out for #bobcats tomorrow.
2012-06-17 07:17:31
DraftExpress: Mass withdrawals in Minnesota group workout already: Tomas Satoransky, Kris Joseph, Khris Middleton and Garrett Stutz will not attend.
2012-05-31 10:49:42
Team: Orleans
Physicals
Positions
Rankings
Misc
H: 6' 7"
W: 215 lbs
Bday: 12/17/1988
(26 Years Old)

Current: SF
NBA: SF
Possible: SF

RSCI: 59

High School: Archbishop Carroll
Hometown: Montreal, QC
Drafted: Pick 51 in 2012 by Celtics
Best Case: Gary Forbes
Worst Case: Carlos Powell

Predraft Measurements
| Year | Source | Height w/o Shoes | Height w/shoes | Weight | Wingspan | Standing Reach | Body Fat | No Step Vert | Max Vert |
| --- | --- | --- | --- | --- | --- | --- | --- | --- | --- |
| 2012 | NBA Draft Combine | 6' 6" | 6' 7" | 215 | 6' 11" | 8' 8" | 8.6 | 28.5 | 35.0 |
| 2010 | Kevin Durant Camp | NA | 6' 7" | 217 | 6' 10" | NA | NA | NA | NA |



Basic Per Game Statistics

- Comprehensive Stats - Statistical Top 25s
| Year | League | Name | GP | Min | Pts | FG | FGA | FG% | 2Pt | 2PtA | 2P% | 3Pt | 3PtA | 3P% | FTM | FTA | FT% | Off | Def | TOT | Asts | Stls | Blks | TOs | PFs |
| --- | --- | --- | --- | --- | --- | --- | --- | --- | --- | --- | --- | --- | --- | --- | --- | --- | --- | --- | --- | --- | --- | --- | --- | --- | --- |
| 2015/16 | French | Kris Joseph | 8 | 22.9 | 10.4 | 4.3 | 8.3 | 51.5 | 3.6 | 6.6 | 54.7 | 0.6 | 1.6 | 38.5 | 1.3 | 1.6 | 76.9 | 2.6 | 2.9 | 5.5 | 0.9 | 1.1 | 0.4 | 1.0 | 2.0 |

Player Page&nbsp&nbsp| Player Stats | Mock Draft History | Related Articles&nbsp&nbsp| Add to My Draft Express&nbsp
&nbsp
Trending Prospects (12/22/2011)
December 22, 2011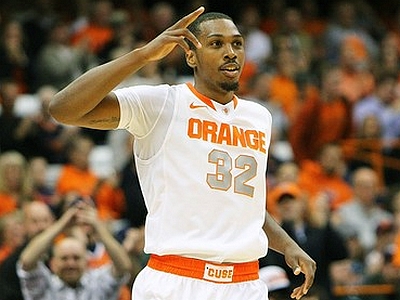 AP



Joseph Treutlein

The leading scorer and rebounder on the undefeated #1 ranked team in the country, Kris Joseph has had a strong start to his senior campaign, likely drawing plenty of attention by virtue of his team's excellent performance.

Joseph has made some subtle improvements in a few areas of his game, the most notable of which is what can be seen at first glance, that he's added some bulk to his frame. Joseph in the past has struggled with his ability to finish through contact due to his lack of strength, but has shown flashes of improvement in limited attempts this season, looking more comfortable finishing in the lane on both power and finesse moves when he utilizes them.

While Joseph appears to have improved some of his tools for finishing inside, it unfortunately has yet to translate into consistent results, as he's actually getting to the free-throw line at a much lower rate this season.

The decrease is mostly a result of Joseph playing exclusively on the perimeter this season (as opposed to being utilized as a combo forward) and changing his scoring tendencies some, favoring pull-up mid-range jumpers a bit more than he has in the past. With that said, on the occasions he is attacking the rim on cuts and straight-line drives, he is doing a better job powering up through contact, not being afraid to go strong to the rim.

Joseph is not the quickest or most explosive small forward prospect you'll find in this draft, but he has an excellent feel for scoring, and thus finds ways to get the job done at the college level.

As a shot creator, Joseph has made strides in some areas, looking more comfortable with his advanced ball-handling abilities, commonly using behind-the-back dribbles and both hands with a lower, controlled dribble on the perimeter, but has yet to develop the same comfort level operating in tight spots going to the rim. His increased mass doesn't appear to have slowed him down noticeably, and he's probably playing at close to an ideal weight for his game.

Joseph's spot-up three-point shooting remains his most potent offensive weapon, as he's proven last season's strong performance was no fluke. Joseph has again increased his three-point attempts (from 4.5 to 6 per-40 minutes) and percentages (36.6% to 41%) thus far this season, being a very dangerous threat when left open, and even showing some nice ability to knock down spot-up shots on the move in transition. This is an improvement development for him, as he likely won't be asked to operate as heavily with the ball in his hands in the NBA as he does at Syracuse, making it more necessary for him to be a knock down shooter.

As far as Joseph's pull-up jumper goes, it's still largely a work in progress, with him being very inconsistent pulling up from mid-range while defended. While his advanced ball-handling has improved some, he doesn't have the ability to consistently get separation from his defender in isolations, and his shooting form is still prone to breakdowns pulling up off the dribble. This isn't likely something he'd be called on to do in the NBA, and could benefit from having a more limited offensive role there, but his developing skills in all areas are still a nice development, as just being able to keep the defense honest in this area is useful.

On the defensive end, the story remains the same with Joseph, as it's very difficult to evaluate the things he'd be asked to do in the NBA in Syracuse's strict zone system. His effort level and focus remain solid, and he certainly has the tools to be a good defender at the small forward position (and perhaps a passable one in limited minutes at the power forward with his improved physique), but he is rarely put into situations where he has to defend a man one-on-one in isolation or the post.

Looking forward, Joseph should continue to get heavy attention from scouts all season with Syracuse likely to remain a strong contender for a #1 seed, and brings some appealing tools to the table from an NBA perspective. His combination of size, scoring instincts, spot-up shooting, and ability to attack on straight-line drives makes him a good fit for a role-playing 3 at the next level, though his defense still remains a question mark. Joseph's also made some slight strides in the little areas this season, increasing his rebounding and cutting down his turnovers, things that definitely won't hurt his stock.

Joseph's draft position may be hurt by his advanced age (he just turned 23) and the depth of this year's class, but he could find himself in the first round mix when it's all said and done if he continues to play well and his team continues to win.

[Read Full Article]

---
Trending Prospects (2/3/2011)
February 3, 2011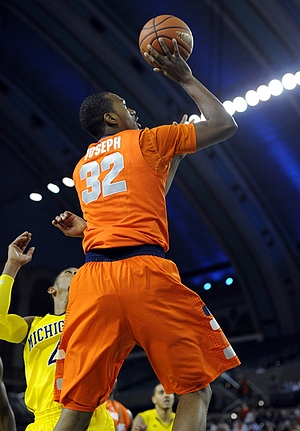 Icon SMI



Joe Treutlein

Coming off a solid sophomore season playing a supporting role behind teammate Wesley Johnson, Kris Joseph has stepped into the spotlight as a junior, emerging as the Orange's leading scorer while developing his skill set and showing better versatility.

On the offensive end, Joseph has upped his scoring average to 15.0 points per game, without much increase in minutes, while his scoring efficiency hasn't fallen off either. The biggest development for Joseph is in the shooting department, as evidenced by his tripling his three-point attempts per game and nearly doubling his three-point percentage.

Looking at his shot, Joseph has improved his accuracy substantially and cleaned up his mechanics a bit to the point where he's a very reliable shooter in space with range from a bit beyond the college three-point arc. He has a high and quick release and is excellent in space, scoring 1.55 points per shot on unguarded jumpers according to Synergy Sports Technology.

Joseph's mechanics can break down a bit when he's contested, as he tends to rush his motion and shows inconsistent touch, leading to some very errant north-south misses. Considering the drastic improvement he's made in a year, it's not surprising for the muscle memory to revert to old habits when contested, and it's certainly something that can catch up to the rest of his game over time.

Looking at his ability to attack the basket, the story is still largely the same for Joseph, as he boasts an outstanding first step and makes very long strides with the ball, though struggles when forced to change directions, not being impressive with his advanced ball-handling or creativity in the lane, often looking out of control with his drives. He does occasionally show some nice, subtle footwork to maneuver around defenders, but is clearly at his best when unimpeded to the rim. His lack of bulk is also a hindrance in terms of finishing around the basket, as he doesn't always have the strength to power up through contact, especially since he already doesn't have great control of the ball.

In terms of attacking the rim, Joseph is at his best in transition, on off-ball cuts, straight-line drives, and getting offensive rebounds, all of which minimize the importance of his ball-handling. At the NBA level where he'd play a more complementary role and likely be in a more up-tempo, open style of play, this area of his game could be highlighted even more.

Defensively, Joseph shows good hands and has all the physical tools to be a good defender at the small forward position in the NBA, but as is always the case with Syracuse players, evaluating him in the zone is not easy. His effort on close outs can be lackluster at times and he doesn't always seem to put in full effort moving his feet, but when he's applying himself he does quite a good job. Given his size and physical tools, he could do a better job on the glass, but is still adequate for his position.

Looking forward, Joseph's game, which emphasizes spot shooting and using his athleticism on quick cuts to the basket and in transition, is probably actually more suited to the NBA than the collegiate level, though how he adjusts to man-to-man defense and if he reaches his potential on that end will be critical for his long-term success. What situation he lands in should be important for him, and continuing to improve his shooting should be his main priority going forward. Joseph may not have taken quite the step forward that some were anticipating going into this season, but clearly he's making strides in the right direction.

[Read Full Article]

---
Top NBA Draft Prospects in the Big East, Part One (#1-5)
October 6, 2010
Kyle Nelson

Syracuse small forward Kris Joseph blossomed in a supporting role during his sophomore season and showed legitimate NBA potential alongside All-American and eventual top-5 draft pick Wesley Johnson. Unfortunately, for as good as Joseph looked at times last season, he was inconsistent just as often. Now that Johnson has moved on to the NBA, scouts will be watching to see if Joseph solidify his standing as a prospect while playing a leading role in Syracuse's offense.

Standing 6'7 with a solid frame that will certainly fill out in time, Joseph more than looks the part of an NBA small forward. He is also an outstanding athlete with excellent explosiveness and quickness that will serve him well at the next level.

While Joseph has excellent size and athleticism for his position, his skill set is a work in progress. During his sophomore season, his offensive output consisted primarily of spot-up opportunities and scoring in transition. Joseph made just 22% of his three point field goal attempts, but he strung together enough solid shooting nights, particularly against Georgetown and North Carolina, that suggest he has the potential to improve.

Joseph must work on his shooting mechanics, however, focusing on releasing the ball at the top of his shooting motion while eliminating excess lower body motion. Joseph converted just 18 of his 74 overall jump-shots (24%) last season inside and outside the arc, which is surely the thing he must improve the most on if he's to make his case as a top NBA draft prospect.

Joseph showed some flashes from mid-range, as well, even though many of his shots drew front iron. Joseph is not a particularly deft shot creator, but he has a quick first step and he looked more comfortable creating space for himself off the dribble as his sophomore season went on. Whether or not he develops further in this area determines largely on how much he improves his ball handling skills, particularly tightening his high dribble and working on changing directions more effectively.

Even as he has improved in other areas, Joseph is still at his best in transition where his speed and explosiveness allow him to be an excellent finisher. As a junior, however, he must focus on playing under control on a consistent basis while limiting turnovers around the basket.

Joseph's defensive ability is difficult to evaluate on account of Syracuse's zone defense, but he looked merely average last season. Joseph's athleticism, size, and lateral quickness are assets and suggest that he has the potential to develop into a solid defender, but his awareness looks underdeveloped and his fundamentals need significant work. Improving his focus, particularly getting better at closing out shooters and staying in front of his man is essential at this stage.

When evaluating Johnson's strengths and weaknesses, it is important to remember that he emerged from relative obscurity last season and quickly adapted to his role as Syracuse's sixth man. His potential far outweighs his ability at this point, but he should continue to improve throughout his time at Syracuse if his development curve thus far is any indication. While his lack of experience and raw skill-set held him back at times last season, the flashes he showed indicate that increased expectations for his junior season could very well be reasonable.

[Read Full Article]

---