Kyle Anderson
Recent Tweets
All Tweets
DraftExpress: Top NBA Prospects in the Pac-12 #6-10 Kyle Anderson Jordan Adams Josh Scott Devon Collier Nick Johnson http://t.co/FHsd9SxSEI
2013-10-04 01:15:53
DraftExpress: Andre Miller is unbelievable. The original slo-mo. Takes notes Kyle Anderson.
2013-04-20 20:09:22
DraftExpress: RT @GoodmanCBS Kyle Anderson will definitely return to UCLA his father told CBSSports.
2013-04-16 00:57:21
DraftExpress: UCLA better hurry up and hire a coach because from what I'm hearing Kyle Anderson is 100% planning on declaring for the draft right now.
2013-03-29 11:32:24
DraftExpress: Back at the Barclays Center. UCLA-Georgia about to tip. Shabazz in the starting five tonight sliding Kyle Anderson to the 4.
2012-11-20 20:33:47
Team: Delaware, Junior
Physicals
Positions
Misc
H: 6' 2"
W: 185 lbs
Bday: 00/00/0000

Current: G
NBA:
Possible:

High School: Newark
Hometown: Newark, IL




Basic Per Game Statistics

- Comprehensive Stats - Statistical Top 25s
| Year | League | Name | GP | Min | Pts | FG | FGA | FG% | 2Pt | 2PtA | 2P% | 3Pt | 3PtA | 3P% | FTM | FTA | FT% | Off | Def | TOT | Asts | Stls | Blks | TOs | PFs |
| --- | --- | --- | --- | --- | --- | --- | --- | --- | --- | --- | --- | --- | --- | --- | --- | --- | --- | --- | --- | --- | --- | --- | --- | --- | --- |
| 2013/14 | NCAA | Kyle Anderson | 35 | 34.7 | 11.0 | 3.6 | 9.1 | 39.4 | 1.1 | 2.6 | 44.0 | 2.4 | 6.5 | 37.6 | 1.4 | 1.8 | 77.8 | 0.9 | 2.8 | 3.7 | 0.9 | 0.8 | 0.3 | 0.8 | 2.6 |

Player Page&nbsp&nbsp| Player Stats | Related Articles&nbsp&nbsp| Add to My Draft Express&nbsp
&nbsp
Top NBA Draft Prospects in the Pac-12, Part 4 (#6-10)
October 3, 2013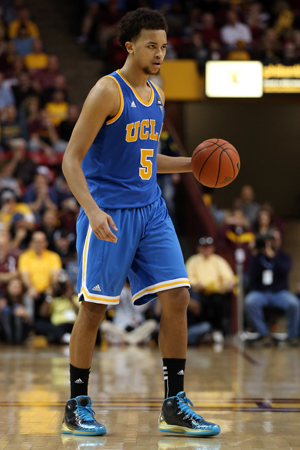 US Presswire



Derek Bodner

Standing 6'8" with a long, wiry frame and a good feel for the game, Kyle Anderson presents much of the same intrigue – and concerns – that he did the last time we profiled.

Anderson measured 6'8.5" with an excellent 7'2.5" wingspan and 9' standing reach at the Nike Hoop Summit, giving him excellent measurables for any wing position, and especially for one who shows the feel for the game and ability to handle the basketball that Anderson possesses. He ended up his freshman season posting averages of 9.7 points, 8.6 rebounds, and 3.5 assists per game in just under 30 minutes per night, while shooting 41.6% from the field.

Anderson is a versatile player, with the size and length to play the small forward position but the ball handling ability to funnel much of the playmaking and ball handling duties through. Not a great athlete by NBA – or even high-level NCAA – standards, Anderson gets by using a series of fakes, misdirections, and spin moves in order to create the separation needed.

He's most comfortable setting up his teammates, where he is able to use his high vantage point to see over the defense, and has the willingness and court vision to use that advantage in order to setup his teammates. His 4.4 assists per 40 minutes pace adjusted was by far the top total amongst small forwards in our top 100 database, and an excellent figure for a small forward, particularly considering the landscape of the UCLA team.

He is not quite as comfortable creating his own offense. He can struggle at times to get all the way to the rim off the bounce, with a below average first step. He is able to overcome this somewhat with his high degree of skill level and feel handling the basketball, but this leads to a lot of contested dribbles, which he can at times struggle to maintain control of the dribble, leading to turnovers. When he does get into the lane, his length does present some opportunities in an ability to shoot over the defense, but this is mostly squandered by his inability to make pull-up jump shots as well as his lack of explosiveness around the rim and struggles finishing at the hoop through contact. Overall, Anderson shot 44.7% from two point range last season, which was among the worst for small forwards in our top 100 database.

Finishing through contact is far from his biggest question mark in terms of scoring the basketball, however, as Anderson struggles as a shooter in all facets of the game. According to Synergy Sports Technology, Anderson shot only 28.6% on jump shots, with his points per possession of 0.623 being worse than more than 80% of players in college basketball. He struggled equally off the dribble (25.9%, 0.519 points/possession) as he did in catch and shoot situations (25.7%, 0.629). His overall form is questionable and inconsistent, not appearing to be all that fluid or repeatable. Being able to show some signs of developing consistency in his jump shot is perhaps the biggest question Anderson faces, certainly from an offensive standpoint.

Anderson's size and length presents some intrigue on the defensive end, and he was able to use these physical tools to contribute 2.2 steals and 1.1 blocks per 40 minutes, pace adjusted. Things become a little bit murkier on the perimeter, however, where his athleticism begins to come into question. Anderson struggles moving his feet on the perimeter and doesn't change direction all that quickly. Furthermore, he could stand to add some upper body strength as well, which should help him both fight through picks as well as defend some of the stronger post scorers he would see when defending the small forward position in the NBA.

One area where Anderson does an excellent job of adding value is on the glass, where his 8.1 defensive rebounds per 40 minutes pace adjusted and 10.8 rebounds per 40 minutes pace adjusted are both the top number among small forwards in our top 100 database, and by a considerable margin. He does a good job anticipating the shot, boxing out, and fighting for the rebound, and in general shows good tracking ability and anticipation. He is able to use his rebounding ability and ball handling skills to push his team out in transition.

Kyle Anderson is certainly one of the more unique – and perplexing – prospects to come around in some time. Anderson ranks among the top in his position in many areas, with a combination of rebounding, shot blocking, and playmaking skills not frequently found in a small forwards body. However his overall athleticism and very under-developed jump shot could greatly limit his overall effectiveness, and thus, his draft stock.

By the time Kyle Anderson returns to UCLA for his sophomore season, they will be with a new head coach after the firing of Ben Howland last spring, with their leading scorer when Shabazz Muhammad left for the NBA draft, and they will have lost their primary point guard in Larry Drew II to graduation. It will be very interesting to see how Kyle Anderson reacts to all of those changes and to his new role at UCLA.

[Read Full Article]

---
2012 Nike Hoop Summit: USA Team Measurements
April 7, 2012
Kyle Anderson
Height without shoes: 6'7.5
Height with shoes: 6'8.5
Weight: 233
Wingspan: 7'2.5
Standing Reach: 9'0

[Read Full Article]

---
HoopHall Classic Scouting Reports: Elite 2012 Prospects (Part One)
January 18, 2012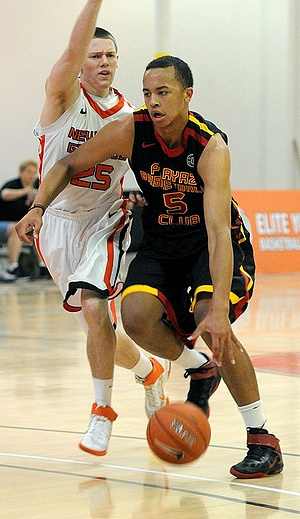 Icon SMI



Jonathan Givony

Another game and another win for Kyle Anderson (#4 Scout, #2 Rivals, #5 ESPN), who is now 45-0 in a St. Anthony's uniform.

The most unconventional player in high school basketball did it in his typical fashion here in Springfield, filling up the stat sheet with 18 points, 10 rebounds, 5 assists and 2 blocks.

Standing 6-9 in shoes, with a 7-2 wingspan, Anderson has the size of a power forward but the skill-set of a guard. He's often the biggest player on the floor at high school level, which allows him to impact the game in a variety of ways thanks to his very unique versatility. Anderson handles the ball in transition and will often initiate his team's offense in the half-court, but usually sits at the back of his team's zone and acts as its paint protector on the other side of the floor.

Offensively, Anderson is an excellent ball-handler for his size, using his length to maintain a low and controlled dribble, while playing at his own unique pace. Despite possessing an underwhelming first step and average quickness, his outstanding footwork and ability to change speeds fluidly keeps defenders off balance while he surveys the court from his terrific vantage point. Anderson has a tremendous basketball IQ and excellent vision, giving him the ability to pass ahead in transition beautifully and find the open man unselfishly with pinpoint accuracy in the half-court. This is the reason he's viewed by some as a future point forward or even a point guard, and has drawn perhaps unfair (or at least premature) comparisons to the likes of Magic Johnson and Jalen Rose.

Anderson has yet to fully hone his playmaking and shot-creating ability in the half-court, as he's a bit turnover prone when attempting to drive all the way into the paint. He rarely fully beats his man off the dribble and tends to spin into traffic looking for whistles, forcing up off balance, low-percentage floaters when that doesn't work out. He doesn't elevate well around the basket and already is a noticeably below average athlete at the high school level, so there are question marks about how this part of his game might translate as the competition level stiffens.

How good of a shooter Anderson will become down the road will likely play a significant role in the way he's evaluated at the professional level. Right now he sports a slow, deliberate release on his jumper, even if he's capable of making shots with his feet set, and at times off the dribble. The fact that he is able to get his shot off at his size with his high release point helps out quite a bit, he just needs to become more consistent with time and repetition.

The biggest question marks Anderson will face are likely to revolve around his play on the defensive end. On one hand he can absolutely fill up the stat sheet with steals, blocks and rebounds thanks to his tremendous length and anticipationability. On the other hand, he struggles to move laterally on the perimeter, getting beaten regularly off the dribble when forced to step out and guard smaller players.

He's likely best suited defending the small forward position, which means he'll need to play next to the right type of non-ball dominant guards to fully utilize his strengths on the offensive end.

Anderson's unique strengths and weaknesses make him one of the more unconventional players we've evaluated at the high school level, and provide for a wide array of opinions for how he might develop down the road. It will be very interesting (and entertaining) to see how his career plays out, starting at UCLA, where he'll be playing his college basketball under Ben Howland.

[Read Full Article]

---
Boost Mobile Elite 24: Interviews (Part One)
September 25, 2011
[Read Full Article]

---
HoopHall Classic Scouting Reports (Part Four): 2012 Elite Prospects
January 25, 2011
Joseph Treutlein

One of the most peculiar players in his class, Kyle Anderson (#21 Scout, #5 Rivals, #18 ESPN) is a highly skilled player with good length and a slight build, while also being very below average from an athletic standpoint. Capable of playing 3-4 positions at this level and next, Anderson's style and combination of skills is very unique.

On the offensive end, Anderson brings the ball up the court often and serves as one of his offense's primary initiators, playing very well in a facilitator role, managing the offense and moving the ball around the floor. He shows exceptional vision with the ball and is capable of making some very difficult passes on and off the move, while he also does a good job with simple, fundamental entry passes.

In terms of his own scoring, Anderson has nice touch around the basket and a crafty handle getting there, capable of finishing on a variety of floaters, runners, lay-ups, and hook shots in the lane. He will occasionally pull off a slow and methodical crossover that takes his defender off guard, but breaks his man down using subtle moves more often than not.

Not possessing a great first step or vertical leap, it's somewhat questionable how Anderson's dribble-drive game will translate to the next level, especially seeing how there are even times at this level when he is unable to get a step on his man.

As for perimeter shooting, Anderson has solid mechanics that are a bit on the slow side with a slight hitch, but he appears more than capable of knocking down spot-up shots with developing three-point range. He didn't have much success knocking down jumpers here, but the foundation appears to be there.

Defensively, Anderson plays smart, fundamentally sound defense, making good use of his length to compensate for his below average lateral quickness. What position he's ideally suited to defend at the next level is questionable, and maximizing his physical tools needs to be a priority.

It's tough to accurately project Anderson as a prospect simply because there have been so few players like him before, and that's a large reason why recruiting services are all over the map on him. His skill set, feel, for the game and high basketball IQ are all attractive qualities, but how he adjusts to higher levels of competition given his athletic limitations is yet to be seen.

[Read Full Article]

---
adidas Nations Experience: Top 2012 High School Prospects
September 12, 2010
Kyle Anderson is a big, smooth guard who towers over his opponents at 6-foot-8 and is an extremely mature young prospect with an advanced feel for the game. He is a very good ball-handler for his size – he even saw minutes at point guard for the 2012 team – and shows excellent passing skills, finding teammates off the dribble and looking highly unselfish in the process. He plays a slow, deliberate style that you rarely see from a player this young. He usually makes the extra pass and looks fundamentally sound.

Anderson is not a particularly athletic guy. He lacks a great first step and doesn't have overwhelming explosiveness. He looked somewhat limited trying to defend the perimeter as well with his poor lateral quickness. His nickname is "Slow-Mo," after all, and he earned that for a reason.

He's more of a facilitator than a big-time scorer, although he does seem to have solid shooting mechanics from the perimeter. He also has a tendency to dominate the ball a little too much and dribble excessively before getting his team into their offense. In the paint, he has trouble scoring around length at times due to his below-the-rim style of play.

The high school recruiting services don't seem all that enamored with Anderson based on where they're ranking him right now. It's clear he doesn't have the same upside as some of the other guard prospects at this event. Still, rarely do you find a player this young with such an advanced feel for the game. That should carry Anderson pretty far if he continues to round out his skill level over the next few years.

[Read Full Article]

---