Kyle Singler
Recent Tweets
All Tweets
DraftExpress: Checking in on the performances of Jonas Valanciunas, Nikola Mirotic, Nikola Vucevic, Kyle Singler & Donatas Motiejunas http://t.co/yR736erc
2011-12-19 03:56:39
DraftExpress: He's doing very well. RT @BaloncestoBase: Ex-Duke SF and OKC draft pick Kyle Singler scores 24p, 8/11FG made, 4reb, 2steals in Spanish ACB
2011-10-16 11:39:35
DraftExpress: No Dick Vitale commentary after the Nolan Smith pick? Fair enough, we can wait for Kyle Singler.
2011-06-23 08:39:20
DraftExpress: RT @WojYahooNBA: Two players whose names keep coming up as likely to surprise on draft day: Duke's Kyle Singler and Michigan's Darius Mo ...
2011-06-22 10:04:53
DraftExpress: Brandon Knight, Jordan Hamilton, Kenneth Faried, Kyle Singler, Trey Thompkins, Jeremy Tyler, Diante Garrett and others will be working out.
2011-05-26 12:22:09
Top 25s - Full List
Team: Thunder
Physicals
Positions
Rankings
Salary
Misc
H: 6' 8"
W: 228 lbs
Bday: 05/04/1988
(27 Years Old)

Current: SF/PF
NBA: SF/PF
Possible: SF/PF

RSCI: 6

Agent: Greg Lawrence
Current Salary:$1,090,000

High School: South Medford
Hometown: Medford, OR
Drafted: Pick 33 in 2011 by Raptors
Best Case: Jeff Green
Worst Case: Matt Barnes

Predraft Measurements
| Year | Source | Height w/o Shoes | Height w/shoes | Weight | Wingspan | Standing Reach | Body Fat | No Step Vert | Max Vert |
| --- | --- | --- | --- | --- | --- | --- | --- | --- | --- |
| 2011 | NBA Draft Combine | 6' 7.5" | 6' 8.5" | 228 | 6' 10.10" | 8' 10" | 10.0 | 23.0 | 30.0 |
| 2010 | LeBron James Camp | NA | 6' 9" | 237 | 6' 9" | NA | NA | NA | NA |
| 2010 | Kevin Durant Camp | NA | 6' 8" | 230 | NA | NA | NA | NA | NA |
| 2009 | LeBron James Camp | NA | 6' 7" | 222 | 6' 9.5" | NA | NA | NA | NA |
| 2007 | Hoop Summit | NA | 6' 9" | NA | 6' 10" | 9' 0" | NA | NA | NA |



Basic Per Game Statistics

- Comprehensive Stats - Statistical Top 25s
| Year | League | Name | GP | Min | Pts | FG | FGA | FG% | 2Pt | 2PtA | 2P% | 3Pt | 3PtA | 3P% | FTM | FTA | FT% | Off | Def | TOT | Asts | Stls | Blks | TOs | PFs |
| --- | --- | --- | --- | --- | --- | --- | --- | --- | --- | --- | --- | --- | --- | --- | --- | --- | --- | --- | --- | --- | --- | --- | --- | --- | --- |
| 2015/16 | NBA | Kyle Singler | 14 | 12.8 | 2.4 | 0.8 | 3.4 | 23.4 | 0.4 | 1.3 | 27.8 | 0.4 | 2.1 | 20.7 | 0.4 | 0.6 | 55.6 | 0.3 | 1.4 | 1.7 | 0.0 | 0.6 | 0.2 | 0.8 | 2.2 |

Player Page&nbsp&nbsp| Player Stats | Mock Draft History | Related Articles&nbsp&nbsp| Add to My Draft Express&nbsp
&nbsp
Top European Performers of the 2011 NBA Draft Class
December 19, 2011
Wrapping up a storied four-year college career at Duke that included a NCAA Championship in 2010 and numerous individual ACC and Tournament accolades, Kyle Singler's slide to the second round was somewhat surprising, but not entirely unexpected.

Opting to start his career in Spain with Lucentum Alicante, Singler seemed to have taken the fact that he wasn't selected in the first round in stride and has been one of the most pleasant surprises in the European game this season prior to the end of the lockout. With the lockout coming to an end, Singler made a significant career move electing to play for Real Madrid, though some may be disappointed not to see him in a Pistons uniform this season.

As a rookie for Alicante, a club that has narrowly avoided relegation each season since being promoted from the LEB in 2009, Singler quickly emerged as an offensive leader among the European veterans playing around him. Leading the team in scoring at 14.4 points per-game as they shot out to a 7-3 start, the second round pick made a significant impact by doing many of the same things he did as a college senior.

While not scoring inside the arc or rebounding at quite the same level, he's shown a more consistent shooting stroke from beyond the 3-point line, taken what defenders gave him off the bounce, and made heady plays with and without the ball in his hands.

As the lockout ended, Singler found himself in a unique situation, as his opt-out clause gave him to opportunity to not just return to the NBA, but pursue a contract with any club. With the exodus of talent from some of the ACB's top clubs, Singler's ability to adapt, produce, and win earned him an opportunity to sign with Real Madrid for the remainder of this season.

Making the unconventional decision to snub the NBA for a significant raise with one of the wealthiest teams in Europe, the former Blue Devil was in inserted into the starting lineup for Real Madrid on December 14th game against Partizan Belgrade as Rudy Fernandez's replacement. Though he won't be a top offensive option like he was in Alicante, Singler's move to Madrid will give him a chance to play against the top competition in the world outside the NBA before reassessing his future this coming summer.

[Read Full Article]

---
Situational Statistics: the 2011 Forward Crop
June 19, 2011
Another player who is seemingly just a consistent jumper away from being a solid NBA rotation player is Kyle Singler. He took more catch and shoot jumpers than anyone in this study at 4.6 per game, but only made 34% of his attempts, ranking ahead of just Jan Vesely, Tobias Harris, Chris Wright and Malcolm Thomas.

[Read Full Article]

---
NBA Combine Interviews: Kyle Singler, Honeycutt, Richmond, Parsons
May 22, 2011
[Read Full Article]

---
Trending Prospects (2/17/2011)
February 17, 2011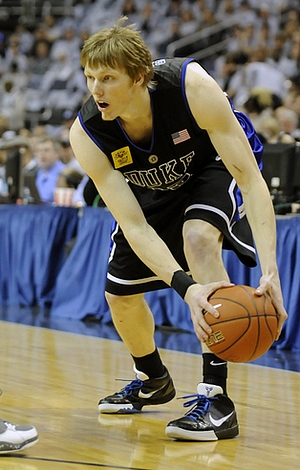 Icon SMI



Kyle Nelson

Kyle Singler has certainly lived up to his lofty high school ratings as far as Duke is concerned. With his senior season and college career winding down, Singler is again an essential piece of a talented team that is a key contender in the hunt for a second national championship. His NBA future is still very much a cause for debate, though.

Singler has decent size for an NBA combo-forward at 6-8 with a solid 230-pound frame and average length. As mentioned in previous articles, he is just an average athlete, however, without NBA-caliber explosiveness or quickness.

Though his numbers and percentages have fluctuated, Singler has progressed gradually as a scorer during his four years at Duke. He is averaging 17.5 points per game primarily as a spot-up shooter on just 20.2% of Duke's overall offensive possessions. While he is shooting only 36.4% from beyond the arc on six attempts per 40 minutes pace adjusted, he still shows the same high release, quick release point, and fluid mechanics as in the past. On film, he is a streaky shooter who flourishes in rhythm, but who often displays shaky shot selection, which he will certainly need to improve as he transitions to a new role at the next level.

Though Singler is still a solid perimeter shooter, he is a less than efficient scorer inside of the arc. His 48.8% 2FG ranks him in the bottom half of our top 100 prospect rankings, but it represents his best showing since his freshman season. Singler displays a solid mid-range arsenal built on footwork and fundamentals, but he lacks the first step to excel as a slasher even at the collegiate level.

His lack of explosiveness does him few favors around the rim where he continues to struggle as a finisher, especially against long and athletic defenders. He also struggles to get to the line, where he attempts just 4.1 free throws per 40 minutes pace adjusted. Similarly, while his ball-handling skills have improved, he still drives right on almost 70% of his possessions.

Singler will likely play a similar role as a spot-up shooter at the next level and he has proven to be an outstanding role player for Duke throughout his career. This season, in particular, he has thrived as a capable and willing passer while turning the ball over a career low 1.9 times per 40 minutes pace adjusted. Similarly, his high energy level, effort, and focus on offense will likely help him overcome some of his athletic deficiencies in the NBA.

Despite being a solid man-to-man defender at the collegiate level, Singler will likely struggle at the next level due to his below average lateral quickness and length. As has been the case throughout his career, Singler struggles to stay in front of quick perimeter players and oftentimes lacks the strength and size to guard the post, which is a positional issue that will follow him to the next level.

Furthermore, Singler has regressed further as a rebounder, averaging just 6.9 rebounds to 40 minutes pace adjusted, numbers that are decent for a small forward and very poor for a power forward.

Though Singler is a proven winner and a relatively complete player at this point in his career, there are questions surrounding the extent of his upside, as he doesn't seem to have improved a great deal over the past few years. Not possessing the size or strength to operate effectively in the post, or the quickness and ball-handling skills to be a great shot-creator on the wing, there are some concerns about whether Singler is destined for a role as a one-dimensional player, one who is not particularly consistent at that particular dimension—shooting.

The fact that Singler has been a role-player essentially throughout his college career, doing so on a competitive and winning team throughout, will play in his favor, though. He is not the type of player who will need to make a huge transition in his style of play to make an impact. Furthermore, he's ready to contribute immediately, as he's a mature player both physically and mentally, who has been coached by one of the most respected men in basketball over the past four years. These things, along with his strong intangibles, could all look very attractive to a good team drafting in the second half of the first round looking for a solid piece to add to their rotation.

Nonetheless, scouts will be watching closely to see how well he performs down the stretch against elite competition and in individual workouts. While Singler's draft stock may not be as high as earlier in his career, his size, basketball IQ, and pedigree will surely endear him to NBA teams.

[Read Full Article]

---
NCAA Weekly Performers, 2/4/10
February 4, 2010
Kyle Nelson

After entering the NCAA ranks as one of the most heralded players in an incredibly deep and talented recruiting class, junior combo-forward Kyle Singler has finally emerged as arguably the most important player on Duke's roster.

From a scouting perspective, however, Singler has yet to reach the potential his lofty recruiting rankings indicated and does not appear to have improved all that much from last year, even taking somewhat of a step back in the minds of some. He continues to play a similar role, that of a tweener who is not quite sure of his role and is still in search of a consistent jump shot, rather than a complete perimeter scorer who can carry a team on his back.

At 6'8, Singler still has good size for a stretch-forward, combo-forward, or small forward at the next level. Though he has filled out his frame nicely since his freshman season in Durham, he lacks great length and explosiveness, which will not ease his transition into the next level.

On the offensive end, Singler has regressed since last season, but nonetheless displays the talent that made him an interesting prospect as a freshman and sophomore. Over a third of his field goal attempts come from beyond the arc, but he is shooting a career low 33% from that range, and a disappointing 46% on 2-pointers.

His uncharacteristically bad shooting percentages are curious considering his fluid mechanics and quick release. Even though he does not get a tremendous amount of elevation, his size and fundamentals should allow him to be a more reliable threat from beyond the arc.

His shot selection does not make things easy for him, though, as most of his attempts are heavily contested. While Duke's lack of perimeter depth, a somewhat undefined role, and the excessive minutes (35 per game) he sees all likely contribute to his offensive inefficiency, his inability to consistently make shots hurts his NBA potential severely.

Inside of the arc, Singler is clearly a skilled player, though whether or not these abilities will translate to the next level is still up in the air. His average first step will not do him favors as a slasher at the next level. He is not a great finisher either, lacking the length and explosiveness around the basket to utilize his size and strength.

Improving his handle would help him in this area, as he needs to work on dribbling closer to the ground and not losing the ball when he drives in traffic. As we have written before, Singler's mid-range game is very solid at this point, and he is able to create his own shot against most collegiate defenders. He is one of the few big men in the country who can score from anywhere on the floor, the type of versatility that makes him a potential match up threat at the next level and certainly puts a silver lining on an otherwise disappointing season.

Singler's defensive potential at the next level is somewhat questionable. He has proven to be a solid man defender for Duke when he puts his mind to it, but his lack of length and lateral quickness already shows up when defending college players on the perimeter, let alone NBA caliber athletes. Singler is grabbing 8.2 rebounds per 40 minutes pace adjusted, which is solid considering his size and Duke's deep frontcourt and, despite a slight drop from last year, his competitiveness and willingness to mix it up on the glass should be duly noted by NBA types.

Singler may be kicking himself for not even attempting to test the NBA draft waters last year, as there is a very good chance that he would have been a first round pick. This year, his draft position is less certain. While this season has been somewhat of a disappointment thus far, it is not too late for Singler to reemerge as a viable NBA player. After all, it was not too long ago that Singler was considered to be one of college basketball's elite talents.

With big tests remaining against Georgia Tech and North Carolina, not to mention in the NCAA tournament, Singler will have plenty of opportunities to prove himself on the big stage. He will almost surely test the NBA draft waters this summer and if he can find his game again, and especially snap out of his shooting funk, there is no doubt that Singler can work his way back into a legitimate first round draft pick.

[Read Full Article]

---
LeBron James Skills Academy Player Profiles
July 13, 2009
-Kyle Singler- Singler barely touched the ball in the five on five action we were able to see, but he did show a really versatile skill-set in the three on three and two on two action we took in. He looked extremely competitive getting after guys and trying to make things happen, showing a really nice feel for getting his shot off using head fakes and other crafty moves. His body is looking better and better these days, even if he didn't shoot the ball as well as we may have hoped in the drills.

[Read Full Article]

---
NCAA Weekly Performers, 3/3/09
March 3, 2009
One of the few high profile freshmen from the class of 2008 to return to college, Kyle Singler has done a nice job taking his game to the next level for Duke as a sophomore, seeing his per 40 minute pace adjusted stats go up in virtually every category this season.

On the offensive end, Singler has shown more with his dribble-drive game this season, which all starts with his truly exceptional grasp of ball fakes and rip moves. Not an especially quick athlete, Singler uses these crafty moves in combination with a rangy first step and excellent timing to get past his man, where he shows a good controlled dribble in getting to the basket, though not the advanced ball-handling to make dramatic changes in direction.

Once he gets the step on his man, Singler doesn't really possess the second gear to consistently get his defender off the hip, but he exhibits craftiness in using his body to shield the ball, enabling him to get off creative shot attempts in the lane, as he has shown proficiency with floaters and pivot moves, leading to running hooks or turnaround jumpers. At the basket, Singler lacks a bit in vertical explosiveness, so he struggles to finish at times when going up strong, something that will be more of a concern against the stouter weak side defense at the next level.

Despite his great shooting form, Singler still hasn't had great success as a jump shooter at the college level, shooting just 36% from behind the arc and a disappointing 69% from the free-throw line. From behind the arc, Singler looks very good at times, mostly when he's shooting spot-up jumpers in rhythm, something he excels at. Singler's accuracy falls off dramatically when he's taking jump shots off the dribble, however, as even though he's able to get good separation with stepback moves, he doesn't maintain the same rhythm in his shot as when he's catching and shooting. According to Synergy Sports Technology's quantified statistics, Singler's averaging 1.07 PPP on catch and shoot situations this season, as opposed to an abysmal 0.49 PPP off-the-dribble.

While Singler is a very good scorer at the college level, he has also excelled in other areas on this end of the court this season, upping his rebounding noticeably, which is evident on the offensive glass. Singler's motor has gone to the next level this season, as he's constantly finding opportunities to crash the boards on the offensive end, doing a great job of hustling in general here. When evaluating his film, teams will like the competitiveness he shows, emphasizing that he projects to become more than just a spot-up shooter. Off the ball, Singler does a good job staying in motion and finding openings in the defense. Singler has also done a good job as a passer, playing an unselfish style, moving the ball, and showing good court vision from static positions and on the move.

On the defensive end, Singler's lateral quickness is still questionable, but Singler does his best to make up for that by showing excellent attentiveness, a good fundamental stance, and he's also developed strong reflexes defending the perimeter. While he mostly plays the power forward position for Duke, Singler's been switched onto perimeter players frequently throughout the season, and he's done a decent job not getting exposed. It is worth noting that he often gives up a little bit of extra space to shooters, however.

Looking forward, Singler will have a tough choice to make this coming offseason, as he currently projects as a mid-to-late first round pick if he declares. There are some questions about what position he will play at the next level, but combo forwards of similar physical builds such as Hedo Turkoglu have found niches in the league, regardless of position. Singler still needs a lot of work to develop his skill level to have that kind of impact, both with his ball-handling and his shooting, however teams will likely be attracted to his relentless work ethic, very high basketball IQ and strong role-player potential.

[Read Full Article]

---
Top NBA Draft Prospects in the ACC (Part One: #1-5)
October 4, 2008
12 freshman were taken in the 2008 draft, including nine of the top 10 ranked players in the 2007 high school senior class. The lone one who decided to stick around was Kyle Singler, and that wasn't exactly considered a big surprise. Singler did not have a bad freshman campaign by any means, as he finished the second leading overall scorer on a team ranked in the top 10 for most of the season. He did not have an overwhelmingly good year either, though, particularly down the stretch.

Singler's best attribute as an NBA prospect will always revolve around his excellent all-around scoring instincts as a 6-9 perimeter player. Showing a beautiful looking stroke from beyond the arc, complete with a high-release point, solid range, and really nice touch, Singler is bound to improve on his 34% shooting accuracy from beyond the arc last season. He was very good with his feet set (39/100 or 39% according to Synergy Sports Technology's quantified player report), but saw his accuracy drop off dramatically (8/44, or 18%) when attempting rushed, contested jumpers. That largely has to do with his fairly slow release, which doesn't always allow him enough time to fully get his legs underneath him.

Singler's shot-selection and all-around decision making looked very freshman-like at times last season, taking some tough looks very early in possessions and turning the ball over a little bit more than you would hope. 43% of his attempts from the field came from beyond the arc.

More than just a one-dimensional shooter, Singler is also very much capable of putting the ball on the floor, thanks to his nice first step and excellent ball-handling skills with either hand for a player his size. He utilizes shot-fakes well and really knows how to set up his drives. He gets to the rim at a fairly decent clip, but isn't always able to finish strong at the basket due to his poor combination of strength and explosiveness, which sees him get his shot blocked relatively often. Regardless, he takes the ball strong, and gets to the free throw fairly often, making nearly 78% of his attempts from the charity stripe.

Not a big enough part of his game, but definitely showing strong potential, his mid-range game looks very dangerous in the rare opportunities he had to pull-up off the dribble and execute difficult step-backs and fade-aways, being able to get his shot off almost whenever he pleases due to the high release point of his shot and his terrific size. It's obvious that he's watched a fair amount of Dirk Nowitzki footage. Along the same lines, he shows some raw ability to step into the post and punish smaller defenders with a nice turnaround jumper, not being afraid to fight for position inside, even if he obviously doesn't have the physical tools to do all that much in there at this point.

Defensively, Singler looks very much stuck between positions at the moment, not being big, strong or long enough to adequately defend many of the big men he was matched up with last season (he played a good amount of 4 and even some 5), but not looking quick or agile enough to guard small forwards on the perimeter.

Singler's lateral quickness looks extremely questionable at the moment, as opposing players regularly beat him from the perimeter and on the pick and roll, often making him look very slow and upright trying to stay in front of them. His poor 6-10 wingspan doesn't help him out enough in this area, although he does good timing, aggressiveness and feel going after rebounds, which may indicate that there is still some hope on this end of the floor. He seems to do a good job reading the scouting reports and attempting to take away his opponents' strengths, although right now players can just bully him around and force him off-balance (especially in the post), meaning he'll definitely have to put on some weight to compete against higher level athletes.

Now left as the most highly touted member of the 2007 high school recruiting class still in college, Singler could very well be primed for a breakout sophomore season. Certain NBA teams we've spoken to liked him a lot last year already, so don't be surprised to see him emerge as a pretty serious draft prospect as soon as this upcoming June.

[Read Full Article]

---
NCAA Weekly Performers, 1/31/08-- Part Two
February 1, 2008
Kyle Singler may not be generating headlines like some of his fellow freshman, but he's been an instant contributor for the 18-1 Blue Devils, playing 20 minutes in all but one game for his team, while finding ways to contribute all over the floor. Singler is a slim 6'9, with decent length, and his game likely projects him as a small forward at the next level, even though he's spent most of his minutes at power forward and even center for Duke, which obviously is lacking top-flight inside players. Singler is a below average athlete by NBA standards in terms of quickness and explosiveness, but he has very good coordination and fluidity, and also runs the floor well.

Singler has a very crafty offensive game, and coming into college, most expected him to do most of his damage from the mid-range, but that really hasn't been the case thus far. While we at DraftExpress saw him create and finish on some high-difficulty mid-range shots at various high school all-star games this summer, his mid-range game hasn't been a consistent staple of his offense at Duke, and when he does use it, it's mostly in the form of spot-up jumpers or fade-aways from the mid post.

Singler seems to be focusing on expanding his range, with 63 of his 165 field-goal attempts coming from behind the three-point arc, where he's shooting just 33% thus far. This might be viewed as concerning by just looking at the stats, but digging deeper, we see that his jump-shot is pretty much perfect textbook form, boasting a quick, consistent, and very high release. He does a great job finding open space for his jumper on the floor, and most of his attempts have been of the catch-and-shoot variety in open space. Given the lack of issues with his mechanics, his shooting percentages will likely improve as he continues to adjust to the added range and puts in more and more repetition practicing his shot.

Singler also has looked very strong making cuts to the basket off the ball, showing excellent court awareness and a nice ability to catch-and-finish at the rim with excellent touch. With the ball in his hands, Singler will also make some isolation drives, usually off a ball-fake or shot-fake to start, which he sells well and needs to sell well, as he doesn't have an explosive first step. He can drive left and right with the ball, and has solid ball-handling in space. In the lane, aside from some spin moves, Singler doesn't show the greatest change of direction ability with the ball, which leads to some charges. What Singler is very good with is his footwork, which is evident in some of his crafty moves at the rim, where he uses his pivot foot especially well.

Playing as a power forward or center for Duke, Singler gets posted up a decent amount, though he has struggled there thus far this season. While he shows good footwork and craftiness here, his lack of explosiveness has really hurt him, as he's very prone to getting his shot blocked on moves going towards the rim (anything but fade-away jumpers essentially).

Aside from his scoring game, Singler finds many other ways to contribute, showing excellent hustle while being willing to do anything and everything his team asks for. Even with his slim build, he is always active fighting for position down low for rebounds. He hustles after loose balls, gets out in transition, is always moving without the ball in the half-court set, and also shows nice flashes of passing ability, hitting cutters, feeding the post, or making post-to-post passes.

On the defensive end, Singler shows a good fundamental base and clearly puts in the effort when defending the post, but with his lack of strength, he is very easily backed down by formidable post players. To his credit, he does a good job using his length to front the post at times, but for the most part struggles in this area. On the perimeter, while showing nice reflexes and fundamentals, Singler's lateral quickness is suspect.

Singler has a lot of skills and definitely has the potential to play in the NBA down the road, but he'll likely need another year or two in college to improve upon his game. Adding some strength would be helpful, and he'll need to continue to develop his outside shot, something that should just come with time given his outstanding mechanics. As of now, Singler is a player that very rarely strays outside his team's offensive system to score his points, which leads to some inconsistent production, as he doesn't always get the necessary field-goal attempts to make a substantial impact in the scoring column. To reach his potential, at some point Singler will need to show off some of the creative mid-range game we saw in the summer, and put in more of an effort to create his own offense.

[Read Full Article]

---
Nike Jordan All-American Classic: Main Event Recap – Yellow Team
May 1, 2007
Kyle Singler had a very nice game, showing off his impressive versatility with nearly all aspects of his game, doing a good job chipping in any way he could in his team's victory. Singler started off the game by going to work in the mid-post area, converting on some very impressive sequences that exhibited his strong footwork and awareness on the offensive end of the court. Singler first scored on a move where he faked in the middle of the lane, turned, and faded away, throwing up a rainbow over his taller defender for a swish. Not long after, Singler made an equally impressive move on a baseline drive, pivoting under the rim and putting up a nice reverse with a soft touch for the lay-up, faking out his defender in the process.

Singler spent most of the rest of his game scoring off the creation of his teammates, not getting many opportunities to create his own offense. He made two easy lay-ups around the hoop off guard penetration in the halfcourt, and also made a spot-up three in transition. He did get one more opportunity to show off his own driving ability late in the game, though, where he drove the ball left and switched hands near the hoop, laying up a right-handed finger-roll off the glass and drawing a foul in the process for the and-1. Singler also showed off some nice dribbling abilities in the fullcourt, being able to handle some of those duties to assist his team's guards.

Defensviely, Singler made a few nice plays, making a nice block in transition from behind that was excellently timed, and making one nice steal in the halfcourt where he used his length and anticipation to cut off the passing lane.

[Read Full Article]

---
Nike Jordan All-America Classic: Friday Practice
April 21, 2007
Singler had a really strong performance here, showing off his smart and crafty game in a variety of ways. Singler hit two spot-up 12-foot jumpers in the game, using glass on one of them, but also missing on two attempts from the same range. He also was able to score at the rim, making a nice up-and-under lay-up driving left in which he drew the and-1 and using a similar move later in the game to draw the foul but not convert the basket. He also had a nice post move on one occasion where he up-faked his man and went under the hoop to reverse the ball off the glass. He also finished on a few lay-ups in the halfcourt and transition. Singler exhibits excellent footwork on his drives, in the post, and with his mid-range game, often getting himself out of traps with ease. Singler also had an impressive block on the defensive end in transition, where he blocked the 7'0 Kosta Koufos going for a lay-up.

[Read Full Article]

---
Nike Hoop Summit Team USA Player Recap (Part Two: the Combo Forwards)
April 19, 2007
If you somehow missed out on the Adam Morrison maelstrom last season, don't worry. You'll get your chance to watch "the next Larry Bird" this fall. And trust me, Kyle Singler isn't the next Larry Bird. He's "the next Larry Bird", in that he's tall, white, and displays that near-supernatural feel for the game which we all know from previous "great white hope" incarnations nearly makes up for that trademark awkward movement style. After his first 30 point game at Duke, which could happen as early as his first game at Duke, the comparisons will begin in earnest. This is a virtual inevitability, just like the backlash that will follow from those tiring of every tall, white finesse player being compared to Larry Legend.

The first thing to note about Singler is that at the college level, he is much more than just a shooter. He certainly can shoot the ball, but his all-around ability and feel for the game stand out more than anything else. Singler hasn't scored a whole ton of points on the "all-star game circuit", but has still managed to impress with an assortment of intelligent passing, opportunistic board work, commitment to defense and generally intelligent play. Singler is already a master of utilizing pump fakes and body contortions to get himself looks in the lane, much in the same way a certain other west coast star did last March. But while Morrison eventually got caught up in trying to force his own offense a bit too much, Singler appears content to play within the context of the offense even in the all-star game setting, only regularly pushing the issue for his own offense in a transition or defensive breakdown situation which affords him a bit more space.

Singler still has some work to do as a shooter, especially from beyond the college 3-point line. There were few opportunities to see him create for himself in the midrange even in the practices, but the few instances we did observe confirm that he is going to be one phenomenal college scorer. He has no problem shooting off balance or with a hand in his face, and is lethal from ten feet in with his ability to do just about anything once he gets the space. It appears that the range on his shot will come with time, as the form is there and his outside shots look great – but the Oregon native just isn't as comfortable spotting up from deep as he is closer to the basket, even on the move.

As far as athleticism goes, Singler has enough of it to be considered a serious NBA prospect right now. He isn't ever going to be that blow-by athlete, but he had no problem keeping up with anybody in the competitive action we saw at the Hoop Summit. At 6'9 he handles smaller defenders with ease, and is very comfortable handling the ball in transition.

The game itself provided more of what was seen in practice. There was one stretch of fabulous play, highlighted by a 3-pointer, a handful of beautiful passes, and several hustle plays in transition. But foul trouble limited Singler's minutes, and he was content to meld into the team concept the rest of the way.

[Read Full Article]

---
Nike Hoop Summit: USA Thursday Practice
April 6, 2007
Kyle Singler was probably the most impressive individual over the course of the session, contributing in so many ways and never letting up mentally. He's not an elite athlete at the NBA level, but he is going to be an elite player in the ACC the moment he steps foot on the court. This afternoon he was swishing open jumpers, crashing the glass as well as any of the big men, passing and handling exceptionally well in the open court, and repeatedly getting more athletic opponents to bite on pump fakes near the basket. His general court awareness is superb, and there are few players willing to scrap as hard as Singler when the ball is loose on the floor. If utilized properly, he will be an All-America candidate from day one.

As for how he will be utilized, I had a chance to ask Singler about this after the game. He expects to see time at the "2 through 4" positions next fall, and play a role "sort of like Luol Deng." So don't be surprised to see a lot of Singler at the 4-spot next year…

[Read Full Article]

---
2007 McDonald's All America Game: Player Breakdowns
March 29, 2007


Let's make one thing clear – this game was about shot happy lead guards getting up and down the court, and athletic big men dunking. There wasn't much of a place for a patient, crafty swingman like Kyle Singler. Touches were scarce, and his outside shot wasn't falling. Nonetheless, Singler still found ways to contribute with defensive effort rarely seen in a HS all-star game and deft, unselfish play on the offensive end. He showed off an impressive midrange game with a nice baseline jumper in the first half, and impressed the entire way with his court vision and passing. His jumper loses effectiveness the further away from the basket he is, but he has NBA-ready form and all sorts of ways to get his shot off.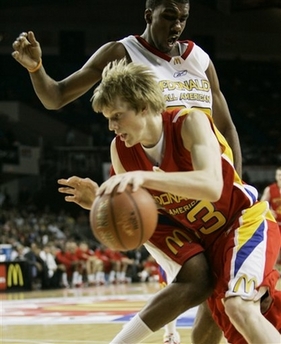 AP



While we don't know for sure just how dominant Singler will be early on in his career at Duke, it is fairly obvious that the program needs an elite level scorer, someone who can put the offense on their back and hit big shots. Singler clearly has the tools, and has the tools to emerge as the next great Duke player in his freshman season. But so did Josh McRoberts, so it will be important for this skilled swingman to assert himself right away.

[Read Full Article]

---
McDonald's All America Game Practices: Day Two
March 27, 2007
Singler has continued with his consistent, but unspectacular play throughout the week. He shot the ball well from outside, especially from the mid range area. The future Dukie struggled a bit against some of the more athletic players out on the floor at times, but was still able to have a fair showing on the day because of his excellent skill set for such a tall wing player.

[Read Full Article]

---
McDonald's All America Game Practices: Day One
March 26, 2007
Singler showed off his remarkable touch early in the day, knocking down multiple contested perimeter jumpers off of the glass. His smooth and cerebral style of play makes up for his lack of athleticism, allowing him to score against his more physically gifted counterparts. While Kyle did not stand out in any particular facet of the game Sunday, he was one of the most consistent players who we saw throughout the practice sessions.

[Read Full Article]

---