Lamar Patterson
Recent Tweets
All Tweets
DraftExpress: With the #48 pick Milwaukee selects Lamar Patterson from Pitt.
2014-06-26 23:37:56
DraftExpress: Other prospects to keep an eye on Tim Hardaway Jr Lamar Patterson Talib Zanna Trey Zeigler Mitch McGary James Robinson Jordan Morgan.
2012-11-21 22:37:50
Team: Hawks
Physicals
Positions
Rankings
Salary
Misc
H: 6' 5"
W: 226 lbs
Bday: 08/12/1991
(24 Years Old)

Current: SG
NBA: SG
Possible: SG

RSCI: 123

Agent: Ben Pensack

High School: St. Benedict Prep
Hometown: Lancaster, PA
Drafted: Pick 48 in 2014 by Bucks

Predraft Measurements
| Year | Source | Height w/o Shoes | Height w/shoes | Weight | Wingspan | Standing Reach | Body Fat | No Step Vert | Max Vert |
| --- | --- | --- | --- | --- | --- | --- | --- | --- | --- |
| 2014 | NBA Draft Combine | 6' 4" | 6' 5.25" | 226 | 6' 11" | 8' 5" | 10.8 | 27.5 | 32.5 |



Basic Per Game Statistics

- Comprehensive Stats - Statistical Top 25s
| Year | League | Name | GP | Min | Pts | FG | FGA | FG% | 2Pt | 2PtA | 2P% | 3Pt | 3PtA | 3P% | FTM | FTA | FT% | Off | Def | TOT | Asts | Stls | Blks | TOs | PFs |
| --- | --- | --- | --- | --- | --- | --- | --- | --- | --- | --- | --- | --- | --- | --- | --- | --- | --- | --- | --- | --- | --- | --- | --- | --- | --- |
| 2015/16 | DLEAGUE | Lamar Patterson | 2 | 34.0 | 15.0 | 5.0 | 11.0 | 45.5 | 3.5 | 7.0 | 50.0 | 1.5 | 4.0 | 37.5 | 3.5 | 5.5 | 63.6 | 1.5 | 5.5 | 7.0 | 6.0 | 1.0 | 0.0 | 3.5 | 3.0 |
| 2015/16 | NBA | Lamar Patterson | 13 | 16.8 | 3.8 | 1.1 | 3.2 | 33.3 | 0.5 | 0.9 | 50.0 | 0.6 | 2.3 | 26.7 | 1.0 | 1.5 | 68.4 | 0.2 | 1.9 | 2.2 | 1.8 | 0.4 | 0.1 | 0.8 | 2.1 |

Player Page&nbsp&nbsp| Player Stats | Related Articles&nbsp&nbsp| Add to My Draft Express&nbsp
&nbsp
2014 NBA Combine Interviews: Vonleh, Patterson, Brown
May 17, 2014
[Read Full Article]

---
Lamar Patterson Updated Scouting Report
April 17, 2014
Kyle Nelson

It has been two years since we last wrote about Pittsburgh senior Lamar Patterson. In the meantime, Patterson went from a solid role-player to a star, earning a spot on the 2013-2014 All-ACC Second Team and leading the Panthers to the 2014 NCAA Tournament. He proved himself as one of the most unique players in college basketball, a swingman with great passing ability and vision, and regained his shooting touch with NBA range.

Unfortunately and for as good as he was a senior, Patterson's production fell off a bit as the year moved on, and Pittsburgh didn't make it out of the first weekend of the NCAA Tournament. Currently projected as a second round pick, can Lamar Patterson leverage his standout senior season into hearing his name called on draft night?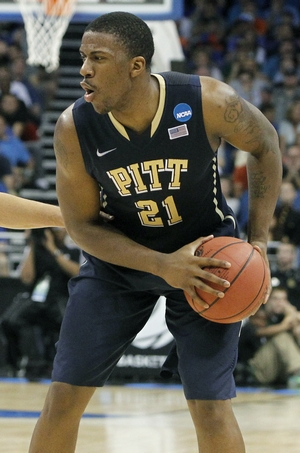 US Presswire



At 6'5 with a 225-pound frame and good wingspan, Patterson is a versatile wing who makes up for whatever he lacks in size with his length. He is a savvy player, which helped compensate for his average athletic profile at the collegiate level; whether this translates into success at the next, however, remains to be seen. Patterson is neither explosive around the basket nor quick off of the dribble, though he looks like he could stand to slim down in order to maximize his athletic potential.

Offensively, Patterson emerged as Pittsburgh's focal point while averaging an impressive 21.9 points per 40 minutes pace adjusted, upping his usage rate significantly between his junior and senior years. He was extremely versatile, seeing nearly of his scoring or passing possessions as ball handler in pick-and-roll or isolation situations to complement his solid floor spacing ability.

At first glance, Patterson is a very good perimeter shooter with NBA range on his jumper. He took a big step up from his junior to senior year, as well, regaining his sophomore form by making 39% of his shots from beyond the arc while taking over seven 3s per-40. A closer look at the numbers reveals that he is far better in a catch-and-shoot situations (40%) than he is shooting off the dribble (25%). On film, his mechanics can be inconsistent and he will have to streamline his shooting motion if he hopes to emerge as a shooting specialist at the next level, which could be a major key in whether he's able to carve out a niche in the NBA.

Moving inside of the arc, Patterson struggles at times due to his average athletic ability.
He makes just 50% of his shots inside the paint in the half-court according to Synergy. Despite his average explosiveness, he showed the ability to run in transition and finishes creatively in traffic due to his body control and length. He does not have a great first step, however, which limits his ability to get to the basket.

It is worth noting, however, that Patterson's 5.5 assists per 40 minutes pace adjusted ranked 10th among all prospects in our top-100. Though he was not, is not, and will never be a point guard, Patterson is a very creative passer for his size, showing the ability to find teammates in both half-court and transition settings. His decision-making, in particular, is impressive, perhaps best exemplified by his ability to balance scoring and distributing out of the pick-and-roll and in transition. Patterson's basketball IQ and willingness and understanding of how to make teammates better is a major asset, one that could endear him greatly to a NBA coaching staff looking for depth on the wing.

On the defensive end, Patterson proved himself as hardworking with good fundamentals. His combination of length and intelligence allowed him to get in passing lanes and remain relevant after being beaten off the dribble. That being said, his below average lateral quickness is an issue at the next level, as it sometimes was for him in college. Ultimately, it remains to be seen whether he can guard elite athletes on a nightly basis. Yet, his savvy and fundamentals, effort, and length makes it hard to disregard him entirely in this area, and there is certainly hope that with added experience he can learn to hold his own and be competent on this end of the floor.

Patterson's combination of perimeter shooting and passing, along with good effort on the defensive end and high basketball IQ could allow him to carve out a rotation role down the line. Currently projected as a second round, he still has plenty of work to do in the pre-draft process, though. After declining to play in Portsmouth, Patterson will now have to hope for an invitation to the NBA Combine and try to stand out in the LA Group workout in May, as well as private workouts.

[Read Full Article]

---
Top NBA Prospects in the Big East, Part Five
October 22, 2012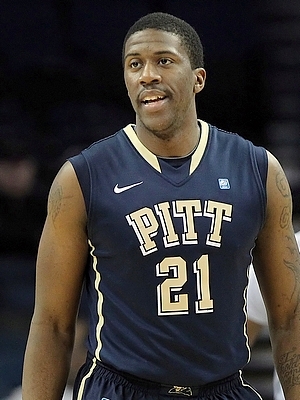 US Presswire



Matt Kamalsky

Last time we checked in on Lamar Patterson in 2009, he was ranked among the top-150 high school seniors in the country. After being granted a medical hardship waiver for his 11-game freshman campaign for Jamie Dixon's Pitt Panthers, the Lancaster, PA native had a quiet 2011 season before breaking out last year as a redshirt sophomore. Averaging 9.6 points, 5.3 rebounds, and 3.6 assists per-game, Patterson emerged as a contributor on a number of levels, helping his team with the CBI Championship and garnering Most Valuable Player honors in the process. Now with two more years of eligibility still remaining, Pitt will be hoping that Patterson takes the next step in his development offensively.

A 6'5 wing with nice wingspan and a strong frame, Patterson has average size and good strength for the small forward position, but is not a very explosive athlete. Lacking great speed in the open floor and seldom playing finishing plays above the rim, Patterson plays at his own pace and compensates for his limitations with patience, toughness, and a solid basketball IQ.

One of the only small forwards in the past decade to average over 5 assists and 7 rebounds per-40 minutes pace adjusted in the same season, Patterson joins an impress list of versatile three-men. Though he used just 13.9% of his team's possessions, Patterson made plays in a variety of situations , and should get even more opportunities this coming season with Ashton Gibbs and Nasir Robinson moving on to the professional ranks.

Patterson's most intriguing contributions came as a passer last season where he showed simply outstanding vision and decision-making. Patterson doesn't have a great first step, but he has enough wiggle in his game using hesitation moves and changes of speed to find ways to get into the lane. Looking comfortable running the pick and roll to create for his teammates, the rising junior posted the second best assist-to-turnover ratio in the country among small forwards because he seldom forces the issue and is extremely strong with the ball whenever he looks to penetrate.

Whenever Patterson draws an additional defender or forces the defense to rotate with his dribble or after receiving the ball flashing through the paint, he always seems to make the right play to find the open man, delivering the ball right on time to his big men underneath and his guards on the perimeter alike.

As a rebounder, Patterson makes an impact on both ends of the floor with his instincts and competitiveness. Doing a great job using his length on the offensive glass and boxing out defensively, Patterson isn't shy about pursuing the ball in traffic and is a solid rebounder for his position.

As a scorer, Patterson does most of his damage in spot up situations and from the midrange with his jump shot. Shooting the ball with less than ideal, but compact mechanics, Patterson doesn't have the smoothest stroke, but he proved significantly more reliable from the perimeter this past season than the one before. His 3P% improved from 22.2% to 41% in limited attempts and he proves adept at knocking down open shots with his feet set, taking advantage of his opportunities from beyond the arc.

A solid finisher, Patterson's lack of great athleticism limits his ability to blow by his defender and create easy looks for himself at the rim. At this juncture, most of his shots around the basket come by virtue of his off-ball movement and offensive rebounding ability. If Patterson is going to take the next step as an offensive player, he'll need to become a better creator and finisher inside the arc and find more ways to generate efficient offense. He does a nice job freezing his defender with hesitation moves in one-on-one situations, but his 26% shooting on pull-up jumpers doesn't allow him to capitalize on that with any sort of regularity.

Defensively, Patterson plays with good effort and active hands, but doesn't have great lateral quickness. Using his length to contest shots and getting in a good stance when defending the ball, Patterson's fundamentals and smarts help him hold his own at the college level.

The St. Benedict's Prep (NJ) product, may not have elite upside due to his lack of athleticism, but he's a well-rounded player who appears very coachable and has shown improvement in a number of areas in recent years. Patterson will need to become a more well-rounded scorer and retain his efficiency in other areas as he assumes a bigger role for the Panthers this season, and is a player worth keeping an eye on in his final two seasons of eligibility.

[Read Full Article]

---
ESPN RISE National High School Invitational
April 12, 2009
Patterson (#93 Scout, #109 Rivals, #94 ESPN) will bring his tough style of play to the Big East next season, but looks like he is still making the transition to perimeter player. The undersized forward spent a lot of his time in the post and was able to be successful thanks to his excellent strength and toughness with the basketball. Patterson got the bulk of his points on offensive rebounds and sealing hard on the block. We didn't see too much in the area of extensive ball handling, but he did attempt a fair number of shots from the perimeter in catch and shoot situations. Patterson has a bit of an inconsistent release point, but having knocked down a couple of threes, he appears to have the range to develop into at least a decent shooter at the next level. The biggest key for him now will be improving his quickness and his ball-handling skills in order to transition smoothly to the small forward spot full time.

[Read Full Article]

---
HoopHall Classic Scouting Reports, Part Three
January 23, 2009
Lamar Patterson (unranked, Scouts, Rivals, ESPN) showed the kind of toughness and hard-nosed play that will fit in perfectly at the University of Pittsburgh next season. He prides himself on his rebounding and doing the dirty work – two staples of Jamie Dixon's squad and what has made Pittsburgh a national powerhouse.

Other than Derrick Favors, Patterson was perhaps the best rebounder we saw this past weekend at the Spalding HoopHall Classic in Springfield, MS. He was absolutely relentless on both ends of the court, establishing great position inside time and time again. On the offensive glass, he did a superb job of finishing the play off with put backs or drawing fouls to get to the line. He has a great nose for the ball, anticipating where they would bounce and moving his opponents under the basket and out of the play with his strong lower body. Without failure, he would always put his body on someone and make contact to gain the advantage on the glass.

Patterson was a work horse inside, playing more physical than any other player on the court, which translated to 9 first half rebounds (13 for the game). That physicality, the fixture of Patterson's game, did not stop on the defensive end. From the opening defensive possession of the game for St. Benedict's (NJ) Prep, Patterson (listed at only 6'5") showed his tenacity, as he was matched up with the 6'8" and muscular Richard Howell of Wheeler (GA) High School. As Howell was trying to get position inside, Patterson fronted him denying one pass, than he three quartered him denying another, which finally led to a frustrated Howell shoving Patterson away and committing an offensive foul.

That possession sums up the kind of player he is – for what he lacks in height he makes up in heart. He played terrific post defensive throughout, had a couple deflections and even took two charges as he rotated well on the help side.

His offensive game is solid in the painted area, but doesn't extend much further than that. At the rim, he is rather crafty as he uses lean back up and unders and to get bigger opponents to bite and commit fouls. He also finishes everything inside, never shying away from contact – just powering up. His shot needs work as he currently holds the ball over his head and shoots down –causing his shots to fall short and displaying a slow release in the process.

His ball handling and passing skills are the weakest aspects of his game right now. He had a couple nice drives to the basket, but doesn't have the explosiveness or skills to do it against Big East competition. He forced a few passes as he tried to thread the needle a couple times and committed 4 turnovers to only 2 assists on the day.

He's certainly a severely undersized power forward and will have to add some more muscle to a developing body that appears to be filling out. He will be overmatched on most nights next year and be playing against the best that college basketball has to offer. Despite his limitations however, his feel for the game, interior skills, and relentless attitude make Patterson a potential rotation guy next season.

[Read Full Article]

---