Lance Stephenson
Recent Tweets
All Tweets
DraftExpress: RT @Mike_Schmitz Lance Stephenson free agent scouting video last summer before he signed with the Hornets http://t.co/3m2NnqKgQC
2015-06-15 22:37:33
DraftExpress: Lance Stephenson free agent scouting video last summer before he signed with the Hornets http://t.co/3m2NnqKgQC
2015-06-15 21:56:58
DraftExpress: RT @Mike_Schmitz What are the Hornets getting with Lance Stephenson? Find out here http://t.co/ZuU4YSddiG
2014-07-16 14:00:32
DraftExpress: What are the Hornets getting with Lance Stephenson? Find out here http://t.co/ZuU4YSddiG
2014-07-16 12:44:53
DraftExpress: DX Free Agent Scouting Videos Greg Monroe Isaiah Thomas Lance Stephenson Eric Bledsoe Carmelo Anthony LeBron J http://t.co/V7lvIsPumz
2014-07-02 11:10:19
Team: Clippers
Physicals
Positions
Rankings
Salary
Misc
H: 6' 6"
W: 227 lbs
Bday: 09/05/1990
(25 Years Old)

Current: SG
NBA: SG
Possible:

RSCI: 7

Agent: Alberto Ebanks
Current Salary:$9,000,000

High School: Lincoln
Hometown: Brooklyn, NY
Drafted: Pick 40 in 2010 by Pacers

Predraft Measurements
| Year | Source | Height w/o Shoes | Height w/shoes | Weight | Wingspan | Standing Reach | Body Fat | No Step Vert | Max Vert |
| --- | --- | --- | --- | --- | --- | --- | --- | --- | --- |
| 2010 | NBA Draft Combine | 6' 4.5" | 6' 5.75" | 227 | 6' 10.5" | 8' 7" | 9.3 | 27.0 | 33.0 |



Basic Per Game Statistics

- Comprehensive Stats - Statistical Top 25s
| Year | League | Name | GP | Min | Pts | FG | FGA | FG% | 2Pt | 2PtA | 2P% | 3Pt | 3PtA | 3P% | FTM | FTA | FT% | Off | Def | TOT | Asts | Stls | Blks | TOs | PFs |
| --- | --- | --- | --- | --- | --- | --- | --- | --- | --- | --- | --- | --- | --- | --- | --- | --- | --- | --- | --- | --- | --- | --- | --- | --- | --- |
| 2015/16 | NBA | Lance Stephenson | 16 | 18.6 | 5.1 | 1.9 | 4.8 | 39.5 | 1.4 | 3.4 | 40.0 | 0.5 | 1.3 | 38.1 | 0.8 | 1.2 | 68.4 | 0.8 | 2.1 | 2.8 | 1.7 | 0.6 | 0.1 | 1.3 | 1.6 |

Player Page&nbsp&nbsp| Player Stats | Mock Draft History | Related Articles&nbsp&nbsp| Add to My Draft Express&nbsp
&nbsp
Lance Stephenson 2014 Free Agent Scouting Video
June 30, 2014
Analyzing the strengths and weaknesses of arguably the most controversial player in the free agent pool, Lance Stephenson, hours before he hit the market on July 1st.


---
More Free Agent Videos:


-Eric Bledsoe
-LeBron James
-Carmelo Anthony

All of our video scouting reports can be found here

[Read Full Article]

---
NBA Combine Interviews: Hobson, Hayward, Richards, Stephenson, Garcia
May 28, 2010
[Read Full Article]

---
Filling in the Blanks: NCAA Scouting Reports
April 28, 2010
Kyle Nelson

Toward the end of his freshman season, Cincinnati shooting guard Lance Stephenson surprisingly announced that he would return for his sophomore year. Weeks later, he shocked few when he reneged on that announcement and entered the NBA Draft with an agent (reportedly his lawyer, Alberto Ebanks). While Stephenson always seemed like a one-and-done player, he had a subpar freshman season that exposed many of his flaws and showed the limit of his potential.

Physically speaking, Stephenson has solid height for an NBA shooting guard at 6-5 with good length and a strong frame. As was the case in high school, he relies on his strength to overpower weaker players and compensate for his lack of athleticism. From a conditioning standpoint, he did not appear to be in ideal shape this past season, likely carrying an extra 10-15 pounds on his thick frame. He is quick in the open floor, but lacks the explosiveness and lateral quickness expected from wings at the next level. While he will continue to work on his strength and conditioning, there is no doubt that Stephenson is a below average athlete in the NBA.

His offensive skill set, which is heavily reliant on isolations and muscling his way to the basket, will probably have to be adapted at the next level, given his lack of explosiveness and quickness. While Stephenson's touch around the basket is not bad, his overall shooting during his freshman season was extremely poor. He shot a dismal 21.9% from beyond the arc, converted under 50% from inside the arc and made just 66% of his foul shots.

On film, his shooting motion with his feet set is not terrible. He has a fairly fluid motion and release. But he has issues with excess lower body movement, and when he shoots off the dribble, his mechanics are less consistent and he has a tendency to fade away while shooting.

The biggest issue here is Stephenson's decision making. He settles for bad shot after bad shot, in spite of miserable percentages and open teammates. He seems to lack any sort of understanding of shot selection. Even when his shots were not falling, he forced the issue and, if his teammates sought their own offense, he tended to pout and fade into the background. This is likely the primary cause for concern from NBA scouts, as Stephenson has never really shown the ability to play team-oriented basketball and could certainly have issues adapting to a situation where he's simply a role player.

Stephenson does a good job of creating space off the dribble, showing solid ball-handling skills for his size. The effectiveness of his mid-range game suffers due to his poor shot selection, but he has shown an ability to find shots inside the arc and pull up off the dribble. Similarly, he was at his best last season when he attacked the basket both in transition and in half court situations, where he could use his size and strength to his advantage. He must improve his willingness to find the open man, though, as his tunnel vision often results in offensive fouls and untimely turnovers.

Though Cincinnati did not field the most competitive or disciplined team last season, Stephenson's lack of offensive efficiency and selfish style of play have been omnipresent throughout his career. During workouts, he must somehow convince scouts that he is capable of playing team-oriented basketball and has the ability to produce efficiently in a smaller role. As we have written before, Stephenson possesses NBA-caliber scoring abilities. His average athleticism and questionable decision making ability, however, may force him to work his way up through the D-League first.

On the defensive end, Stephenson did a decent job at Cinncinati, but his lack of lateral quickness limits his potential in this area at the next level. He will struggle to guard bigger and more athletic guards in the NBA, though his strength and length will likely work in his favor. His strong frame also helps him on the boards, where he averages 7.5 rebounds per 40 minutes, pace adjusted -- solid numbers for a wing player.

His behavior off of the court has also been a well-documented issue in recent years. He stayed out of trouble at Cincinnati, but he has accumulated quite a collection of red flags during his brief time as an amateur basketball player. Any NBA team that considers drafting him will have to do extensive research about his background, and decipher why he was in such a big rush to leave Cincinnati after such a sub-par freshman season.

While there are a tremendous amount of obstacles in his way, Stephenson still has the potential to be a contributor at the next level at some point down the road. While his lack of explosiveness and mediocre shot selection are areas of significant concern, he has good scoring instincts and a decent offensive repertoire. Stephenson is sure to be one of the most controversial players in the draft. There is no guarantee that he will even be picked, but he may be able to carve out a career for himself regardless, a la Stephen Jackson.

[Read Full Article]

---
NCAA Weekly Performers, 12/18/09
December 18, 2009
Matt Kamalsky

A lot has transpired in the Lance Stephenson saga since we last checked in on him at the McDonald's All-American Game last April. At that time, the question marks surrounding his attitude and off the court issues had soured much of the elite prep talent's recruiting interest, and his prospects for college basketball, let alone the NBA, seemed murky.

Appearing overweight, reinforcing the perceptions of his detractors with his play on the court, and facing sexual assault charges off it, the enigmatic young guard seemed positioned for failure. Enter the Cincinnati Bearcats and Mick Cronin. After committing to the school in late June, the all-time leading scorer in New York high school basketball history brought his cloud of controversy to southern Ohio.

Fast-forward six months, and it is hard to question Cronin's decision in the last bit. Cleared to play in early November, Stephenson has brought the Bearcat's a national notoriety that the program has severely lacked, without even having the opportunity to speak to the media. Looking substantially leaner than he was on the All-Star circuit, Stephenson has made his presence felt for the 6-3 Bearcats, showing off the talent level that made him a consensus top-10 recruit in his class, while playing far better team basketball than most expected. Though Cincinnati's Lance Stephenson experiment certainly has had its benefits, from an NBA draft perspective, many of the questions about his game persist.

Imposing his strong frame on weaker players to the tune of almost 30 point per-game on the high school level, Stephenson has had moments of brilliance this season when putting the ball on the floor, but has had a hard time making adjustments to improve his efficiency. Permanently in attack mode on the offensive end, Stephenson's ball handling ability and solid frame allow him to make some impressive plays off the dribble, but many of the forced drives that he still converted in high school have turned into off balance floaters and blocked shots in the NCAA.

According to the data we have at our disposal, Isolation situations account for more than 30% of Stephenson's total possessions this season, and while he'll shake his man with a fancy array of hesitations and crossovers to create an occasional open lay-up, he only converts 37% of his field goal attempts in this fashion, with many of those forays to the rim coming at the expense of the flow of his team's offense.

Stephenson will occasionally turn his offensive creativity into terrific opportunities for his teammates—he has very nice court vision after all--but he still tends to force the issue excessively looking for his own shot. A key to Stephenson's long term development lies in his ability to move away from the tunnel vision that often leads to him dribbling the air out of the ball on the perimeter and missing the open man on the weakside when he gets into the lane.

On top of his tendency to want to play one-on-one, Stephenson has also been extremely eager to pull the trigger from the outside this season. Stephenson's Shot Attempt Breakdown certainly doesn't depict him as the power guard that he is, indicating that 59% of his total field goal attempts are jumpers, which he converts at a modest 28.3% clip. His 2.9 three-point attempts per-game and 15% conversion rate paint a similar picture. Extremely aggressive with his shot selection off the dribble and more than willing to take a shot early in the shot clock when the opportunities presents itself, Stephenson's shot selection remains problematic, especially when one considers that his lack of elite athleticism makes it hard for him to create separation for his pull-up game.

While both his polarizing presence in Cincinnati's offense and shot selection hurt his efficiency, there are certain virtues of Stephenson's game that are undeniable. He shows off NBA caliber scoring tools, looking comfortable taking his man off the dribble in either direction, making plays in transition, and effectively finishing around the rim in half court sets. Though his strength doesn't always help him as much when he's looking to go one-on-one as it used to, it remains an asset to him when he crashes the offensive glass –something he's done very effectively this season, especially for a guard.

In addition to his offensive rebounding, Stephenson has also been a willing defender, applying token pressure at the very least, and appearing extremely capable defending the ball on occasion. Lacking a degree of lateral quickness and always too eager to use his hands, Stephenson does do a decent job getting a hand up when his man looks to shoot and makes an effort to recover once he's beat. Prone to focusing on his man rather than positioning himself to help his teammates, Stephenson would benefit greatly from taking things a bit more personally on the defensive end on a consistent basis, something that can probably be said about all freshmen.

Based on the humbled expectations he came into this season with after so many colleges shied away from recruiting him, Stephenson has certainly had a positive freshman year. He'll continue to face some criticism for his style of play, but for a player that accounted for essentially all of his teams possessions on the prep level, it wouldn't reasonable to expect a polar shift in his tendencies immediately.

A tremendously instinctive and natural scorer, Stephenson has proven that he can put points on the board in bunches, and if he can improves aspects of his game in the coming months, notably his jump shot and decision making skills, some teams may be willing to overlook his lack of athleticism and ball-dominant ways and select him as a high-risk, high-reward opportunity. Clearly an NBA-level talent and a likely one-and-done player, all of the strides Stephenson makes come with a big caveat, as his off-court behavior and attitude will be put under the microscope by NBA franchises before he's even placed on their boards. Depending on what those queries turn up, Stephenson clearly has the talent to land in the first round, but if no college (except Cincinnati) was willing to let him come play for them for free this summer, then there are no probably guarantees either that an NBA team will be willing to pay him to play for them.

[Read Full Article]

---
Player Evaluations, McDonald's All-American Game (East Team)
April 4, 2009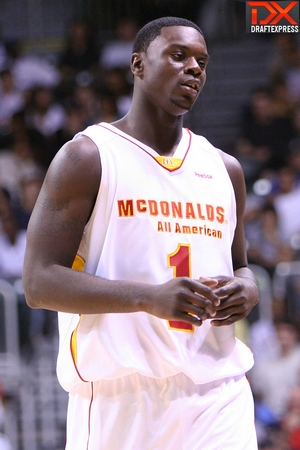 Jim Hlavac, DraftExpress



This was a typical week from Stephenson (#7 Scout, #9 Rivals, #8 ESPN) from what we've come to expect over the past few years. First he missed his flight, arriving here late. Then he made a big fuss out his college announcement, canceling and rescheduling it multiple times, much to the chagrin of the organizers, until he eventually called a press conference to announce that he has nothing to announce.

On the court, it was much of the same: bad shots, selfish play, terrible body language, cheap shots to the opposition, plenty of turnovers, predictably followed by him visibly blaming others for his own mistakes. The more other members of this class continue to catch up as far as physical development is concerned, the less Stephenson's ability to overpower his way to the basket works. He repeatedly tried to bulldozer his way into the lane over the course of this week, and only saw mixed results in the process, due to his inability to play above the rim. His jump-shot wasn't falling, and he only seemed to pass as either a last resort or when he had a chance to make himself look good with a highlight reel caliber assist.

The talent is obviously there, as Stephenson showed from time to time, particularly on the pick and roll, but the question marks continue to grow. It's difficult to understand why recruiting services such as Clark Francis' HoopScoop rank him as the #1 overall prospect in this class, but only time will tell if they are correct.

[Read Full Article]

---
HoopHall Classic Scouting Reports, Part Two
January 21, 2009
It was a tale of two halves for the highly touted and controversial star Lance Stevenson (#7 Scout, #9 Rivals, #8 ESPN), and most of the pre-game discussions revolving around him came to fruition. His talent level and physical attributes are hard to argue with, but his attitude, body language, and approach to the game left a lot to be desired and continue to hold him back from reaching his true potential.

The initial impression of Stevenson when he walked onto the court for warm-ups was extremely positive. He is a legitimate 6'6", over 200lbs, very well defined and fit (he has slimmed down considerably) – looking very much like a basketball player and nothing like a high school kid. In the 1st half however, Stevenson showed exactly why he has so many skeptics.

When he didn't receive a pass where he wanted it, he demonstrated noticeable signs of frustration by rolling his eyes or throwing his arms up in disgust. He was totally out of sync as he was forcing up shots in the lane and driving hard at one speed into traffic committing offensive fouls or turning the ball over otherwise. He didn't seem to have any interaction with his teammates as they were reluctant to even throw him the ball in several instances throughout the game. With that, he showed very little movement without the ball, but rather posted up on the perimeter, using his overwhelming strength and size to receive passes.

Defensively, at least in the first half, he was lazy getting back and gambled all over the court, hindering his team tremendously. It also got very testy between LeFlore (AL) High School's star center DeMarcus Cousins and Stevenson – where several "unintentional" half-hearted blows were exchanged. Stevenson sat the final 4 minutes of the first half with 3 fouls.

In the 2nd half, we saw a different Lance Stevenson. He played with a sense of urgency and showed why he is one of the most talented players in the country. His mid-range game was deadly, pulling up both right and left, elevating high in the air and creating a lot of space in the process. He had one very quick right to left cross over into a jump shot that was more than impressive. He displayed the ability to change pace going to the basket, and was able to get where he wanted to go. He didn't seem to have tremendous speed or athleticism, but he has a very hard almost violent dribble than enables him to beat most players off the dribble at the high school level.

Stephenson was much better shooting off the dribble in every aspect: elevation, mechanics and accuracy. Off the catch however, he had a slow release and was kind of caught in-between shooting a jump shot or a set shot, which often resulted in a missed shot. When he went into his pull-up he was nearly picture perfect, although he did fade-away a little bit on several shots. His shot remains very streaky the further out he gets from the basket.

He was surprisingly unselfish for someone with his reputation also. He was willing to pitch the ball ahead to start a break or make the extra pass to a shooter in the half court. He didn't throw any spectacular passes, but the fact that his teammates were neglecting him on a couple occasions did not affect his willingness to give the ball up. With that said, he still took several ill-advised shots his coach surely would have loved to have back.

Stevenson played really good on the ball defense, especially in the second half. When he sets his mind to shutting someone down, there aren't too many players who can score on him. Off the ball was another story, as he seemed uninterested, coming out of his stance almost standing completely upright. He would often lackadaisically reach at slashing guards driving past him – part of that however was because he was in foul trouble for most of the game.

Stephenson seems like he thinks he's above high school basketball, and there are legit concerns over whether he will think the same way about college ball as well. Playing in Europe seems completely out of the question, as his style of play and attitude look like a sure-fire recipe for disaster, even at the lower levels of play. Whatever he ends up doing next season, Stevenson must completely change his attitude. With the right tutelage and guidance, he can be an outstanding two guard in the college game. It's going to be very interesting to monitor Stevenson's development and see if he can mature as he enters the next chapter of his life and basketball career.

[Read Full Article]

---
Initial Scouting Reports, High School Class of 2009 (Top 10 recruits)
July 28, 2008
Along the same lines as Renardo Sidney, we find Lance Stephenson (#7 Scout, #7 Rivals, #4 ESPN), similarly rated extremely high by all the major recruiting services, but similarly showing serious character flaws that put his ability to realize his full potential in major doubt. Stephenson was also coached by his father (sporting a blinking Bluetooth earpiece during games while pacing the sidelines and barking out "instructions") and given the status of the star of his AAU team—their go-to guy and lone playmaker. His team unsurprisingly was kicked out in the first round of their bracket. Luckily for us, we also got to see Stephenson compete in the tryouts for the USA Basketball U-18 National Team. He was eventually cut from the team after clearly not buying into what the coaching staff was selling, even though there was no question that talent wise they could have used him.

Stephenson is difficult to guard at the high school level, as he's clearly much stronger than anyone else he goes up against at this stage. He has a knack for scoring that can't be taught, and he regularly makes impressive plays around the basket after creating his own shot from the perimeter with his excellent ball-handling skills. Stephenson is a good passer when he wants to be—he obviously has a very good feel for the game, but too often he gets caught up in looking for his own offense and settling for contested pull-up jumpers—some of which he can make at times. He's just an average athlete and will not be able to bully players around in college the way he does here, and his body can still get much more toned than it currently is. Defensively there is very little to speak of here.

Stephenson's body language is the most questionable part of his game. He pouts and complains constantly on the court, at the refs, the coaches, opposing players, and often his own teammates. Nothing ever seems to be his fault, not his terrible passes that usually lead to turnovers, his poor shot-selection, his pedestrian defense, or his uncoachable nature. At one point he looked close to exchanging blows with a fellow teammate at the U-18 tryouts who dared dishing off a hard foul, which made his removal from the team (which went on to lose to Argentina in the Finals) one of the least surprising moments of the week.

We saw a slew of extremely talented players fall in this year's draft due to much lesser concerns than Stephenson's, which means that something will have to give at some point—NBA team's willingness to draft low character players, or Stephenson's willingness to mature and become a good teammate. Right now it appears that only two schools are recruiting him—St. John's and Kansas, although Memphis and USC may still be in the picture too.

[Read Full Article]

---
2008 Spalding Hoophall Classic -- Elite Prospects
January 21, 2008
This was a pretty average performance out of star junior Lance Stephenson (#5 Scout, #4 Rivals) in Lincoln's blowout win over Milwaukee Pius. The usual antics that seem to follow the talented guard were there: Questionable effort, poor body language, trash talking, and the ability to do basically anything he wants in spurts on the court.

The game seems to come so easy for Stephenson that he often becomes very careless on the court, attempting passes that not even Steve Nash could make. While he is a good passer, his desire for the flair tends to take him out of the game mentally at times. Very vocal and animated, he has the potential to be a good leader on the floor if he is ever able to understand the big picture, which is a big IF at the moment.

In terms of actual skills, Lance has plenty to offer. He is able to shoot the ball out to NBA three point range, put it on the floor, and even take you down to the blocks and score out of the post. The player who stops Lance Stephenson most often is himself, as he tends to get out of the game mentally before he can even get in a groove at times. When unable to score himself, he has exhibited outstanding court vision both in the open floor and in half court sets. Occasionally even playing point guard, many feel that the potential is there for Stephenson to eventually become a combo guard down the road, if he'd be willing to give up the ball enough.

Defensively, Stephenson exerts very little effort and appears to just be waiting for the next shot to come off of the rim so he can find an opportunity to score the ball. Blessed with an outstanding body, long arms, and decent lateral quickness, there is no excuse why the NYC product is not a better defender.

The most evident weaknesses that Lance seems to have are his on-court demeanor and relatively average athleticism for a shooting guard prospect. His athleticism is solid for a high school player, but it is not at the same level as most NBA shooting guard prospects. This might be one of the reasons he settles so often for jumpers rather than taking the ball strong to the basket. The character issues surrounding Stephenson are much more concerning, and only time will tell if he is able to completely understand how good he has the potential to become.

The star shooting guard currently has a list of Indiana, USC, Kansas, Duke, and North Carolina and does not appear to be ready to make a collegiate decision anytime soon. Whatever program is able to land him will be getting a potential 15 point per game scorer from day one, but must be willing to sacrifice for all of the issues that tag along with Stephenson.

[Read Full Article]

---
adidas Nations Basketball Experience: 2009 High School Prospects
August 15, 2007
The most productive player on the 2009 high school team from a sheer numbers standpoint was clearly New York City native Lance Stephenson, an absolute monster of a teenager who played both guard positions despite being listed at 6-5.

Stephenson has NBA written all over him, both physically and from a skills standpoint. Featuring a terrific body with great strength and excellent athleticism, Stephenson can do many things on the court thanks to his wide array of tools. He's quick and very explosive off his feet, showing a wide array of hesitation moves and terrific ability to change gears and get to the rim. Once he's there, he has the strength and tenacity to finish through contact. The fact that he's such a good ball-handler obviously helps him out in terms of creating his own shot, and he has the physical ability, skills and instincts to do so almost whenever he pleases at this level. His mid-range game is also very polished already, numerous times throwing a strong crossover at his opponent only to pull up sharply off the dribble for a smooth jumper. He goes left or right equally well and is extremely aggressive looking for scoring opportunities. His jump-shot from deep looks good as well, even if he at times forced things from behind the arc.

Now that we've gotten the many incredible strengths that Stephenson possesses out of the way, we must also share some concerns. Stephenson showed a very questionable attitude throughout the event, picking fights with opposing players, showing questionable body language, and generally looking very immature. He pouted whenever things didn't go his way, blaming the refs, his teammates, the opposition, or basically anyone besides himself when things went even slightly wrong. When all is well he's an incredible looking prospect, but once him or his team hit a rough patch, he basically gave up. All too often he played selfish basketball, showing a poor basketball IQ, running into brick walls, and tossing up terrible shots, while putting forth absolutely no effort on the defensive end. At this point, he's much stronger than anyone else in his class, which gives him a huge advantage on the court. You have to wonder whether that is going to hold up once everyone else catches up physically. We've seen this happen in the past, and it rarely turns out well.

Stephenson's career could go in many different directions from here. He could capitalize on his immense potential and become a one and done player at whichever school he chooses (let's take a "wild" guess and say Louisville or Memphis), and then turn into a legit NBA player, or he could completely flame out in college. It's hard to see much of a middle ground here. Hopefully he does eventually mature, because we're obviously talking about a special talent.

[Read Full Article]

---
LeBron James Skills Academy Final Day
July 14, 2007
If you didn't know where you were, you'd think you were in Las Vegas watching an NBA shooting guard when watching Stephenson play out there. He has so many NBA moves in his repertoire at this point that he could honestly compete with many of the guards that are on certain summer league rosters. The NYC shooting guard has range expending out beyond the NBA three point arc, can post smaller guards, and is fearless going to the rim. His attitude was definitely in check throughout the camp, as he played hard on each and every occasion and was not easily frustrated. Lance was great handling the ball as well, keeping his dribble tight and making great decisions with the rock. Defense is certainly not his strong point, but expect that to improve over the next few years as he receives better coaching. All in all, an outstanding performance from the rising junior.

[Read Full Article]

---
Nike IS8 High School Spring Championship
June 6, 2007
Stephenson is one of the top players in the country from the class of 2009. From watching him play in just one game this weekend it is clear to see that Stephenson is a phenomenal athlete with a tremendous amount of potential. At close to 200 pounds, he is too strong for most perimeter players to cover effectively, and his quickness is pretty good. Stephenson got into trouble this weekend however when he found himself being double teamed. Rather than looking for open teammates, Stephenson often tried to do too much on his own and committed several offensive fouls and traveling violations.

Early in Saturday's game, Stephenson showed off his phenomenal leaping ability, by slamming home a put back in traffic, and moments later thundering home an alley-oop pass from near half court.

Most impressive from Stephenson however was his shooting ability. Obviously there is still work to be done, but he showed fantastic touch and range on his shot. Stephenson hit several nice turnaround jumpers from the post, and drained several long shots from beyond the arc, including a buzzer beater at the end of the third quarter.

Stephenson has a tremendous amount of upside, and showed flashes of the ability that has him ranked near the top of the 2009 class. There is still plenty of work to be done, as right now Stephenson is more raw athlete than basketball player.

[Read Full Article]

---