Laurence Bowers
Recent Tweets
All Tweets
DraftExpress: More Undrafted Khalif Wyatt Elijah Johnson Will Clyburn Rodney Williams Jamelle Hagins Laurence Bowers Oleksandr Lypovyy Joan Sastre
2013-06-28 00:22:16
DraftExpress: Fun team assembled w\/Peyton Siva and Khaliff Wyatt in the backcourt and Jared Berggren Laurence Bowers and Arsalan Kazemi in the frontcourt
2013-05-23 10:46:33
DraftExpress: Robert Covington ranked 30th among DX seniors & Laurence Bowers (#37) have been replaced on PIT's roster by Jake Cohen & Damen Bell-Holter
2013-04-07 12:28:48
DraftExpress: DX Trending Prospects (1\/7) - Scouting reports on Kelly Olynyk Laurence Bowers Elias Harris and Juvonte Reddic http://t.co/JA5RzVyw
2013-01-07 15:03:05
DraftExpress: DX Trending Prospects (1\/7\/2012)- Kelly Olynyk Laurence Bowers Elias Harris Juvonte Reddic http://t.co/JA5RzVyw
2013-01-06 23:49:21
Top 25s - Full List
Team: Capo D'Orlando
Physicals
Positions
Salary
Misc
H: 6' 8"
W: 205 lbs
Bday: 04/19/1990
(25 Years Old)

Current: PF
NBA: PF
Possible: PF

Agent: Travis King

High School: St. George's Independent Schools
Hometown: Memphis, TN

Predraft Measurements
| Year | Source | Height w/o Shoes | Height w/shoes | Weight | Wingspan | Standing Reach | Body Fat | No Step Vert | Max Vert |
| --- | --- | --- | --- | --- | --- | --- | --- | --- | --- |
| 2013 | Nets Workout | 6' 6.75" | 6' 8.5" | 223 | 6' 11" | 8' 10" | 6.7 | 26.0 | 30.0 |



Basic Per Game Statistics

- Comprehensive Stats - Statistical Top 25s
| Year | League | Name | GP | Min | Pts | FG | FGA | FG% | 2Pt | 2PtA | 2P% | 3Pt | 3PtA | 3P% | FTM | FTA | FT% | Off | Def | TOT | Asts | Stls | Blks | TOs | PFs |
| --- | --- | --- | --- | --- | --- | --- | --- | --- | --- | --- | --- | --- | --- | --- | --- | --- | --- | --- | --- | --- | --- | --- | --- | --- | --- |
| 2015/16 | Italian | Laurence Bowers | 6 | 22.7 | 9.2 | 4.0 | 10.3 | 38.7 | 3.5 | 8.7 | 40.4 | 0.5 | 1.7 | 30.0 | 0.7 | 1.0 | 66.7 | 0.8 | 3.8 | 4.7 | 0.7 | 0.0 | 1.0 | 2.7 | 1.8 |

Player Page&nbsp&nbsp| Player Stats | Mock Draft History | Related Articles&nbsp&nbsp| Add to My Draft Express&nbsp
&nbsp
Trending Prospects (1/7/2012)
January 6, 2013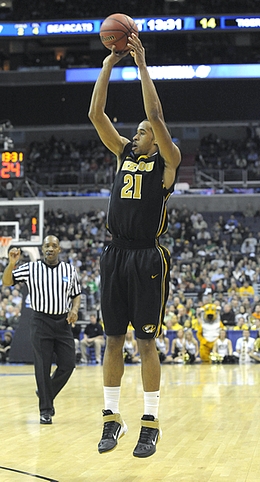 Icon SMI



Kyle Nelson

After being named to the 2011 All Big 12 Honorable Mention as a junior, Laurence Bowers missed the entire 2011-2012 season after tearing his ACL in October of 2011. Missouri is once again poised for a deep tournament run, this time with Bowers playing an essential role at power forward. Leading the Tigers in points (16.8) and ranking second in rebounds (7) so far, Bowers has come back better than ever, and appears to be a legitimate NBA prospect still.

At 6'8 with a very long and wiry 227-pound frame, Bowers is a little smaller than the ideal power forward prospect. Although he's not an incredibly explosive athlete vertically, possibly due to not yet fully recovering from his ACL injury, he has done well to add bulk to his frame and is extremely smooth and fluid from a mobility standpoint.

13 games into the season, Bowers has returned a far more productive and efficient scorer inside and out since his injury. He is averaging 23.9 points per 40 minutes pace adjusted, which ranks him tenth amongst all power forward prospects in our database. In addition to being more productive, Bowers is also posting career highs in almost every efficiency metric, particularly impressive given how his game has evolved alongside a very dominant ball-handling point guard in Phil Pressey. As Synergy reveals, Bowers has expanded his offensive game, finding most of his offensive possessions off cuts (22.4%), as a spot-up shooter (19.4%), in transition (14.1%), out of the pick-and-roll (11.8%), via offensive rebounds (10.6%), and out of post-ups (9.4%).

What makes Bowers an interesting prospect, however, is how he has developed a shooter. Nearly, 40% of his field goal attempts are jump shots and he has proven himself competent both inside and beyond of the three-point line. Prior to his senior season, he had attempted only 38 3-pointers and made just ten; 13 games into his senior season, he has made 25 of 55 jumpers (46%), and ranking as the nation's top 3-point shooting power forward in our database. His motion is fluid and fairly quick, and his ability to hit spot-up shots behind from the three point line, off the base line out of post ups, and both guarded and open represents a skill that scouts covet in modern power forward prospects.

Bowers has also developed outstanding chemistry with point guard Phil Pressey, finding a majority of the rest of his points off of cuts to the basket and out of the pick-and-roll. Though he does not show freakish explosiveness, he is still very mobile, which combined with his solid touch around the basket and shooting ability, make him a versatile threat out of the pick-and-roll. His post game is still rudimentary, but his jump hook remains solid and his footwork is improved from his junior season. It would be nice to see him attack the basket more aggressively this season, as he rarely initiates contact thus far into his season, resulting in a paltry 3.0 free throw attempts per 40 minutes pace adjusted. While he is not the most explosive or skilled post scorer, he nonetheless possesses an interesting skill set for an NBA power forward.

Bowers' potential on the defensive end is a little more murky, primarily due to his average physical profile. He does not show great lateral quickness staying in front of quicker perimeter players off the dribble, and lacks the bulk to hold his own against stronger power forward in the post. His instincts and length allow him to compensate somewhat (as he does get a fair share of blocks and steals) at the college level, but he must continue to improve his fundamentals and intensity level here, as it will likely play a key role in the type of professional career he's able to carve out.

Furthermore, he is still a below average defensive rebounder, grabbing only 6.1 per 40 minutes pace adjusted, ranking him in the bottom third of power forward prospects in our database. While it is still early in the season, Bowers rebounded at a similarly poor rate as a sophomore and junior as well, leading credence to the notion that this is a legitimate concern.

Despite the seemingly stark improvement we've seen thus far, the jury is still out on Laurence Bowers' draft prospects at this time. While his offensive skill set certainly works in his favor, his defensive shortcomings, average physical profile, and mediocre rebounding numbers present significant questions about his NBA potential. Due to his redshirt year, he will be 23 years-old on draft night, which is another hurdle he'll have to overcome.

Regardless, Bowers is in a perfect situation to showcase himself on a team that is in pole position to make a deep run into the NCAA Tournament. NBA scouts will be watching to see if he can maintain both his productivity and efficiency into Missouri's conference schedule and the postseason. With matchups against Kentucky, Florida and others on the horizon, scouts should have plenty of opportunities to see if Bowers can produce consistently against legitimate competition. Should he continue to fare well over the rest of the season, he'll likely get a chance to showcase himself at the Portsmouth Invitational Tournament and demonstrate that he is a legit second round prospect.

[Read Full Article]

---
Top NBA Draft Prospects in the Big 12, Part Two (#6-10)
October 3, 2011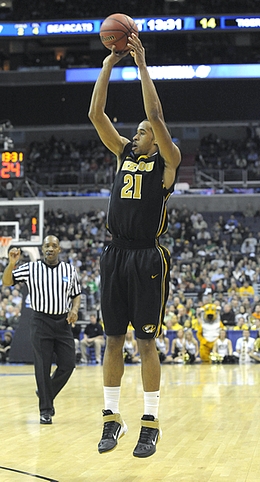 Icon SMI



Walker Beeken

Missouri's Laurence Bowers (along with teammate Kim English) tested the waters of the NBA draft after last season and ultimately decided to withdraw his name and return to school. Now, in his senior season, and playing for a new coach in Frank Haith, Bowers will have his final opportunity to showcase his game for NBA scouts, which should give them a better idea of how his game is developing and how it might translate to the NBA level.

We last wrote about Bowers mid-way through his sophomore season as he was emerging as an intriguing prospect to keep an eye on, thanks to increased playing time and his excellent physical tools. Unfortunately for Bowers, his on-court production stagnated as a junior, mainly due to the lack of development in his skill level.

While Bowers has been playing almost strictly as a big man at Missouri, we noted before that he has the mobility and athleticism to eventually see some minutes on the perimeter as well. So far though, he hasn't shown the improvement as a shooter or ball-handler that would seem to make that transition possible.

Bowers progress as a shooter is something to watch closely this season, as he seemed to regress as a junior. He connected on only 31% of his jumpers last season (he made a solid 40% as a sophomore) and didn't make a 3-pointer all season (he made 10 of 25 as a sophomore). He did, however, improve his free throw percentage from 65% to 75%. Becoming a more proficient jump shooter with expanded range would provide a much-needed additional dimension to his game and make him a much more valuable offensive weapon, so it will be interesting to see how he shoots the ball this year.

In terms of his proficiency off the bounce, Bowers showed flashes of being able to put the ball on the floor for a few dribbles and attack the rim or pull up in the mid-range, but he still lacks the footwork, advanced ball-handling, and fluidity with his moves to do so on a consistent basis.

In the post, Bowers scored pretty efficiently in his limited touches (about 14% of his used possessions last season) thanks to his excellent skills as a finisher, where he's able to utilize his length, elevation, and soft touch. He doesn't have the girth inside to get good post position, or the refined post skills that would likely make this part of his game translate to the NBA level, though.

Standing at 6'8" with a bit of a wiry frame, Bowers lacks the typical size and bulk to defend NBA power forwards in the post. He does, however, possess excellent athleticism, a solid motor, and what appears to be a very long wingspan to help compensate for that. He's shown to be a very solid shotblocker (he averaged 2.7 blocks per forty minutes pace adjusted last season) and also has the lateral quickness that should allow him to guard some on the perimeter and switch onto smaller, quicker players.

On the boards, Bowers grabbed 8.9 rebounds per forty minutes pace adjusted last season, ranking him in the bottom half of power forwards in our database. With his lack of size at the four spot, it will be important for him to prove his worth as a rebounder, which he seems capable of doing with his bounciness and length.

Missouri returns all five starters from last season's team but does have a new head coach with a completely different offensive philosophy. While the mix of players will be similar to last season, Bowers could be utilized in a drastically different role by Haith and could see his minutes increase from the 25 per game he played last season under Coach Mike Anderson, who loved his team to play at a frenetic pace as he shuffled players in and out.

At this point in his development, Bowers will likely be looked at as more of an undersized, face-up power forward by NBA scouts, making his living off the ball with his athleticism, length, and energy. While there is a spot in the league for players in this mold, the niche is a small one and may only fit with certain coaches and styles of play—unless he dramatically improves his skill-level.

Overall, although Bowers junior season may have been a bit of a disappointment, players with his physical gifts are hard to come by, and he'll surely have plenty of opportunities this season and in the pre-draft process to give scouts a better feel for his game.

[Read Full Article]

---
NCAA Weekly Performers, 1/14/10
January 14, 2010
Jonathan Givony

While still in a very early stage of his development, it's becoming increasingly difficult to ignore the intriguing combination of production and potential being displayed by Missouri sophomore forward Laurence Bowers.

Not very highly regarded by the various recruiting services coming out of high school, Bowers played just 7 minutes per game as a freshman. He's been making major contributions this season for a Missouri squad that is still retooling after a strong showing in last year's NCAA tournament, advancing all the way to the Elite Eight. He plays only 20 minutes per game at the moment, but that is fairly normal on a squad where the leading scorer (Kim English) averages just 22 minutes per game, and no one on the roster plays more than 26.

Bowers' intrigue revolves heavily around his excellent physical attributes. Standing 6-8, with a nice frame, a superb wingspan and tremendous athleticism, Bowers has great tools to build off. He still needs to add a good amount of weight to his lanky frame before he can reach his full athletic potential, but he's clearly a very smooth and fluid athlete with very nice quickness and explosiveness around the basket.

Offensively, Bowers is mostly an off the ball role player at this stage, getting the majority of his production running the floor in transition, cutting and finishing around the rim, putting back offensive rebounds, and so forth. He doesn't have the strength or girth to hold position or operate effectively with his back to the basket, but is able to make things happen in the paint at this level regardless. His extremely soft hands, coupled with his incredibly long arms and terrific finishing ability make him a phenomenal target for his guards to throw passes to, and he truly excels in Missouri's extremely up-tempo offense.

Facing the basket, Bowers shows excellent potential as a spot-up shooter, knocking down a decent amount of jumpers (including 4/6 3-point attempts) on the season and 84% of his free throws. The terrific touch he shows here should allow him to develop into a solid mismatch threat from the perimeter in time. He already ranks 3rd amongst all prospects in true shooting percentage, and makes an impressive 64% of his attempts from the field. Bowers is clearly an unselfish and intelligent player who understands his role well, and that translates to his passing ability as well, where he shows good instincts and already posts a positive assist to turnover ratio.

As a ball-handler is where Bowers needs to improve the most if he's to try and make the conversion to playing out on the wing full time down the road. He struggles to create his own shot, having a difficult time changing directions with the ball in the half-court if he's unable to beat his defender purely off his first step. He is fairly quick with his initial move and shows great body control making his way to the rim at times, but just doesn't have the offensive polish or strength to make much happen with the ball in his hands in one on one situations. Similarly, he has trouble finishing through contact at times due to his underdeveloped frame.

Bowers is a very active player who gets his hands on plenty of loose balls and fills up the stat-sheet in a variety of categories. He's an excellent offensive rebounder who gets in the passing lanes at a great rate and also contributes significantly as a shot-blocker. His length helps him out tremendously in this area, as does the extremely fast pace that his team plays at undoubtedly. Missouri likes to let him wreak havoc at the top of their full-court press, and also puts him at the top of the key in their half-court defense, where he causes all kinds of problems.

Missouri's unique style of play allows us to watch Bowers guard virtually every position on the floor, which is very helpful. He looks fairly comfortable out on the perimeter, doing a great job using his length to close out on shooters and contest most jump-shots in his area, and shows great feet and hustle switching out and putting pressure on smaller players. In the post, Bowers struggles at times defending some of the bulkier big men he's forced to match up with on occasion, likely lacking a certain degree of physical toughness, and making you wonder whether he'll ever have the strength to guard power forwards at the NBA level.

As an NBA prospect, Bowers has plenty of things going for him at the moment, and doesn't appear to be very close at all to reaching his ceiling either. There are some question marks he'll have to answer about his future position in the NBA, though, which may force the sophomore to stay at Missouri for at least another year, if not two. The perimeter seems to be the most likely direction for him to head in down the road, but he must improve his offensive polish while continuing to gain strength and experience first. Very few NBA scouts and even fewer draft outlets have Bowers on their radar on the moment, but from what we can tell that is very likely to change sometime in the next year or so.

[Read Full Article]

---