Lavoy Allen
Recent Tweets
All Tweets
DraftExpress: Top NBA Draft Prospects in the Non-BCS Conferences: Part One (1-10) http://bit.ly/cCBfSC reports on Greg Smith, Damian Saunders, Lavoy Allen
2010-11-02 08:25:41
DX A-10 Quarterfinals Recap, Lavoy Allen impresses, notes on Jordan Crawford, Chris Wright, Andrew Nicholson, more: http://bit.ly/b1h9Al
2010-03-13 11:14:08
Kyle: Lavoy Allen looked good, especially on offense. Unselfish to a fault, though? Must play with intensity 100% of the time...
2010-03-12 15:05:02
Top 25s - Full List
Team: Pacers
Physicals
Positions
Salary
Misc
H: 6' 9"
W: 225 lbs
Bday: 02/04/1989
(26 Years Old)

Current: PF
NBA: PF
Possible: PF

Agent: Andy Miller
Current Salary:$915,243

High School: Pennsbury
Hometown: Morrisville, PA
Drafted: Pick 50 in 2011 by Hornets




Basic Per Game Statistics

- Comprehensive Stats - Statistical Top 25s
| Year | League | Name | GP | Min | Pts | FG | FGA | FG% | 2Pt | 2PtA | 2P% | 3Pt | 3PtA | 3P% | FTM | FTA | FT% | Off | Def | TOT | Asts | Stls | Blks | TOs | PFs |
| --- | --- | --- | --- | --- | --- | --- | --- | --- | --- | --- | --- | --- | --- | --- | --- | --- | --- | --- | --- | --- | --- | --- | --- | --- | --- |
| 2015/16 | NBA | Lavoy Allen | 15 | 21.1 | 5.0 | 2.3 | 5.5 | 42.2 | 2.3 | 5.5 | 42.2 | 0.0 | 0.0 | &nbsp | 0.3 | 0.7 | 45.5 | 1.9 | 4.0 | 5.9 | 1.3 | 0.3 | 0.6 | 0.9 | 1.9 |

Player Page&nbsp&nbsp| Player Stats | Mock Draft History | Related Articles&nbsp&nbsp| Add to My Draft Express&nbsp
&nbsp
Atlantic 10 Conference Scouting Reports
March 17, 2011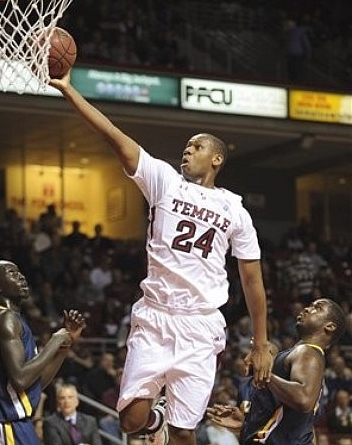 AP



Kyle Nelson After a junior year where he averaged a double-double and a career defined by steady improvement, many thought Lavoy Allen would have a breakout senior year. Instead, this season has been a mixed bag, even though he finished off on a very high note.

His strengths, which are well documented include his size, mobility, soft touch around the basket, and rebounding ability. There are few defenders at the Atlantic 10 level capable of stopping him and he managed to produce in non-conference tests against Duke, Villanova, and Maryland.

While there is no doubt that Allen is a talented player, effort and consistency have been significant issues that have plagued him throughout his career and continued to limit his potential as a senior. As written in a previous evaluation, "it's not a rare occurrence for Allen to go 10 minutes on the floor without a field goal attempt." This is still the case and on film, it's easy to see why.

Allen frequently establishes a scoring rhythm early in a game before he starts deferring to his teammates. As has been the case throughout his career, he is unselfish to the point of passivity, aided by tremendous court vision and exceptional passing ability for a big man. When Allen receives the ball in the high post, he immediately looks for players cutting to the basket. In the post, he looks to kick the ball out to open shooters. With Juan Fernandez limited by injury and a distinct lack of creators on the perimeter, Allen is often the only other facilitator on the floor, at which point he becomes a role player as opposed to the dominant post scorer that he demonstrates in flashes.

Furthermore, Allen has become more reliant on his spot-up jump shot this season with less than stellar results. According to Synergy Sports Technology, Allen makes just 34.8% of his jump shots and just 30.3% of his catch-and-shoot opportunities. He will have to improve his mechanics and develop this area of his game to reach his full potential as a professional.

Allen is actually quite solid defensively in the post, where he shows good fundamentals, awareness, and timing. His lack of ideal lateral quickness limits him on the perimeter and he will struggle guarding perimeter oriented power forwards at the next level. Allen's focus sometimes wanes, as well, something that scouts will want to see him improve upon. This may be related to his rebounding production this season, which surprisingly fell off by almost 25% on a per-minute basis.

For a stretch of 10 games in December and January, for instance, Allen posted a mere 5.4 rebounds in 29.3 minutes per game, which is nearly 5 rebounds per 40 minutes less than his standout junior campaign. On tape, there is little explanation for Allen's lack of production outside of a simple lack of focus and effort. He seems to coast in stretches, failing to box out, getting caught out of position on the perimeter, and simply not pursuing the ball. Immediately after that 10-game stretch he recorded ten double-doubles over Temple's last 13 games, averaging 11.8 rebounds in 37.2 minutes per game. This huge swing in production is difficult to understand, and is something NBA teams will need to evaluate further to attempt to decipher.

Simply put, when Allen puts his mind to it, he can be an excellent rebounder with the fundamentals and energy to suggest that his abilities will translate to the next level.

This is the case with much of Allen's game. When he plays aggressively, his combination of size, mobility, basketball IQ, and fundamentals allow him to contribute at a very high level. He must show scouts that he can consistently be the player who finished the season averaging a double-double. Along with a favorable match-up in the NCAA Tournament, Allen's skill set is well-suited for the Portsmouth Invitational Tournament, where he will have to prove to scouts that he has what it takes to contribute on an NBA team.

[Read Full Article]

---
Top NBA Draft Prospects in Non-BCS Conferences, Part One (#1-10)
October 30, 2010
Joseph Treutlein

Steadily improving his production all of his three years in college, Lavoy Allen enters his senior season firmly on the NBA draft radar, but there is still much more he could do to improve his stock.

At 6'9 with a solid frame and solid length, Allen is a highly mobile and coordinated athlete, but not a very explosive one. Allen's somewhat laid back of play makes his lack of explosiveness even more pronounced than it has to be, as he rarely if ever tries to finish with power.

On the offensive end, Allen has a pretty nice set of skills, though he's very content being a cog in Temple's offense as opposed to consistently asserting himself and taking over games. It's not a rare occurrence for Allen to go 10 minutes on the floor without a field goal attempt, and it's a big reason why he averaged just 13.3 points per 40 minutes pace adjusted this past season.

Allen does the majority of his damage operating with his back to the basket, where he has a diverse arsenal of moves and a very strong feel for the game. He is predominantly a finesse player here, relying on turnaround jumpers and jump hooks primarily, though he will occasionally show off nice sequences of drop steps or up-and-under moves going to the basket. His footwork is very strong and he's capable of covering large amounts of ground with long strides, making him capable of finishing from some awkward angles.

The biggest thing that holds Allen back in this area is his complete inability to finish with power, being incapable and/or unwilling to power up over defenders, and calling him soft wouldn't be a stretch. According to Synergy Sports Technology, he averaged just 0.63 points per possession on post-ups this past season, and that's certainly something he'll want to improve.

On the positive side, Allen also does a good amount of damage off the ball, finishing on cuts and offensive rebounds, where his combination of touch and mobility makes him very dangerous on the catch-and-finish. His underwhelming post game probably wouldn't be utilized much in the pros, but this is an area he could excel with, especially if he transitioned it into more of a pick-and-roll game, something he isn't utilized much with currently.

Allen also brings a respectable jump shot to the table, dabbling with range to the college three-point line (12 makes from deep in three seasons). His form is sloppy, with him fading away and not holding his follow through on many attempts, but his results aren't bad, and there's reason to believe he can improve in this area over time, something that will be likely critical to his chances in the NBA. Developing into a more reliable spot-up shooter in combination with his ability to score rolling to the basket would make him a very dynamic threat out of the pick-and-roll and pick-and-pop.

Another thing Allen brings to the table that may catch some off guard is an outstanding ability to pass out of the high post, where he shows great court vision and instincts hitting cutters and shooters alike. He sometimes will overdo it in this area of his game, giving up the ball too freely when his team could use him to score, as he's probably too unselfish for his own good at this level, though it may benefit him more in the pros where he has much better offensive options to defer to.

On the defensive end, Allen shows a high level of attentiveness and an excellent fundamental base in the post, where he does exceptionally well against most of the competition he faces at this level, doing a good job getting leverage, keeping his hands up, and moving his feet. That said, from an NBA standpoint he doesn't have above average strength, size, or quickness for a power forward, and it shows when he's matched with more physically imposing opponents, where he can be beat frequently. On the perimeter, Allen likewise has a good fundamental base and appears pretty comfortable on switches despite his high center of gravity, though he doesn't have the lateral quickness to stay in front of most people. To his credit, he does a good job hustling to stay in plays when he is beat, using his length to block shots from behind.

Allen is a very good shot blocker in man-to-man situations in the post where he shows superb timing, though he isn't very threatening from the weakside, not being very assertive and lacking great athleticism and length to affect shots. Allen also does an excellent job on the glass on both ends of the court, showing good timing and instincts in pursuit.

Looking forward, Allen clearly brings quite a few things to the table that could translate to the NBA, namely his rebounding, passing, jump shot, and ability to finish on the move in the lane. Further developing these key skills could allow him to find a niche as a hustling, rebounding, pick-and-roll power forward in the NBA, but shoring up his defense and maximizing his physical abilities should also be priorities. Playing with more assertiveness and a higher motor also wouldn't hurt, as Allen's somewhat passive demeanor isn't typical of players who fill the niche he likely projects to if he makes it in the NBA.

[Read Full Article]

---
Final Notes on the 2010 Atlantic 10 Tournament
March 15, 2010
The game provided another look at Temple prospects Lavoy Allenand Juan Fernandez, though after three games in three days, both looked exhausted.

Allen, in particular, looked incredibly tired. While he normally is passive on the floor, yesterday, he had a tremendous amount of trouble making his presence known. He struggled early on trying to get position in the post and gradually stopped seeking touches as the game continued. He passed up almost every shot that came his way and, despite the fact that he was the best big man on the floor, only took just five shots.

Fatigue clearly played a role here, but Allen's lack of aggressiveness and killer instinct is concerning. He is a very skilled big man with excellent hands, solid footwork, and a varied offensive repertoire, but rarely does he assert himself. Though he is one of the best passing big men in college basketball, he absolutely must seek offense for himself more aggressively. Not only do scouts want to see him show his skill on a more consistent basis, but also Temple needs his scoring touch in the post.

Defensively, he was a step slower, but nonetheless continues to struggle when guarding his man on the perimeter. This has been an issue all season, so yesterday's performance, while certainly worse than usual, was not an outlier. In the post, he still did a solid job of battling his man for position and boxing out on the defensive boards.

[Read Full Article]

---
Notes on the 2010 Atlantic 10 Tournament Semifinals
March 14, 2010
The game presented a great opportunity to see Temple power forward Lavoy Allen against a versatile frontcourt. On the offensive end, he was extremely passive, taking just five shots. He continues to show solid footwork and good touch around the basket with the ability to score with a variety of moves and countermoves. He also does an excellent job of finding his teammates and facilitating the offense from the post with his passing abilities.

Last night, however, he was too passive, giving the ball to less talented teammates instead of attacking the basket. Adding more strength could be a solution, but Allen must develop a more aggressive and assertive attitude on a consistent basis.

Defensively, Allen did well defending in the paint, especially in terms of boxing out and rebounding the basketball, but his physical limitations were on full display when he defended away from the basket. His lack of lateral quickness hurt him significantly as he struggled to keep up with his man on the perimeter. As a power forward at the next level, he will have to guard far better players and almost certainly will struggle.

Against Richmond, he will have the chance to guard a similar variety of big men and scouts will be watching him on both ends of the floor. Allen has slowly emerged as a legitimate prospect and expectations will be much higher going forward.

[Read Full Article]

---
Notes on the 2010 Atlantic 10 Tournament Quarterfinals
March 13, 2010
The day began with Temple's emphatic 69-51 victory over St. Bonaventure. Temple center Lavoy Allen dominated what was supposed to be an entertaining and revealing match up against Andrew Nicholson. By the numbers, it would seem that it was an even match up. After all, neither prospect scored a tremendous amount of points.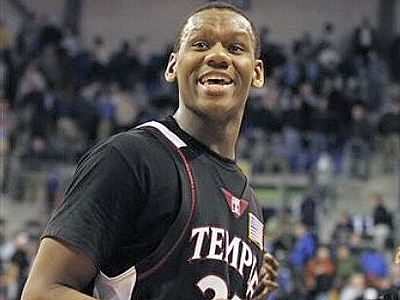 AP

Lavoy Allen



The reality, however, is that Allen dominated Nicholson, grabbing 15 rebounds in addition to 14 points. In the process, Allen showed his varied offensive repertoire, from drop stops to floaters, from put backs to jump hooks. Even more interesting, however, is the ease at which Allen looks for and finds his teammates. His passing opened up the floor today, allowing him to impact the game without scoring.

The question remains, however, if Allen is too unselfish and too passive, both significant criticisms throughout his career. Similarly, can Allen overcome his lack of ideal size and athleticism to contribute at the next level? These questions will have to wait until today's match up against Rhode Island in addition to future competition with NBA-caliber frontcourts.

[Read Full Article]

---
Top NBA Draft Prospects in the Non-BCS Conferences, Part Four
November 13, 2009
Kyle Nelson

Temple power forward Lavoy Allen took a step forward last season, emerging as a presence in the post while helping his team reach the NCAA tournament for the second straight season. Playing alongside veterans such as Dionte Christmas and Sergio Olmos, however, Allen was rarely a consistent force under the basket and far too often, faded into the background when he should have been dominant. This season, his role will increase significantly on both sides of the ball, and it is up to Allen to prove that he can compete hard every night and that he deserves to be in the NBA Draft conversation.

Allen has good, though certainly not great, size for an NBA power forward, standing 6'9 with an improving frame. He is not an amazing athlete by any measure, though he displays very good mobility for a collegiate big man and gets off the floor quickly, even if he is not the most explosive player. He does not have an incredible wingspan to compensate for his average height and athleticism, either, which suggests that he might struggle in the NBA against stronger, taller, and more athletic big men.

On the offensive end of the floor, Allen is primarily a back to the basket big man, though at times he shows flashes of a face-up game. Allen's footwork has improved significantly, allowing him to utilize his solid quickness and outstanding touch around the basket. He has a variety of moves in his repertoire, from jump hooks to turnaround jumpers. Though his footwork definitely needs to improve and his toughness at this point is questionable, Allen has the ability to be an inside force on the offensive end of the ball in the Atlantic 10.

At times, Allen has shown the ability to take his defender off of the dribble and launch a pull-up jump shot. Though he still needs to work on his shooting range and his shooting motion's speed and consistency, he has range out to the collegiate three-point and could develop into a very good spot-up shooter down the road in his career. His intelligence, good hands, and quickness, also allow him to be a good offensive rebounder. More impressively, however, he shot 60% from inside of the arc last season, while attempting a wide variety of shots with varying degree of difficulty. His scoring efficiency and willingness to crash the offensive glass, combined with his intelligence and knack for passing out of the post, are definitely attributes that scouts look for out of role players at the next level.

The problem, however, is that he is unbelievably inconsistent and faded too many times when it mattered last season. Though he nearly averaged a double-double, there were many times when he disappeared for entire games, showing very little motivation or focus. Part of this can be attributed to playing alongside ball-dominant guards such as Dionte Christmas and Mark Tyndale (as a freshman), but his physical and mental toughness is an intangible that scouts will be watching next season. This season, he will be a focal point on the offensive end and have every opportunity to assert himself on a nightly basis. If he cannot prove himself in this respect, then his NBA hopes are extremely low.

On the defensive end, this lack of toughness is evident, but so too is his potential. Though his lateral quickness is only slightly above average, he does have quick feet in the post, which allows him to be a good defensive presence at this level. His timing is good, as well, and he is a good shot blocker at this level in addition to being an extremely solid rebounding presence. He sometimes has trouble closing out and staying in front of more perimeter oriented big men, however, which will likely be a problem at the next level. His lack of ideal strength does him no favors either, as he gets pushed around by bigger post players and does not have the aggressiveness to compensate. Consistency is a problem, as well, as he disappears for stretches and loses focus. Maintaining his focus while continuing to work on his fundamentals is essential and, without Sergio Olmos as a safety net in the middle, Allen is going to have to step up and take on a larger role in the paint this season on the defensive end.

Allen is a fringe prospect at this point, without the size and some important intangibles that scouts look for in projected NBA role players. While he does some things very well on both ends of the court and shows plenty of potential to develop into a tremendously productive collegiate big man, he has to play to his abilities on a nightly basis. Temple lost plenty of offensive firepower during this off-season and it is up to Allen to step up and prove that he can consistently dominate. With a schedule that features games against Kansas, Georgetown, Villanova, and Virginia Tech, he will have every opportunity to prove himself against a wide variety of big men and defenses. If he succeeds in elevating his game, then he will draw interest and emerge as a legitimate NBA post prospect.

[Read Full Article]

---