Leon Radosevic
Recent Tweets
All Tweets
DraftExpress: More undrafted: Leon Radosevic, Hollis Thompson, Kostas Sloukas, Jordan Taylor, Eric Griffin, John Shurna, Mitchell Watt, Ricardo Ratliffe
2012-06-29 12:04:35
DraftExpress: Scouting the Draft-Eligible International Prospects - Nihad Djedovic, Leon Radosevic, David Jelinek http://t.co/AX8Sa1bq
2012-05-02 04:09:01
DraftExpress: International Early-Entry withdrawals cnt'd: Joffrey Lauvergne, Abdoulaye Loum, Lucas Nogueira, Femi Oladipo, Leon Radosevic, Negueba Samake
2011-06-14 06:21:25
DraftExpress: Not sure if its been tweeted but Leon Radosevic pulled out of the draft today as well. Apparently broke his foot here in Treviso?
2011-06-13 06:07:18
DraftExpress: Excellent first half from Leon Radosevic. Ran the floor, made all the right rotations defensively, knocked down a mid-range jumper. Polished
2011-06-11 12:22:07
Top 25s - Full List
Team: Bamberg
Physicals
Positions
Salary
Misc
H: 6' 9"
W: 238 lbs
Bday: 02/26/1990
(25 Years Old)

Current: PF/C
NBA: PF/C
Possible: PF

Agent: Misko Raznatovic

High School:
Hometown: Sisak, Croatia
Best Case: Frabricio Oberto
Worst Case: Jackson Vroman

Predraft Measurements
| Year | Source | Height w/o Shoes | Height w/shoes | Weight | Wingspan | Standing Reach | Body Fat | No Step Vert | Max Vert |
| --- | --- | --- | --- | --- | --- | --- | --- | --- | --- |
| 2011 | Eurocamp | 6' 8.31" | 6' 9.5" | 238 | 6' 11.86" | 8' 9.51" | 3.8 | 27.1 | 35.7 |



Basic Per Game Statistics

- Comprehensive Stats - Statistical Top 25s
| Year | League | Name | GP | Min | Pts | FG | FGA | FG% | 2Pt | 2PtA | 2P% | 3Pt | 3PtA | 3P% | FTM | FTA | FT% | Off | Def | TOT | Asts | Stls | Blks | TOs | PFs |
| --- | --- | --- | --- | --- | --- | --- | --- | --- | --- | --- | --- | --- | --- | --- | --- | --- | --- | --- | --- | --- | --- | --- | --- | --- | --- |
| 2015/16 | Eurocup | Leon Radosevic | 5 | 18.2 | 4.4 | 2.0 | 4.6 | 43.5 | 2.0 | 4.6 | 43.5 | 0.0 | 0.0 | &nbsp | 0.4 | 1.0 | 40.0 | 0.4 | 1.2 | 1.6 | 0.6 | 0.4 | 0.8 | 0.4 | 1.0 |
| 2015/16 | EURO | Leon Radosevic | 2 | 18.0 | 7.0 | 3.5 | 4.0 | 87.5 | 3.5 | 4.0 | 87.5 | 0.0 | 0.0 | &nbsp | 0.0 | 1.5 | 0.0 | 0.5 | 2.0 | 2.5 | 0.5 | 0.0 | 0.5 | 0.5 | 1.0 |

Player Page&nbsp&nbsp| Player Stats | Mock Draft History | Related Articles&nbsp&nbsp| Add to My Draft Express&nbsp
&nbsp
Scouting the Draft-Eligible International Prospects (Part One)
May 2, 2012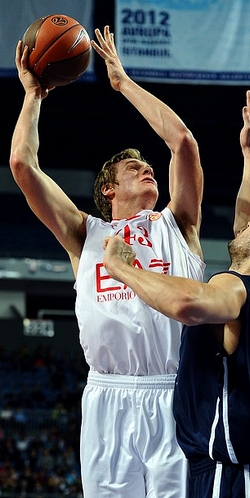 AP



Matt Kamalsky

Taking advantage of a unique opportunity last season when Cibona Zagreb's financial troubles pressed him into extended minutes in the Euroleague and Adriatic League, Leon Radosevic was an early entry candidate for the 2011 NBA Draft, but was forced to withdraw after injuring his foot at the adidas Eurocamp. Changing scenery and signing with powerhouse Armani Milano last summer, the 2012 season has been a change of pace for the Croatian big man. Playing a much less prominent role for a much more talented club, Radosevic has not gotten the opportunity to showcase his skill set, but remains one of the most prominent names in this year's crop of auto-eligible international prospects.

Standing 6'10 with a solid 240-pound frame and near 7'0 wingspan, the Croatian big man has good size for a NBA big ma. He lacks a degree of strength and is not a tremendously springy athlete, but has added some weight to his frame since last season, is quick off his feet, and plays with energy. He does not have ideal physical tools for a NBA player, but is not a complete slouch and has the offensive polish, high basketball IQ, and unselfish attitude to offer value as a role-player.

Unfortunately, Radosevic's role for Milano has offered little opportunity for him to showcase his offensive game. Scoring from the midrange and in the post with a simple, but polished offensive repertoire last season, Radosevic has functioned almost exclusively as a catch-and-finish option this season, doing what his coaches ask of him. He spends most of his time setting screens, rolling to the basket, and ducking in behind the defense when his teammates penetrate. Converting 61% of his finishing opportunities according to Synergy Sports Technology, Radosevic's touch around the rim does help him make the most of his limited scoring chances, even if he has only attempted a pair of jump shots this season.

Knocking down 40% of his jump shots and seeing a couple of touches every game in the post last season, Radosevic faces a unique challenge in terms of reaffirming his value offensively to NBA scouts. He's filled the roll he's been asked to in Milan, and done so very efficiently, but he'll need to remind scouts what he brings to the table on the offensive end at the Eurocamp in Treviso and in workouts in the coming months, as his current role does not paint him in a light that reflects his talent.

Defensively, Radosevic has struggled with the same things he had issues with last season. Asked to play the center position for stretches, Radosevic is simply not strong enough to effectively defend more physical post players around the rim, giving up too much ground and unable to deter interior scorers when they make decisive, aggressive moves to the rim. He's also a questionable rebounder, lacking the strength and explosiveness to pull down boards at a prolific rate. He does play with energy, helps his teammates, and does a decent job denying dribble penetration, but will need to get stronger and more active on the glass to alleviate concerns about his abilities on the defensive end.

Automatically eligible for the 2012 NBA Draft, Radosevic is our top ranked 1990 international prospect for a reason. He is a fundamentally sound all-around player with good size who can step away from the rim, run the pick and pop, and make savvy plays to score inside the paint. Scout have gotten to see very little of that from him this season, and considering his limitations defensively, his ability to show what he brings to the table offensively at a few key moments in the pre-draft process will likely play a role in what his draft stock looks like closer to June 28th.

[Read Full Article]

---
European Roundup: Reliable Radosevic
November 26, 2010
Jonathan Givony

Only six weeks into the 2010-2011 season, you'd be hard pressed to find a more productive young big man in all of high-level European basketball than 20-year old Leon Radosevic. The 6-10 Croatian has taken advantage of the serious economic issues at Cibona Zagreb to establish himself as a consistent performer in the Euroleague, currently ranking 8th in the competition's MVP formula. Much of that is due to the huge minutes he's seeing, but it's impressive nonetheless, especially when you consider that he's often been considered just the fourth best prospect on his own team, behind fellow Croatians Bojan Bogdanovic, Tomislav Zubcic, and Mario Delas.

Radosevic will likely never be considered a first-class NBA prospect, as he's not an incredibly naturally skilled player, and his physical tools don't really jump off the page at you on first glance. While he has good size at 6-10, he still has work to do on his body and isn't an incredibly explosive athlete. Where Radosevic does stand out is with his basketball IQ and workmanlike approach to the game, as he finds a way to be effective despite his clear-cut limitations.

Offensively, Radosevic gets most of his production as a pick and roll finisher or through his mid-range jumper. He has good hands, nice touch, excellent smarts moving off the ball, and is a pretty quick leaper jumping off two feet –all things that make him an attractive option in the two-man game for Cibona Zagreb. He is very effective with his jumper in the 15 to 17-foot area, currently converting close to 50% of his 2 ˝ attempts per game according to Synergy Sports Technology.

He isn't the type of player who is going to create a great deal of offense for himself, as he does not possess great ball-handling skills and lacks the strength and footwork to operate effectively with his back to the basket. Occasionally he'll take the ball to the basket in a straight line after a shot-fake, but as with the rest of his game, nothing he does is particularly pretty or fancy. He is a solid passer, though, which lends credence to the notion that he's an excellent teammate and possesses a very good basketball IQ.

Defensively, Radosevic works hard, but is frequently a target for opponents' post-up plays, as he sees far more time at the center position than he probably should in Cibona's extremely shallow frontcourt. He lacks the strength and girth to keep high-level big men from establishing deep post position against him, and gets backed down fairly easily, which gets him in foul trouble from time to time. Guarding power forwards, Radosevic has good fundamentals, will put the effort in hedging on the pick and roll, and gets a good amount of steals due to his strong activity level, but could struggle guarding some of the stronger and more athletic 4's he will encounter in the NBA. Perhaps most concerning is the fact that he's just an average rebounder on this end of the floor, which is not what you want to see out a clear-cut role player.

Still a year away from becoming draft-eligible, Radosevic could very well elect to test the NBA draft waters this spring considering the excellent numbers he's currently putting up in both the Euroleague and Adriatic League. To truly maximize his NBA prospects, he'd be well served continuing to improve his defense and rebounding and increasing his shooting range out to the 3-point line –things that would make him a lot more attractive as an NBA power forward. While his game might be better suited for the European style, it wouldn't be a surprise if some NBA team decided to take a flyer on him somewhere in the second round, as he looks very likely to continue to improve and will likely establish himself as one of the better power forwards in Europe at some stage in his career.

[Read Full Article]

---
adidas Nations Experience 2008: European Prospects
August 16, 2008
If Zubcic is the flashy but unpredictable talent in this Croatian age-group, Radosevic is the steadier, more fundamentally sound counterpart. He had a solid all-around week, not knocking anyone's socks off with his talent, but definitely helping his team in his minutes on the floor. Radosevic looks to be moving his game further from the basket every time we see him these days—he hit quite a few 15-17 foot mid-range jumpers and also did a decent job putting the ball on the floor and beating his man off the dribble as well. He plays within the flow of the offense, not someone who is going to create his own shot exceptionally well, and probably not big, strong or athletic enough to be much of a presence inside the paint either. He's a pretty tough guy, though, fundamentally sound and aware of what his role is on the floor, rebounding the ball well and playing solid defense too. His overall talent and upside aren't incredibly impressive, but there is little doubt that he is going to develop into at least a solid big man for European basketball in time.

[Read Full Article]

---
2008 Albert Schweitzer Tournament: Watered Down Mannheim
April 2, 2008
It seems like every time we see Leon Radosevic he looks a bit better, giving good credit to his hard-working reputation. This time we have to point towards his jumper, a bit more consistent than in past occasions. He regularly hit the mid-ranger and we even saw him netting some off-the-dribble attempts. He enjoys such great legs that it's easy for him to somehow balance in the air after a horizontal move. Indeed he plays regularly above the rim, showing his explosiveness and ability to easily get off the floor. The garbage man in Croatia stayed very active on both ends of the court, using his athleticism on defense (shows great mobility on this end), rebounding (he still could use better positioning), intimidation and to finish around the rim. On the negative side, his offensive skills still look pretty limited. He keeps putting the ball on the floor (perhaps not as much as we saw in L'Hospitalet), but his right-handed ball-handling skills are average at best and extremely poor with his left, while his low-post game consist in turnaround jumpers, always showing very limited footwork. He still looks like a player searching for his own style, but given the fact that he tries hard and keeps progressing, he's a very interesting guy to keep an eye on.

[Read Full Article]

---
L'Hospitalet 2008: Balkan Dominance
January 13, 2008
Radosevic was the one doing the dirty work for Cibona, the most aggressive player on defense and under the boards. He's an athletic big man with a good wingspan who enjoys a terrific frame, with superb shoulders and already some nice strength. He's quick off his feet, and is a reactive player, being very useful providing some consistency inside for a team that often looked a bit disrupted.

However, Radosevic was part of the mess on the offensive end. His eagerness to put the ball on the floor and play off the dribble didn't help his team at all. If we focus on his development as a player (which is the main point at these categories), it was nice to see him trying new stuff, but there's a huge load of work ahead of him, because he didn't look effective at all. Not only are his ball-handling skills still poor, particularly his left hand, but his general body language and coordination needs serious refinement if he wants to become a useful face-up guy, not to mention his extremely inconsistent jumper. On the other hand, to work on his face-up abilities shouldn't imply to forget the low post. A player with his build should also be developing back-to-the-basket moves to cash in on his physical advantages, but unfortunately we didn't see any of that in L'Hospitalet.

[Read Full Article]

---