Lucas Nogueira
Recent Tweets
All Tweets
DraftExpress: With the #16 pick in the NBA Draft the Boston Celtics select Lucas Nogueira. Pick goes to Atlanta in a trade per @WojYahooNBA
2013-06-27 21:17:46
DraftExpress: A lot of people thought Dallas would take Lucas Nogueira if they move down from #13. Let's see how accurate those reports were at #16...
2013-06-27 21:01:38
DraftExpress: Lucas Nogueira Raul Neto and agent Aylton Tesch at the Barclays Center ready to hear their names called http://t.co/cRw3K57rx4
2013-06-27 19:03:56
DraftExpress: Lucas Nogueira and Raul Neto are staying in the draft according to their agent Aylton Tesch.
2013-06-17 20:26:14
DraftExpress: Lucas Nogueira - Private Workout Video for DraftExpress http://t.co/KrpLIaBxLP
2013-06-10 18:38:13
Team: Raptors 905
Physicals
Positions
Salary
Misc
H: 7' 0"
W: 220 lbs
Bday: 07/26/1992
(23 Years Old)

Current: C
NBA: C
Possible: C

Agent: Aylton Tesch
Current Salary:$1,762,680

High School:
Hometown: Sao Goncalo, Brazil
Drafted: Pick 16 in 2013 by Hawks
Best Case: Marcus Camby
Worst Case: Hassan Whiteside

Predraft Measurements
| Year | Source | Height w/o Shoes | Height w/shoes | Weight | Wingspan | Standing Reach | Body Fat | No Step Vert | Max Vert |
| --- | --- | --- | --- | --- | --- | --- | --- | --- | --- |
| 2013 | Eurocamp | 6' 10.5" | 7' 0" | 220 | 7' 6" | 9' 6" | NA | 28.4 | 28.0 |
| 2011 | Eurocamp | 6' 9.89" | 6' 11.07" | 215 | 7' 4.98" | 9' 2.63" | 5.7 | 17.6 | 20.9 |



Basic Per Game Statistics

- Comprehensive Stats - Statistical Top 25s
| Year | League | Name | GP | Min | Pts | FG | FGA | FG% | 2Pt | 2PtA | 2P% | 3Pt | 3PtA | 3P% | FTM | FTA | FT% | Off | Def | TOT | Asts | Stls | Blks | TOs | PFs |
| --- | --- | --- | --- | --- | --- | --- | --- | --- | --- | --- | --- | --- | --- | --- | --- | --- | --- | --- | --- | --- | --- | --- | --- | --- | --- |
| 2015/16 | NBA | Lucas Nogueira | 2 | 2.5 | 1.5 | 0.5 | 0.5 | 100.0 | 0.5 | 0.5 | 100.0 | 0.0 | 0.0 | &nbsp | 0.5 | 0.5 | 100.0 | 0.0 | 0.0 | 0.0 | 0.0 | 0.5 | 0.5 | 0.0 | 0.0 |
| 2015/16 | DLEAGUE | Lucas Nogueira | 4 | 21.8 | 9.0 | 3.5 | 7.8 | 45.2 | 3.5 | 6.3 | 56.0 | 0.0 | 1.5 | 0.0 | 2.0 | 2.5 | 80.0 | 3.3 | 4.5 | 7.8 | 3.8 | 0.3 | 2.8 | 2.5 | 3.0 |

Player Page&nbsp&nbsp| Player Stats | Mock Draft History | Related Articles&nbsp&nbsp| Add to My Draft Express&nbsp
&nbsp
Lucas Nogueira Draft Workout Video
June 10, 2013
[Read Full Article]

---
2013 adidas EuroCamp: Day One
June 8, 2013
-Brazilian center Lucas Nogueira had a solid showing, having improved significantly from when he was here two years ago and essentially quit the last day after deciding to pull out of the draft and mentally checking out. The 7-footer made a huge impact on game on both ends for stretches, but faded in and out of the game as he tends to do, disappearing at times as well. On the offensive end he was able to make the most of his opportunities, scoring 13 points (6/7 FG) in 20 minutes of action using his soft hands and length to crash the boards and convert the shots created for him around the rim. Though he is not the most explosive leaper, his sheer size and wingspan allows him to dunk the ball effortlessly and making some incredibly impressive plays around the rim. Similarly, he is able to make his presence felt defensively as a shot blocker, using his tremendous wingspan to challenge would-be scorers. He's not a great defensive rebounder, as he'd sooner contest a shot that turn and box out, and grabbed just 3 total rebounds in 20 minutes, but he was the best player at the camp at times on Day One and likely helped his draft stock quite a bit by just showing up and putting his terrific talent on display.

[Read Full Article]

---
NBA Draft Prospect of the Week: Lucas Nogueira
May 27, 2013
Scouting Report by Jonathan Givony. Video Analysis by Mike Schmitz

Three years after emerging on the NBA radar screen at the U18 FIBA Americas Championship in San Antonio, Lucas Nogueira has finally taken a major step forward in beginning to capitalize on his significant potential playing for Estudiantes Madrid. The Brazilian 7-footer played a solid role for an overachieving team in the Spanish ACB, emerging as the one of the league's top offensive rebounders and shot-blockers.

"Bebe," as he's widely known, has improved physically and is finally starting to grow into the terrific frame NBA scouts fell in love with in San Antonio. He's still very much on the lanky side but is as mobile a 7-footer as you'll find on this side of the ocean, running the court incredibly well, getting off the floor in the blink of an eye, and using his gigantic 7-5 wingspan to his impact the game significantly on the defensive end in particular.



Video Analysis



More Video Scouting Reports

Offensively, Nogueira is fairly limited, averaging just 5.4 points in 13.6 minutes per game this season, finding the overwhelming majority of his production off the ball via cuts, pick and roll finishes, offensive rebounds and by running the floor in transition. He does not possess the lower body strength needed to establish position in the post, and generally isn't a threat to score outside of five feet. He shows little semblance of a jump-shot or ball-handling skills and is not the type of player you want creating with the ball in his hands, as he's just an average decision maker and struggles dealing with contact due to his still-underdeveloped frame.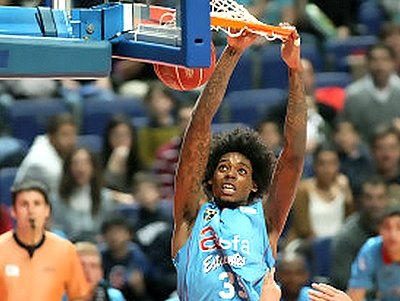 ACB.com



Nevertheless, he finds ways to score points efficiently in his time on the court, as his tremendous combination of length, outstanding hands, mobility and leaping ability make him a phenomenal target for his guards to utilize in drive and dish situations, as they can just throw the ball up anywhere in the vicinity of the rim and he'll usually find a way to go get it and hammer it home in emphatic fashion. Thanks to his outstanding reach he barely needs to jump in order to dunk the ball, which gives him plenty of opportunities to score each game simply by staying active. Bebe is one of the better finishers you'll find in this draft class, ranking third in the ACB in field goal percentage at 66%.

Defensively, Nogueira has made notable strides this season, finally showing signs of adding an improved mental approach to the game to compliment his tremendous physical tools. He's developing into a real game-changer inside the paint with his phenomenal combination of size, length, mobility, and timing. Quick with his rotations, he covers ground extremely well and is incredibly difficult to shoot over thanks to his 7-5 wingspan and 9-3 standing reach, ranking as the second best per-minute shot-blocker in the ACB this season at 3.3 blocks per-40. He also uses his length to get in the passing lanes, sometimes coming up with deflections on post-entry passes or simply poking the ball away from behind after his opponent has caught the ball with his back to the basket.

As much of a difference maker as Bebe can be rotating from the weakside, he can still get taken advantage of in one-on-one situations by the plethora of skilled and physically developed big men you find in the highly competitive ACB. His lack of lower body strength makes it difficult for him to hold his ground inside the paint, as he can get backed down and pushed around at times, something he'll have to continue to work on as he adds more weight to his frame. When switching out onto the perimeter his high hips and high center of gravity make it difficult for him to move his feet and stay in front of smaller players.

While he's improved significantly as a team defender, he'll still suffer from lapses of focus occasionally, losing track of what's going on off the ball, getting lost in rotations, and committing foolish fouls.

While Nogueira is one of the best per-minute offensive rebounders in the ACB, he's just an average defensive rebounder (5.1 per-40), not always boxing out his man and showing average instincts going out of his area to come up with loose balls. This is somewhat inevitable considering how often he's chasing blocks, but it's something he'll need to improve on balancing to reach his full potential down the road.

To his credit, Bebe made significant and very noticeable strides in virtually every area as the season moved on, improving week by week seemingly, even if he wasn't always rewarded for it with additional playing time. His feel for the game has undoubtedly improved, as has his focus-level, effort, and commitment to playing solid basketball on every possession. There is clearly a great deal of physical potential and talent to work with here, and he's definitely still getting better at this stage.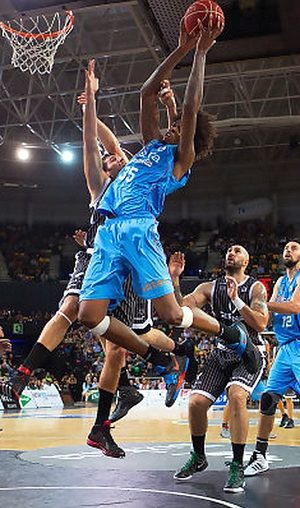 ACB.com



The question NBA teams will have to ask themselves is just how much he'll continue to improve over the next few years. Turning 21 in July, he hasn't put on a great deal of bulk to his frame in the past few years, as it's not quite clear how much work he's put in in the weight room. His love of the game, work ethic and overall mentality has been questioned by people who have worked closely with him in years past, even if he's received nothing but strong reports this season from the people at Estudiantes. He's definitely still a year or two away at the very least from being able to contribute at the NBA level from a physical standpoint, even if he's in a terrific situation to continue to improve if his role increases next season.

Nogueira's development as a prospect were certainly slowed by the odd route Estudiantes took in utilizing him, electing to stash him in unstructured environments on essentially their junior teams in the previous two seasons (2010-2011 and 2011-2012) competing against weak competition in the lowest levels of Spanish basketball. With a new General Manager (Himar Ojeda) came a new concept for integrating young prospects this season, which benefited Bebe in a major way and certainly changed the way he's been perceived as a prospect both in Spain and in the US, even if at 14 minutes per game there's still not a huge body of work to go off.

Despite all the question marks, players with Nogueira's physical tools and talent are rare and coveted commodities, and there isn't a great deal of risk for an NBA team picking outside the top-20 to draft him and see what comes out of him. He's exactly the type of player who could skyrocket with a strong showing in a setting like the adidas EuroCamp, should he decide to attend.

[Read Full Article]

---
U-19 World Championship Player Evaluations, Part One
August 3, 2011
Jonathan Givony

As we've become accustomed to by now, Lucas Nogueira played an up and down U-19 World Championship tournament -- the highs and lows he experienced demonstrated the extreme strengths and weaknesses of his game.

Given his terrific size and athleticism, Lucas was at his best when making his presence felt defensively and on the glass. He ranked as the tournament's No. 1 per-minute shot-blocker and its fourth best rebounder. With that said, his lack of strength and poor fundamentals clearly hampered him at times. If not addressed, these are weaknesses that will likely prevent him from being able to play consistently well against high level competition.

Offensively, Lucas is still a limited player. He doesn't possess much of a post game and does not have an extraordinarily high skill level outside of the paint—as demonstrated by his sub-50% field goal conversion rate here in Latvia. Worse still, he doesn't seem to know what his limitations are at this stage, which can lead to some awkward moments when he forces the issue. Situations like this show just how far away he is in terms of polish and overall basketball IQ.

Still, his sheer length and athleticism allow him to make his presence felt when he's really dialed in and playing to his strengths, especially given his ability to crash the offensive glass and finish above the rim.

The upside Lucas possesses is undeniable. His strengths put him in a rare caliber of big men prospects that are highly coveted by NBA teams. Clearly he needs more time and experience to reach his ceiling, though. He can't be viewed as anything more than a long term prospect at this stage.

[Read Full Article]

---
2011 adidas Eurocamp: Day One
June 12, 2011
While Biyombo and Monteijunas received a lot of buzz leading up to their individual workouts, the player receiving the most buzz who is actually fully participating in the camp is Lucas "Bebe" Nogueira. But, the buzz isn't all warmth and fuzz, with one GM saying, "[he's] So raw… So raw… and he's out there on the court laughing with all the guys – it's like, 'get serious,' " and others reaffirming that notion that he did not help himself at all with his first day showing.

Indeed Noguiera looked very raw and showed some questionable body language throughout the day.

Early on he looked very uncomfortable when forced to put the ball on the floor or pass and he failed to stand out going up against fellow lanky big man and camp teammate (Team 1) Bengaly Fofana.

As the day went on, in two five-on-five games, Bebe showed a bit better. First he registered 5 points, 5 rebounds and 4 blocks when going up against Sarra Camara and Team 4. Then, he exhibited a bit more offense going for 11 points and 5 rebounds against the Serbia U19 squad later in the day. His decision making left something to be desired, as did the lack of awareness and experience he showed on both ends of the floor.

All-in-all, without reading too much into day one, Nogueira probably showed talent evaluators a lot of what they expected to see considering his lack of polish, confirming his status as a long-term project.

[Read Full Article]

---
Nike Hoop Summit Scouting Reports: International Forwards/Big Men
April 15, 2011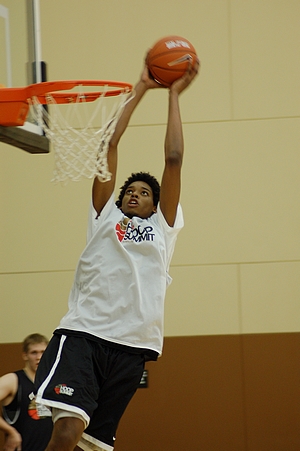 USA Basketball Photos



Walker Beeken

Brazilian big man Lucas Nogueira had plenty of NBA draft buzz coming into the 2011 Nike Summit after impressing many who saw him last summer at the U-18 FIBA Americas tournament in San Antonio, where he led the tournament in rebounds, blocks, and field goal percentage. He played less than 13 minutes during the game at the Hoop Summit, second least on the team, but he did score 4 points, grabbed 6 rebounds, and blocked a shot, and gave glimpses of why he is such an intriguing prospect.

Lucas's appeal starts with his incredible physical tools, as a 7-footer with a freakishly long 7'6" wingspan, and excellent mobility for a player his size. At this stage, his physical talents manifest themselves mainly in some jaw-dropping blocked shots, rebounds, and dunks from offensive rebounds, cutting to open spaces, and running the floor. His body is still very thin and weak, but that should come in time with the proper work ethic.

Lucas's offensive skill set is still very raw, but he shows glimpses of some promise, especially in his feel for the game, occasionally throwing some very impressive passes. He is still very limited as a scorer and has virtually no post game, but he has decent touch on his shot and is an outstanding finisher around the basket thanks to his physical tools.

Defensively, Lucas has incredible potential, as his size, length and mobility gives him the ability to cover a huge amount of ground and make a major impact as a shot-blocker. His fundamentals are fairly poor at the moment, struggling to step out on the perimeter, biting on pump-fakes and giving up ground too easily in the post, but he's often able to compensate for that with his sheer length and timing. He'll need to get significantly stronger to avoid being backed down in the paint by more physically mature big men, something that might take a few years and will surely involve plenty of hard work.

Teams will likely need to do more research on his intangibles, as that will be a big key to how close he'll be able to come to ever reaching his potential. He appeared to float at times during the practices and didn't always look very focused. In his defense, the language barrier had to have made things far more difficult for him, but his energy level was a bit inconsistent throughout the week.

Lucas is a very intriguing prospect, but the biggest question for NBA teams is figuring out how far along he is in his development, and whether they are patient enough to wait on him. If a team were to select him in the draft based on his upside, they would need to have a plan in place to develop him over the next few years, and decide where the best place would be for him to work on his game and improve.

While it's still unclear if he'll be in this year's draft, Lucas showed enough throughout the week to at least make teams start thinking about where in the draft his reward could be worth the risk. Unfortunately his situation in Spain (playing in an incredibly low-level in the 5th division) is far from ideal at the moment, something that will likely play a factor in his decision.

[Read Full Article]

---
Nike Hoop Summit Interviews
April 9, 2011
[Read Full Article]

---
2011 Nike Hoop Summit: International Measurements
April 4, 2011
Lucas Nogueira
Weight: 218 lbs.
Height (w/o shoes): 6'10"
Height (w/ shoes): 6'11.5"
Wingspan: 7'5.5"
Body Fat: 7.8%
Standing Reach: 9'3"

[Read Full Article]

---
European Roundup: Rabaseda Rolling for Fuenlabrada
December 10, 2010
The breakout star of the U18 Tournament of the Americas, Lucas Nogueira (also known as Lucas Bebe) has continued his momentum from this summer to some degree. Playing for Asefa Estudiantes in the Spanish EBA, where most large clubs enter a youth team, Nogueira has shown marked improvement from last season. Averaging a double-double at 11.8 points and 10.5 rebounds while contesting shots all over the place in just 25 minutes per-game, Nogueira has made an impact on both ends of the floor with his tremendous size and wingspan. It will be important for him to continue improving his frame to ready himself to compete at a higher level, which he'll inevitably be doing once he receives the Spanish passport he's rumored to have in the works for next year. While the EBA isn't a great level of competition, it is certainly a start for the 18 year old center.

[Read Full Article]

---
FIBA Americas U-18 Championships: Top International Prospects
July 1, 2010
The best long-term prospect at the tournament outside of the U.S., Brazilian Lucas Nogueira (full name: Lucas Riva Amarante Nogueira or just Lucas in short) was probably the biggest revelation to emerge from this FIBA Americas tournament considering how little was known about him going in.

A legit 7-footer with a fantastic wingspan, Lucas is a very skinny center who reminds you a bit of Hassan Whiteside on first glance. Lucas has a narrow frame, particularly in the lower body, that he must work on substantially to reach his full potential. He is extremely athletic for his size, though, and has the ability and the propensity to finish everything above the rim.

Offensively, Lucas is a pretty raw player. He shows little to no back-to-the-basket scoring ability and mainly gets his points in transition, off offensive rebounds and drop-off passes around the rim. He takes great pleasure in finishing with emphatic dunks. Lucas will knock down an occasional mid-range jumper but shows average touch for the most part. He must continue to work on his feel for the game, which appears to be just average at the moment.

Defensively, Lucas is really intriguing. His size, length and athleticism allow him to touch every ball in his vicinity, and he displays terrific timing rotating from the weak side to block shots. His fundamentals are not exceptional. He is prone to leave his feet while wildly chasing blocks and his lack of strength makes him a clear target for post-up plays, rendering him somewhat foul prone.

Lucas' energy level and overall focus fluctuate pretty dramatically. At times he is a game-changing presence on both ends of the floor, but on other occasions he appears apathetic, particularly on the defensive glass. He's not the most mature guy you'll find, hanging on the rim after every big play and getting into minor off-the-ball tussles when he feels his opponents are being too physical with him.

Considering his physical tools and the flashes he showed on both ends of the floor, Lucas looks like an extremely intriguing long-term prospect, particularly as he continues to fill out and improve his fundamentals. His rights are already owned by Estudiantes in Madrid, a team known for its excellent development. He'll really have a chance to grow there as a prospect.

Lucas saw minor playing time on the junior team this season in the Spanish EBA. He's clearly a player to keep an eye on for the future, especially considering that he doesn't turn 18 until late July. His performance in the gold medal game against Team USA (22 points, 14 rebounds, 3 blocks) was particularly eye-opening.

[Read Full Article]

---