Maalik Wayns
Recent Tweets
All Tweets
DraftExpress: More undrafted: Maalik Wayns, Herb Pope, Terrell Stoglin, Tony Mitchell, Dee Bost, Scott Machado, Paul Lacombe, Garrett Stutz, Zack Rosen
2012-06-29 12:05:37
DraftExpress: Highly unlikely. No NBA combine invite not a good sign for him. RT @pastorkcbrown: Thoughts on Maalik Wayns getting into 1st round? #dxchat
2012-05-26 10:03:57
DraftExpress: Here's Villanova's official release on Maalik Wayns "testing the NBA waters" http://t.co/jaHhX3ng - Their wording is a little misleading...
2012-03-14 03:42:00
DraftExpress: Apparently he didn't get the memo. No more testing RT @AdamZagoria Villanova's Maalik Wayns will test the NBA waters but won't hire an agent
2012-03-14 02:54:29
DraftExpress: DX Trending Prospects 2/3: Updated scouting reports on Tu Holloway, Maalik Wayns, Rodney Williams and John Shurna http://t.co/nwQgg3SU
2012-02-03 07:48:18
Team: Varese
Physicals
Positions
Rankings
Salary
Misc
H: 6' 2"
W: 211 lbs
Bday: 05/02/1991
(24 Years Old)

Current: PG
NBA: PG
Possible: PG

RSCI: 21

Agent: Andy Miller

High School: Roman Catholic
Hometown: Philadelphia, PA

Predraft Measurements
| Year | Source | Height w/o Shoes | Height w/shoes | Weight | Wingspan | Standing Reach | Body Fat | No Step Vert | Max Vert |
| --- | --- | --- | --- | --- | --- | --- | --- | --- | --- |
| 2015 | D-League Elite Camp | 6' 0.5" | 6' 1.75" | 211 | 6' 3.5" | 7' 11.5" | NA | 26.0 | 31.0 |
| 2012 | Nets Workout | 6' 0" | 6' 1.5" | 195 | 6' 2.75" | 8' 0" | 10.4 | 30.0 | 35.0 |
| 2011 | LeBron James Camp | NA | 6' 2" | 201 | 6' 2" | NA | NA | NA | NA |
| 2011 | Deron Williams Camp | NA | 6' 2" | 201 | 6' 2" | NA | NA | NA | NA |



Basic Per Game Statistics

- Comprehensive Stats - Statistical Top 25s
| Year | League | Name | GP | Min | Pts | FG | FGA | FG% | 2Pt | 2PtA | 2P% | 3Pt | 3PtA | 3P% | FTM | FTA | FT% | Off | Def | TOT | Asts | Stls | Blks | TOs | PFs |
| --- | --- | --- | --- | --- | --- | --- | --- | --- | --- | --- | --- | --- | --- | --- | --- | --- | --- | --- | --- | --- | --- | --- | --- | --- | --- |
| 2015/16 | Italian | Maalik Wayns | 4 | 19.3 | 12.5 | 4.5 | 11.0 | 40.9 | 3.5 | 7.0 | 50.0 | 1.0 | 4.0 | 25.0 | 2.5 | 2.5 | 100.0 | 0.3 | 1.3 | 1.5 | 1.0 | 0.0 | 0.0 | 1.8 | 2.3 |

Player Page&nbsp&nbsp| Player Stats | Mock Draft History | Related Articles&nbsp&nbsp| Add to My Draft Express&nbsp
&nbsp
Trending Prospects (2/3/2012)
February 3, 2012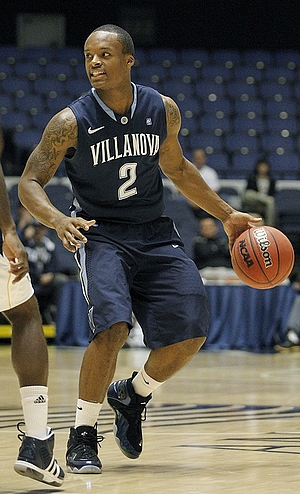 Icon SMI



Kyle Nelson

While Villanova has been fairly disappointing thus far as a team, junior point guard Maalik Wayns is in the midst of a strong individual season. After splitting minutes and ball handling duties with Corey Fisher and Scottie Reynolds his first two seasons, the former McDonald's All-American has emerged as one of the top scorers in the Big East, finally delivering on the excitement that followed him on to campus.

At 6'2 with a compact 200-pound frame and a 6-2 wingspan, Wayns has just decent physical attributes for the point guard position. Though he is fairly strong and quick, he is not a standout athlete, lacking the explosiveness to finish around the basket. As Wayns is a scoring guard who tends to dominate the ball, his average physical profile puts him at somewhat of a disadvantage looking towards the next level.

Wayns is nevertheless becoming more productive and efficient on the offensive end as a junior. He is averaging a career-high 18.4 points per game, shooting 49% inside the arc and 31% from 3-point range, while assuming a majority of Villanova's ball handling, facilitating, and scoring responsibilities. Though Wayns may be a much-improved scorer, his film reveals that he still has some flaws in his game and quite a few areas in which he must improve before he takes the next step in his development.

Wayns is very proficient operating out of the pick-and-roll, where he sees nearly 31% of his possessions. He looks very capable at splitting defenders on his way to the basket, pulling up into a jump shot, or finding his teammates. He is definitely more comfortable as a scorer than as a facilitator out of the pick-and-roll, however, which not only places particular urgency on improving his shooting and decision making, but also reveals another significant question about his future.

While Wayns does a terrific job of changing speeds and keeping his defender off balance, he struggles mightily finishing around the basket, which not only is related to his lack of length and explosiveness, but also his inability to get all the way to the rim and take high percentage looks. Wayns is often forced to heave up tough shots in the paint, particularly in traffic, raising the question of whether his slashing game will translate to the next level. Furthermore, while he has a solid first step, he drives left nearly 75% of the time, rendering his diverse mid-range and slashing games somewhat predictable for opposing defenders.

Additionally, Wayns is an extremely inconsistent perimeter shooter, making a mediocre 31% of his nearly five attempts per game. Fortunately, his shooting woes look more attributable to his subpar shot selection, his propensity to take off-balance, contested perimeter jump shots, and the lack of another perimeter scoring option than they are mechanical. His mechanics look much better than last year, in fact, and he now sports a fluid shooting motion, complete with solid elevation and a release point that is becoming more with time.

Despite his mediocre percentages, Synergy reveals that he is actually emerging as a solid catch-and-shoot option, making 44.2% of his jump shots in this capacity. Unfortunately he shoots more than twice as many off the dribble jumpers as he does catch and shoot, and knocks them down at a much lower rate, which hurts his percentages significantly.

What remains to be seen is whether or not Wayns can develop his playmaking instincts further and develop into a better facilitator. Though his supporting cast is less than stellar, complete with raw big men and streaky shooters, he has just average court vision and his overall decision-making abilities still need work at this stage. The fact that he is more of a scoring guard and is responsible for nearly a quarter of Villanova's possessions aside, he must improve upon his 3.4 turnovers per 40 minutes pace adjusted and sub-par 1.53 assist/turnover ratio moving forward.

As we've written before, Wayns is a mixed-bag on defense, lacking the size, length and lateral quickness to project as anything more than decent in the NBA, but clearly possessing the effort and fundamentals to compensate at this level. His biggest problem at this level remains his inability to defend the pick and roll, as he constantly struggles to break through screens. Though he has been a capable defender throughout his career, he will have to prove to scouts that he can guard NBA players.

While Wayns has done a good job of stepping up and showing he can be a go-to scoring option in the Big East this season, the fact that his team is just 10-12 overall and 3-7 in-conference demonstrates that he still has a ways to go. Proving himself as a more consistent long-range shooter is absolutely essential at this stage, but so too is improving as a finisher around the basket and limiting his turnovers.

Now that he has established himself as one of the most productive scoring point guards in the college ranks, Wayns must work to take the next step in his development, which means, among other things, finding ways to turn his productivity, his talent, and his leadership into wins for Villanova.

[Read Full Article]

---
Trending Prospects (2/3/2011)
February 3, 2011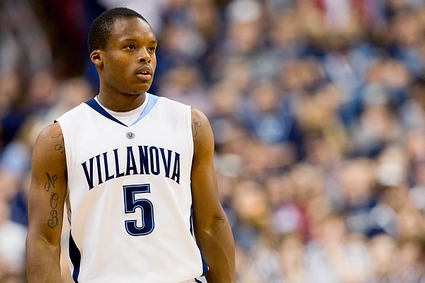 Icon SMI



Matt Kamalsky

A player we had high expectations for coming into the season, Maalik Wayns has had a solid sophomore season for a very good Villanova team. Though he's taken a big step forward in terms of productivity in Jay Wright's three-guard system, Wayns has shown some limitations both physically and skill-wise that raise some concerns about his immediate NBA potential.

Wayns's productivity this season is the byproduct of his physical tools for a college guard and improved decision-making as a passer. We often compare strong, compact guards to NFL running backs athletically, but that comparison seems especially apt for Wayns considering the way he moves on the floor. He has a solid first step that allows him to get into the lane against slower defenders in half-court situations in the NCAA, but is at his best when he has a head of steam in transition. Chopping his feet like any good NFL back looking to make a cut, Wayns is shifty at top speed and effective in transition.

Unfortunately, his first step is not on par with that of many of the guards his size playing in the NBA, and he has not shown the ability to play at different speeds to compensate for that. Struggling to turn the corner against bigger, quicker guards in the college game, Wayns will need to continue developing his shot-creating ability in the half-court.

Despite his lack of a great first step, Wayns is still shooting a passable 51% around the basket according to Synergy Sports Technology. He has a terrific handle, but is still trying to learn how to use screens and hesitation moves to his advantage. When he manages to get his man on his hip, his strength and body control makes him difficult to stop. However, when faced with a weakside shot blocker or cut off inside the key, Wayns isn't nearly as efficient, as he doesn't elevate well enough to overcome his lack of size.

With nearly half of his offensive possessions coming from pick and roll and isolation situations in the half court and another sizeable portion coming in transition, Wayns is often forced to create for himself and his teammates off the dribble. Though he's done a better job finding open teammates this season and is capable around the rim, his shot selection still leaves a lot to be desired and he's a little more turnover prone than you'd like to see.

Prone to forcing some difficult looks off the dribble, Wayns has made just 30% of his total jump shot attempts this season. Limited as a shooter both off the catch and off the bounce at the moment, Wayns shows solid form on occasion, but is too willing to pull the trigger from the midrange and will alter his release point unnecessarily under pressure. Moving forward, it will be essential for Wayns to become more comfortable scoring from the perimeter, as he surely won't be able to find the same success inside the paint at his size in the NBA. He made good progress as a passer from last season to this season, and it will be essential for him to make a similar jump as a shooter and as a pick and roll player heading into next year.

Defensively, Wayns is a coach's dream in terms of his effort level and demeanor, but lacks the size and length to consistently contest shots and deny penetration. Though he is pretty effective on the college level and never stops moving his feet, he'll face a major challenge when making the transition to the NBA.

Considering Wayns's clear weaknesses and the opportunity presented by the departure of Corey Fisher, the sophomore guard may be well served to return for another season at Villanova. Should he choose to return, he'll likely have every opportunity to make the strides offensively that could improve his draft stock with full reign over Villanova's offense. If he can develop his jump shot and continue to make better decisions in half-court situations, he could dramatically improve his stock in 2012.

[Read Full Article]

---
Top NBA Draft Prospects in the Big East, Part One (#1-5)
October 6, 2010
Walker Beeken

It may come as a surprise for some that the top NBA guard prospect for Villanova last season was not senior Scottie Reynolds, or his backcourt mate Corey Fisher, but rather freshman Maalik Wayns, who played only 15 minutes per game. With the departure of Reynolds, an opportunity opens up for Wayns in his sophomore season to showcase his game in a larger role and prove to scouts that he is indeed a future NBA point guard.

From a physical standpoint, Wayns is probably slightly above average in terms of what scouts like to see in an NBA point guard prospect. Though at 6'1" he is a bit on the smaller side, he does have a strong build, especially when you consider that he is just 19 years old. Staying lean to maximize his explosiveness should probably be a priority for him going forward, as his frame already has plenty of bulk. As an athlete, Wayns has a nice combination of speed and quickness to go along with strength and power for a player his size.

When making plays and attacking off the dribble, Wayns has a good top speed and a quick burst that enables him to get by his defender and into the lane. He has a tight handle and does a good job changing speeds, but he's much more comfortable driving to his left. When he gets into the paint off penetration, his lack of size and just average elevation often prevents him from finishing at the rim, as shown by the fact that he converted just 40% of his attempts around the basket last season. A focus for him moving forward should be developing a reliable floater to shoot up and over the defenders at the basket, and doing a better job using his strong body to finish through contact amongst the trees.

Wayns is at his best in transition. He is a jet with the ball in the open court, and his ball-handling skills, shiftiness, and attacking mentality allow him to get to the basket at will. And while he struggles some finishing in more crowded half-court situations, he does better job in transition, displaying good body control and using his strength to help him finish at the rim.

Though Wayns' shooting numbers last season weren't spectacular, he looks to have the potential to develop into a good shooter down the oad. He has a nice stroke and deep range, and he shot a very solid 81% from the free throw line last season, which all bode well for him going forward. He is very fluid shooting the ball off the dribble, and with better shot selection as well as time and repetition, he should see his shooting percentages improve from the field and behind the 3-point arc, where he made just 31.5% of his attempts last season.

An area of concern when looking at Wayns' freshman season was his overall floor game. Though he came out of high school with a reputation as a pure point guard, he struggled as a facilitator. While he showed flashes of good passing ability, his negative assist to turnover ratio and pure point rating were disappointing. He will still likely share much of the ball-handling responsibilities this season with Fisher, but it will be interesting to see how he runs the team's offense when he gets the chance. Coach Jay Wright loves his guards to be in attack mode at all times, but Wayns will need to find a balance between the attacking mentality and staying under control to see the floor and find the open man.

Defensively, Wayns has the tools to defend the point guard position well at the NBA level. He has good lateral quickness to contain dribble penetration, and although he doesn't have great length, he can compensate for some of that with his strength, toughness, and energy.

This season will be an important one for Wayns and his draft stock. Right now there is quite a bit of intrigue about him as a prospect, but with increased minutes this season he'll need to be more productive and display a better overall floor game and point guard instincts. He certainly has the potential for a breakout season and could possibly generate some buzz for the 2011 draft, but if he doesn't make some of the major strides he needs to in certain areas, he'll likely be back at Villanova for at least another year.

[Read Full Article]

---
Player Evaluations, McDonald's All-American Game (East Team)
April 4, 2009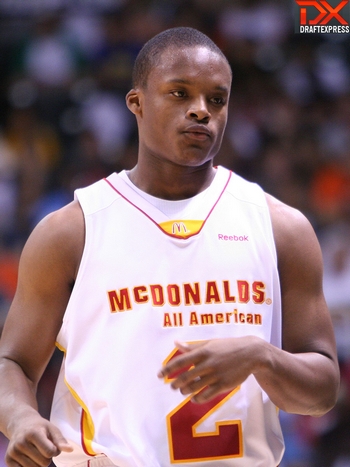 Jim Hlavac, DraftExpress



Maalik Wayns (#26 Scout, #25 Rivals, #20 ESPN¬) continues to make strides in his overall game, as you would hope from a player so young. He had a strong overall week here, showing that he clearly belonged, and really looking like an important find for Jay Wright's Villanova squad.

Wayns isn't going to blow you away with any one aspect of his game, but he regardless has all the makings of an excellent college player. He's a true point guard with a real distributor's mentality, looking highly unselfish and clearly looking to make others around him better. He's a strong ball-handler as well, aggressive making moves to the basket, mostly using his smarts and craftiness, but not looking overly athletic at the same time. It was tough to evaluate his shooting in this setting, which is an important aspect to his game obviously. Wayns seems to be a very high character kid with strong intangibles, which is extremely important at his position. He looks like he'll be in college for a least a couple of years.





[Read Full Article]

---
Initial Scouting Reports, High School Class of 2009 (#11-150 Recruits)
July 30, 2008
Widely considered the 3rd or 4th best point guard prospect in this class, Maalik Wayns (#25 Scout, #19 Rivals, #12 ESPN) was fairly up and down in the numerous times we were able to evaluate him this month (in both DC and Vegas). It's not hard to tell what the recruiting services see in him, though. He is a physical point guard with excellent ball-handling skills, very good intangibles, nice toughness (he draws comparisons to Kyle Lowry) and a clear-cut playmaking mentality.

Wayns is a shifty player, blessed with the ability to change speeds and get by defenders effectively at this level, and the strength to take contact and finish regardless around the basket. He has a nice temperament on the floor and seems to be an excellent teammate, which is an extremely important trait considering the position he plays. He can take the ball to the basket strong using either hand, or make a shot from the perimeter, but is just as comfortable dishing out assists to teammates, particularly in an up-tempo transition game.

Wayns' shortcomings revolve around the fact that he's not particularly tall, and does not possess freakish explosiveness to compensate for that, as he's a good, but not a great athlete. He may be able to improve on this if he works on his conditioning-level, which does not appear to be the best at the moment. Skill-wise, he does not possess much of a mid-range game, is very streaky shooting the ball from behind the arc, and is just an average defender. Wayns did not look particularly assertive in some of the games we saw him play, especially in the U-18 tryouts, but he's still so young that he has plenty of time to improve on his leadership skills.

He'll be playing his college ball at Villanova under Jay Wright.

[Read Full Article]

---
RBK U - Day Two- Top Prospects and Performers
July 11, 2007
While fellow hometown surprise Andrew Randall (Communications Tech/Philadelphia, PA/2008) came back to earth on day two, Wayns cemented himself as one of the top guards at camp Monday. In the morning game, Wayns lead Team Sefolosha with 22 points in a losing effort on an impressive 9-of-13 from the floor. In the afternoon game he put together another nice performance, nailing bucket after bucket down the stretch to seal a victory over Team Rasual Butler. Wayns is very much like former 'Nova guard and Philly guy Kyle Lowry. He is not afraid to initiate contact or take the big shot. Wayns also is an excellent rebounder for his size. With a little over a minute to go in the afternoon game with his team down one, he drove to the bucket missed the lay-up, got his rebound and went back up in the face of two 6'8" guys to put it back in and give his team the lead. There's a real bulldog element to his game.

[Read Full Article]

---