Malcolm Lee
Recent Tweets
All Tweets
DraftExpress: Tyler Honeycutt stepping out of the crowd. Malcolm Lee should be hearing his name shortly as well.
2011-06-23 09:41:20
DraftExpress: DX: Video and interviews with Josh Selby and Malcolm Lee from their training base at Impact Basketball in Las Vegas http://bit.ly/l5AAZ6
2011-05-31 07:22:37
DraftExpress: The first group working out in Minnesota this afternoon: Kalin Lucas, Malcolm Lee, E'Twaun Moore, Scotty Hopson, Jon Leuer & Jamie Skeen
2011-05-23 11:16:28
DraftExpress: Video interviews from the NBA Combine in Chicago w/ Kawhi Leonard, Jordan Hamilton, Klay Thompson and Malcolm Lee http://bit.ly/krtlzZ
2011-05-21 06:57:42
DraftExpress: Good interview session with the wing prospects. Got some good stuff from Klay Thompson, Alec Burks, Malcolm Lee, Travis Leslie and others.
2011-05-19 01:31:00
Team: Grand Rapids
Physicals
Positions
Rankings
Salary
Misc
H: 6' 5"
W: 198 lbs
Bday: 05/22/1990
(25 Years Old)

Current: SG
NBA: SG
Possible: SG

RSCI: 22

Agent: Mitch Frankel

High School: John W. North
Hometown: Riverside, CA
Drafted: Pick 43 in 2011 by Bulls

Predraft Measurements
| Year | Source | Height w/o Shoes | Height w/shoes | Weight | Wingspan | Standing Reach | Body Fat | No Step Vert | Max Vert |
| --- | --- | --- | --- | --- | --- | --- | --- | --- | --- |
| 2011 | NBA Draft Combine | 6' 4" | 6' 5.5" | 198 | 6' 9.75" | 8' 5.5" | 5.9 | 30.0 | 35.5 |



Basic Per Game Statistics

- Comprehensive Stats - Statistical Top 25s
| Year | League | Name | GP | Min | Pts | FG | FGA | FG% | 2Pt | 2PtA | 2P% | 3Pt | 3PtA | 3P% | FTM | FTA | FT% | Off | Def | TOT | Asts | Stls | Blks | TOs | PFs |
| --- | --- | --- | --- | --- | --- | --- | --- | --- | --- | --- | --- | --- | --- | --- | --- | --- | --- | --- | --- | --- | --- | --- | --- | --- | --- |
| 2014/15 | DLEAGUE | Malcolm Lee | 12 | 19.6 | 8.3 | 3.1 | 7.3 | 42.5 | 2.0 | 4.4 | 45.3 | 1.1 | 2.8 | 38.2 | 1.0 | 1.8 | 57.1 | 0.7 | 2.8 | 3.4 | 3.7 | 0.5 | 0.0 | 1.0 | 2.0 |
| 2014/15 | DLEAGUE | Malcolm Lee | 20 | 27.6 | 11.4 | 4.0 | 9.9 | 39.9 | 2.4 | 5.9 | 41.0 | 1.6 | 4.1 | 38.3 | 1.9 | 2.3 | 82.6 | 0.6 | 2.9 | 3.4 | 5.5 | 1.2 | 0.0 | 3.0 | 2.5 |
| 2014/15 | NBA | Malcolm Lee | 1 | 2.0 | 0.0 | 0.0 | 1.0 | 0.0 | 0.0 | 1.0 | 0.0 | 0.0 | 0.0 | &nbsp | 0.0 | 0.0 | &nbsp | 0.0 | 0.0 | 0.0 | 0.0 | 0.0 | 0.0 | 0.0 | 0.0 |

Player Page&nbsp&nbsp| Player Stats | Mock Draft History | Related Articles&nbsp&nbsp| Add to My Draft Express&nbsp
&nbsp
West Coast Workout Swing Part Three: Joe Abunassar's Impact Basketball
May 31, 2011




One of the more interesting early entry candidates in this year's draft class among the combo guard prospects, Malcolm Lee showed some promising signs in Las Vegas for a player who had only been cleared to play a few days before we saw due to a minor knee surgery.

The first thing that jumped out to us was how much smoother his shooting mechanics appeared to be. He's not pulling the ball back as far before his release as he did as a Bruin and looked extremely confident from the perimeter in the sessions we watched. He's made significant progress in his shooting mechanics since arriving at UCLA, and has been focusing on maximizing his ability to create shots off the dribble at Impact as you'll see in his workout video.

In one session, we got to see Lee work out with Kawhi Leonard and Alec Burks under the tutelage of Chauncey Billups. Of the three prospects involved, Lee had the most impressive footwork. He's still improving the consistency of his shot, but he looked comfortable staying on balance and knocking down his jumpers while fine-tuning the aggressive scoring moves Billups implemented in drills. His recent surgery didn't seem to be hindering him either, as he was finishing comfortably above the rim when the drills called for him to explode to the basket.

In three-on-three play, Lee teamed with Ibrahima Thomas of Cincinnati and Jon Diebler to form the most imposing unit in the games we watched. Playing with a clear strategy, Lee looked comfortable using the pick and roll to create off the dribble and made the smart play when he couldn't get his own shot off, finding Thomas under the rim on a number of occasions and setting Diebler up for catch-and-shoot jumpers from the wing. When he looked for his shot, Lee did a nice job taking what the defense gave him, but didn't take too many jumpers because of the "one shot and out" rule the games were restricted by.

Though Lee was not overly productive in his there seasons at UCLA, it was hard not to be impressed by what he showed working out with two projected lottery picks. He did not appear out of place at all and it will be worth keeping an eye out for how he shoots the ball in private workouts. Considering the success of UCLA guards in the NBA recently, Lee is definitely a name to keep an eye on as we move towards draft day.

[Read Full Article]

---
NBA Combine Interviews: Kawhi Leonard, Hamilton, Thompson, Lee
May 21, 2011
[Read Full Article]

---
Trending Prospects (1/20/2011)
January 20, 2011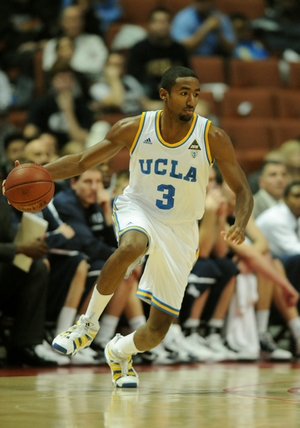 Icon SMI



Walker Beeken

Our last wrote about UCLA's Malcolm Lee came almost a year ago, as he was adjusting to a featured role in UCLA's offense as the team's primary ball-handler and creator. With the addition of junior college transfer Lazeric Jones to man the point guard slot, Lee has made the transition to full-time shooting guard this season as a junior, and so far he's had mixed results.

Standing at 6'5" with nice length and a physique that has improved over his career at UCLA, Lee certainly passes the eye test for an NBA combo guard prospect. Unfortunately his skill set and feel for game have yet to catch up with his physical tools.

While he's spent time playing the point and now the two spot, it's still unclear what type of role offensively Lee is most comfortable in, and best suits his game for the future. Former Bruins Russell Westbrook and Jrue Holiday both also had some trouble adjusting to Ben Howland's methodical offensive system, and spent the majority of their time playing shooting guard. Their NBA success obviously bodes well for Lee, and has likely had some scouts giving him the benefit of the doubt for his lack of production, but at some point he's going to have to give them more reasons to take a chance on him.

When taking a closer look at Lee's role this season, it's clear from that he's been spending more time off the ball. His assist numbers are down, but his turnover numbers have decreased at a similar rate as well, as he's spending more time spotting up on the wing and less time creating offense with the ball in his hands.

Lee is still far from a shooting specialist, but he has shown flashes of having the potential to be an adequate perimeter shooter at the NBA level, and has definitely made some nice strides in this part of his game. He's shooting more 3-pointers this season and shooting 31% from behind the arc, which is up from the poor 25% he shot as a sophomore, but his mechanics look much better than when we wrote about him before.

Shot selection is probably what's hurting him the most as a shooter this season. He's shooting a solid 40% on catch and shoot opportunities, which is way up from the dismal 23% he shot last year. He's also converting a terrible 17% on off the dribble jumpers though, mainly because he's taking shots that he has no business shooting.

Lee's mid-range game is still an area that improvement as well. He's shown the ability to create space using his size and athletic ability, but he doesn't have the feel to be a consistent threat. And while his smooth first step and physical abilities help him get to the basket as a slasher, he still doesn't finish at a high rate due to a lack of strength and craftiness and occasionally being out of control.

Lee is clearly at his best when he can get out in transition and utilize his athleticism in the open court, where he has the ability to lead the break or fill the lanes as a finisher. He seems much more comfortable handling the ball in the open court, and he shows better court vision than he does when he's handling the ball in traffic. He also finishes more effectively in transition when he's more under control and can rely more on his speed and elevation at the rim. With the NBA being a more wide open style than the college game, that certainly plays more to Lee's strengths.

On the defensive end, as we've mentioned before, Lee has all of the tools to excel at the NBA level with his combination of size, length, energy, athletic ability, and experience under a defensive-minded coach in Ben Howland. The fact that he projects to be able to defend both guard spots is an added bonus to his defensive potential at the next level.

Looking forward, it's clear that Lee is a talented player with some potential to build on, as he's still only 20 years old and possesses all of the physical attributes that scouts covet. His undefined position and role, and lack production in his third season at UCLA are definitely concerns that scouts will have to consider though.

His experiment at the point didn't lead to much success last year, and he doesn't seem to have the instincts or decision making skills to ever be a pure point guard. And while he's become more efficient on catch-and-shoot opportunities, he still doesn't project to be a big-time shooter or scorer on the wing.

Lee's defensive potential is probably the area where he stacks up best as an NBA prospect at this stage. In order to give himself the best chance in the future, Lee should embrace his strength as a defensive stopper who can cover either guard position. If he can do that while he continues to improve his perimeter shooting and adds polish to his slashing and overall floor game, Lee will earns looks from NBA teams looking to fill that void on their roster.

[Read Full Article]

---
NCAA Weekly Performers, 2/26/10
February 26, 2010
Kyle Nelson

Malcolm Lee saw few minutes last season but was thrust into a featured role this year regardless, following the departures of Darren Collison and Jrue Holiday. While Lee has always had a tremendous amount of potential, and certainly still does, this season has largely been a mixed bag. For one, Lee is now UCLA's starting point guard, as Jerime Anderson's incredibly disappointing play forced Ben Howland to make Lee his primary ball-handler. As the lead facilitator in Ben Howland's offense, Lee has shown much promise and an impressive learning curve, even if it has been an extremely rough season in Westwood to say the least.

From a purely physical perspective, Lee fits the profile of a modern day NBA combo guard. He has good size at 6'5 and length, but his frame, though developing, is still slight and he must continue to work on adding muscle and bulk. Lee has a spectacular first step and superior quickness—two things that bode extremely well for his NBA future. His athleticism is on full display in the open court in particular, even if continuing to get stronger and working on fundamentals is essential.

Offensively, Lee is still very much a mixed bag. He looks more comfortable with his jump shot, but his shot selection leaves much to be desired. Over 36% of his shots are from beyond the arc and he shoots just 26.7%, which is occasionally a result of receiving the ball late in the shot clock, but largely an indictment of shooting ability.

His form needs serious work, as he sports a quick, albeit truncated release. Though he gets good arc on his shot, he rarely holds his follow through and therefore, comes up short on a lot of his shots. He also wastes motion in his lower body and kicks his legs in rhythm. Working on his upper body strength would help matters, as well, as oftentimes he seems to push the ball in order to compensate. His dismal perimeter shooting percentages are largely indicative of his inconsistent shooting mechanics, which he must improve before seeing minutes at the next level.

Elsewhere on the offensive end, Lee's outstanding first step allows him to beat his man off of the dribble, but his lack of strength and just average touch around the basket inhibits his effectiveness as a slasher. Furthermore, improving his handle certainly would help, as well, and while he is a good straight-line dribbler, he struggles with more complex movements.

Lee does not show a tremendous amount of variation in his mid-range game at the present moment, but he has been effective pulling up on occasions this season and should only continue to improve with better ball handling and increased confidence. Scouts should look for him to improve in this area, however, as he has struggled to create his shot at times this season, often looking like a fish out of water in Ben Howland's conservative and methodical offense.

As a point guard, Lee is still learning, but has shown some positive improvements throughout the season. He shows good vision, particularly in transition, but his half court instincts look undeveloped. His decision-making is not refined either, and oftentimes, he picks up his dribble without knowing what to do next. Sometimes he struggles between roles as a scorer and as a distributor, though his leadership abilities should only improve with time.

In the half court, Lee looks far from comfortable and is very turnover prone, though he shows a tremendous amount of potential in drive-and-kick situations. Improving his handle would certainly help him here, in addition to working on making quick and crisp passes. Lee is still young and has the support of his team and coaching staff, which are positive indicators of future improvement.

Like Russell Westbrook before him, his performance as a point guard in the collegiate ranks has left much to be desired, but there is no doubt that the potential is there and it is still worth noting the unfortunate circumstances that thrust him into the starting point guard position. Though NBA scouts rightly project him as a combo-guard at the next level, with continued work, it seems as though he can develop into an effective distributor at this level.

As we have mentioned before, Lee is a spectacular defender and has the chance to develop into a lockdown player at the next level. His length and lateral quickness help him in man-to-man situations, where he is both relentless and intense. While he gambles quite a bit and his team defense is an open book considering UCLA's inability to execute Ben Howland's defense, Lee is an outstanding perimeter defender who has the potential to guard multiple positions at the next level, especially as he gets stronger and adds bulk to his slight frame.

Malcolm Lee possibly has more responsibility than any sophomore in the NCAA, as he's expected to be UCLA's best scorer, facilitator, and defender on any given night. The unfortunate thing is that he's being forced to do so in a system that probably couldn't be any less-suited for his strengths.

Though he has had his fair share of trouble adjusting, his performance this season has been very promising at times, and suggests that in a more complimentary role, at UCLA next season or in the NBA, he should be a far more efficient and effective basketball player.

Returning to school for another season would normally benefit Lee tremendously, as he could improve his handle, decision-making instincts, and shooting form, while filling out his frame. Lee has a tough decision to make this summer, though, as there are persistent rumors that his patience has run thin and he's strongly considering entering the draft. It will be interesting to see how this plays out.

[Read Full Article]

---
Top NBA Draft Prospects in the Pac-10 (Part One: #1-5)
September 12, 2009
Jonathan Givony

Coming off a fairly non-descript freshman season in which he averaged just 3 points in under 11 minutes per game, most people would probably not expect to find Malcolm Lee's name at the top of this Pac-10 prospect list. Part of that has to do with how overall depleted the conference appears to be at the moment in terms of returning talent, while plenty more has to do with the glimpses of potential that Lee flashed this summer as a counselor at the Adidas nations camp in Dallas.

Lee played a miniscule role for UCLA last season, only using four possessions per game on average. The overwhelming majority of his offense came off the ball, mostly in the form of spot-up jumpers, transition plays, offensive rebounds and cuts to the basket. This year, with the starting backcourt of Darren Collison and Jrue Holiday off to the NBA, Lee will surely be forced to shoulder a considerably larger amount of responsibility in Ben Howland's stringent offense. How much he's up to that task will likely play a big part in the amount of success that UCLA will have in what appears to be a transition season.

Offensively, Lee is at his best in an up-tempo setting, where his terrific athleticism really allows him to shine. He's often the first one down the court, looking like an absolute jet with or without the ball, and regularly getting to the basket where he can make some very acrobatic plays. He's an extremely fluid, explosive player, able to change directions on the fly and looking extremely quick and shifty in everything he does. Guards who can pick apart a defense on their own with a blazing first step are all the rage in today's NBA, and Lee shows the potential to develop into that and much more down the road.

In the half-court, Lee is mostly a mixed bag at this point. While very much capable of blowing by his defender, he struggles to finish around the rim in traffic, as his body is extremely underdeveloped, and his improvable ball-handling skills mean that he's often out of control by the time he gets to the rim. His jump-shot still needs a considerable amount of work, as it often looks flat, complete with an inconsistent release point, sometimes with his elbow flailing out badly. Lee shows the ability to make shots both spotting up and off the dribble, so there is definitely hope that he can sort out this part of his game if he continues to put the work in on his own.

Somewhat stuck between positions at the moment, Lee is at his best with the ball in his hands, but clearly is not a point guard at this juncture, even if his size might lead him in that direction down the road. His decision making skills are still on the raw side, being fairly turnover prone and relying excessively on his pure athleticism, which has not yet caught up with his feel for the game. This is not really a shock considering how old Lee is, but it's something he must work on as he gains more experience and continues to learn the game, as he's far more attractive a prospect if deemed to project as a combo guard rather than as an undersized shooting guard.

Defensively, Lee is an absolute menace, already being a shut-down stopper type, but showing even more potential as he continues to grow into his frame. He possesses superb lateral quickness, being capable of getting right in his matchup's face and sticking with him for long stretches, while showing great intensity in the process. He gets in the passing lanes on a regular basis, and will even come up with an occasional blocked shot. Lee's willingness to defend, coupled with the frenetic energy he brings to the floor will surely endear him to NBA decision makers, as he's capable of guarding multiple positions already and still has room to improve down the road.

It will be interesting to see what kind of year Lee is capable of having, as he doesn't appear to be the greatest fit for Ben Howland's system, but will still need to be at his best if his team has any chance of sticking around the top-25 polls this season. While it may be a bit premature to be lavishing so much praise on a player who did so little as a freshman, Lee has the physical tools and natural talent to make a huge leap this year.

[Read Full Article]

---
Jordan Brand Classic Games (Day Three)
April 20, 2008
Despite starting off the game slowly, Malcolm Lee still found a way to have a pretty impressive all-around performance (7 points, 4 rebounds, 4 assists, 0 turnovers, 3-7 FG, 18 minutes). He logged significant minutes at the point guard position, and got mixed results. Early on he seemed to be forcing the issue a bit, not finding the open man cutting to the rim or spotting up on the wing, and may have been looking a bit too much for his own shot. That changed in the second half, though, as he settled down considerably and started making some terrific drive and dish passes, particularly in transition.

The fact that this was an all-star game where many of his colleagues played virtually no defense didn't seem to impress Lee at all—he continued to get right in his man's face, contesting shots and also making a significant effort to crash the glass. He's a tough kid who doesn't back down and never gives up on a play—which is going to make him very popular with Ben Howland. He's still a raw player who has plenty of work to do on polishing up his all-around skill-set in many facets of the game (his off hand, body, perimeter shooting, advanced ball-handling skills), but has considerable upside and should emerge as a legit prospect down the road.

[Read Full Article]

---
Nike Hoop Summit Recap: Team USA
April 16, 2008
Looking at the box score, it would appear that Lee had a very insignificant role for team USA. Exactly the opposite is true however, considering Lee set the tone for the team defensively during the run that allowed the US Team to pull away from the international players. Another player attending UCLA next season, the guard will spend some of his time off the ball for the Bruins but projects as a point guard down the road. Showing good size at 6'4" with above average length, his defensive ability should get him on the court for some good minutes during his freshman season.

Though not falling during the game, Lee showed a nice outside shooting stroke during the practices with the ability to knock down the set shot or take a couple of dribbles and knock it in from mid-range. The guard also shows a nice first step and above-average ball-handling, but will need to work on finishing plays inside at UCLA.

He'll be playing in a crowded backcourt next season and it's unlikely that he'll really emerge as an immediate NBA prospect until further down the road, but Malcolm Lee has the defensive ability and size that will always make him worth watching.

[Read Full Article]

---
RBK U - Sunday Night Session
July 9, 2007
Player number one: Malcolm Lee (Team Crawford/Moreno Valley, CA/Committed to UCLA/2008). Lee battled Jennings and Thomas all night long, and still ended up with 20 points on 8-of-12 shooting (4-5 3-pt FG). His signature bucket came late in the game to keep it close, when Lee crossed over Thomas and drained an NBA-range three. However, Lee did struggle to play the point effectively, turning the ball over 4 times while dishing out just 3 assists. It will be fun to see Lee and Jennings battle it out in the Pac-10 in 2008-09.

[Read Full Article]

---
2007 RBK Eurocamp: Day Two (Part One)
June 11, 2007
Regardless of what the stats might indicate, Malcolm Lee was flat-out the most impressive player seen in Treviso in day two of action, bar-none. He looked so far ahead of the players 2-5 years older than him that it wasn't even funny, making it quite scary to imagine how good he'll be in a few years when his body starts to fill out and he finds a true position for himself. What's certain is that UCLA seems to have a future stud committed to them.

Lee is a freakishly quick combo guard with a knack for getting into the paint. He can go left or right equally well, and possesses an outstanding first step and even better body control finishing in the lane. He showed nice instincts finding the open man on the drive and dish, even if he looks to be more of a shooting guard at the moment than the point guard he is listed at on the roster. That might have had to do with the limited minutes he played at that position, though, as the extremely short Isaiah Thomas played 26 minutes and wasn't going to be anywhere else except on the ball.

Lee also has a really nice jump-shot he can go to, either from a static position or pulling up off the dribble. He's also a fantastic defender, putting great pressure on the ball and showing excellent commitment to keeping his man in front of him. He came up with quite a few tips in the passing lanes thanks to his excellent instincts and hands for his efforts.

In terms of weaknesses, the first would obviously be his body. Lee looks very far right now from being anywhere close to physically mature, which isn't a huge surprise considering he just turned 17. He has a very thin frame that will need some bulk before he's able to maximize himself at the college level playing for UCLA. Lee could also stand to improve his ball-handling skills, which is a little bit tougher than for most because of how long his arms are. Lee has a tendency to dribble the ball with his head down, so becoming more aware of his surroundings, particularly if he's indeed going to play the point at the next level, will be a big priority.

[Read Full Article]

---