Trending Prospects (3/9/2012)
March 9, 2012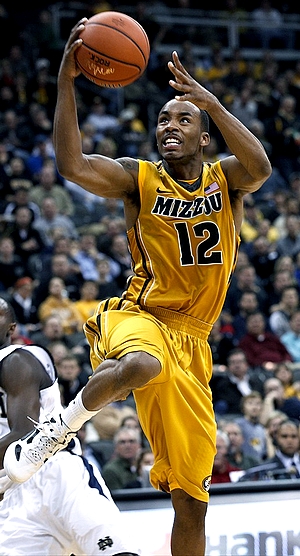 Icon SMI
Kyle Nelson
Marcus Denmon
entered his final season at Missouri as an under the radar prospect, coming off a successful junior campaign, but lacking the ideal physical profile of an NBA shooting guard. Denmon has not disappointed as a senior, assuming a more prominent role as a scorer in Missouri's offense while leading the Tigers to a 27-4 record and a potential #1 seed in the NCAA tournament.
Though he is responsible for 20% of Missouri's offensive possessions and 22.6% of Missouri's total field goal attempts, he has continued to play the same brand of extremely efficient basketball, shooting 53% from 2-point range and 42% for 3,
while coughing the ball up on just 9% of his possessions
and
averaging only 1.3 turnovers per 40 minutes pace adjusted
. This is particularly impressive given his expanded role as Missouri's primary scoring option.
On film, Denmon continues to excel as a perimeter shooter with his feet set, both guarded and unguarded, and he sports a picture perfect release with range that extends well beyond the NBA three-point line. Only 20% of his shots come off pull-up jumpers, demonstrating the narrowly tailored role Denmon plays for Missouri, as well as his patience and shot-selection—which helps explain why he's such an efficient player.
Despite looking slightly more aggressive looking to take his man off the dribble, Denmon remains a limited shot-creator due to his average size, strength, explosiveness and ball-handling skills. Very opportunistic in transition, off cuts, or on straight line drives, Denmon is able to keep defenses honest just enough to not be labeled as a one-dimensional player.
Denmon certainly has solid tools and fundamentals on the defensive end of the floor, where he guards every perimeter position. He displays good lateral quickness and quick hands, but at 6'3 with a wiry 185-pound frame and an average wingspan, it remains to be seen whether he can guard NBA-sized shooting guards on a consistent basis.
Despite coming off of an excellent senior season, Denmon still has work to do in terms of carving out a role for himself at the NBA level. Though he possesses excellent intangibles as an extremely tough, smart, hard-working and winning attitude, he is still not remotely a point guard; remains extremely undersized for the shooting guard position; and lacks the elite athleticism to compensate. He has improved his offensive arsenal as a senior, however, continuing to prove himself as an extremely efficient perimeter scoring threat, but will need to fall into the right situation in the NBA to stick and make an impact. Denmon should have plenty of opportunities in the NCAA Tournament, and during the pre-draft process to continue to prove to scouts that he has what it takes to fill a niche as a sparkplug scorer in the NBA.
[
Read Full Article
]
Top NBA Draft Prospects in the Big 12, Part Two (#6-10)
October 3, 2011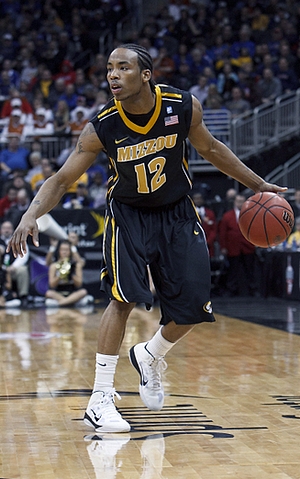 Icon SMI
Kyle Nelson
After a solid, but unspectacular two years at Missouri,
Marcus Denmon
had a breakout junior campaign, emerging as
one of the most efficient scorers in college basketball
. Denmon led the Tigers to an NCAA Tournament berth while averaging 16.9 points per game on the season.
At 6'3, Denmon is undersized for the shooting guard position and has just an average frame. He is a good athlete, but his lack of size will certainly be an issue at the next level.
Denmon's efficiency stems from his high skill-level and excellent shot selection. Over two thirds of his shots last season came on jumpers according to Synergy Sports Technology, the majority of which came with his feet set. Denmon converted a blistering 47.5% of his those, ranking him amongst the best spot-up shooters in college basketball. He gets excellent elevation on his jumper and has NBA range, showing fluid, consistent shooting mechanics. This is a skill that should translate immediately to the professional level.
More than just a one-dimensional shooter, Denmon also converted a spectacular 54.4% from inside of the arc,
ranking as an elite finisher among NCAA shooting guard prospects last year.
He is at his best both running the floor and finishing in transition, using his quickness and aggressiveness to get to the basket. He lacks great size even at this level, and is not a terribly explosive leaper, but has excellent body control, the ability to finish with either hand, and excellent toughness around the basket.
Denmon tends to struggle elsewhere, however, lacking the elite ball-handling skills needed to create his own shot in the half-court consistently. Not a threat on the pick and roll, he doesn't change speeds very well and struggles to change directions with the ball if his initial drive is cut off. Furthermore, his jump-shot loses significant accuracy if forced to pull-up off the dribble, as he converted just 11 of his 50 attempts of this nature last year. These are all skills that professional guards are expected to possess in their arsenal, of which Denmon doesn't show much of at the moment.
It is certainly of note, too, that Denmon was
the least turnover prone guard in DraftExpress's database
in 2010-2011. While his shot-creating abilities must improve, he does a great job staying within himself, which is the reason he was so efficient for Missouri last year. While he is certainly more of an undersized shooting guard than a real combo, his basketball IQ is quite good.
On defense, Denmon demonstrates very good lateral quickness, which combined with his toughness and aggressiveness, allows him to guard all backcourt positions at the collegiate level. This likely won't be the case in the NBA, but his effort level certainly helps his cause. He averages a solid 2.4 steals per 40-minutes pace adjusted, which speaks to his abilities as a man-to-man defender and his general defensive savvy.
Ultimately, Denmon still has his work cut out for himself in improving his NBA prospects despite being the leader of a veteran Missouri team
with apparently excellent intangibles
. While there is no doubt that some NBA teams could use his combination of perimeter shooting and defense, he is undersized for an NBA shooting guard and lacks a diverse offensive repertoire to compensate.
On a team that is loaded with ball-handlers, Denmon may not have many opportunities to work on the aspects of his game that NBA scouts will want to evaluate this season. Nevertheless, with a deep run into March, and a good showing at Portsmouth, Denmon should be able to endear himself enough with all the positives he brings to the table to at least give himself a fighting chance at being drafted.
[
Read Full Article
]