Marcus Lee
Recent Tweets
All Tweets
DraftExpress: High School Class of 2013 Reports, Part Two http://t.co/BvnuUOuK http://t.co/tCUbY1xD Jabari Bird, Marcus Lee, Tyler Ennis, Nick King, more
2012-09-12 10:33:20
DraftExpress: Updated reports coming up on Jabari Bird, Marcus Lee, Xavier Rathan-Mayes, Tyler Ennis, Nick King, Semi Ojeleye, Matt Jones, Damian Jones.
2012-09-12 09:50:35
Team: Kentucky, Junior
Physicals
Positions
Rankings
Misc
H: 6' 10"
W: 199 lbs
Bday: 09/14/1994
(21 Years Old)

Current: PF
NBA: PF
Possible: PF

Pick: 39 in 2016 Mock Draft
Rank 51 in Top 100 Prospects
Rank 7 in NCAA Juniors
RSCI: 16

High School: Deer Valley
Hometown: Antioch, CA

Predraft Measurements
| Year | Source | Height w/o Shoes | Height w/shoes | Weight | Wingspan | Standing Reach | Body Fat | No Step Vert | Max Vert |
| --- | --- | --- | --- | --- | --- | --- | --- | --- | --- |
| 2015 | Kentucky Combine | 6' 8" | 6' 9" | 224 | 7' 3" | 8' 11" | 4.9 | 31.0 | 39.5 |
| 2014 | Kentucky Combine | 6' 8" | 6' 9" | 220 | 7' 3" | 8' 11" | 4.1 | 30.5 | 38.5 |
| 2012 | LeBron James Camp | NA | 6' 10" | 199 | 7' 1.5" | NA | NA | NA | NA |
| 2012 | Amare Stoudemire Camp | NA | 6' 10" | 199 | 7' 1.5" | NA | NA | NA | NA |



Basic Per Game Statistics

- Comprehensive Stats - Statistical Top 25s
| Year | League | Name | GP | Min | Pts | FG | FGA | FG% | 2Pt | 2PtA | 2P% | 3Pt | 3PtA | 3P% | FTM | FTA | FT% | Off | Def | TOT | Asts | Stls | Blks | TOs | PFs |
| --- | --- | --- | --- | --- | --- | --- | --- | --- | --- | --- | --- | --- | --- | --- | --- | --- | --- | --- | --- | --- | --- | --- | --- | --- | --- |
| 2015/16 | NCAA | Marcus Lee | 6 | 21.5 | 7.5 | 3.3 | 5.8 | 57.1 | 3.3 | 5.8 | 57.1 | 0.0 | 0.0 | &nbsp | 0.8 | 2.5 | 33.3 | 3.8 | 3.0 | 6.8 | 0.7 | 0.7 | 1.5 | 0.7 | 2.5 |

Player Page&nbsp&nbsp| Player Stats | Mock Draft History | Related Articles&nbsp&nbsp| Add to My Draft Express&nbsp
&nbsp
What Did We Learn At the Champions Classic? Part 1: Kentucky vs Duke
November 18, 2015
Marcus Lee, 6'9, Junior, PF/C, Kentucky
10 points, 10 rebounds, 2 blocks, 5 fouls, 5-10 2P, 22 minutes

Lee was highly productive in his 22 minutes, posting a double-double, and giving Kentucky some much needed energy on both ends of the floor. He ran the court nicely and beat Duke's big men up the floor twice for dunks, and also was a reliable presence as a finisher in the half-court with his good hands and soft touch. He was a pogo stick on the offensive glass all night, earning Kentucky a number of extra possessions with his tremendously quick second bounce, and was active on defense, particularly with his versatility on the pick and roll. He also surprised with one really nice pass from the baseline to a cutting Isaac Humphries, something we had seen very little of in his first two seasons.

On the downside, Lee's body looks very similar to how it did when he arrived at Kentucky, and there are serious questions about whether he has the strength and bulk needed to not get pushed around at the NBA level. He's essentially a 6'9 center without a very high skill-level, something that is not difficult to find outside the college ranks. Lee's productivity (this was his first double-double of his career) will help keep scouts interested, but to emerge as a higher caliber prospect, they'll likely want to see more.

[Read Full Article]

---
2015 Kentucky Combine Measurements and Analysis
October 11, 2015
Marcus Lee's measurements are almost identical to the ones he posted in 2014. He's gained only 4 pounds since the last Kentucky Pro Day, which is a bit disconcerting given that's one of the main concerns scouts have about him at this stage, but he improved on every single one of his already impressive athletic testing marks. His 7'3 wingspan is outstanding for his size, and his 7 inch wingspan differential is the top mark among UK prospects this year.

[Read Full Article]

---
Top NBA Prospects in the SEC, Part 9: Prospects #9-14
October 2, 2015
Derek Bodner

After spending his freshman season stuck on the bench behind a talented Kentucky frontcourt that included Julius Randle, Willie Cauley-Stein, Dakari Johnson and Alex Poythress, Marcus Lee played behind an even deeper front line during his sophomore season, as Karl-Anthony Towns and Trey Lyles replaced Julius Randle.

In part because of that depth, Lee's minutes didn't quite see the jump many had hoped for. Now an upperclassman going into his junior season, the former top-20 high school recruit has yet to play more than 11 minutes per game.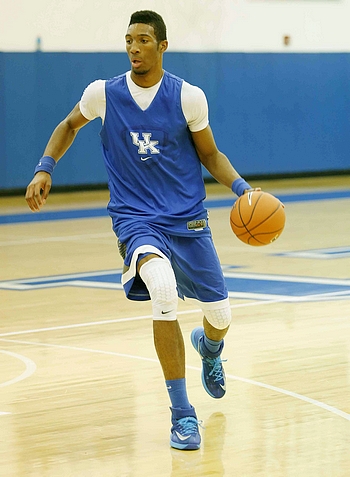 US Presswire



From a numbers perspective, Lee fared better in some respects, and worse in others. His scoring rate dropped, from 15.0 points per 40 minutes, pace adjusted, to just 9.7. He blocked 2.6 shots per 40 minutes after adjusting for pace, down from the 3.6 he blocked during his freshman season, but still a good figure. On the positive side, Lee's defensive rebounding improved, from 3.8 defensive boards per 40 minutes, pace adjusted, to a much more acceptable (yet still underwhelming) 5.7, and he shot even better from 2-point range, from 61.9% to 64.4%.

These numbers carry very little relevance, however. With how little Lee has played over the last two seasons, there's a tremendous amount of noise in his statistics, making this an incredibly important year in store for him, which will tell us quite a bit about what type of NBA prospect he actually is.

When watching film, Lee remains the same incredibly intriguing physical specimen we've been tracking over the last few years. While Lee is slightly undersized, measured around 6'9" in shoes, he has an 8'11" standing reach and a 7'3" wingspan that more than make up for it. When you combine Lee's length with his incredible quickness and explosive leaping ability, there's a lot of potential still left to untap.

Lee weighed in at 220 pounds at the Kentucky Pro Day last fall, an increase of 21 pounds over where he was weighed at the LeBron James and Amare Stoudemire camps back in 2012. Still, Lee needs to add considerable strength before this stops being a concern, especially in the lower body. Lee struggles to hold his position defensively, something which Kentucky was mostly able to overcome thanks to their incredible frontcourt depth, but which could be exploited down the line as moves into pro settings against better and more physically mature competition.

Despite that, Lee continues to make progress in turning his athleticism into realized defensive ability. While Lee's shot blocking numbers were down slightly this past year, from a 9.2% block percentage to 6.8%, that was most likely a result of spending more time away from the hoop thanks to the plethora of interior defenders that John Calipari and his staff had access to. Lee was still able to use his length, along with incredible quickness off of his feet and solid timing, to alter a ton of shots around the hoop.

On the perimeter, Lee improved his technique this past year, doing a better job of getting down in a defensive stance, and he has the lateral mobility necessary to defend the pick and roll, and even to switch out on guards and hold his own. What's more, Lee has the quickness, and quick-twitch reflexes, to get back into plays and alter shots around the basket even when he's initially tasked with helping on the perimeter, which is extremely intriguing in today's NBA.

While his size and strength still holds him back as a defensive rebounder, Lee did do a better job on the defensive glass than he did during his freshman season. He has pretty good technique boxing out and does a good job of locating his man and putting a body on him. If he's able to add that much-needed strength down the line, there's hope that he could round out into a positive on the defensive glass, something that will be tracked closely this year considering how important it is for his pro profile.

On the offensive side of the ball, Lee gets almost all of his points off the ball, as his quickness and explosiveness make him a highlight reel waiting to happen, with emphatic displays of athleticism in transition, off offensive rebounds, cuts to the hoop, and lobs from his teammates.

Still, Lee's progress from a skills perspective could certainly be described as disappointing. With the plethora of options that Kentucky had in the front court, nobody was really expecting Lee to be featured all that much in the Kentucky offense, but some of the same holes that were present in his game during his freshman season remained.

The perimeter game is where you would hope to see some development from Lee this season, especially since few bigs have the foot speed to keep up with him. But Lee attempted only four jump shots all season, according to Synergy Sports Technology, and more concerningly, shot a miserable 32% (8-25) from the free throw line. The addition of at least some semblance of, or progress towards, a jump shot would help him fill the energy role he would be projected to have at the next level, and perhaps open up opportunities for him to take his man off the dribble using his terrific first step.

Kentucky's incredible depth over the past two years has certainly impacted Marcus Lee's playing time, which makes it difficult to really evaluate how much he's grown, and how much bigger of a role he is capable of filling. While Kentucky saw Karl-Anthony Towns, Dakari Johnson, and Willie Cauley-Stein leave Lexington for the NBA draft, they also brought in some frontcourt additions in Skal Labissiere, and to a lesser extent, 17-year old Isaac Humphries, while returning an extremely talented power forward in Alex Poythress. While Humphries will likely not be ready to contribute in a major way immediately, Kentucky still has talent and depth in the front court that pretty much any other program would be envious of. Still, this may be Lee's best chance to earn big minutes and give decision-makers a chance to see what he's capable of. With Kentucky already reeling in a number of highly touted frontcourt players from the 2016 high school class, this is a pivotal season for Lee to not get lost in the shuffle.

[Read Full Article]

---
2014 Kentucky Combine Measurements and Analysis
October 11, 2014
Marcus Lee measured 6'8 without shoes with a 7'3 wingspan. His +7 height to wingspan differential is extremely impressive. His 220-pound frame remains skinny, but extremely lean as evidenced by his 4.1% body fat. His 38.5 inch maximum vertical is terrific, and his physical tools on the whole have a strong resemblance to those of Hakim Warrick.

[Read Full Article]

---
Top NBA Prospects in the SEC, Part Ten: Prospects #10-13
September 26, 2014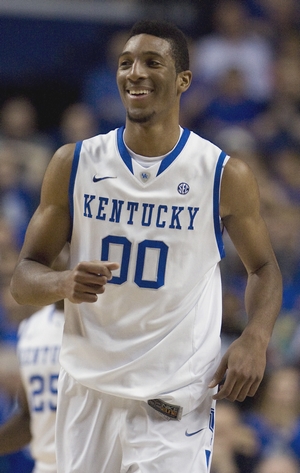 US Presswire



Josh Riddell

Coming into the University of Kentucky as the 16th ranked recruit by the RSCI, Marcus Lee had trouble finding minutes in an extremely crowded Wildcat frontcourt, stuck behind Julius Randle, Willie Cauley-Stein and Dakari Johnson. Lee averaged just 6.5 minutes per game last season and saw action in only 25 of 40 total games, an extremely rare occurrence for a player as highly regarded as he was coming out of high school. Taking advantage of an injury to Cauley-Stein, Lee had his best game in the NCAA tournament against Michigan, where he scored ten points and grabbed eight rebounds in fifteen minutes, and will look to build on that momentum to carve out his spot in the rotation this season.

Lee has very good size for a big man prospect, measured at 6'10", with a solid 7'2" wingspan. However, he needs to add strength to his frame, as he weighed in at 199 pounds two years ago at the Amare Stoudemire Camp and is now listed as being 220 pounds on Kentucky's website, which is still relatively light. It looks like he added some nice bulk to his frame on Kentucky's recent preseason tour in the Bahamas, particularly in the upper body, but he still has plenty of room to continue to add to his frame. He is a great athlete, moving up and down the floor well for a big man while playing above the rim on the offensive end. Once he adds some strength, which he should be able to as he matures physically in the next few years, he will have ample tools to compete in the NBA.

In his limited minutes, Lee didn't show a great deal of offensive skill, as the overwhelming majority of his touches came off cuts, offensive rebounds and by running the floor in transition. He has great potential to do these things at pretty much any level, as his ability to sprint the court, make quick screen and rolls, and get off the ground in the blink of an eye for explosive finishes from a standstill off two feet are coveted commodities in professional basketball. He has good hands, great quickness, and the type of springy vertical leap you'd expect to find in an ex-volleyball player.

Over 90% of Lee's 42 field goal attempts came inside the paint, and he converted them at a terrific 72% clip, most of them coming on dunks. When forced to do more than just catch and finish, though, Lee seemed to struggle, even if it's difficult to tell too much from the limited sample size at our disposal. He didn't always have a plan on how to get up the best shot attempt when he couldn't just elevate for a simple finish, often throwing up a hurried shot, and got knocked off his path easily due to his lack of strength. Considering his lack of bulk, Lee will likely need to play the power forward position in the NBA, at least early on in his career, but it's difficult to tell if his skill-level is high enough to do some of the things teams ask from their 4-man, such as make plays from the high-post, space the floor, etc.

Lee was an excellent offensive rebounder last season, averaging 5.3 per 40 pace adjusted , which puts him third among all returning college players in our top-100 prospect rankings. He crashes the glass hard on every shot and uses his length to grab many rebounds or tip them to a teammate. His physical tools let him get offensive rebounds outside his area and many that bounce high off the rim end in Lee dunking the rebound, demonstrating his impressive athleticism.

Unfortunately, this hasn't transitioned to the defensive side of the glass, as Lee averaged a mediocre 3.8 defensive rebounds per 40 pace adjusted, dead last among all returning collegiate big men in our top-100 prospect rankings. He struggled holding his box out last season due to his lack of strength and was also out of position to rebound due to his aggressiveness of trying to block shots. The sample size from last season leaves a lot to be desired so it will be interesting to see how his numbers look playing a larger role this season. Rebounding will be one of Lee's most marketable skills and he showed an ability to rebound on the offensive end in his freshman season. This year, he will have to put a bigger focus on the defensive side to become a more complete player.

Lee was able to block a ton of shots in his few minutes last year, averaging 3.6 blocks per 40 pace adjusted, sixth among all returning collegiate players in our top-100. He pairs his length and mobility with very nice timing, but may have gambled excessively for blocks at times, which put him out of position for the rest of the play.

Elsewhere defensively, Lee can easily be projected as an impact defender as long as he is able to add enough strength to compete with NBA level big men. He didn't always show great defensive awareness, but that will hopefully come with more playing time and experience. His lack of strength allowed him to get pushed around, especially when trying to defend the post. However, the combination of his physical tools should allow him to have a significant impact on this end, as long as he continues to improve. His offensive ceiling isn't that off the charts based on what we've seen thus far, so he will need to work on his defensive skills to help contribute to the team on that side.

Returning for his sophomore season, Lee had originally hoped to play a bigger role in the Wildcat rotation. However, he may be reduced to a supporting role again due to Willie Cauley-Stein, Dakari Johnson and Alex Poythress returning, with incoming freshmen Karl Towns and Trey Lyles also competing for playing time. Minutes could once again hard to come by for Lee, so he will need to make the most of whatever action he gets.

Lee enters his sophomore season in a tough competition for minutes and it will be interesting to see how the Kentucky frontcourt rotation shakes out as the season progresses. Lee will be called upon to finish around the basket, rebound on both ends and defend the rim and will need to take advantage of whatever minutes he is given. From what we saw in his limited freshman season, it is clear that Lee has many traits the NBA covets, but it is too early to make any declarative statements about his potential as we simply haven't seen enough to accurately gauge how good of a long-term prospect he is at this stage.

[Read Full Article]

---
High School Class of 2013: Elite Prospect Scouting Reports, Part Two
September 12, 2012
Jonathan Givony

Recruiting Rankings: ESPN: #27, Scout: #37, Rivals: #15, 24/7: #8

Strengths:
-Has terrific height and length for a big man at 6-10 in shoes, with a 7-1 ½ wingspan
-Great frame that will fill out nicely in time
-Extremely athletic
-Excellent finisher. Dunks everything
-Very good shot-blocker. Good timing
-Solid offensive rebounder
-Finishes very well around the basket. Good hands
-Above average feel for game. Solid passer
-Plays with solid effort. Looks competitive

Weaknesses:
-Only 199 pounds. Lacks strength in a serious way
-Pretty raw on both ends of the floor
-Fundamentals are average, especially on defense
-Doesn't box out opponents
-Average defensive rebounder
-Struggles to keep stronger big men from posting up. Doesn't deny position early in possessions
-Limited scorer
-No post game. Lacks strength to back anyone down, doesn't have any real footwork
-Doesn't show much of a perimeter game
-Not as good a rebounder as he should be.

Outlook:
Raw, but talented big man with all the physical tools needed to develop into a great prospect. Still in a very early stage of his development. Should be able to make an impact immediately as a shot-blocker. Offensive game will take time.

Highlights:




[Read Full Article]

---