Mario Hezonja
Recent Tweets
All Tweets
DraftExpress: Mario Hezonja wanted to be in NY but Barcelona called a practice and team dinner tonight. He didn't want to violate his contract by leaving
2015-06-25 20:10:39
DraftExpress: Which European draft pick would freak out Knicks fans more Kristaps Porzingis or Mario Hezonja? Heard both are strongly in play in New York
2015-06-24 21:28:08
DraftExpress: RT @BR_NBA Meet Mario Hezonja the potential #NBADraft top-10 pick who thinks he can beat Kobe 1-on-1 http://t.co/ERleoN0LOE http://t.co/mu2026
2015-06-24 14:53:55
DraftExpress: According to @IAmDPick Mario Hezonja will be on the next flight to NYC and will attend tomorrow's NBA Draft now that his season is over.
2015-06-24 14:47:13
DraftExpress: Only 11 minutes for Mario Hezonja in Game 3 of the ACB Finals today. Went scoreless on 0\/3 FG. Real Madrid swept Barcelona. Season over.
2015-06-24 14:45:16
Team: Magic
Physicals
Positions
Salary
Misc
H: 6' 8"
W: 200 lbs
Bday: 02/25/1995
(20 Years Old)

Current: SG/SF
NBA: SG
Possible: SG

Agent: Arn Tellem

High School:
Hometown: Dubrovnik, Croatia
Drafted: Pick 5 in 2015 by Magic




Basic Per Game Statistics

- Comprehensive Stats - Statistical Top 25s
| Year | League | Name | GP | Min | Pts | FG | FGA | FG% | 2Pt | 2PtA | 2P% | 3Pt | 3PtA | 3P% | FTM | FTA | FT% | Off | Def | TOT | Asts | Stls | Blks | TOs | PFs |
| --- | --- | --- | --- | --- | --- | --- | --- | --- | --- | --- | --- | --- | --- | --- | --- | --- | --- | --- | --- | --- | --- | --- | --- | --- | --- |
| 2015/16 | NBA | Mario Hezonja | 17 | 12.4 | 3.9 | 1.4 | 3.6 | 37.1 | 0.7 | 1.9 | 37.5 | 0.6 | 1.8 | 36.7 | 0.6 | 0.6 | 90.9 | 0.3 | 1.2 | 1.5 | 0.6 | 0.2 | 0.1 | 1.1 | 1.1 |

Player Page&nbsp&nbsp| Player Stats | Mock Draft History | Related Articles&nbsp&nbsp| Add to My Draft Express&nbsp
&nbsp
Mario Hezonja 18-Point ACB Playoff Finals Performance Video Analysis
June 19, 2015
Analyzing the play of Mario Hezonja in Game one of the Spanish ACB Playoff Finals. Hezonja exploded for 18 points in 25 minutes coming off the bench for Barcelona, knocking down all five of his first 3-point attempts (of six overall). Real Madrid emerged victorious, but Hezonja surely proved he deserves more minutes in the rest of the series, which will certainty interest NBA teams drafting in the Top-10 of the lottery.

Boxscore on ACB.com

(Video may not load with Internet Explorer. Use Chrome or Firefox)

[Read Full Article]

---
Mario Hezonja NBA Draft Scouting Report and Video Breakdown
April 27, 2015
Scouting Report by Matt Kamalsky. Video Analysis by Mike Schmitz

Making his Croatian A1 League debut for KK Dubrovnik shortly after his 14th birthday in 2009 and staking his claim as one of the future stars of the European game at the 2011 Jordan Brand International Game, if it feels as if Mario Hezonja has been on the NBA Draft radar for an eternity, it's because he has. Identified as a potential lottery pick very early in his career, but opting not to enter his name in the draft in 2014, the first year he was eligible to do so, the stars appear to have aligned for the athletic Croatian swingman as he went public with his intention to declare for the 2015 NBA Draft on April 23rd.

Hezonja is one of the most intriguing talents in this draft class, showing an impressive blend of athleticism and shooting ability while carving out a role off the bench for FC Barcelona in the Euroleague and ACB, the top leagues in Europe. Signing a seven year deal with the Spanish powerhouse prior to the 2012-2013 season, Hezonja served as the primary scorer on Barcelona's 2nd team in the LEB Gold during his first year in Spain amid sporadic appearances for the club's 1st team in mop up duty. Averaging only 9.6 minutes per-game playing for Barcelona's senior team a year ago and 15.5 this year, Hezonja's talent has shined brightly at times over each of the last two seasons, as he's exploded for a number of big scoring games while playing an otherwise modest role.


(Video may not load with Internet Explorer. Use Chrome or Firefox)

Standing 6'8 with a decent wingspan and a solid frame that could continue to fill out over time, Hezonja has outstanding size for a shooting guard. He's also an effortless athlete who runs the floor exceptionally well, has nice quickness, and can finish plays above the rim, ranking among the most impressive physical specimens we've seen among European prospects in recent memory.

Besides his physical attributes, the most appealing part of Hezonja's game is his offensive skill-set, which has helped him earn minutes, albeit inconsistently, for one of Europe's premier teams. Combining supreme confidence with tremendous fluidity and coordination, Hezonja's offensive game starts with his jump shooting ability both when spotting up and running off of screens within set plays. He shoots the ball with an effortless, high release point that will translate nicely to the NBA three-point line in time.

Connecting on 39.6% (57/144) of his attempts from beyond the international line on the year. including an 8/8 performance against Manresa in the ACB on February 1st, the Croatian swingman is capable of running very hot from the perimeter, but also has the ability to put the ball on the floor and attack off the dribble if the defense closes out too aggressively.

Though 60% of Hezonja's field goal attempts are three-pointers, one of the highest marks of any player in our mock draft regardless of league, and he has scored a fantastic 1.34 points per spot up possession according to Synergy Sports Technology, Hezonja's potential at the NBA level extends well beyond his talents as a set shooter, even if that's an area the team drafting him will hope he can contribute in early on.

A capable ball handler, Hezonja also flashes the ability to create his own shot, notably as the ball handler in the pick and roll. His ability to explode past the defense with his strong first step off the dribble make him a threat to get to the rim, and he has a bit of shake to his floor game as well, showing the ability to use step backs to create space for his jump shots. Making 42% of his pull-up jump shots and finishing at a 62% clip around the rim, Hezonja's scored efficiently in a variety of ways this season.

On top of his overall offensive skill level, Hezonja's athleticism also allows him impact the game in a variety of areas. He's a target to cut back-door for lob passes thanks to his leaping ability, and he runs the wings exceptionally hard in transition. Though he isn't a particularly consistent defender, he can make contributions when he's focused with his terrific quickness and size. He has some truly impressive moments defensively playing scrappy, energetic one-on-one defense, shadowing his man running off of screens, and getting in the passing lanes thanks to his speed and anticipation. Hezonja's combination of athleticism, instincts, and talent allow him to contribute at in a wide variety of ways, which is part of the reason his upside is nothing short of tantalizing in the eyes of NBA decision-makers.


(Video may not load with Internet Explorer. Use Chrome or Firefox)

Despite all his merits as a prospect, it is important to note that Hezonja is not without his flaws, which should come as no surprise considering he's just 20 years old. Playing on a short leash surrounded by talented veterans in Barcelona, the young wing posted his gaudy scoring efficiency numbers in a small role, as he averaged only 6.1 points per game and is still learning how to utilize his tremendous tools consistently.

Scoring in double-figures in 11 games but going scoreless in 10 others and playing sporadic minutes when Barcelona has had a full stable of healthy guards, Hezonja, like any young player competing against competition, has struggled with bouts of ineffectiveness. Hezonja's worst moments this season have come in situations where the intersection of his talent and confidence have led to him settling for difficult shots in the half court and looking to do too much with the ball in his hands in transition and on the pick and roll—something that is frowned upon far more in Europe from a player his age than it is in the States.

He can take and make difficult, contested shots with deep range, and throws some highlight reel passes, but doesn't always pick and choose his spots as well as one might hope or seem quick to recognize openings for others. He can be turnover prone when he puts the ball on the floor as his handle is a bit rigid, and often tries to get creative instead of drawing contact and forcing whistles when he ventures inside as his extremely low 1.6 free throw attempts per-40 minutes pace adjusted average reflects.

Questions also remain about Hezonja's ability to defend consistently. Those questions don't revolve around his actual ability to defend as much as they're based on his sometimes non-chalant approach on that end of the floor. He tends to run very hot and very cold in terms of his intensity as his worst moments are just as glaring as his best ones. Hezonja could stand to get stronger, but his combination of size and quickness seemingly give him the potential to hold his own if he's committed to being a factor on this end of the floor. The question is, in a long 82-game season, where minutes will be handed to him much more easily than they were in Europe, will he feel the desire to get in a stance and compete at max intensity on every possession?

As we've noted in previous reports one of the more significant ongoing concerns about Hezonja is his demeanor. His body language is poor at times and he seems to get down on his teammates. Though he's become far less demonstrative than he appeared at the junior level, it will be fascinating to watch how his swagger, ego and unlimited self-confidence fit in on whichever team opts to draft him. His mentality could pay huge dividends if he reaches his lofty potential down the road, but what kind of growing pains will he experience early in his NBA career?

As with many elite international prospects competing at the highest levels, there's also a notable economic element to Hezonja's future due to his contract situation. As is often been the case, there's a fair amount of confusion surrounding his situations, but as it stands, the seven year contract he signed three years ago includes a team option to extend his deal for its final four years on May 31st. Barcelona will certainly pick it up and Hezonja doesn't have an option to terminate, meaning he'll have to pay his NBA buyout, which stands at 2 million Euro, before he makes the jump across the Atlantic. Though he may have to take out a loan and pay interest to make that payment up front, this shouldn't have a major impact on his draft stock or his decision to stay in the draft as he's a likely top-10 pick.

At face value, Hezonja looks like a player who should be able to find a way to contribute to some degree early in his NBA career with the potential to grow into a star down the road. Few international players we've ever covered enjoy the same clear-cut NBA upside. The question is just how quickly his flashes of brilliance will become extended stretches of productive play on both ends of the floor and whether his attitude becomes a hurdle between those two points.

[Read Full Article]

---
Mario Hezonja vs Real Madrid Video Analysis
February 6, 2015
More Situational Videos from Mike Schmitz
-Jahlil Okafor vs Frank Kaminsky Head to Head Matchup Video Analysis
-Myles Turner vs Kentucky's NBA Frontcourt Video Analysis
-Kristaps Porzingis vs Barcelona Video Analysis
-Ben Simmons vs Ivan Rabb Video Analysis
-Jakob Poeltl vs Cliff Alexander Head to Head Matchup Video Analysis
-Montrezl Harrell vs Kentucky's NBA Frontcourt Video Analysis
-Rashad Vaughn vs Arizona Video Analysis
-Christian Wood vs Arizona Video Analysis
-Jerian Grant vs J.P. Tokoto Video Analysis
-Bobby Portis vs Damian Jones Video Analysis
-D'Angelo Russell vs Louisville Video Analysis
-Delon Wright vs Rondae Hollis-Jefferson Video Analysis
-Stanley Johnson vs Anthony Brown Head to Head Matchup Video Analysis
-Robert Upshaw vs Jakob Poeltl Head to Head Matchup Video Analysis
-D'Angelo Russell vs Indiana Video Analysis
-Justise Winslow vs Justin Anderson Video Analysis
---
Take a look at our video section for a compilation of all the videos we've produced this year.
[Read Full Article]

---
Mario Hezonja Video Scouting Report
June 23, 2014
[Read Full Article]

---
Nike International Junior Tournament London Scouting Reports
May 15, 2013
Mario Hezonja, 6-6, SG/SF, Barcelona, Croatia, 1995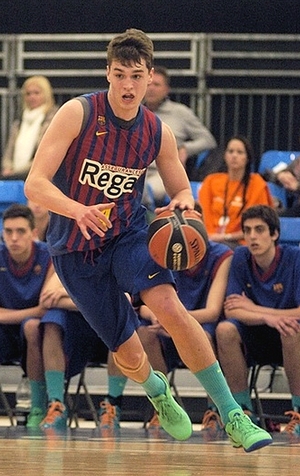 Euroleague.net



Jonathan Givony

Strengths:
-Terrific size, frame and athleticism for a wing prospect
-Can make shots from anywhere on the court, with feet set, off the dribble, and with a hand in his face
-Creates separation from defender very well and has excellent shooting mechanics
-Very good in transition
-Can beat man off the dribble in half-court with excellent first step, and then finish over the top of the defense
-Shows intriguing court vision, especially off the pick and roll. Threads needle to diving cutters with bounce passes for layups

Weaknesses:
-Looked disconnected mentally from his teammates, and from the game in general. Constantly talking to opponents. Seems to lack focus on the court
-Struggles operating within a team concept. Only really looks comfortable in isolation or pick and roll settings
-Goes too many possessions where he dribbles the ball incessantly and then settles for a contested pull-up jumper
-Needs to improve ball-handling skills in half-court. Doesn't change speeds or directions. If can't simply blow by his man, immediately pulls up off the dribble
-Struggles defensively off the ball. Shows poor awareness

Outlook: One of the top prospects in the world in his age group based on sheer talent. Has already seen minutes in the ACB and Euroleague with Barcelona's senior team. Struggled badly with his shot-selection and all-around decision making throughout the NIJT. Shot 5/39 from beyond the arc in the seven games he played, and only got to free throw line 18 times. Averaged over 5 turnovers per-40. Showed poor body language as well. Team seemed to be much better off when he was on the bench. No one doubts his talent, but more and more doubts are creeping in as to whether his poor mentality will prevent him from reaching his tremendous potential.

[Read Full Article]

---
Emptying the Notebook: Elite International Prospects Scouting Reports
October 19, 2012
Jonathan Givony

Strengths:

-Good size for a wing
-Strong frame
-Good athlete. Nice quickness and explosiveness
-Solid shooter with feet set or off the dribble
-Can make tough shots with a hand in his face
-Solid ball-handler. Knows how to score in isolation settings. Crafty footwork getting into paint. Finishes elegantly around the rim with high-angled layups, or with power over opponents
-Sees the floor. Can pass a bit when he wants to
-Athleticism, strength allows him to rebound at a high rate, block shots occasionally
-Terrific scoring instincts and all-around feel for the game

Weaknesses:
-Intangibles are questionable. Displays poor body language. Aloof around teammates. Complains constantly to referees, teammates, coaches
-Doesn't give great effort on defense
-Offensive game very isolation-heavy. Can be a ball-stopper. Overdribbles. Takes bad shots. Freezes out teammates.
-Only plays at one speed. Could still improve on changing speeds, using hesitation moves creating shots in the half-court

Outlook: One of the top talents in European basketball in any age group. The MVP of the U16 European Championship. Averaged 30 points per-40 at the U17 World Championship. Already putting up good numbers in LEB Gold (Spanish second division) on Barcelona's second team, Barcelona II. Signed a seven year contract with Barcelona this past summer, with a two million Euro out clause for the NBA. Only question marks revolve around his attitude and whether that could stop him from achieving his extremely high potential.

Interview from the U17 World Championship:


[Read Full Article]

---
2011 adidas Eurocamp: Day Two
June 13, 2011
Mario Hezonja stole the show with breathtaking athleticism and a silky smooth fluidity, elevating repeatedly around the rim for some explosive dunks, and knocking down shots from the perimeter. Many NBA people were calling him the best player at the camp at the ripe age of 16 (born 1995)—going up against players two and three years older than him. We had already had a chance to scout Hezonja in person on two opportunities this year in Charlotte at the Jordan Brand Classic and at the Nike International Junior Tournament in Barcelona, and we could only nod our heads in agreement as scouts praised his precocious talent.

[Read Full Article]

---
Jordan Brand Classic International Game: Top Prospects
April 20, 2011
Coming off a strong performance at the NIJT qualifier in Rome a few months ago (Hezonja helped his team qualify for a trip to the Euroleague Final Four in Barcelona despite being significantly younger than most of his opponents), Mario Hezonja was one of the more intriguing prospects slated to be at this event.

Hezonja did little to dispel the notion that he's one of the top young prospects in European basketball over the course of the week, although his performance in the game was a bit uneven – he scored 15 points and dished four assists, but shot just 6-19 from the field and turned the ball over eight times.

The intrigue around Hezonja begins with his excellent physical attributes. He's a true wing player with terrific size (6-6), a very nice frame and outstanding athleticism. He reeled off a couple of impressive dunks over the course of the week and showed the quickness and fluidity needed to create his own shot effectively.

Hezonja has a nice stroke from beyond the arc, showing the ability to knock down 3-pointers with his feet set or off the dribble. He can also beat his man off the bounce, getting low to the ground and even mixing in some nice spin moves at times.

His ball-handling skills are still a work in progress, though, particularly his ability to change speed and direction. His decision making ability hasn't quite caught up to his talent level, as evidenced by his poor shot selection and struggles with turnovers in Charlotte.

On the defensive end, Hezonja was not particularly impressive, showing average length and putting in little effort.

Hezonja also showed a bit of cockiness, which is a bit concerning considering his age. He looked aloof and displayed poor body language at times. Hopefully this is just a sign of immaturity and not an indication that his early success is going to his head.

In terms of physical attributes and pure talent, there's no question that Hezonja is well ahead of most players in the world at his age. If he continues to work on his game and stays humble, his future is obviously very bright.

[Read Full Article]

---