Mario Hezonja
Recent Tweets
All Tweets
DraftExpress: Looking Towards 2015 Mario Hezonja Video Scouting Report http://t.co/vAP40GhrKr - Evaluating one of the top int'l prospects in the world
2014-06-23 12:10:29
DraftExpress: RT @Eurohopes Without Mario Hezonja but with Dario Saric collecting 20 points & 9 rebounds Croatia U19 won 6652 over Russia U19 https/u2026
2013-06-15 08:50:57
DraftExpress: Without Mario Hezonja but with Dario Saric collecting 20 points & 9 rebounds Croatia U19 won 6652 over Russia U19 https//t.co/Vwv3WdFBOc
2013-06-15 08:27:43
DraftExpress: Croatian wing Mario Hezonja will also not play in the U19 World Championship this summer I'm told due to an ankle injury.
2013-06-09 05:08:11
DraftExpress: RT @Elcarreton_ Croatia preliminary roster for U19 World Championship http://t.co/w42imNkjGx includes Dario Saric and Mario Hezonja
2013-05-23 15:21:03



Basic Per Game Statistics

- Comprehensive Stats - Statistical Top 25s
| Year | League | Name | GP | Min | Pts | FG | FGA | FG% | 2Pt | 2PtA | 2P% | 3Pt | 3PtA | 3P% | FTM | FTA | FT% | Off | Def | TOT | Asts | Stls | Blks | TOs | PFs |
| --- | --- | --- | --- | --- | --- | --- | --- | --- | --- | --- | --- | --- | --- | --- | --- | --- | --- | --- | --- | --- | --- | --- | --- | --- | --- |
| 2014/15 | ACB | Mario Hezonja | 28 | 14.9 | 4.8 | 1.8 | 3.9 | 47.2 | 0.8 | 1.4 | 57.5 | 1.0 | 2.4 | 41.2 | 0.2 | 0.2 | 83.3 | 0.4 | 1.5 | 1.9 | 1.3 | 0.6 | 0.1 | 1.2 | 1.8 |
| 2014/15 | EURO | Mario Hezonja | 22 | 16.5 | 7.7 | 2.8 | 6.0 | 46.2 | 1.5 | 2.5 | 57.1 | 1.3 | 3.5 | 38.2 | 0.8 | 1.1 | 75.0 | 0.5 | 1.5 | 2.0 | 1.0 | 0.6 | 0.2 | 1.0 | 1.8 |

Player Page&nbsp&nbsp| Player Stats | Mock Draft History | Related Articles&nbsp&nbsp| Add to My Draft Express&nbsp
&nbsp
Mario Hezonja vs Real Madrid Video Analysis
February 6, 2015
More Situational Videos from Mike Schmitz
-Jahlil Okafor vs Frank Kaminsky Head to Head Matchup Video Analysis
-Myles Turner vs Kentucky's NBA Frontcourt Video Analysis
-Kristaps Porzingis vs Barcelona Video Analysis
-Ben Simmons vs Ivan Rabb Video Analysis
-Jakob Poeltl vs Cliff Alexander Head to Head Matchup Video Analysis
-Montrezl Harrell vs Kentucky's NBA Frontcourt Video Analysis
-Rashad Vaughn vs Arizona Video Analysis
-Christian Wood vs Arizona Video Analysis
-Jerian Grant vs J.P. Tokoto Video Analysis
-Bobby Portis vs Damian Jones Video Analysis
-D'Angelo Russell vs Louisville Video Analysis
-Delon Wright vs Rondae Hollis-Jefferson Video Analysis
-Stanley Johnson vs Anthony Brown Head to Head Matchup Video Analysis
-Robert Upshaw vs Jakob Poeltl Head to Head Matchup Video Analysis
-D'Angelo Russell vs Indiana Video Analysis
-Justise Winslow vs Justin Anderson Video Analysis
---
Take a look at our video section for a compilation of all the videos we've produced this year.
[Read Full Article]

---
Mario Hezonja Video Scouting Report
June 23, 2014
[Read Full Article]

---
Nike International Junior Tournament London Scouting Reports
May 15, 2013
Mario Hezonja, 6-6, SG/SF, Barcelona, Croatia, 1995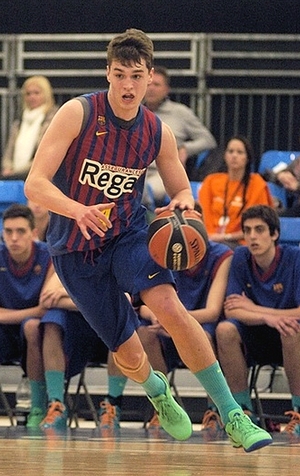 Euroleague.net



Jonathan Givony

Strengths:
-Terrific size, frame and athleticism for a wing prospect
-Can make shots from anywhere on the court, with feet set, off the dribble, and with a hand in his face
-Creates separation from defender very well and has excellent shooting mechanics
-Very good in transition
-Can beat man off the dribble in half-court with excellent first step, and then finish over the top of the defense
-Shows intriguing court vision, especially off the pick and roll. Threads needle to diving cutters with bounce passes for layups

Weaknesses:
-Looked disconnected mentally from his teammates, and from the game in general. Constantly talking to opponents. Seems to lack focus on the court
-Struggles operating within a team concept. Only really looks comfortable in isolation or pick and roll settings
-Goes too many possessions where he dribbles the ball incessantly and then settles for a contested pull-up jumper
-Needs to improve ball-handling skills in half-court. Doesn't change speeds or directions. If can't simply blow by his man, immediately pulls up off the dribble
-Struggles defensively off the ball. Shows poor awareness

Outlook: One of the top prospects in the world in his age group based on sheer talent. Has already seen minutes in the ACB and Euroleague with Barcelona's senior team. Struggled badly with his shot-selection and all-around decision making throughout the NIJT. Shot 5/39 from beyond the arc in the seven games he played, and only got to free throw line 18 times. Averaged over 5 turnovers per-40. Showed poor body language as well. Team seemed to be much better off when he was on the bench. No one doubts his talent, but more and more doubts are creeping in as to whether his poor mentality will prevent him from reaching his tremendous potential.

[Read Full Article]

---
Emptying the Notebook: Elite International Prospects Scouting Reports
October 19, 2012
Jonathan Givony

Strengths:

-Good size for a wing
-Strong frame
-Good athlete. Nice quickness and explosiveness
-Solid shooter with feet set or off the dribble
-Can make tough shots with a hand in his face
-Solid ball-handler. Knows how to score in isolation settings. Crafty footwork getting into paint. Finishes elegantly around the rim with high-angled layups, or with power over opponents
-Sees the floor. Can pass a bit when he wants to
-Athleticism, strength allows him to rebound at a high rate, block shots occasionally
-Terrific scoring instincts and all-around feel for the game

Weaknesses:
-Intangibles are questionable. Displays poor body language. Aloof around teammates. Complains constantly to referees, teammates, coaches
-Doesn't give great effort on defense
-Offensive game very isolation-heavy. Can be a ball-stopper. Overdribbles. Takes bad shots. Freezes out teammates.
-Only plays at one speed. Could still improve on changing speeds, using hesitation moves creating shots in the half-court

Outlook: One of the top talents in European basketball in any age group. The MVP of the U16 European Championship. Averaged 30 points per-40 at the U17 World Championship. Already putting up good numbers in LEB Gold (Spanish second division) on Barcelona's second team, Barcelona II. Signed a seven year contract with Barcelona this past summer, with a two million Euro out clause for the NBA. Only question marks revolve around his attitude and whether that could stop him from achieving his extremely high potential.

Highlights:


[Read Full Article]

---
2011 adidas Eurocamp: Day Two
June 13, 2011
Mario Hezonja stole the show with breathtaking athleticism and a silky smooth fluidity, elevating repeatedly around the rim for some explosive dunks, and knocking down shots from the perimeter. Many NBA people were calling him the best player at the camp at the ripe age of 16 (born 1995)—going up against players two and three years older than him. We had already had a chance to scout Hezonja in person on two opportunities this year in Charlotte at the Jordan Brand Classic and at the Nike International Junior Tournament in Barcelona, and we could only nod our heads in agreement as scouts praised his precocious talent.

[Read Full Article]

---
Jordan Brand Classic International Game: Top Prospects
April 20, 2011
Coming off a strong performance at the NIJT qualifier in Rome a few months ago (Hezonja helped his team qualify for a trip to the Euroleague Final Four in Barcelona despite being significantly younger than most of his opponents), Mario Hezonja was one of the more intriguing prospects slated to be at this event.

Hezonja did little to dispel the notion that he's one of the top young prospects in European basketball over the course of the week, although his performance in the game was a bit uneven – he scored 15 points and dished four assists, but shot just 6-19 from the field and turned the ball over eight times.

The intrigue around Hezonja begins with his excellent physical attributes. He's a true wing player with terrific size (6-6), a very nice frame and outstanding athleticism. He reeled off a couple of impressive dunks over the course of the week and showed the quickness and fluidity needed to create his own shot effectively.

Hezonja has a nice stroke from beyond the arc, showing the ability to knock down 3-pointers with his feet set or off the dribble. He can also beat his man off the bounce, getting low to the ground and even mixing in some nice spin moves at times.

His ball-handling skills are still a work in progress, though, particularly his ability to change speed and direction. His decision making ability hasn't quite caught up to his talent level, as evidenced by his poor shot selection and struggles with turnovers in Charlotte.

On the defensive end, Hezonja was not particularly impressive, showing average length and putting in little effort.

Hezonja also showed a bit of cockiness, which is a bit concerning considering his age. He looked aloof and displayed poor body language at times. Hopefully this is just a sign of immaturity and not an indication that his early success is going to his head.

In terms of physical attributes and pure talent, there's no question that Hezonja is well ahead of most players in the world at his age. If he continues to work on his game and stays humble, his future is obviously very bright.

[Read Full Article]

---