Predraft Measurements
| Height w/o Shoes | Height w/shoes | Weight | Wingspan | Standing Reach | Body Fat | No Step Vert | Max Vert | Bench Press | Lane Agility | 3/4 Court Sprint | Class Rank |
| --- | --- | --- | --- | --- | --- | --- | --- | --- | --- | --- | --- |
| NA | 6' 3.5" | 84 | 6' 7.5" | NA | NA | NA | NA | NA | NA | NA | NA |



Basic Per Game Statistics

- Comprehensive Stats - Statistical Top 25s
| Year | League | Name | GP | Min | Pts | FG | FGA | FG% | 2Pt | 2PtA | 2P% | 3Pt | 3PtA | 3P% | FTM | FTA | FT% | Off | Def | TOT | Asts | Stls | Blks | TOs | PFs |
| --- | --- | --- | --- | --- | --- | --- | --- | --- | --- | --- | --- | --- | --- | --- | --- | --- | --- | --- | --- | --- | --- | --- | --- | --- | --- |
| 2013/14 | NCAA | Markel Brown | 31 | 35.1 | 17.2 | 5.5 | 11.7 | 47.0 | 3.9 | 7.4 | 52.2 | 1.6 | 4.3 | 38.1 | 4.5 | 5.7 | 78.1 | 1.1 | 4.5 | 5.6 | 3.0 | 0.9 | 1.1 | 1.6 | 2.5 |

Player Page&nbsp&nbsp| Player Stats | Mock Draft History | Related Articles&nbsp&nbsp| Add to My Draft Express&nbsp
&nbsp
Top NBA Draft Prospects in the Big 12, Part 3 (#3-5)
September 26, 2013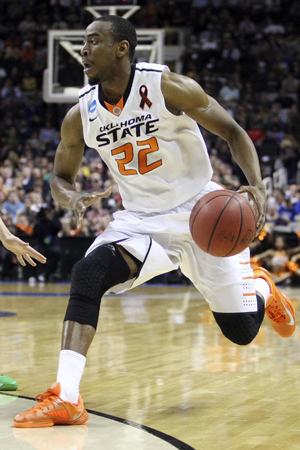 US Presswire



Josh Riddell

Markel Brown returns to Oklahoma State for his senior season, hoping to help lead the Cowboys back to the NCAA tournament after their disappointing first round last to Oregon last season. Flanked by Marcus Smart, the Cowboys will have one of the backcourts in the nation this season. Brown has seen an increase in nearly all statistical categories each year, culminating in a 15.3 points per game average on 47% from 2's and 36% from 3's as a junior. He'll look to boost his production yet again to help the Cowboys to another level.

Brown has strong physical attributes, measured at 6'3", 190 pounds with an impressive 6'7 ½" wingspan. He has great athleticism which shows in his ability to play above the rim, as he finishes many of his opportunities around the rim with dunks.

Offensively, Brown relies on transition opportunities for most of his points, often taking the ball coast to coast to finish at the rim. He's not the fastest player but he uses his body well to ward off defenders on his way to the rim, doing a good job of staying under control when moving at a high speed. He absorbs contact and is strong enough to finish through contact or draw a foul, as he averaged over 5 free throws a game.

He struggles to create his own offense in the halfcourt, both in isolation situations and in the pick and roll. He doesn't possess the elite first step to beat his defender in isolation scenarios, which causes him to drive into several defenders, where he forces a difficult shot or settles for a jump shot instead of passing out of this situation. In the pick and roll, he often drives away from the screen instead of using the screen to help him get that elusive step on his defender. Again, he can't navigate through the defense on his own off the dribble, so he is forced into a tough shot.

Brown is also a mediocre jump shooter, averaging 37% on catch and shoot situations. He has nice lift on his jump shot, but his off hand is usually misplaced which causes his shot to not be accurate. He seems to be a little more comfortable off the dribble, averaging 36% on jump shots off the dribble categorized by Synergy Sports. If he can't get all the way to the rim in the halfcourt, he will have to improve on his jump shot to force defenses to guard him.

Due to this inability to create for himself combined with his average jump shot, Brown finds the rest of his offense from off ball movement. He showed that he can execute strong, quick cuts to find the open space and beat his defender to get open for a rim attempt. Since he struggles to create his own offense, he will need to continue to move off the ball to find open spots to attack the rim. According to Synergy Sports, 67% of his half court baskets were assisted last season, which shows that most of his points come from the creation of others, not his own.

Defensively, Brown is adequate at this point due to his physical tools, as he relies on his length and agility to defend. However, he struggles and will continue to struggle against top offensive players, as he has the tendency to stand straight up, allowing opposing players to beat him off the dribble, especially off a crossover. He also falls for ball fakes more often than he should, which shows further lack of discipline.

Brown seems to battle focus issues on the defensive end, further evidenced by the fact that he gets caught in screens too often, compounding his defensive inadequacies. Against the pick and roll, his eyes are locked on his man, so he does not see the screener and runs right into the screen, freeing his opponent. Off the ball, he doesn't see the floor well and falls into the same trap of running into screens instead of avoiding them.

Moving forward, Brown has some intriguing physical tools but he is not a refined enough player to be taken seriously as a draft prospect at this point. He will turn 22 this season and will need to show some major improvement to attract the attention of scouts. He'll need to start with better focus and effort on the defensive end while continuing to move well off the ball to create passing opportunities leading to layups and dunks for himself. He will get plenty of opportunities to show his skills, as scouts will surely be flocking to evaluate Smart.

[Read Full Article]

---