Markel Brown
Recent Tweets
All Tweets
DraftExpress2: I like the Markel Brown pick. Freak athlete and showed some playmaking ability when Smart was out the only chance he got to do so.
2014-06-26 23:32:39
DraftExpress: At #44 Minnesota selects Oklahoma State's Markel Brown. Uber-athlete who improved his outside shot this year.
2014-06-26 23:30:36
DraftExpress: RT @Joshua_Riddell Today's DX prospect look is at Markel Brown. Cory Jefferson and LeBryan Nash profiled as well http://t.co/buR8hzY8VS
2013-09-26 16:51:32
Team: Nets
Physicals
Positions
Rankings
Salary
Misc
H: 6' 3"
W: 184 lbs
Bday: 01/29/1992
(23 Years Old)

Current: SG
NBA: SG
Possible: SG

RSCI: 142

Agent: Andy Miller
Current Salary:$507,336

High School: Peabody Magnet
Hometown: Alexandria, LA
Drafted: Pick 44 in 2014 by Timberwolves

Predraft Measurements
| Year | Source | Height w/o Shoes | Height w/shoes | Weight | Wingspan | Standing Reach | Body Fat | No Step Vert | Max Vert |
| --- | --- | --- | --- | --- | --- | --- | --- | --- | --- |
| 2014 | NBA Draft Combine | 6' 2.5" | 6' 3.5" | 184 | 6' 8.75" | 8' 4" | 4.2 | 36.5 | 43.5 |
| 2013 | LeBron James Camp | NA | 6' 3.5" | 184 | 6' 7.5" | NA | NA | NA | NA |
| 2013 | Kevin Durant Camp | NA | 6' 3.5" | 184 | 6' 7.5" | NA | NA | NA | NA |



Basic Per Game Statistics

- Comprehensive Stats - Statistical Top 25s
| Year | League | Name | GP | Min | Pts | FG | FGA | FG% | 2Pt | 2PtA | 2P% | 3Pt | 3PtA | 3P% | FTM | FTA | FT% | Off | Def | TOT | Asts | Stls | Blks | TOs | PFs |
| --- | --- | --- | --- | --- | --- | --- | --- | --- | --- | --- | --- | --- | --- | --- | --- | --- | --- | --- | --- | --- | --- | --- | --- | --- | --- |
| 2015/16 | NBA | Markel Brown | 7 | 12.4 | 3.3 | 1.1 | 4.1 | 27.6 | 0.7 | 2.0 | 35.7 | 0.4 | 2.1 | 20.0 | 0.6 | 0.9 | 66.7 | 0.0 | 0.6 | 0.6 | 1.1 | 0.4 | 0.1 | 0.6 | 1.4 |

Player Page&nbsp&nbsp| Player Stats | Mock Draft History | Related Articles&nbsp&nbsp| Add to My Draft Express&nbsp
&nbsp
2014 NBA Combine Interviews: Brown, Grant, Thames
May 20, 2014
[Read Full Article]

---
Markel Brown Updated Scouting Report
April 4, 2014
Capping off his third year as a starter for the Cowboys, Markel Brown wrapped up his collegiate career with a 20 point performance in Oklahoma State's 85-77 loss to Gonzaga in the Second Round of the NCAA Tournament. One of the bright spots in what was an up-and-down campaign for Travis Ford's program, Brown earned All-Big 12 Second Team honors for the second consecutive season, showing significant improvement playing alongside Marcus Smart and solidifying himself as a potential NBA draftee, averaging 17.2 points and 5.3 rebounds per-game.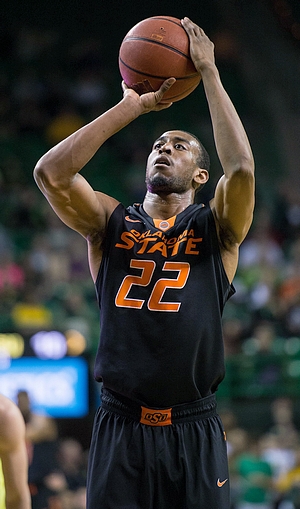 US Presswire



Brown's intrigue at the next level has always started with his phenomenal athleticism. Undersized for a shooting guard standing 6'3, the Alexandria, Louisiana native has a 6'7 wingspan to go along with good speed and quickness, but his calling card is unquestionable his outstanding leaping ability, landing him on Sportscenter multiple times this season and prior.

The former top-150 recruit has improved considerably over his four year career, making major progress since arriving in Stillwater. A highlight reel dunk waiting to happen, Brown was often maligned for his lack of perimeter skills and shooting early in his career, but developed into a reliable jump shooter. Ending his senior season as Oklahoma's State's second leading scorer, Brown still did most of his damage using his athleticism in transition, but had a very efficient season scoring in the half court, where his improved shooting helped him make teams pay for leaving him open beyond the arc and giving him space operating off the bounce in the midrange and when dribbling off ball screens.

A little under 66% of Brown's total field goal attempts in the half court this season were jump shots according to Synergy Sports Technology. He made a very solid 40% of those attempts, despite the relatively high proportion of difficult shots he takes from the midrange running off of screens. Elevating extremely well and looking increasingly comfortable shooting over defenders from the outside, Brown's explosiveness helps him get his shot off, as he doesn't always have the ball-handling skills needed to create separation on the perimeter consistently. He made a solid 40% of his spot up jump shots with his feet set in spot up situations and an even more impressive 45% of his pull-up attempts, after converting 28% and 36% of such looks a year ago. His 38% shooting from three point range and 77% from the line were both career highs.

Despite Brown's improvement as a jump shooter, his inability to create high percentage shots for himself around the basket is a bit disappointing, especially considering that when he does get to the rim, he finishes at an elite level. Only 28% of Brown's shot attempts come around the basket in the half court, and though he can get to the rim when he sees a lane or can turn the corner, he doesn't have an elite first step and isn't adept at breaking his man down off the dribble, as he lacks creativity and advanced ball-handling moves. Shooting 66% around the rim in the half-court, Brown is a threat to finish emphatically above the rim any time he can find daylight in close, and does a solid job drawing contact inside, especially on the fast break.

Though Brown is not a great ball handler or passer, and has spent very little time playing on the ball since assuming a significant role in the Cowboy offense as a sophomore due to the presence of Marcus Smart, he made the most of Smart's three game suspension after the Texas Tech incident. As the chart below shows, during Smart's three game suspension, Brown shouldered much of Smart's ball-handling and playmaking duties, averaging 23.3 points and 3.7 assists per-game against Texas, Oklahoma, and Baylor in mid-February.



Though Brown is not a natural playmaker, anything he can bring to the table creating offense either for himself or others is a considerable plus for his NBA draft stock. At this stage, Brown's finishing ability inside and ability to spread the floor and make shots are his biggest assets from a NBA perspective, and while a three game sample doesn't paint a complete picture of Brown's ability to handle the ball for stretches, it was intriguing to see him make things happen on the pick and roll so frequently and efficiently nonetheless.

Defensively, Brown has the tools to play good overall defense, but he doesn't always seem intent on doing so. He's a solid defender as it stands, but he allows less athletic players to beat him off the dribble from time to time and doesn't always fight through screens or recover when he's beat with as much urgency as you would like. Considering the potential his length and athleticism affords him as a defender, Brown has room to grow on this end of the floor.

Brown may not be a glamorous NBA prospect as his per minute productivity doesn't particularly stand out among his peers in any one area and he lacks size for his position, but his combination of athleticism and improved perimeter scoring ability make him an interesting prospect nonetheless. Though Brown may not be a lock to get drafted at this point, if he can continue to develop his ball handling and defense, he'll get plenty of looks both this summer and down the road should he not hear his name called on June 26th.

[Read Full Article]

---
Top NBA Draft Prospects in the Big 12, Part 3 (#3-5)
September 26, 2013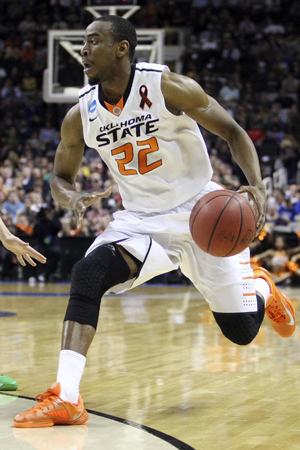 US Presswire



Josh Riddell

Markel Brown returns to Oklahoma State for his senior season, hoping to help lead the Cowboys back to the NCAA tournament after their disappointing first round last to Oregon last season. Flanked by Marcus Smart, the Cowboys will have one of the backcourts in the nation this season. Brown has seen an increase in nearly all statistical categories each year, culminating in a 15.3 points per game average on 47% from 2's and 36% from 3's as a junior. He'll look to boost his production yet again to help the Cowboys to another level.

Brown has strong physical attributes, measured at 6'3", 190 pounds with an impressive 6'7 ½" wingspan. He has great athleticism which shows in his ability to play above the rim, as he finishes many of his opportunities around the rim with dunks.

Offensively, Brown relies on transition opportunities for most of his points, often taking the ball coast to coast to finish at the rim. He's not the fastest player but he uses his body well to ward off defenders on his way to the rim, doing a good job of staying under control when moving at a high speed. He absorbs contact and is strong enough to finish through contact or draw a foul, as he averaged over 5 free throws a game.

He struggles to create his own offense in the halfcourt, both in isolation situations and in the pick and roll. He doesn't possess the elite first step to beat his defender in isolation scenarios, which causes him to drive into several defenders, where he forces a difficult shot or settles for a jump shot instead of passing out of this situation. In the pick and roll, he often drives away from the screen instead of using the screen to help him get that elusive step on his defender. Again, he can't navigate through the defense on his own off the dribble, so he is forced into a tough shot.

Brown is also a mediocre jump shooter, averaging 37% on catch and shoot situations. He has nice lift on his jump shot, but his off hand is usually misplaced which causes his shot to not be accurate. He seems to be a little more comfortable off the dribble, averaging 36% on jump shots off the dribble categorized by Synergy Sports. If he can't get all the way to the rim in the halfcourt, he will have to improve on his jump shot to force defenses to guard him.

Due to this inability to create for himself combined with his average jump shot, Brown finds the rest of his offense from off ball movement. He showed that he can execute strong, quick cuts to find the open space and beat his defender to get open for a rim attempt. Since he struggles to create his own offense, he will need to continue to move off the ball to find open spots to attack the rim. According to Synergy Sports, 67% of his half court baskets were assisted last season, which shows that most of his points come from the creation of others, not his own.

Defensively, Brown is adequate at this point due to his physical tools, as he relies on his length and agility to defend. However, he struggles and will continue to struggle against top offensive players, as he has the tendency to stand straight up, allowing opposing players to beat him off the dribble, especially off a crossover. He also falls for ball fakes more often than he should, which shows further lack of discipline.

Brown seems to battle focus issues on the defensive end, further evidenced by the fact that he gets caught in screens too often, compounding his defensive inadequacies. Against the pick and roll, his eyes are locked on his man, so he does not see the screener and runs right into the screen, freeing his opponent. Off the ball, he doesn't see the floor well and falls into the same trap of running into screens instead of avoiding them.

Moving forward, Brown has some intriguing physical tools but he is not a refined enough player to be taken seriously as a draft prospect at this point. He will turn 22 this season and will need to show some major improvement to attract the attention of scouts. He'll need to start with better focus and effort on the defensive end while continuing to move well off the ball to create passing opportunities leading to layups and dunks for himself. He will get plenty of opportunities to show his skills, as scouts will surely be flocking to evaluate Smart.

[Read Full Article]

---